NEW 2020 Wall Calendar and Weekly Planner have launched – view both products here.
Think of all the things you can achieve with your own personal cheerleader hanging on your wall! I am so excited, we have been working really hard here at Organised HQ designing The Organised Housewife 2019 Calendar and I have to say it is AH-MAAAZING, I can't wait to hang it on the wall!! The calendar has had a complete redesign, the calendar itself being bigger than last year, making it more practical with a stylish design for all those wanting to be organised in 2019.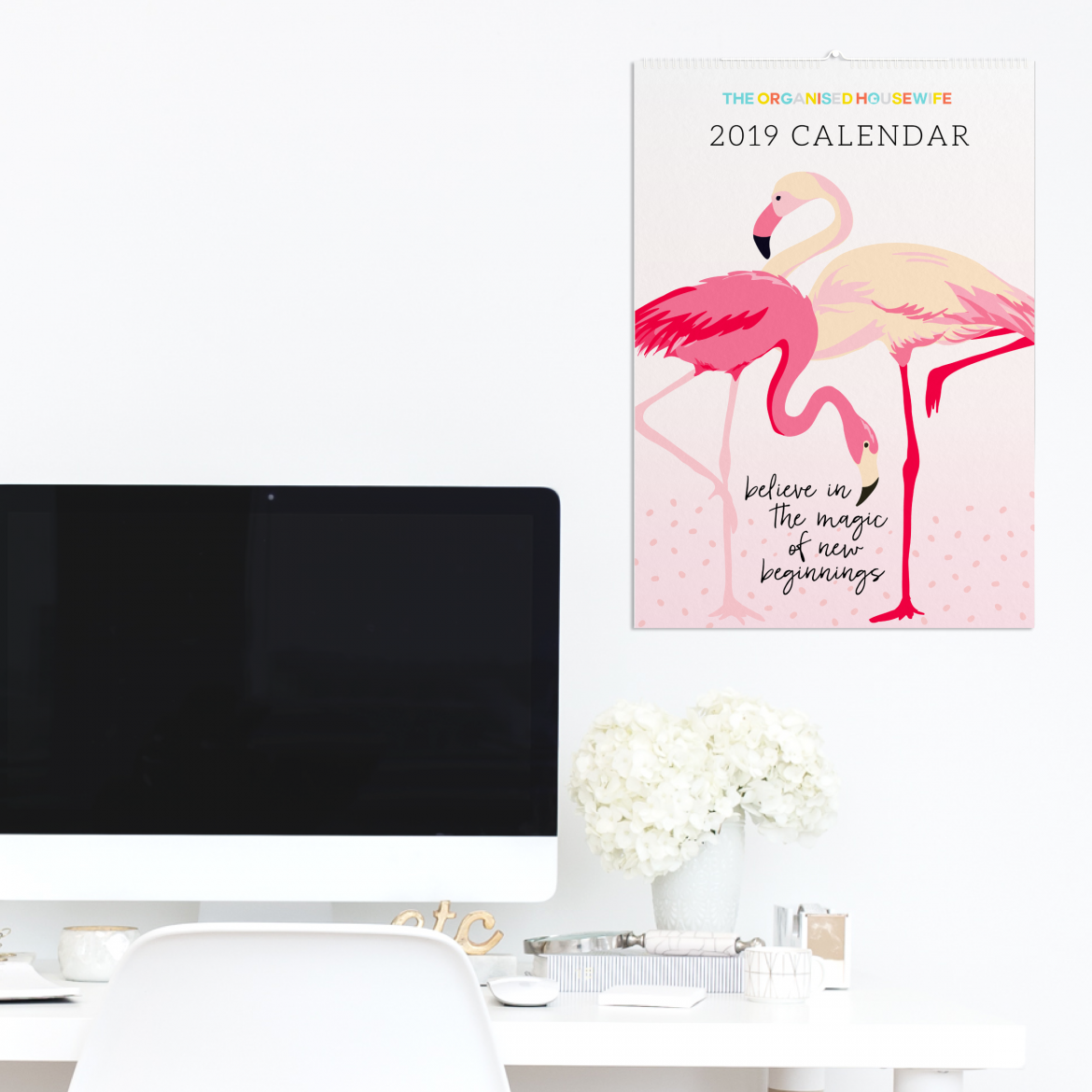 Even though we have calendars in our phones there is nothing like feeling organised when you write all your important and significant dates on a wall calendar, be it a birthday or parent-teacher evenings. I find a wall calendar with a monthly view helps me not to forget things and see at a glance upcoming events such as birthday's so I can plan ahead with gifts or outfits. The calendar starts on a Monday, as I feel this is the true start to the week, with colourful shaded weekends making it all easy and clear on the eye.
Purchase the 2019 Calendar from my shop HERE – Currently 20% off for a limited time only.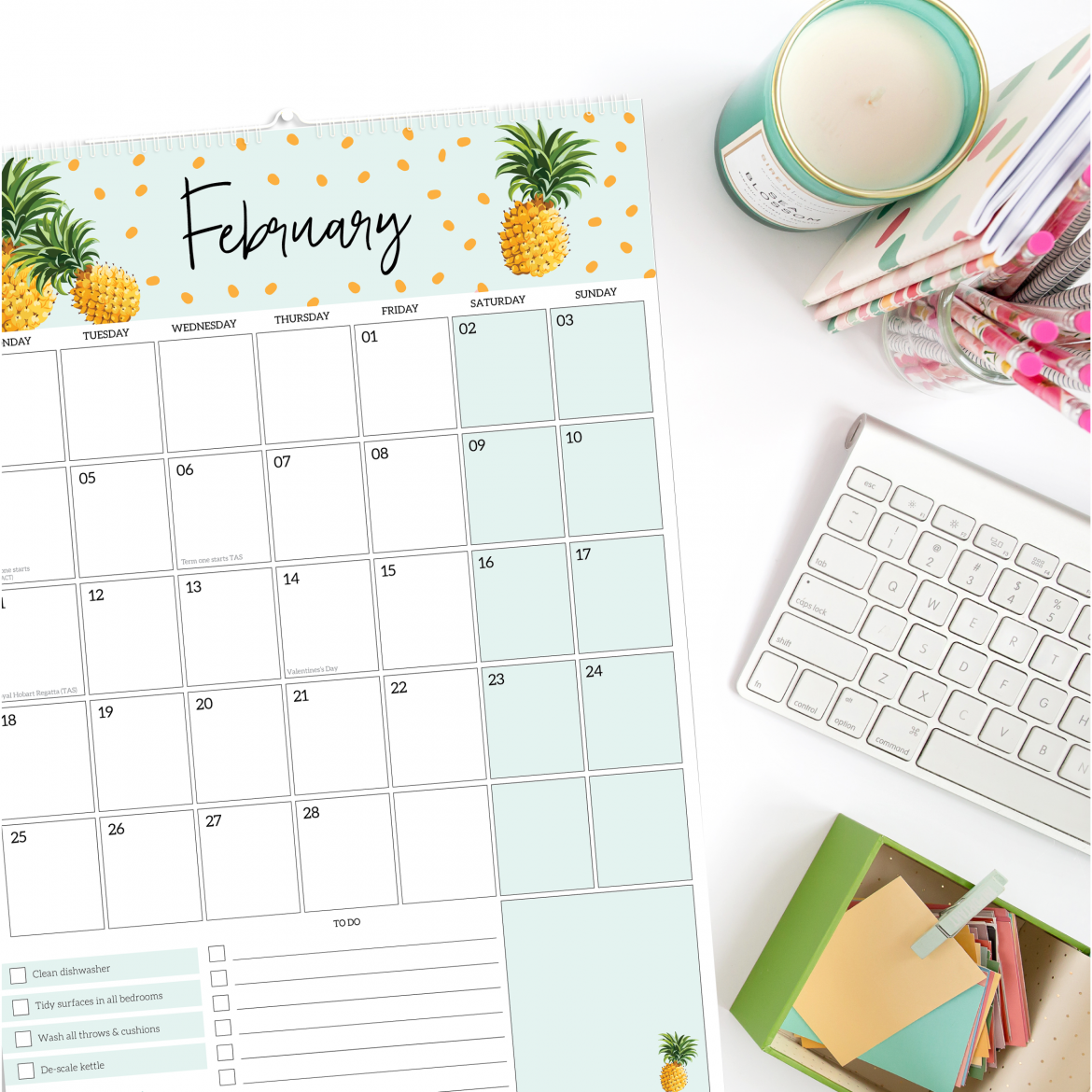 Each calendar includes two sheets with more than 330+ stickers (valued at $9.95 and can be purchased separately if you don't want the calendar) designed to highlight everything super important like birthdays, holidays, doctor's appointment, date night, even a reminder to check smoke alarms or give your pets their monthly flea treatment.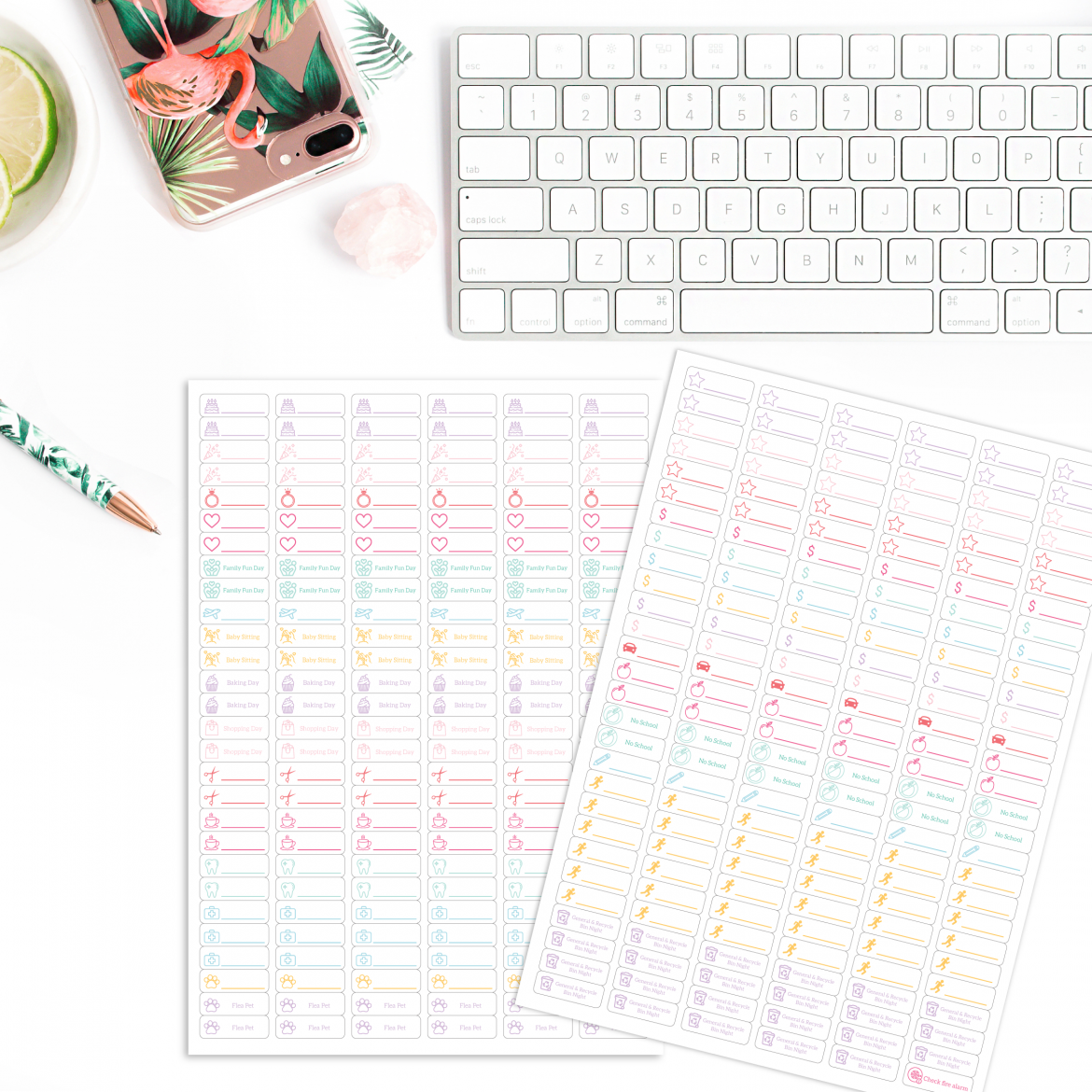 The bonus of making this a generously-sized A3 (297mm x 420mm) wall calendar is that it gave us the ability to have extra large daily boxes, big enough to write down the most important things to remember that day. This year I included all major Australian Public Holidays & School Term dates within the calendar, making it effortless for you to plan.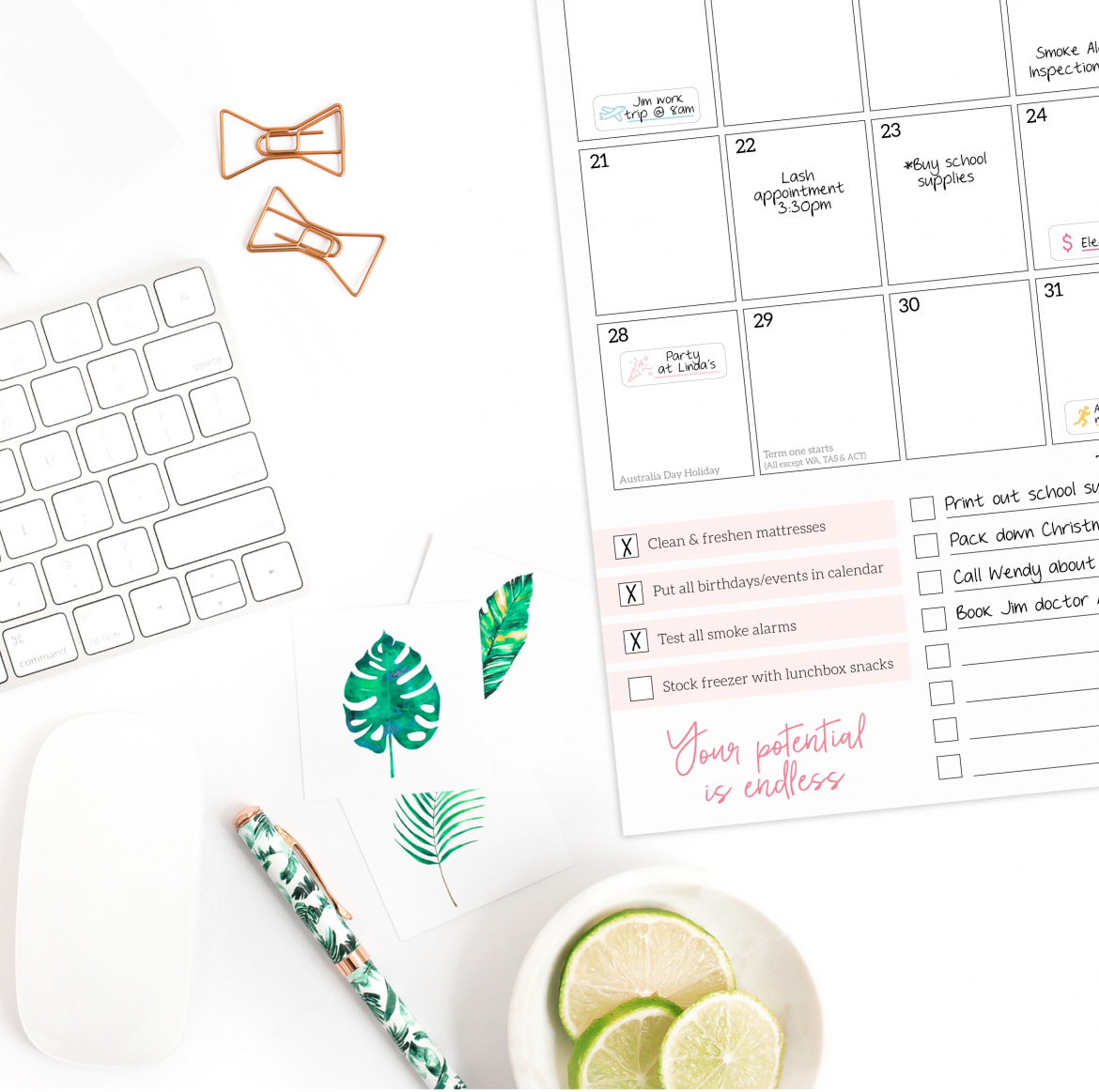 Between busy work schedules, back-to-back activities for the kids, and a mountain full of laundry, it's easy to let house cleaning fall behind. I have included four to-do tasks for you to complete each month to help you manage some of those household tasks that can easily be forgotten. I've structured the tasks to suit the season, such as a reminder before the weather gets warmer to remove the dust from your ceiling fans, clean behind the fridge (when was the last time you did that??), plan a fun family day out (simple things like this make such a difference to family harmony), dust skirting boards etc.
This beautiful calendar includes inspirational quotes to motivate you each month, with a section for you to write down your own personal to-do list each month plus there is a section for notes – however I left it blank so you can customise it to suit you and use as you please.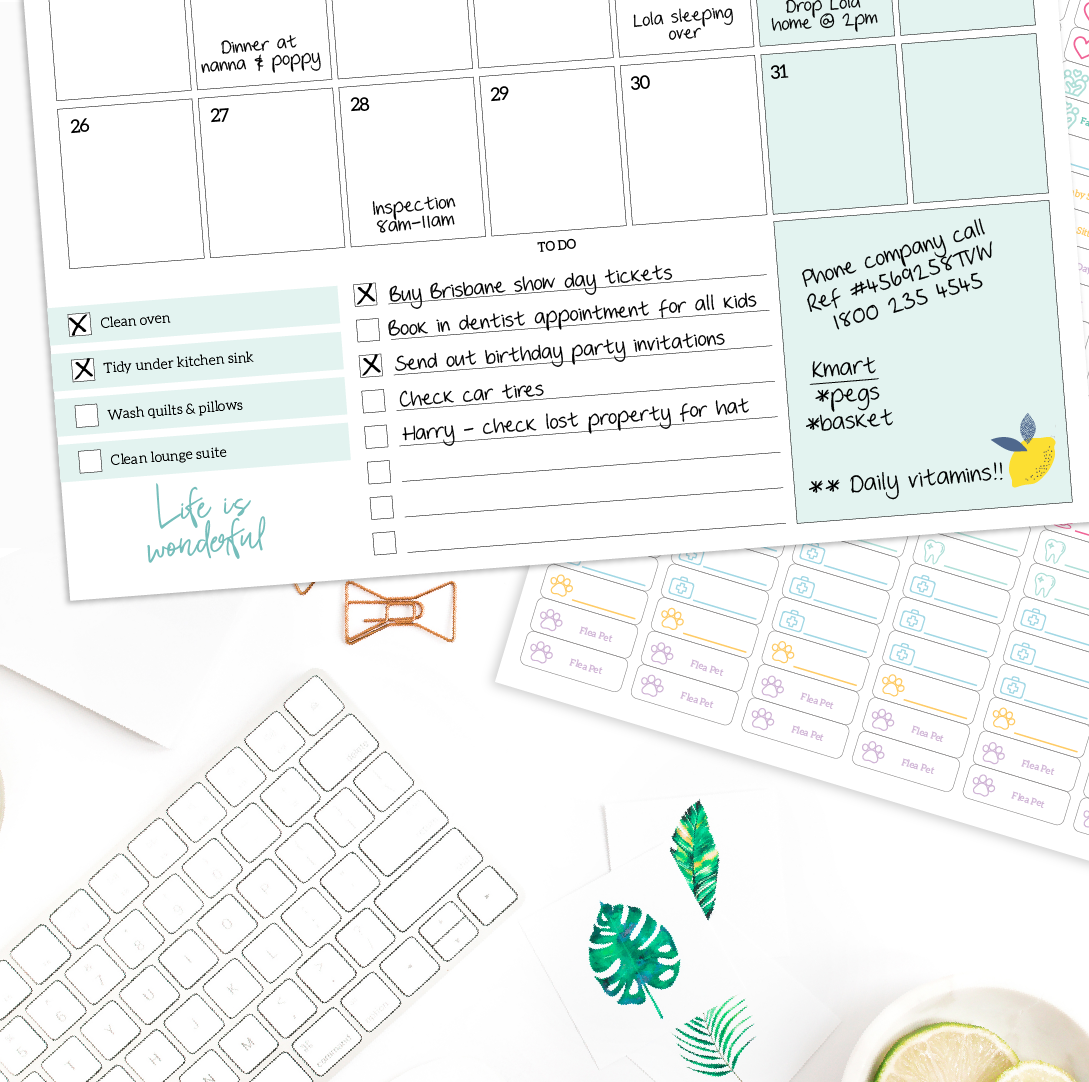 Each month has a different fun design, I'm sure you can't help but feel the positive vibes after you plan your month. As well as looking gorgeous on your wall at home, this portrait wall calendar would also make the perfect gift for a friend or relative who is ready to take control of 2019! Also… I have designed the calendar to be heavy duty with a thick board to back the calendar to help prevent it from bending during postage and warping when hanging up.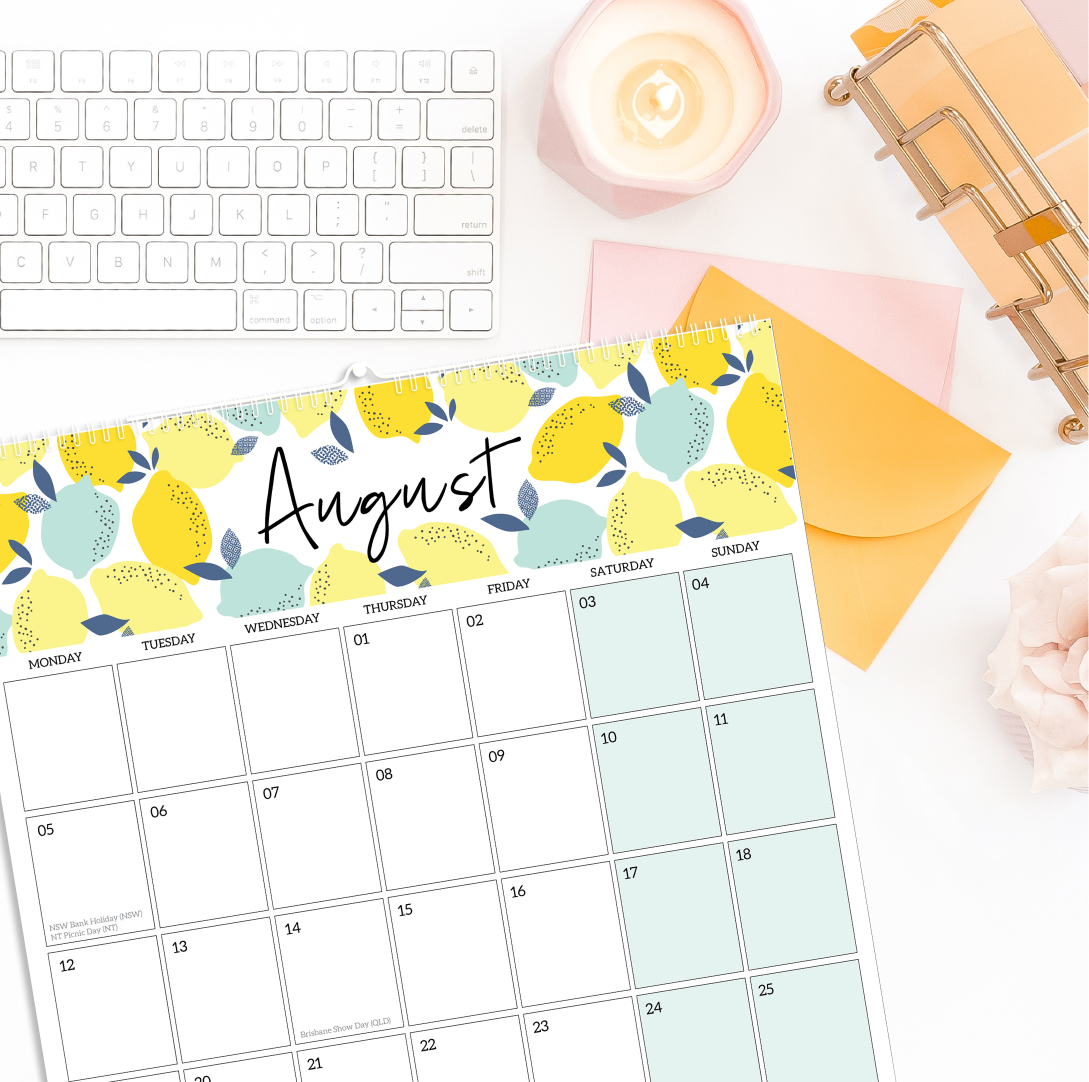 The Organised Housewife 2019 Calendar is now available for PRE-ORDER. Place your order to ensure that you receive one in the first round of printing. I will post the calendars to you early November, in plenty of time to wrap as Christmas gifts or put on your wall for the new year.
Get 20% off when you order before 30th September 2018!!


Make your home or workplace a place full of inspiration and motivation, with your own personal cheerleader hanging on your wall!
Just pre-ordered the gorgeous calendar. I have a bad habit of buying beautiful calendars and never using them. I love the little tips that's on each page to help get on top of things for the year. Looking forward to the new calendar, new habits and the new year.
wholesale enquiries welcome, email me here.