It's week 30 of my Declutter 52 Things in 52 Weeks Challenge. If you haven't signed up yet, join me today as I help you remove all those things in your home you no longer need or use.
It's at the heart of the home. We use it daily – sometimes three times a day! – and when it's cluttered and messy it makes my day clunky and I feel irritated. It's the kitchen bench, and it's a magnet for paper clutter, rubbish, and appliances. Let's fix that.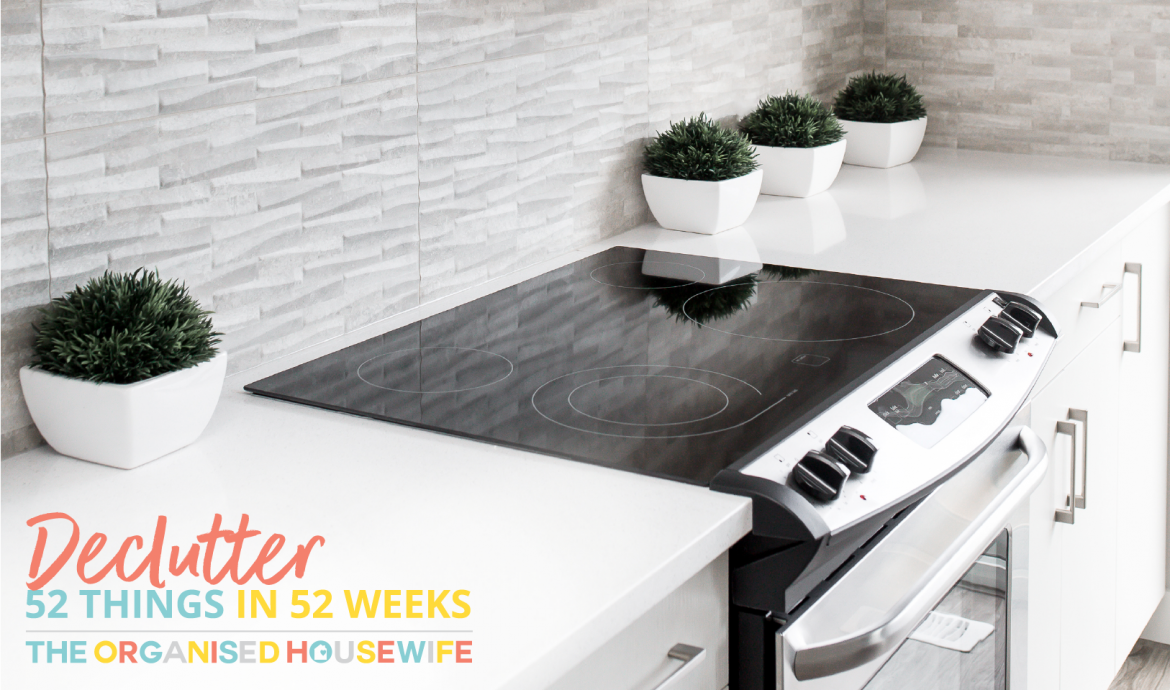 The Declutter 52 things in 52 Week Challenge is completely FREE!! I publish a new task on the blog each Wednesday. Sign up to my daily emails so you don't miss when the next task is live. Alternatively, visit the blog each Wednesday to see the latest task.
Please share a photo of your space each week on Instagram using hashtag #declutter52 and tag @theorganisedhousewife
---
Decluttering Task #30
Kitchen Bench
My kitchen is very open plan, so I like to keep the benches clean and tidy. The only things that are on my benches are appliances I use nearly daily, or the ones that are too heavy to move regularly.
Having a clutter-free kitchen makes mealtime so much less stressful, and I especially like waking to a tidy kitchen. It helps me start my day in a positive and happy mindset.
SHOP THE LOOK: Rattan Counter Stool, clock was from a small business no longer operating.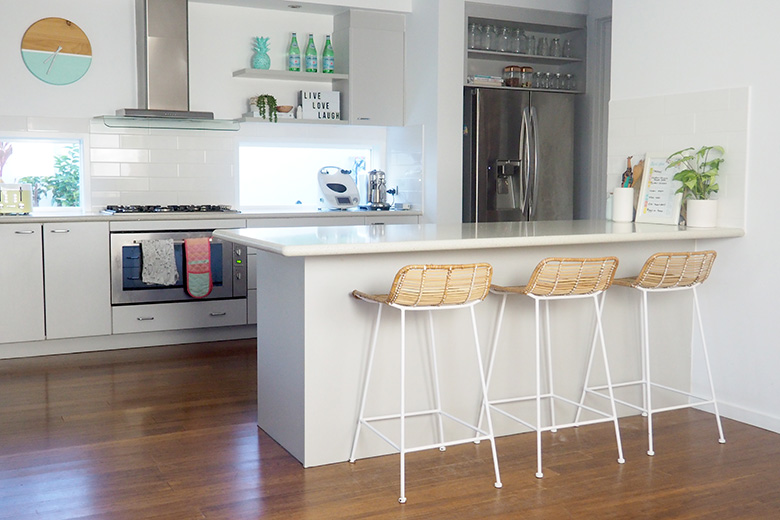 ---
**EXCITING NEWS**

2020 WALL CALENDAR AND

NEW PLANNER


COMING SOON!!

I keep my calendar I am creating (for the first time EVER!) an annual planner – and it's out of this world. This 2020 Planner and my new Calendar are in their final weeks of design, and I am absolutely blown away with the beauty of both these exceptional products. The designs are playful, unique, classy, and of course filled with stacks of helpful tools to make life a little calmer.

My Calendar sold out in 2 weeks last year (and that was during the pre-sale!), and I just know that when my community casts their eyes on this 2020 Planner, it's going to literally RUN off the shelves!

Don't be the one who misses out, click here to enter your details and I'll make sure you're the first to know!

---
TODAY'S TASK: PURGE AS MUCH KITCHEN BENCH CLUTTER AS YOU CAN
Note: My definition of purge – sell, donate, repurpose or throw away items as you see fit
Today's task will clear the kitchen bench of everything that doesn't need to be there (e.g. paper clutter, rubbish, certain appliances etc) and better organise the things that are staying put.
Look at your kitchen bench and see what appliances you don't use frequently and storage solutions that aren't functional.
Remove everything from the kitchen bench, grouping like items together.
Determine what items you haven't used in over 12 months and consider purging them.
Determine what items you haven't used in the last fortnight and consider storing them elsewhere.
Add any new and/or your current storage products to your kitchen bench to help you keep it organised (e.g. if you keep your phone, wallet and keys here, consider getting a storage box or bowl for them).
TIP: Mail and school forms are a common kitchen bench clutter culprit. Consider storing these in a magazine file elsewhere, or attaching to a magnetic clamp on the fridge.
Place appliances that you use regularly back on to your kitchen bench.
Place items you don't use often towards the back.
The kettle, toaster, coffee machine, Vitamix, and Thermomix – as well as a couple of pretty plants – are the only things that have a permanent place on my kitchen benches.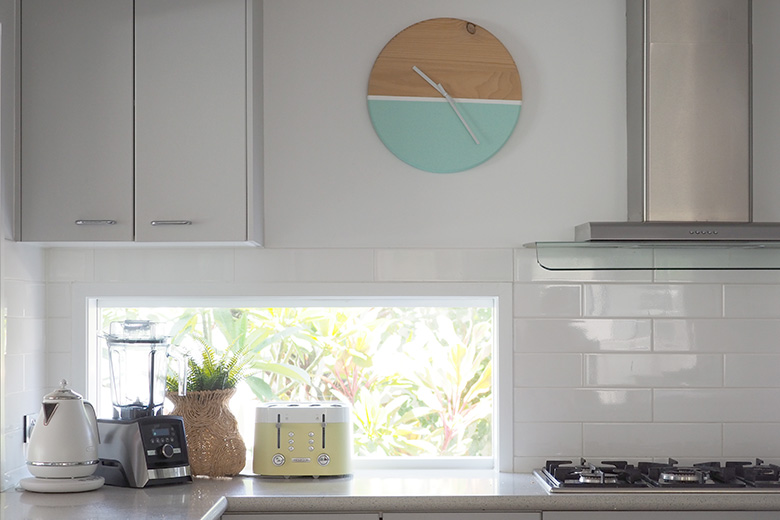 READ MORE: How To Clean The Kettle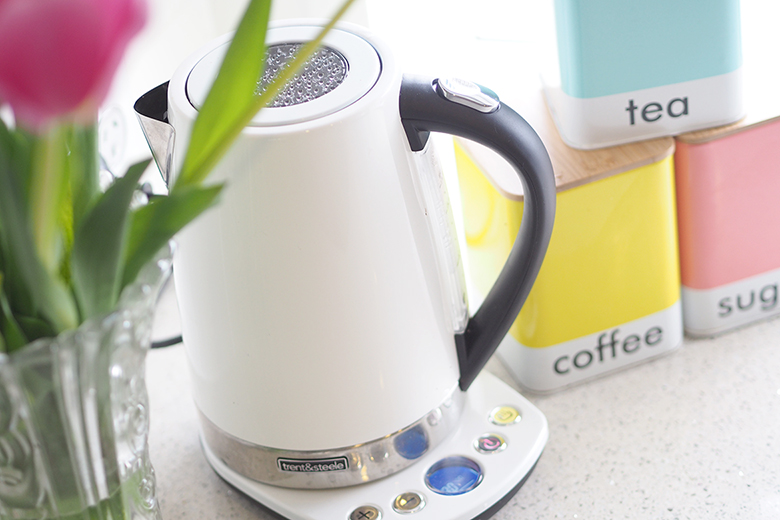 SHOP: Keep your kitchen sink organised and clutter free with The Organised Sponge Sink Caddy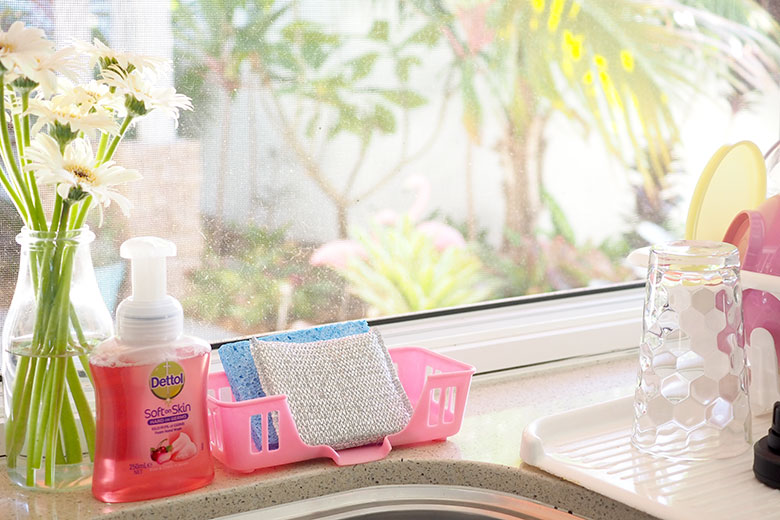 SHOP: Take the stress out of lunch packing with my easy-to-use Lunch Box Planner Pad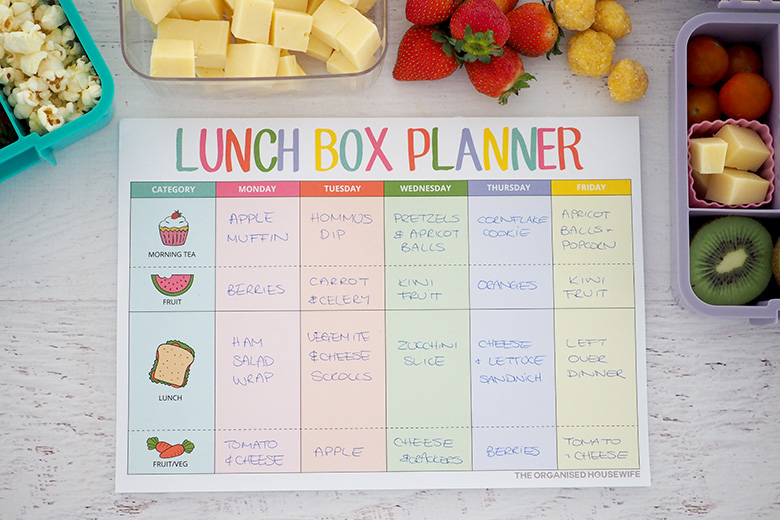 How many items have you been able to purge today?