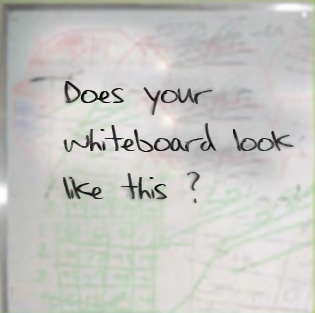 I was recently browsing pinterest (as I do) and I came across the tip below.  Does your whiteboard look like the picture to the right? Mine does at times but my main
struggle is actually getting the marker off.
I have used all known methods such as metho and white board cleaner to get it off, but it doesn't work.  The metho was the best method, however I needed alot of muscle to remove the marker.  After reading the tip I was eager to give it a try:
"Use Air Freshener to clean a white board with dried on ink. Spray the board and wipe, it also helps 'recondition' old dry erase boards."
I used Dettol Glen 20, it worked a charm! No extra muscle needed.  My son took this video below just to show you how easy and muscle free it is.  I love finding different purposes for products.
Thank you to Dettol for sponsoring today's post