From 3pm this afternoon the kids are on school holidays.  In so many ways I am looking forward to it.  I'm excited to have them home for 2 weeks, to spend time with each of them, do some crafts, baking, sleep in, watch movies, have fun and just relax.  I love those days were you have no plans, just spend the day at home.
image credit unknown
I have a really busy schedule in October, some very exciting things happening, so I'm going to take some time off with the kids over the holidays.  Don't worry there will still be blog posts for you to read! During October I will be sharing all organising tips for the kids bedrooms.
Free School Holiday Planner Printable
As usual I'll put our school holiday planner on the fridge so we can schedule in everything the kids want to do.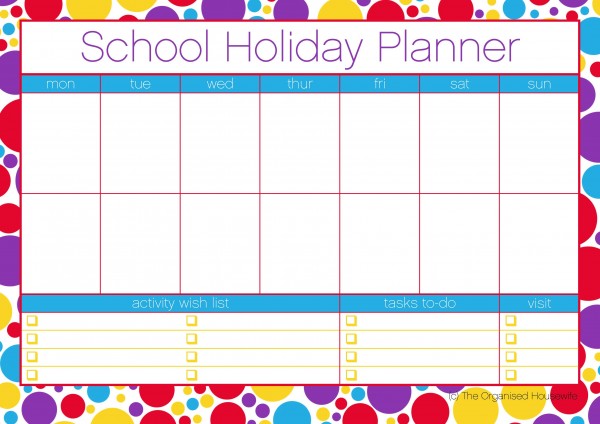 Below is a list of tasks I like to complete during the school holidays:
Vacuum out school bags with the brush attachment
Give school bags a wipe down with liquid detergent and warm water, hang on the line to dry
Wash lunch bags, brush through the zipper area to get all the trapped food, hang on the line to dry
Give the ice bricks a good wash
Give the drink bottles a good scrub inside and out
Wash shoes with a damp cloth, allow to dry, sprinkle with bicarb to remove any smells, then polish
Soak their school socks (they are white) in nappy san for a day, then wash.  This will get them back to a crisp white removing a lot of dirt that doesn't come out in the normal wash
Mend uniforms
Tidy up their hair ties, see organising hair ties HERE
Tidy up the homework area, see organising school papers HERE
Try and use up as much pantry food as I can
Restock the freezer with more baking for lunchboxes
Happy Holidays!