I have been wanting to write about my school filing organising system for years now, however, time got the better of me, but finally, I'm sharing it!!  I created these 'School Years' File Boxes many years ago and made one for each of my three children. I keep all their old school book pages, report cards, certificates and school photos in them, which helps with keeping everything tidily organised.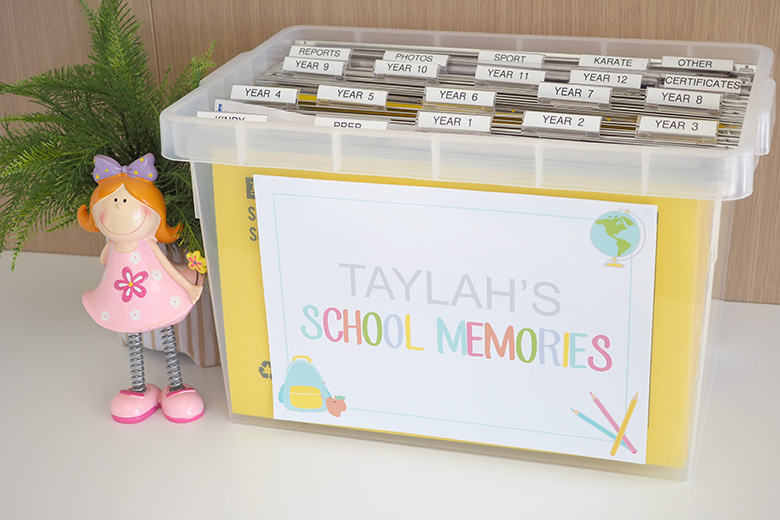 Keep those special school keepsakes organised!
I'm such a sentimental mum and have kept so many school trinkets over the years. I use my storage system to not only save school photos, but I have ripped pages out of the kids exercise books at the end of the year to keep any particular stories or drawings in the books that I've liked.  This saves room as I don't have to keep the whole book.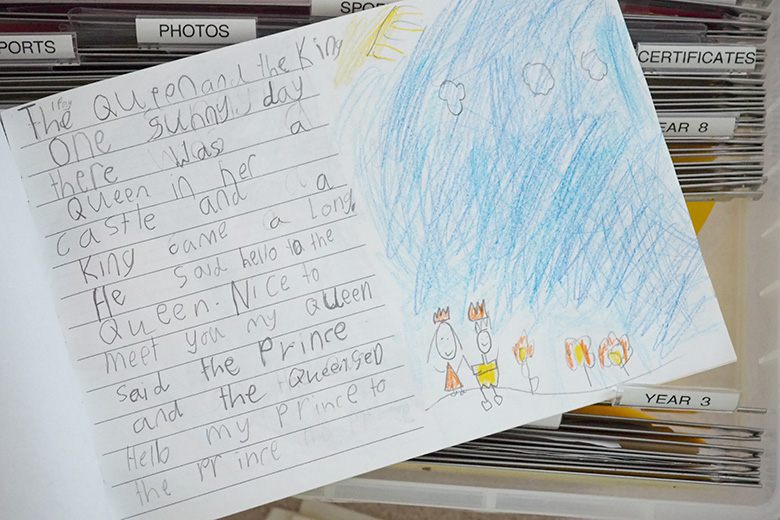 In recent years I have included a 'first day of school questionnaire'  which I'm kicking myself I didn't have when the kids were young as it would have been really nice to watch their handwriting change on these pages over the years and also keep track of some of their favourite things.  It's so nice going through some of the old papers, reading their stories and spelling tests. I keep the kid's school photos in this box as well.  Perhaps you can keep them in an album, but for now, this is how I store them.  Isn't my youngest a cutie!!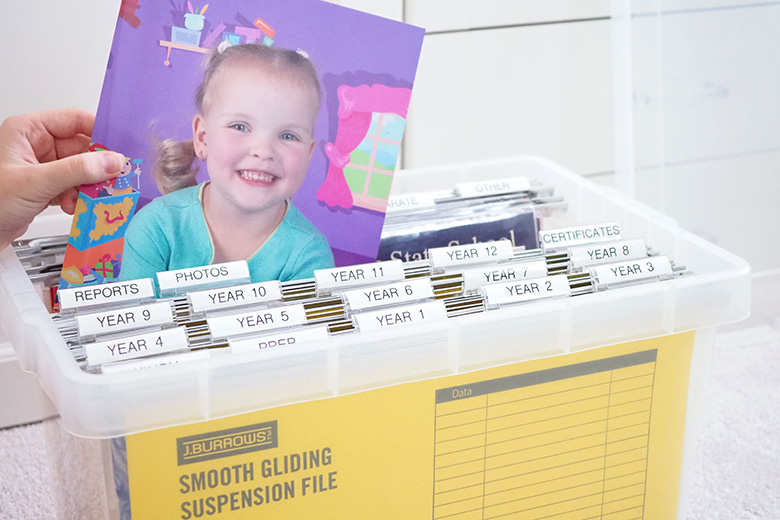 I have used a file storage box which I got from Howard Storage World many years ago, but you can also find them at officeworks, with suspension files.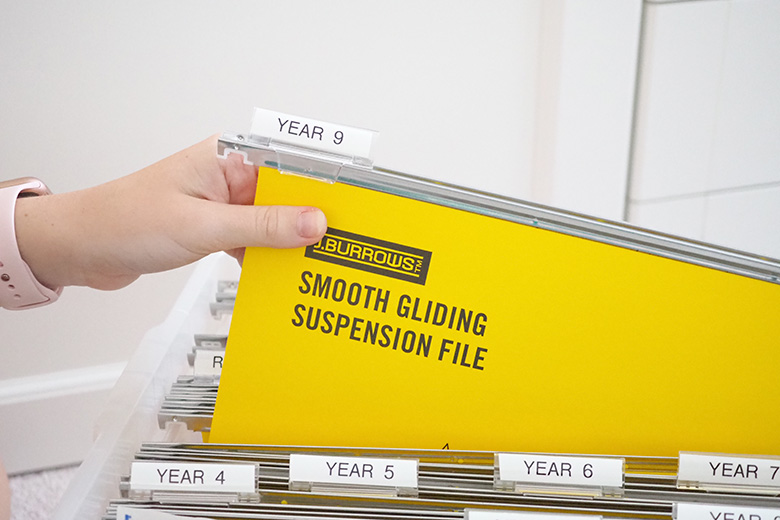 I added a labelled tab to each file, which makes it super organised and easy to file everything away.  I have labelled the tabs:
Prep – Year 12
Certificates
Reports
Photos
Sports
Other
WIN A DYMO LABEL MACHINE!!
Does your inner 'Organising Goddess' unleash when you get out the label machine? These new glitter labels that come with the new DYMO COLORPOP label maker are pretty, and you can get really creative with over 150+ emojis.  Available from Officeworks.
  WIN A DYMO LABEL MACHINE: read more on my instagram page @theorganisedhousewife here. 
How do you store your children's keepsakes and important documents from school? Have you got your own filing system that works, or do you stash things into boxes and worry about them down the track?
First Day of School Printable
I have some cute little First Day of School Printable Questionnaires available for download too. There is one for every year that your child is at school, ranging from prep, all the way to year 12 (plus one for the last day of year 12). I created them because we always write down milestones for the kids as babies. Why not also note down their favourite things to do and eat, their height, what they want to be when they grow up etc, it's fun to see the difference each year.
  DOWNLOAD HERE: School Memories Pack includes First Day of School Printables + Box Label from my online store.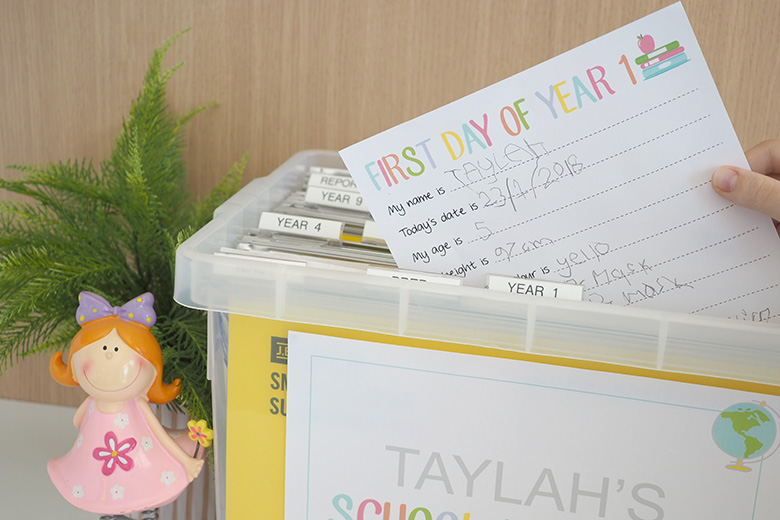 I think it's such a lovely way to keep memories of your children, whilst as parents, it's fun for us to look back on certain memories of the kids. Enjoy comparing what their favourite food was in prep class, compared to on the first day of their high school years too.  File this page tidily away in the corresponding file.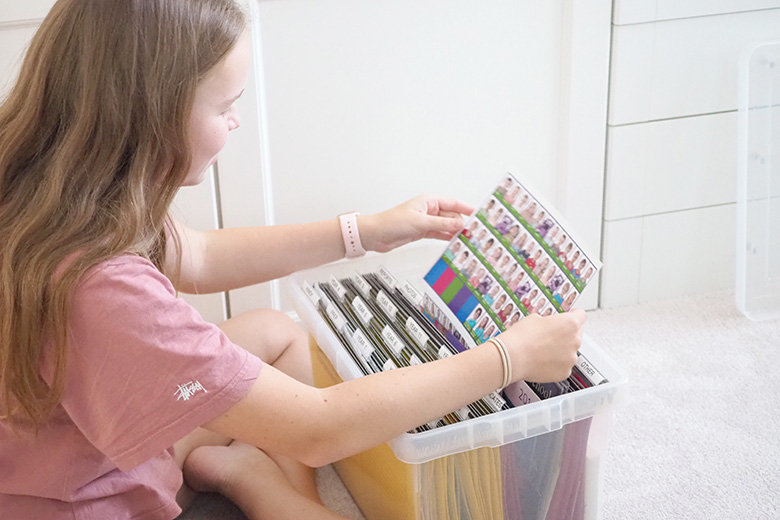 It really doesn't matter when you start using these printables, as long as your child is still at school, (I missed the first few years). It's never too late to collect little memories like these keepsake lists. The lists will have the year level your child is in, and what the date is currently. Preppie mummies will especially love these since they can collect them all over the years. Just get your child to fill one out at the beginning of each year, and file it into your filing system you've created.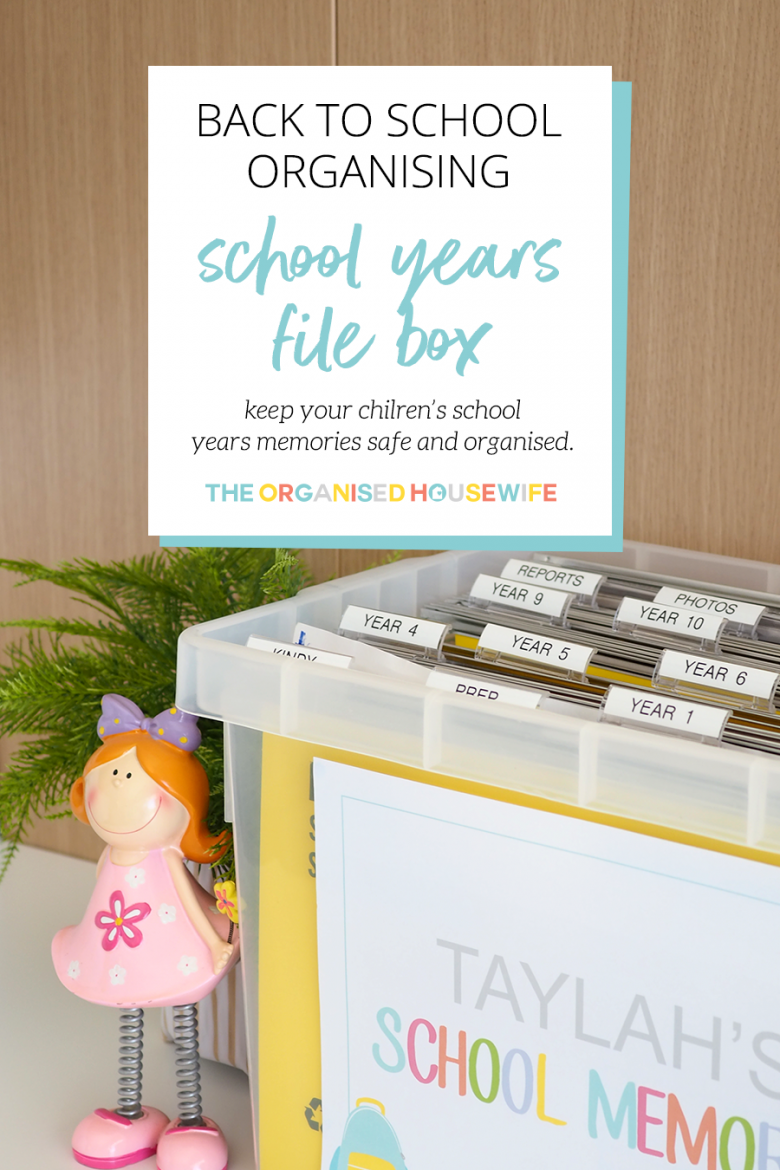 What sort of keepsakes have you kept from your child's school days?