Have you been inspired to make a start on clearing your clutter?  I have made a start listing some of my 'sell box' items on eBay.  If they don't sell i will be donating them to charity.  Please let me know if you are interested in a post on how to sell on eBay.  I'd love to hear from you, please leave a comment below and let me know what you have started.
Today I thought we'd keep organising the kitchen and as I recommended start a small area first, so then you don't get too overwhelmed.  So let's organise the kitchen drawers, this will help make your kitchen as efficient as possible.  Almost all kitchens have drawers, and the gadget draw would have to be one of the most over crowded drawers.  Here's some tips to organise your drawers:
Remove items from each drawer, wipe drawer clean and re-organise.  Consider using some drawer storage solutions, such as drawer dividers to keep neat and tidy.
Keep all like items together such as cutlery, baking, gadgets and teatowels.
Avoid overcrowding your drawers, remembering the rules discussed in 5 steps to clear your clutter
Sharp objects:  Sharp objects such as knives are unsafe to store in drawers, especially if young children can access the drawer.  Store knives in their own storage blocks.
Utensil Holder: Place a utensil holder on your kitchen bench storing frequently used and large utensils. It will allow easy access while cooking and frees up space in your gadget drawer.
Christmas Gadgets: Store your christmas baking items such as cookie cutters, cookbooks or baking tins with your christmas decorations so they don't take up valuable space in your drawer.
Junk Drawer: Avoid the Junk Drawer, whilst you may think it is convenient to add your 'miscellaneous stuff' to a drawer it can quickly become a disaster.  Remove all non-kitchen items from the kitchen and create a home for it elsewhere.
My Cutlery Drawer – We recently got rid off all the kids character and plastic spoons now they are using teaspoons and cake forks.  To the side I store my potato peeler and plastic spoons that are added to kids lunchboxes, they bring them home and I wash them.  But if they go missing it's no big deal.  Also my chapstick, I have chapstick in nearly every room…lol, I'm addicted.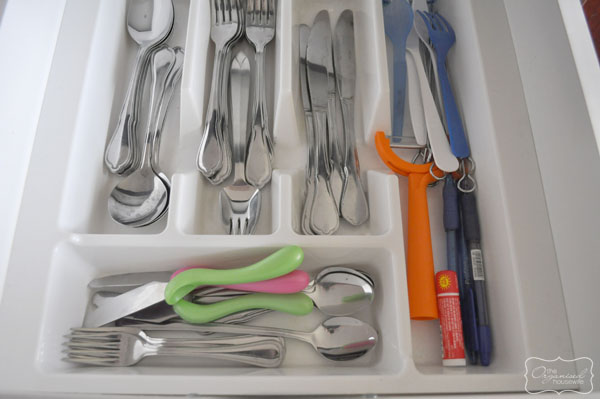 The Gadget Drawer – These drawer dividers are from Target, they come in a range of sizes.  Previously I used cereal boxes cut to size.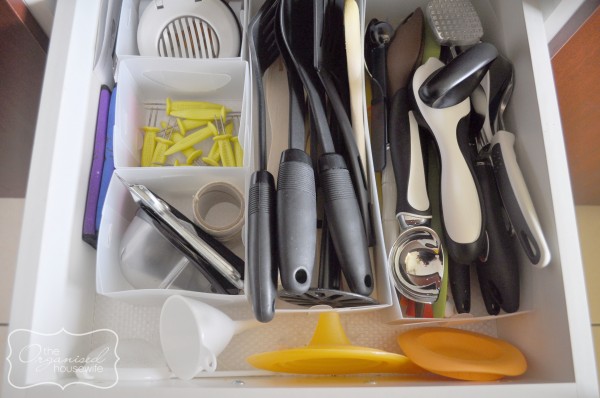 My Baking Drawer – again love these drawer dividers.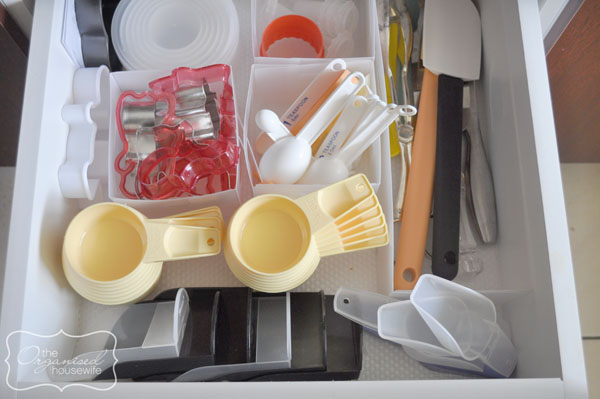 Teatowels are stored in the bottom drawer for easy access.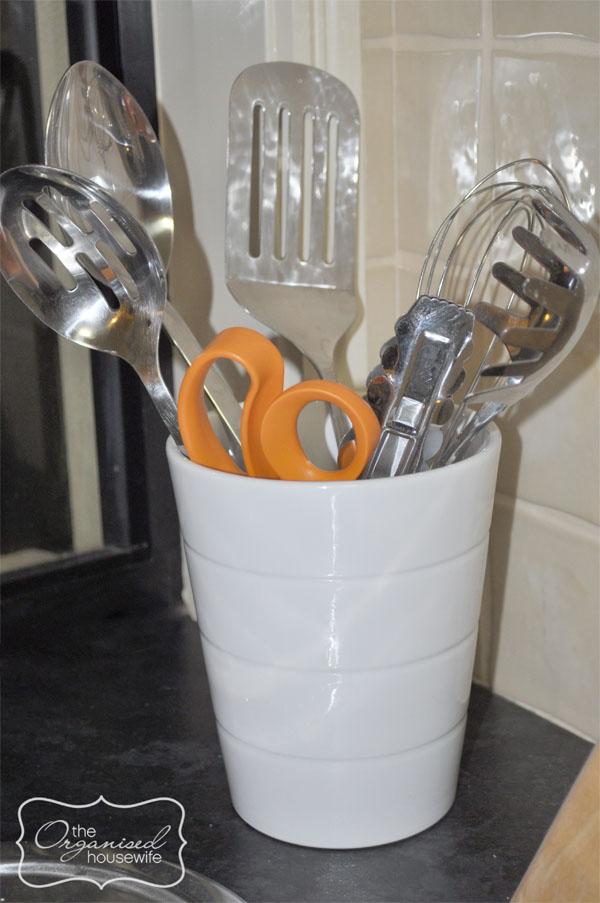 Which kitchen drawer do you find the mostly cluttered?