A delicious Mongolian Beef recipe for the slow cooker. It is quick to prepare and to throw into the slow cooker, and will be ready to enjoy that evening.
I love using the slow cooker on those nights I know we are going to be super busy, to come home from a long day and know that there isn't much preparation ahead for dinner is such a relief.  Below I've shared a delicious slow cooker Mongolian Beef recipe.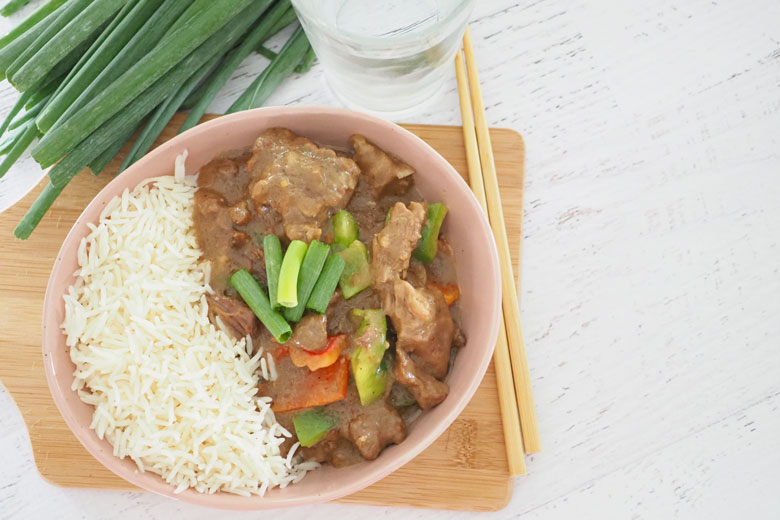 This Mongolian beef recipe is packed full of flavour. Serve it with rice and garnish with some spring onions.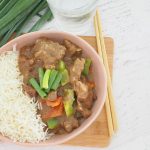 YOU WILL NEED
1kg beef, diced
¼ cup cornflour
1 onion, cut into wedges
1/2 cup soy sauce
¼ cup white wine
¼ cup cooking sherry
2 teaspoons white wine vinegar
1 teaspoon sesame oil
1 teaspoon honey
1 teaspoon ginger, minced
¼ teaspoon black pepper
½ teaspoon dried chilli flakes
3 tablespoons peanut butter
2 garlic cloves, minced
Spring onions, finely sliced for garnish
Instructions
Place beef and cornflour in a large snap-lock bag. Seal bag and shake to coat.
Place beef and onion into slow cooker.
In a jug add soy sauce, wine, sherry, vinegar, oil, honey, ginger, pepper, chilli, peanut butter and garlic. Mix.
Pour sauce mixture over beef, stir to combine.
Cover and cook on low for 6 hours. Stir once.
Add beef to a bowl and spoon additional cooking sauce over the top.
Sprinkle with spring onions and serve with rice.
Notes
Add additional vegetables such as broccoli, cauliflower, beans, carrot, capsicum to Step 3, if desired.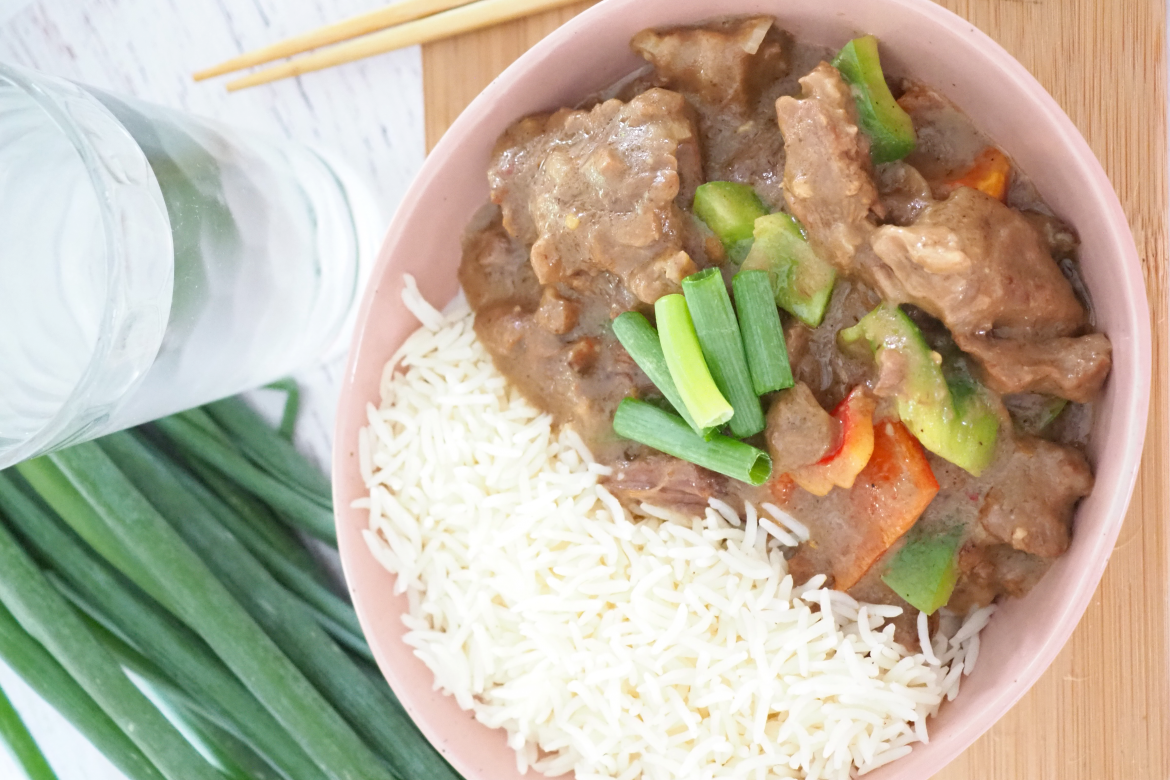 Kat's Hearty Dinners Recipe Cookbook
A 128-page cookbook is bursting with hearty, home-cooked meals the whole family will enjoy!
50 simple, fuss-free and easy-to-follow dinner recipes range from pasta to oven bakes, and slow cookers to soups. They aren't fancy, but they are laced with love, and each one is intended to not just make a meal, but a memory too.