A healthy and delicious Chicken Laksa soup recipe that will be a hit with the family. Packed with veggies and noodles and the traditional spicy coconut flavours.
A delicious bowl of chicken laksa soup from your local takeaway is always yummy, but you can easily make it at home to get your laksa fix! This soup recipe only takes about half an hour from start to finish, and is easy to make. Both delicious and nutritious with fresh veggies and the Malaysian style spicy and coconut flavours.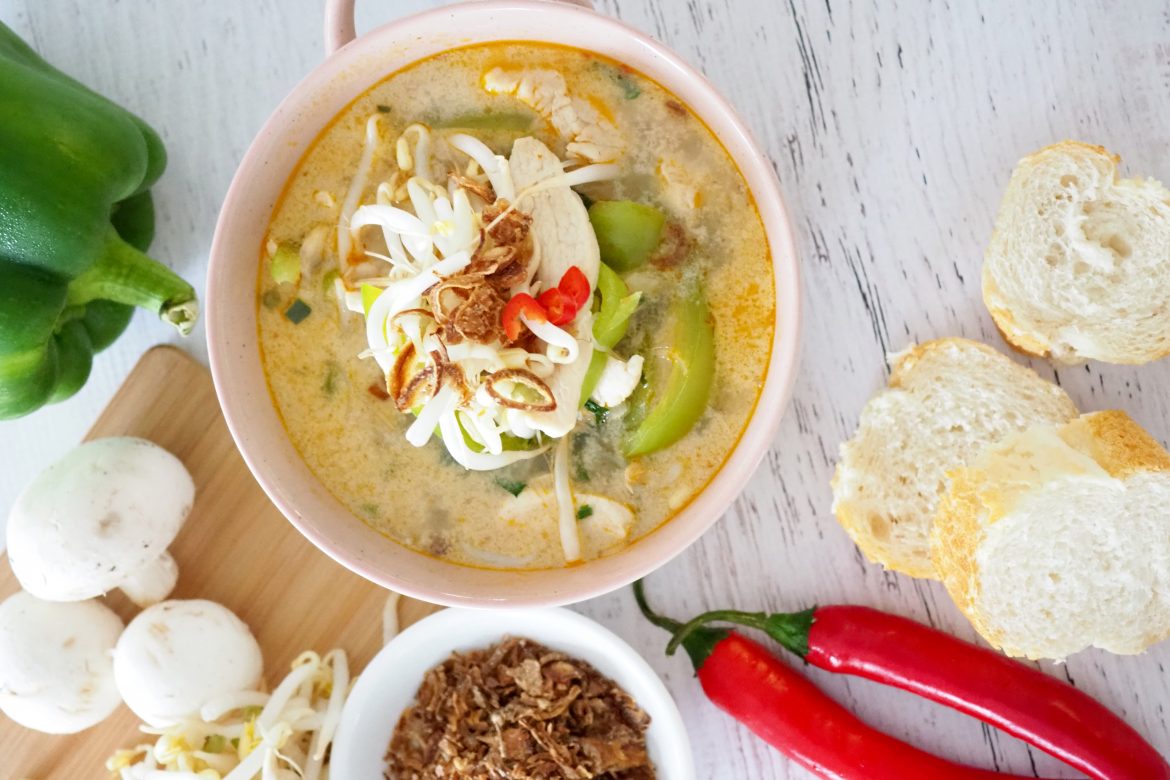 I always like to cook a traditional style chicken soup for my tribe during winter. Particularly when someone's not well, I find soup not only soothes the throat but can help with the decongestion. However, a chicken laksa with a little bit of a kick takes it a step further helping clear that blocked nose! This is a great soup for just that!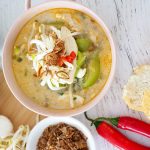 YOU WILL NEED
60g rice vermicelli noodles
1 teaspoon peanut oil
2 tablespoons laksa paste
2 1/2 cups chicken stock
1 tablespoon fish sauce
500g chicken breast, cut into thin strips
1 cup coconut milk
100g bok choy, chopped
1 green capsicum, sliced
100g mushrooms, sliced
2 kaffir lime leaves, finely shredded
fish sauce, to serve (extra)
2 cups bean sprouts, trimmed, to serve
Fried Shallots, to serve
Chilli, sliced, to serve
Instructions
Cook noodles following packet directions.
Meanwhile, in a large saucepan, heat oil over medium-high heat.
Add paste. Stir and heat through for 2 minutes.
Add stock and fish sauce into saucepan. Mix and bring to the boil.
Reduce heat and simmer for 5 minutes.
Add chicken and coconut milk. Stir and continue to simmer for 5 minutes or until chicken has cooked through.
Place bok choy, capsicum, mushrooms, lime leaves and drained noodles into saucepan. Stir and continue to cook for 2-3 minutes.
Ladle soup into individual bowls. Add a splash of fish sauce to taste, and top with bean sprouts, a sprinkle of fried shallots and chilli. Serve.
ANOTHER RECIPE YOU'LL LOVE
This Salmon Poke Bowl recipe is a delicious and healthy dinner option for families. Quick and easy to make, you can have this recipe ready and on the table in under 30 minutes. Continue Reading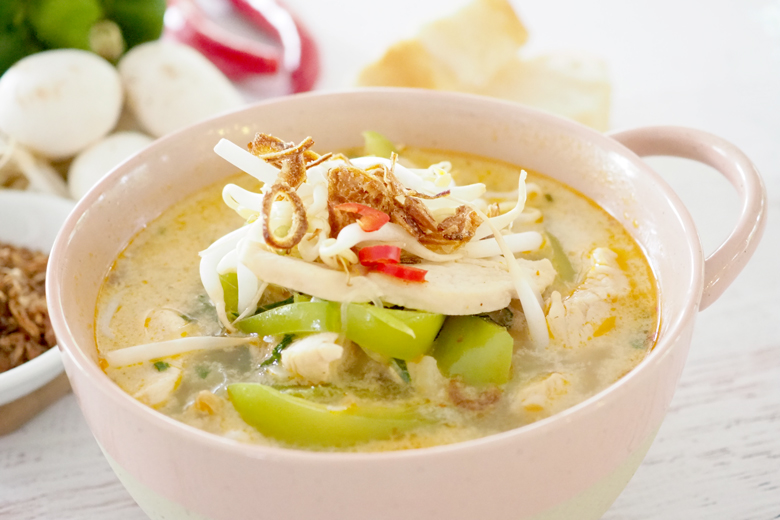 KAT'S Hearty Dinners recipe cookbook
A 128-page cookbook is bursting with hearty, home-cooked meals that the whole family will enjoy!
50 simple, fuss-free and easy-to-follow dinner recipes range from pasta to oven bakes, and slow cookers to soups. They aren't fancy, but they are laced with love, and each one is intended to not just make a meal, but a memory too.