I'm not a fan of pumpkin so I rarely cook with it, but I must say I LOVED this Chicken & roast pumpkin pasta bake, it was delicious.  We will definitely make this again and perhaps add a little garlic to the cheese sauce.
I made this during the day, then placed in the fridge at the end of step 19. Once home from our after school sport activities I popped it into the oven (as it was in the fridge, I heat for 3o minutes instead of the recommended 20 min).  I love dinners like these that can be made ahead and then heated just before eating.
Serve with salad and there will most certainly be enough left overs for everybody for the following nights dinner.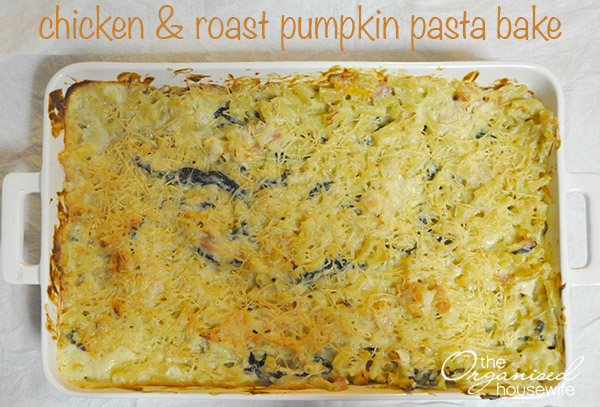 Chicken and roast pumpkin pasta bake

| | | |
| --- | --- | --- |
| Prep Time | Cook Time | Total Time |
| 35 mins | 20 mins | 55 mins |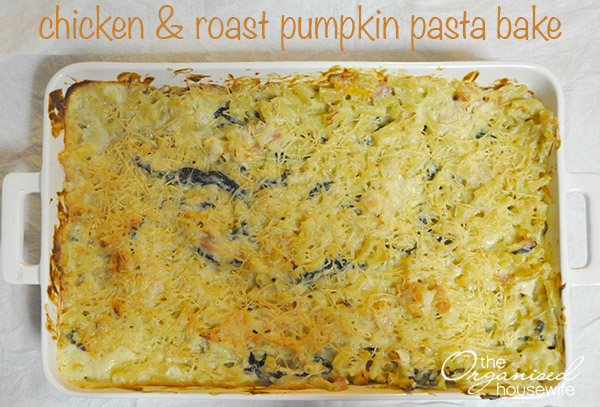 Ingredients
1 butternut pumpkin, peeled and diced into 1cm pieces
1 tlb olive oil
500g packet macaroni
500g chicken breast
2 short cut bacon, finely diced
60g butter
1/3 cup plain flour
3 cups milk
1 1/2 cups grated tasty cheese
2 spinach leaves, thinly sliced
1/2 cup grated parmesan cheese
Instructions
Preheat oven to 160C
Have large rectangular oven dish ready
Place pumpkin onto a lined baking tray, drizzle with oil and season with salt and pepper
Roast in oven for 20 minutes or until golden, then allow to cool slightly.
Cook macaroni following packet directions, drain and place bake into saucepan.
Place chicken in a large saucepan, cover chicken with tap water, season with salt and pepper. Bring to the boil over medium-high heat
Once boiling reduce heat to low, cover and simmer for 8 minutes or until almost cooked
Remove from heat and set aside until needed
Cook bacon for 1-2 minutes in microwave or brown using a frypan
Melt butter in saucepan over medium heat.
When butter is foaming (very bubbly) add flour.
Cook stirring for 1 -2 minutes.
Remove from heat, gradually stir through milk, mixing until smooth
Return to heat, cook stirring for 4-5 minutes until boils and thickens.
Stir in tasty cheese and season with salt and pepper, set aside
Shred chicken
Add chicken, pumpkin, spinach and cheese sauce to pasta, gently stir to combine
Spoon into rectangular casserole dish
Sprinkle with parmesan cheese
Bake in oven for 20 minutes or until browned
By Kat – The Organised Housewife
7 THINGS I DO EACH DAY TO KEEP THE HOME CLEAN AND ORGANISED
Subscribe to my weekly newsletter to receive blog updates in our inbox + this FREE eBook sharing some of my top tips that you can adapt in your own home.