When you have a cluttered home, it can put an overwhelming emotional strain on your mindset. You would be surprised how that can have an effect on your mental health. Have you ever had a cluttered and messy home and an unexpected friend dropped in and all you could think was OMG, she can't see my house like this? Imagine living a life free of those sorts of emotions and be able to be so proud of your home, that you actually invite your friends over because you want them to see how nice and uncluttered everything looks. Sign up and let me help you declutter your home, and create some beautiful living spaces that you didn't even know you had.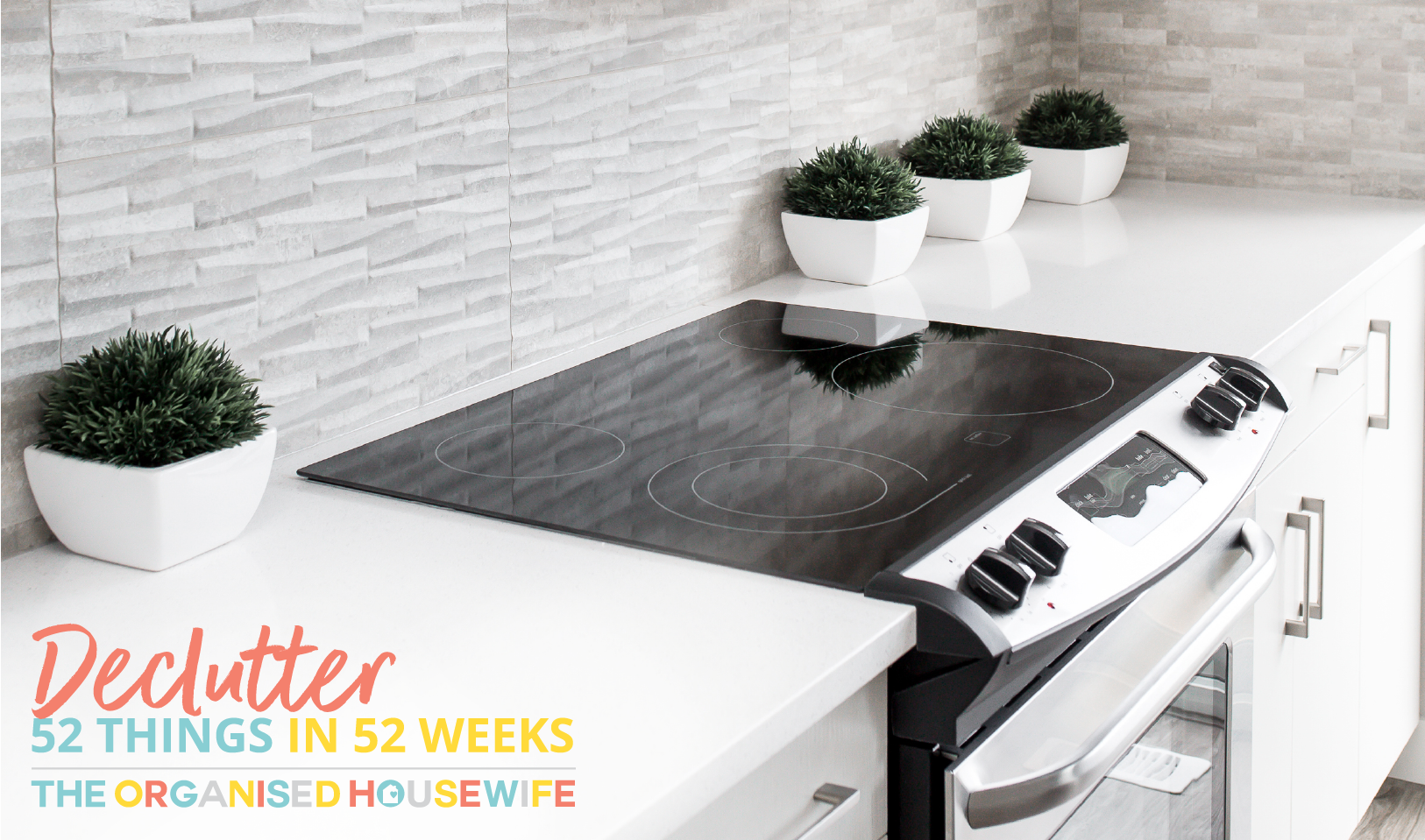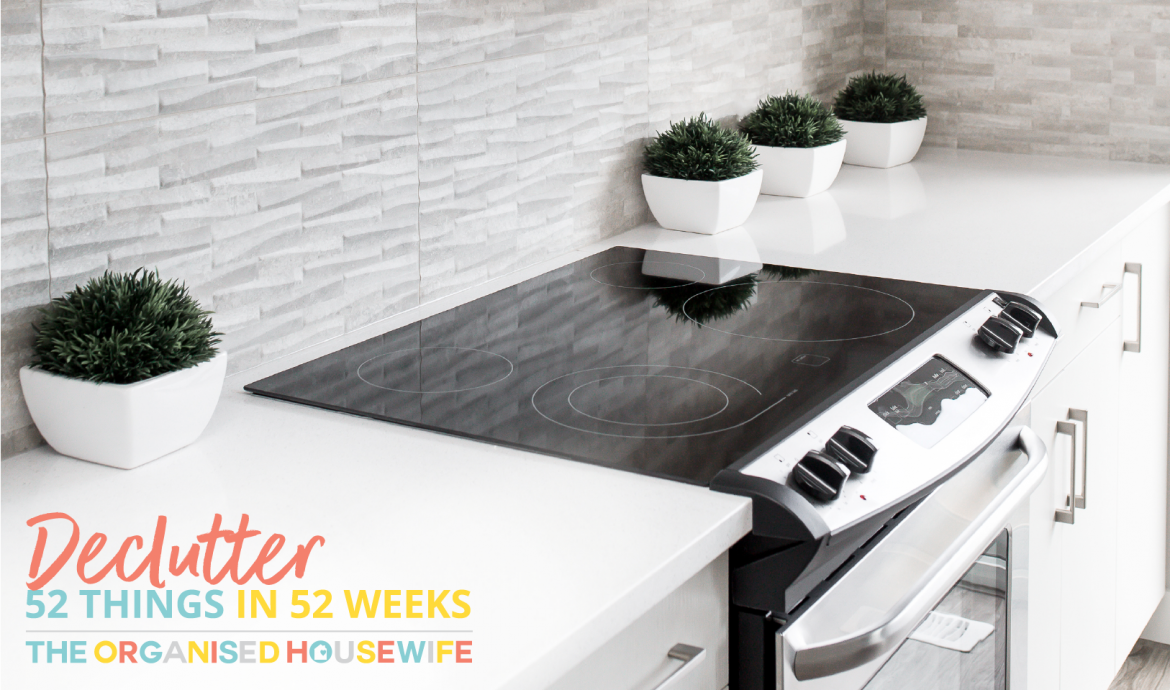 The 'Declutter 52 things in 52 Week' Challenge is completely FREE!!! Sign up to my daily emails so you don't miss when the next task goes live. Alternatively, visit the blog each Wednesday to see the latest task. I will publish a new task on the blog every Wednesday.
Please share a photo of your space each week on Instagram using hashtag #declutter52 and tag @theorganisedhousewife
---
Decluttering Task #2
The Plastics Drawer/Cupboard in the Kitchen
I used to find that this was one drawer/cupboard that I struggled to keep tidy… the plastics; otherwise known as the Tupperware cupboard. I've worked out that when someone's in a rush and is putting away the clean dishes, some of the items get thrown in the wrong spot, and it becomes a mess and gets out of control.
The key to keeping it organised is to remind yourself that it only takes a few extra seconds to put items in their correct place, which helps the cupboard to stay tidy. However, when you have too many plastic containers, it makes it hard to keep everything organised.  Having only necessary containers on hand will help you keep everything tidier, organised, and easier to find and put away the next time.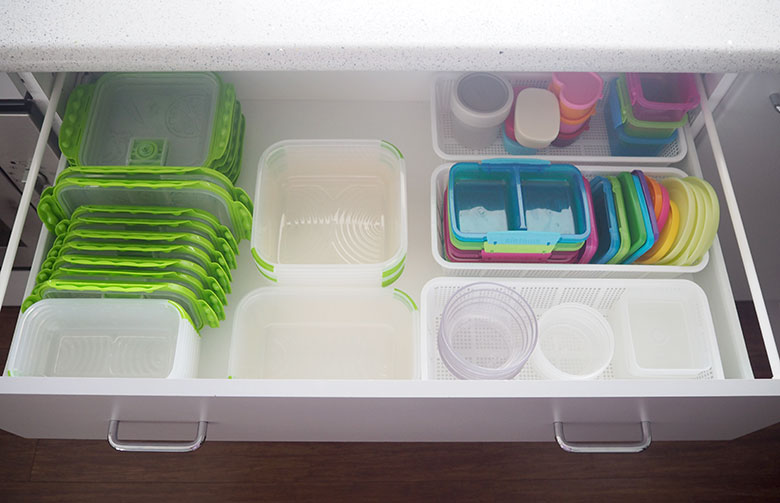 TODAY'S TASK: PURGE AS MANY PLASTIC CONTAINERS FROM YOUR CUPBOARDS/DRAWERS AS YOU CAN
Note: My definition of a purge – sell, donate, repurpose or throw away items as you see fit!!
Look at your cupboard and see what storage solutions aren't working, eg lids all over the place, baking dishes not stacking properly.
Remove everything from the cupboard and group like-items together.  Eg, baking dishes together, lunch boxes together etc.
Determine what items you haven't used in over 12 months and consider purging them.
Add any new and/or your current storage products into your cupboard to help you keep it organised.
Place items you don't use often towards the back.
When placing items back into the cupboard, keep group items together.
I like to keep lids with the containers.
  READ MORE: How to Organise Kitchen Cabinets to see how I organise all my cupboards and drawers.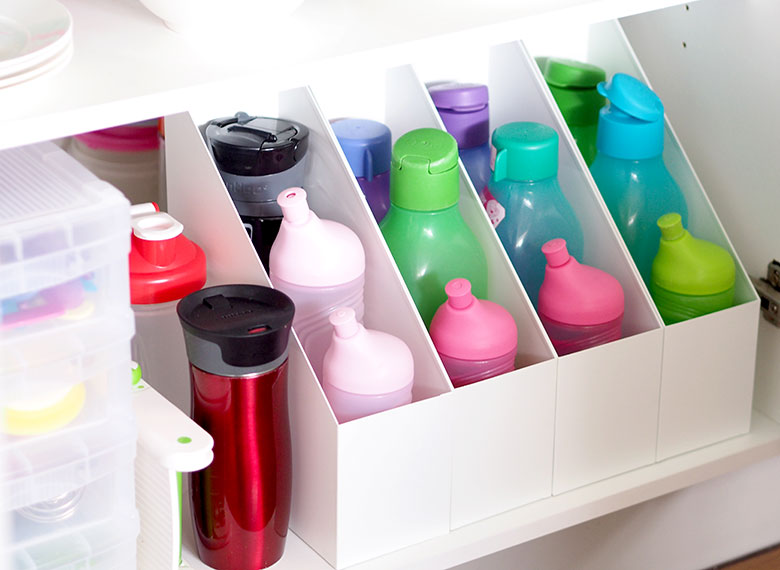 How many items have you been able to purge today?