It's week 11 of my 52 Things in 52 Weeks Declutter Challenge. If you haven't signed up yet, join me today as I help you remove all those things in your home you no longer need or use.
Are you ready for another Declutter Challenge? This week's challenge is a rewarding one because it will help you out a great deal in the kitchen. We all like to collect things, possibly more than we should and cooking utensils seem to be something that you either never seem to have enough of, or you end up doubling up on things like a couple of ladles, several wooden spoons and a few too many tongs. You'll find that by giving your utensil drawer a good clean out, declutter and with a little organisation you'll find it so much easier to find what you need.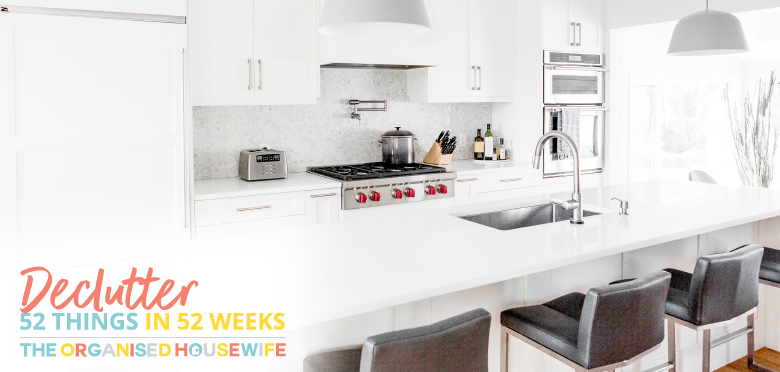 The 'Declutter 52 things in 52 Weeks' Challenge is completely FREE!!! Sign up to my daily emails so you don't miss when the next task goes live. Alternatively, visit the blog each Wednesday to see the latest task. I will publish a new task on the blog every Wednesday.
Please share a photo of your space each week on Instagram using hashtag #declutter52 and tag @theorganisedhousewife
---
Decluttering Task #11
Utensils
I have quite a few kitchen utensils, I like to have several wooden spoons, some plastic utensils for my non scratch frying pans, a few tongs for when we entertain, I have a few spatula's because when I bake I bake up big and it saves washing, and I even have two sets of measuring cups for this same reason.  It's easy to accumulate lots of utensils and these drawers can easily become unruly, making it hard to find what you are after. Have you had a good sort through recently and looked at whether or not you use all your utensils?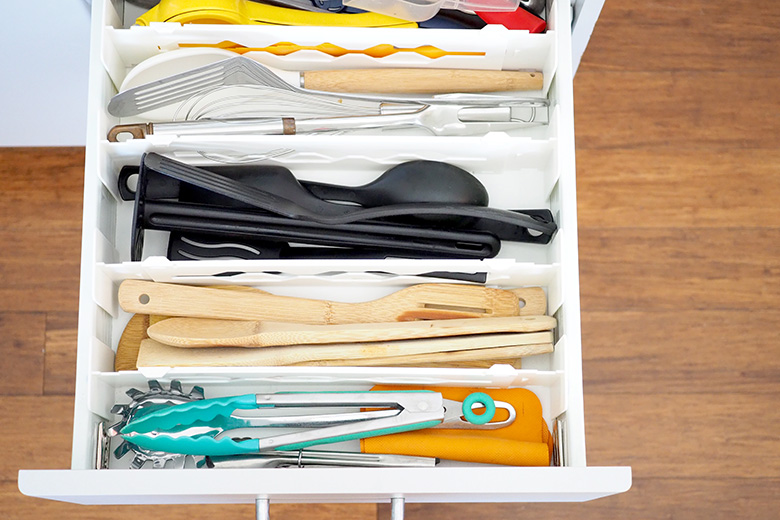 TODAY'S TASK: DECLUTTER YOUR KITCHEN UTENSILS AND PURGE ALL THE ONES THAT YOU NO LONGER WANT OR NEED.
Note: My definition of purge – sell, donate, repurpose or throw away items as you see fit!!
Take all your kitchen utensils out of the drawer, sorting into like groups ie. put all tongs together, wooden spoons together etc.

Throw out any utensils that are damaged.

Donate any (that are in good condition) you have doubled up that you know you won't use anymore.

Clean the drawer.

Add the retractable drawer dividers.

I put a little bit of blu-tack on the end of each divider to stick it to the drawer and prevent it slipping around




Tidily place them back into the drawer.
HOW TO ORGANISE THE UTENSIL DRAWER
If you are looking for some extra help in getting your kitchen drawer organised, check out my store for my very popular Retractable Drawer Dividers.
These dividers are a great way to organise your kitchen drawers. They're retractable so that you can fit them to your drawer's specifications, and they will help you keep your kitchen utensils in perfect order.
  PURCHASE HERE: Retractable Drawer Dividers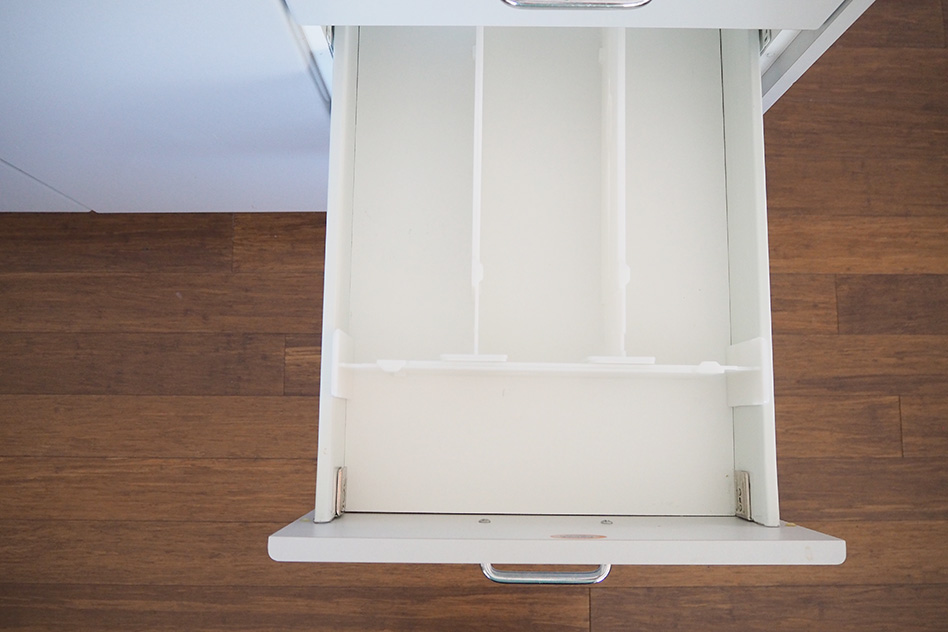 WHAT IS THE OLDEST UTENSIL YOU HAVE AND STILL CAN'T LIVE WITHOUT?
I have a lot of utensils from my Nan that mean so much to me, so I'm wondering if you keep something that's quite old but is still a must have in your kitchen.