As you all know I love to be organised, to blog and create planners!! When it comes to planning and lists I do like to write on paper because ticking boxes and crossing things out really tickles my fancy!! Over the past few years I have used my Blog Planner to keep all my post ideas, goals, maintenance log and more all in one place. Even more, I enjoy sharing my ideas on how I run my blog with other bloggers. See how to start a blog here and 5 lessons I have learnt from blogging.
The New 2015/2016 Blog Planner is now available! Instant download available in my shop. Because it's my birthday week I would like to celebrate by giving you 20% off the regular price. Available in 2 designs, fun & bright and blue.
20% off for a limited time!
Click here to purchase – offer ends this Sunday 9th August 2015.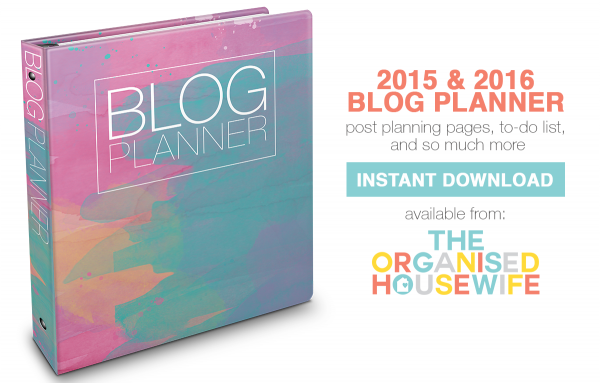 As you know I LOVE to blog, however it can easily take over every spare moment. I am really strict with my time management. Included in the planner are daily and weekly planning pages which helps you allocate times, by blocking particular times you blog, on social media, answer emails etc. You will soon get an understanding of how you are spending your time and make any changes if needed. I block out between 10-3 to blog, in the morning I ensure I fit in time to exercise and any time after 3pm and on weekends is time with my family. It's really important to make sure you have the right blogging/family balance.
2015/16 Blog Planner
If you are unorganised and want to plan more to create better blog content, then this planner is for you!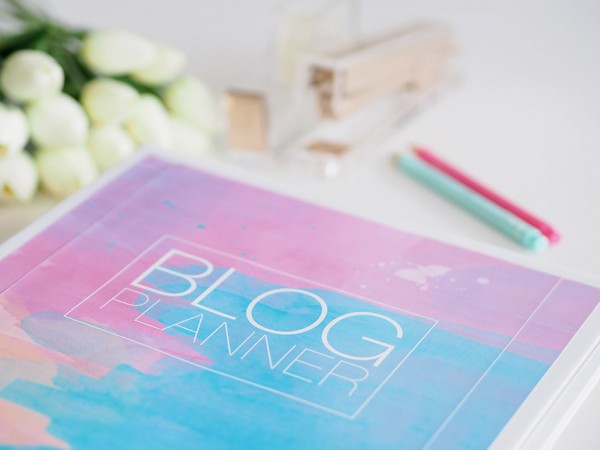 I've also included some reviews/testimonials from other bloggers that use the planner.
Pages included in the 2014 Blog Planner
I have made a range of different page options, as an example there is an annual planner page, but you may find the monthly calendar pages easier to work with. The beauty of this planner is that you print the pages that are relevant to you. The planner includes
Cover page
Spine
Dividers
plus the many more pages described below
Print and place pages into a ring binder, adding sticker tabs to the dividers for easy access. I found these tabs at Kmart and used my label machine to print the labels and stick on tabs. Please note this planner is not editable.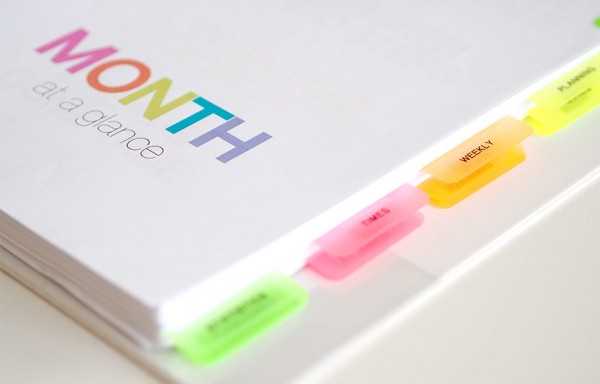 Blog Summary
At the beginning of your planner is a blog summary page, I refer to this page often especially when chatting to potential advertisers, I introduce myself with my elevator pitch (a short summary used to quickly and simply define your blog, ie. you can explain to somebody what your blog is about in the amount of time you would share an elevator with them) and have my blog statistics and advertising rates easily at hand.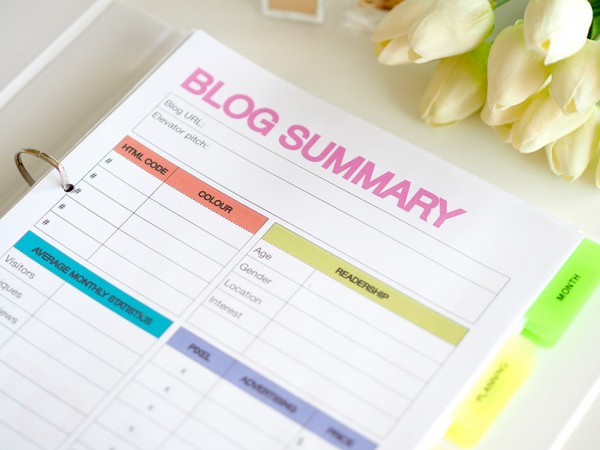 I also include a list of colours I use regularly on my blog, I keep the html code here for when I create graphics and want to use a specific colour. Very handy to easily be able to access this information.


"Wow!!! What an amazing blog planner. I know I need to do more on my blog and sometimes have no idea where to start. This planner is exactly what I need to get myself 100% organised and excited for the months ahead. I am going to commit some time to planning and when I am busy or the brain is not firing it is all there at my fingertips."
Janina Lear | The Event Makers Event

To-do Lists
Put these pages at the front of the planner as you will often access them.
Daily Tasks – I have a list of particular tasks I like to do each day, such as promote blog post on facebook, pin to pinterest, reply to comments etc. This page would be handy to put on the wall next to your computer.
Blog to-do list – use this list for ideas of tasks you want to complete for your blog eg. change icon in sidebar, create a page to promote new product.
Weekly to-do list – use this page, to priorities what tasks you would like to complete each week.
Deadlines – Use this page to write down deadlines, ie, reviews or sponsored posts you need to send to client by specific date. You could also use your monthly calendar instead of this page.
Monthly Calendar
I like brainstorm blog post ideas and plan all my posts in advance. I use the monthly calendar pages with a pencil and write down post ideas (only one blog post per day) or use the annual pages for something similar.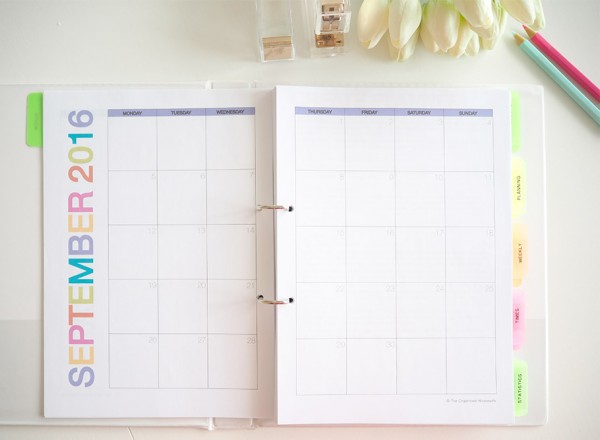 Post Planning Pages
Blog post ideas – list down all the fantastic post ideas you have, then when you are stuck for content you can refer back to your ideas page to help promote you to create a blog post.
Blog post idea – This is a single page to help you plan out a specific blog post idea. Noting down the key points, tasks to do to assist in writing the blog posts and an area for notes. You will also find a projects page, with more area to write down specific tasks you need to complete.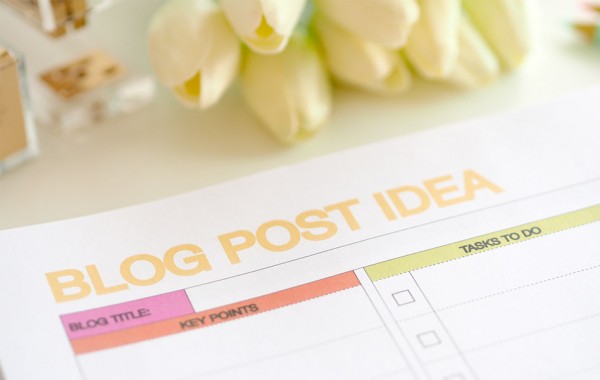 Daily Topics – I use the daily topics page to plan which topics I will write about on specific days, for example, I always post my meal planning posts on Monday, cleaning tips on a Tuesday and prefer to run my giveaways on a friday, use this page to create some structure to your blogging.
Link Parties – many bloggers like to link up to parties, us this page to write down the list of websites that host the parties and the days they are published, use this to remind you to link up.
Top 5 and 10 List – use these pages to brainstorm blog post ideas. eg. top 5 destinations I would love to travel or top 10 craft tips etc
Guest Post Wish List – use this page to write down all the blogs you would like to guest post on, the idea you have for the post, the date you emailed the blogger with details of your post idea and then the icing on the cake, the date the post was published with a big tick for your achievement.
Weekly Blog Schedule
Once you have planned out a post ideas and the day you want to publish it, go into more detail in the weekly blog schedule:
blog title
brainstorm the key points about the blog
and in the notes section photo ideas
place a big tick when I have scheduled the blog post
tick that I have optimised the blog for seo
and finally use the promote area that I have shared it on social media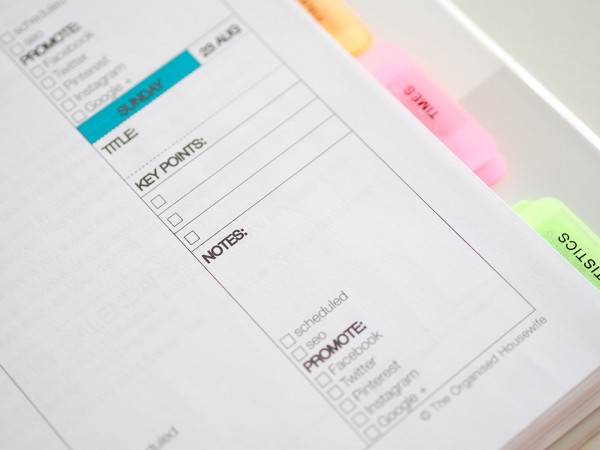 The weekly blog schedule is in its own file so you can easily access and print the dates you need.
Remember you don't have to use and print all pages. Perhaps you would prefer using the month at a view page for your post planning instead of the weekly blog schedule, design this planner to suit your needs.
Daily and Weekly Planning Pages
Daily Planner – Use the daily planner to plan your days or create your best time management strategy, ie from 9-9.30 check emails, 9.30-10 check social media, 10-11 comment on other blogs, 11-1 write blog post etc.
Weekly Planner – similar to the daily planner, you can use this instead to plan your week. ie. Whilst I am routined in my blogging days, there are some days I do tasks differently. For example, I usually have quite a few emails on a Monday, so I block out a big chunk to ensure I have enough time to get through them. Plus I need to ensure I create time in my schedule to look after myself and exercise.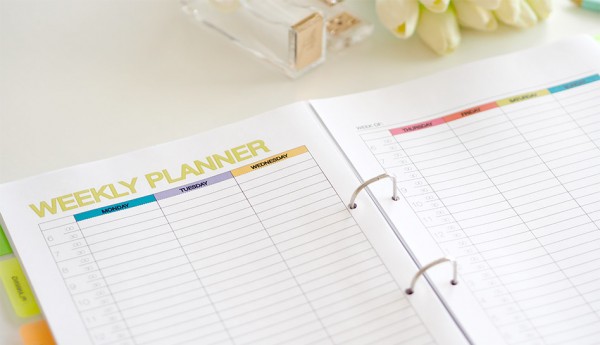 Social Media Schedule – Plan your posts, determine the best time strategy for publishing blog posts on social media. The best way to create a schedule is to see the peak times your readers are online. To do this go to your facebook page > insights > posts > and then you will see the times graph.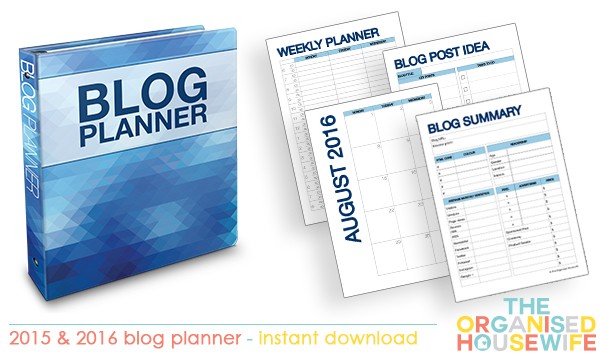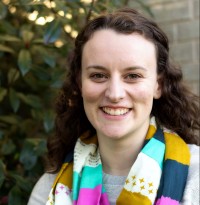 "What I love about this planner is that I can print off the pages I need at A5 size for my Filofax and it's all still useable having been reduced! Being able to document monthly expenses, track my pattern sales and downloads, as well as the list of my published articles and designs, is so useful as a creative blogger and designer."
Alyce Blyth | Blossom Heart Quilts

Blog Statistics
Record your monthly statistics, it's good to often review and compare. If there has been a spike or reduction in numbers review that months content and determine why, if your stats decreased perhaps your readers were not interested in that topic, or do it differently next time and if there was a spike you've hit a winner and should create a follow up series of blog posts.
Finances
Track all your expenses and income together in one place. In the early years I used the pages in this planner to keep on top of all my finances, but I now use an accounting program Xero to help me with this. However if you are a beginner blogger these pages will work really well for you.
Affiliate programs – affiliate programs are a great way to earn more income, use this page to track which programs you have signed up to and ensure that you receive payment each month.
Advertising, Reviews & Giveaways
We LOVE sponsors, they help us to run the blog, pay hosting expenses and earn a little income. I have included the following pages so you can track:
reviews and giveaways
sidebar advertisers
brand wish list – tick or cross the box to mark if they have accepted or declined to work with you.


"The thing I like about the Blog Planner is that it not only helps you plan content and manage your tasks in the time you have BUT it opened up my eyes to so many areas of potential for my blog in terms of income streams… as well as things I should be doing to protect it and grow it…that I'm not yet doing. With goals and action tasks sitting side by side, this is truly a planner you will use to get results and not just a to-do list that you'll never finish! "
Donna Moritz | Socially Sorted

Blog Maintenance Log
It's really important to keep a log of any changes that you make to your blog, just in case it crashes you know exactly what may have caused this.
maintenance log
list of plugins
password log
Conference
There is a variety of blogging conference held each year in Australia, my favourite would have to be the ProBlogger Event. Use these pages to work out the total cost of attending a conference and detail if you can get sponsors and what you will give those sponsors in exchange for financial help for you to attend the event. In my early years of blog I received conference sponsorship and in exchange I offered a sponsored blog post and sidebar advertising over a period of a few months. Pages in this section include
what to take to a conference checklist
conference notes, key points and take home tasks to do for each speaker
sponsorship details
add in a plastic sleeve or folder in this section to add in your flight and conference tickets, please note this is not included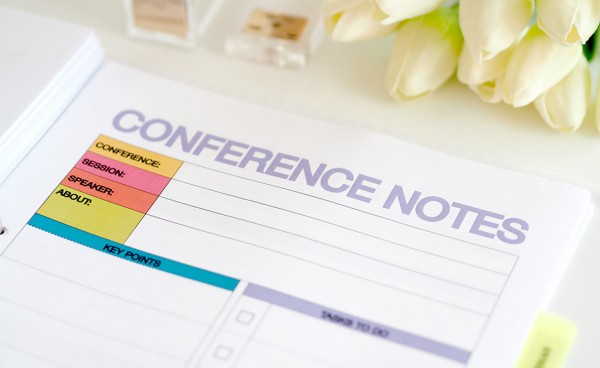 Divider pages
You will find a few blank pages in the file, this is so you can print double-sided easily. I have made many of the pages open so you can view a week at a glance, like the weekly planner pictured above. To ensure these worked properly along with the divider pages I have placed quotes throughout so you turn the divider page and instead of seeing a blank page you can be inspired with a quote, turn page and have your week at a view.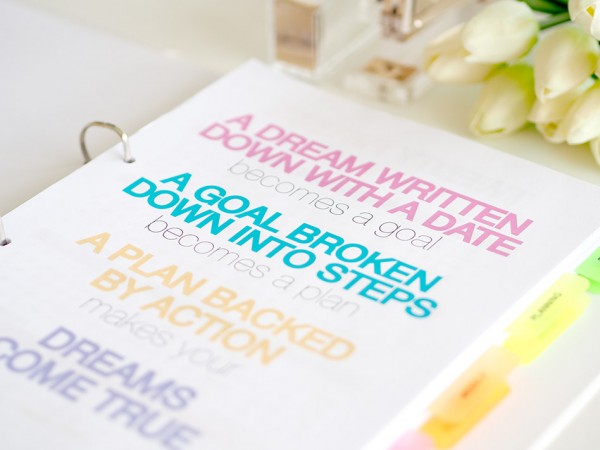 And more
product and ebook ideas
product sales tracker
goals – for all the plans you have for the future of your blog, the ideas you would like to achieve. I have included monthly goal pages, along with long-term goal pages.
procedures manual – I am so forgetful, I often do things on my blog and then forget how to do it next time, these blank pages are great for writing down step by step how you do particular tasks.
mistakes made – note down lessons you have learned
webinar notes – write down key points and tasks to do from a webinar you listened to.
features – record all the things you should be proud of, guest posts, blog mentions, magazine articles etc.
address book – keep all your PR, Brand and other contact all in one place
Start getting your blog organised – purchase the Blog Planner Today!
CLICK HERE TO PURCHASE – instant download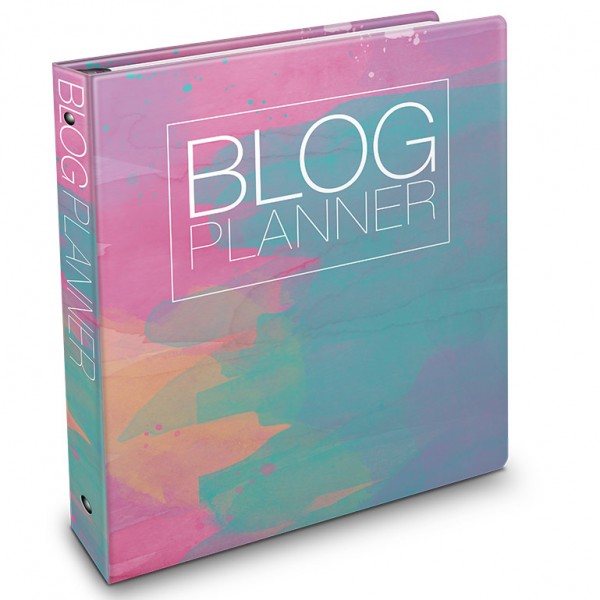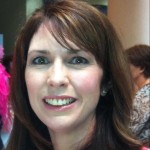 "Your blog planner is seriously amazing! It covers simply everything a blogger needs to know and do for really successful blogging. It helps make the most of the time I have to blog, as well as capture my creativeness and get me focused on business. It's a must download!"
Lisa Boyle | MyPublicRelationsMentor.com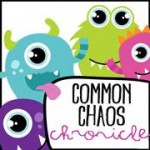 "I was so excited to get my hands on a copy of The Organised Housewife's Blog Planner. Things get really chaotic here juggling everything life throws at us and amongst the chaos, behind the scenes of my blogging business was a total mess.
Kat's Blog Planner has allowed me to reorganise and rethink the way I run my blog, it's prompted me to document and record some things I wasn't keeping track of and has given me a new sense of organisation and control. I'm no longer just 'winging it' which feels fantastic.
The layouts are easy to use, the colours are fun and keep me interested and I adore the inspirational quotes that are included".
Jac | Common Chaos Chronicle