It's official – 2016 is done and dusted, and 2017 IS HERE! Perhaps 2016 wasn't exactly your most organised year… Did you feel like you didn't achieve what you wanted or maybe you fell behind with household chores and your 2 Dos? If that's the case, let me help you start fresh and make this year your year.
Last year I created my first physical product, a 2017 wall calendar!  The Organised Housewife 2017 calendar is the perfect way to stay on top of the year ahead. Not only is it a great way to keep track of appointments to birthdays, but it's also motivational, fun and inspiring! Don't fall behind this year, start it off with a bang!
NOW OVER 50% OFF – GET YOURS TODAY FOR $9.95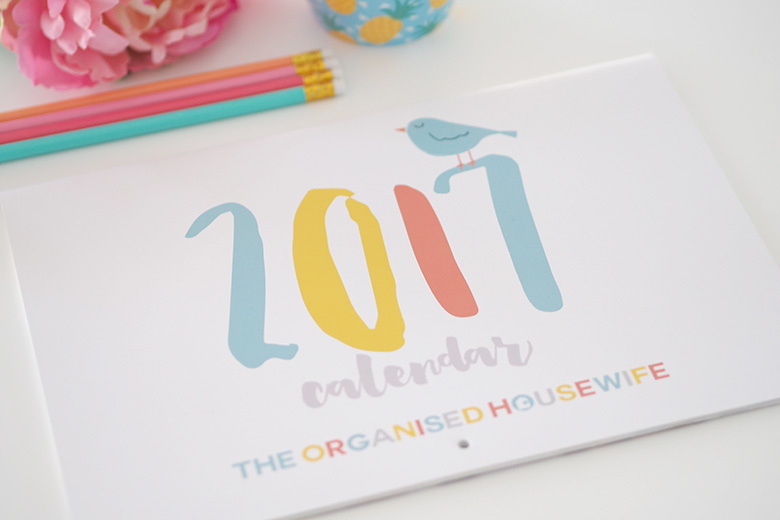 I have included some feedback from readers that have purchased the calendar below. Have you purchased the 2017 calendar? I would love to see some pics, please use hashtag #toh2017 on Instagram!
STAY INSPIRED
The theme for this calendar is inspiring and vibrant because being organised shouldn't be boring! The 2017 calendar is full of bright and colourful designs to inspire and motivate you. I want you to look at the calendar and feel encouraged to achieve new things! Each month has a unique feel and features fun and quirky graphics.
I'm super excited I can now officially hang it on the wall (I don't like to hang calendars early).  I am very proud of this calendar!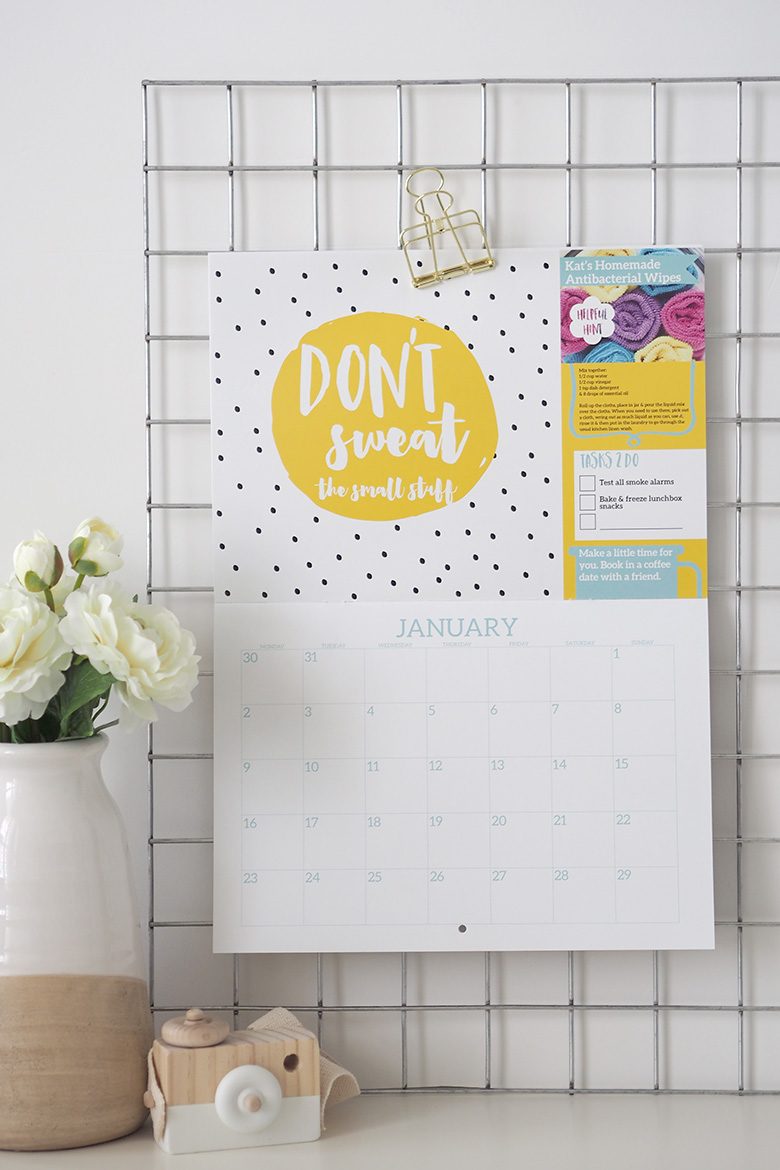 I have also picked some of my most loved quotes and included them in the calendar for you each month. I find that quotes are a fun way to draw inspiration and can instantly pick up your mood.
This calendar is all things pretty and practical, I've already put it up in my kitchen and love looking at the monthly quote, it does make me smile just like you said! ~ Ang
TIPS, HINTS, RECIPES
The calendar holds some of my most precious recipes, hints and tips. Not only will they keep your household and family organised and clean, but they will help you form habits and hobbies that you can carry out through the whole of 2017.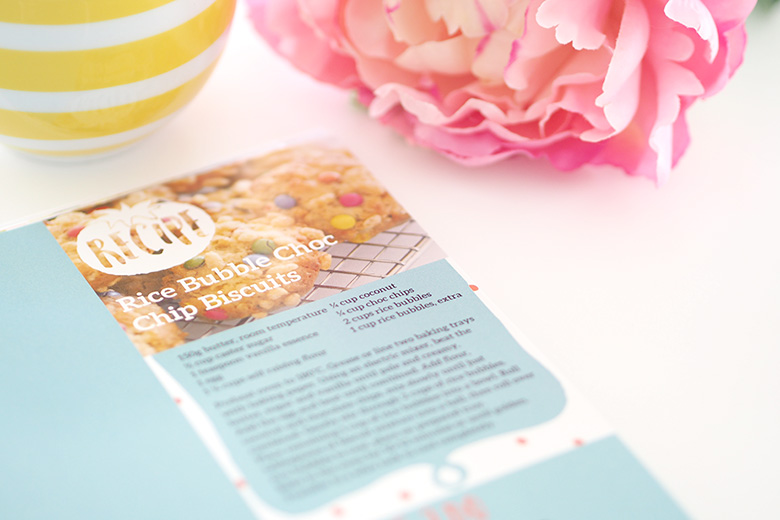 Hi Kat, Just to let you know my calendar arrived today. I love it. It's better than I thought it would be. I was particularly impressed with the quality of the paper. I'm very fussy with all things to do with stationery. I always enjoy your daily emails too. Kind regards, Bernadette 
KEEP ON TOP OF TASKS
Much like my Todays 2 Do feature in my newsletter, my 2017 calendar contains Tasks 2 Do. Every month I give you two tasks and space for you to create your own. I have included some of my essential tasks to ensure that you are staying organised and accomplished throughout the year.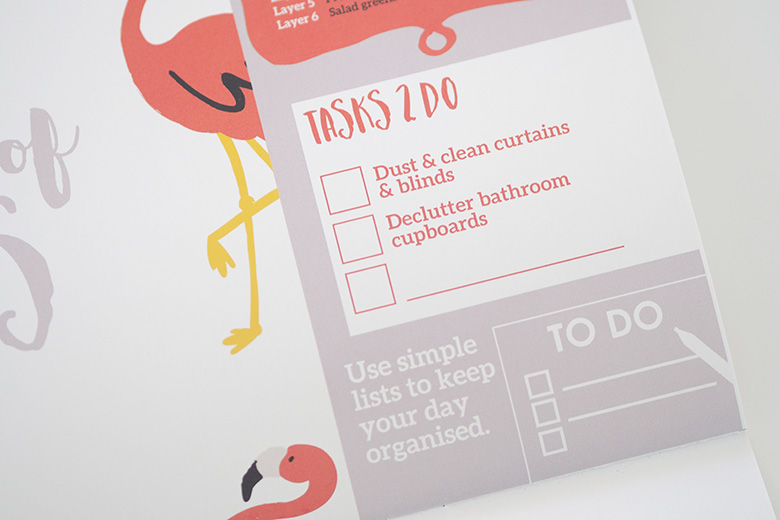 It looks really good, I love it!  I love the monthly quotes, but the monthly tasks to do and the tips and recipes at the top are what sold me – Eddie
REMEMBER YOU
With the hustle and bustle of a new year – keeping a tidy house, looking after family members and cooking meals, it can be easy to forget about the most important person – you. The calendar has advice and tips to remember to take time out and stay social.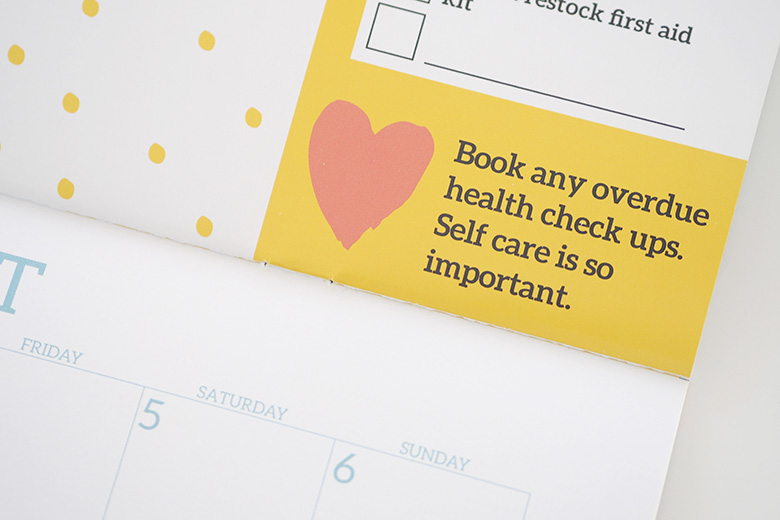 Kat you continue to amaze me, without hesitation I purcahse it, because I love everything you do, but this calendar is incredible, superb quality, family friendly recipes, thank you for all you do – Janelle.
It's fresh, it's colourful and it's helpful! And… something that will look BEAUTIFUL on your wall.
THE ORGANISED HOUSEWIFE 2017 CALENDAR
CAN HELP YOU MAKE THIS YEAR AMAZING!
I will send your parcel express* so you will receive it ASAP!
*to Australia residents only
ON SALE – OVER 50% OFF – $9.95 – WHILE STOCKS LAST

GET THE CALENDAR + WEEKLY PLANNER PAD
AND SAVE MORE!
The weekly planner allows you enough space to include appointments and an area to pencil in your dinner ideas. It also has section which you can personalise yourself. i.e. to call, to email, a shopping list, etc. It's up to you!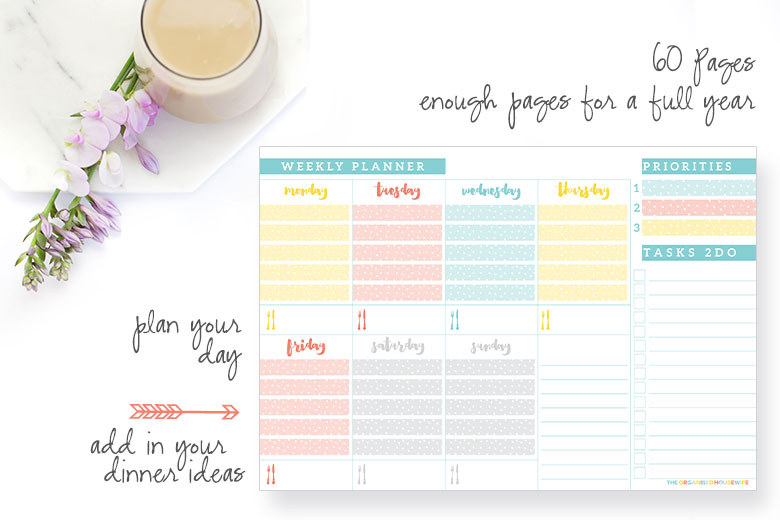 Save with this bundle pack, you will receive a 2017 Wall Calendar and a Weekly Planner pad. Order here.

My 2017 Calendar
is motivational, fun and inspiring!
I am super proud of it, and I hope you love it too!
7 THINGS I DO EACH DAY TO KEEP THE HOME CLEAN AND ORGANISED
Subscribe to my weekly newsletter to receive blog updates in our inbox + this FREE eBook sharing some of my top tips that you can adapt in your own home.