Cleaning bathrooms can be such a chore at the best of times, but with some super simple tips and advice, you can have your bathrooms sparkling clean at the end of every day. It can be as simple as following a light routine and some simple steps. Let me show you how.
While today, I'm best known as The Organised Housewife, it wasn't always so. When my kids were young at times I was a nervous wreck. After having my twins, I struggled to find and stick to a routine. My house was a mess and the washing was never folded. It took a fair amount of trial-and-error for me to realise that routines and schedules held the key to keep the home tidy, clothes washed, kids fed and happy and have a clean bathroom at the end of the day.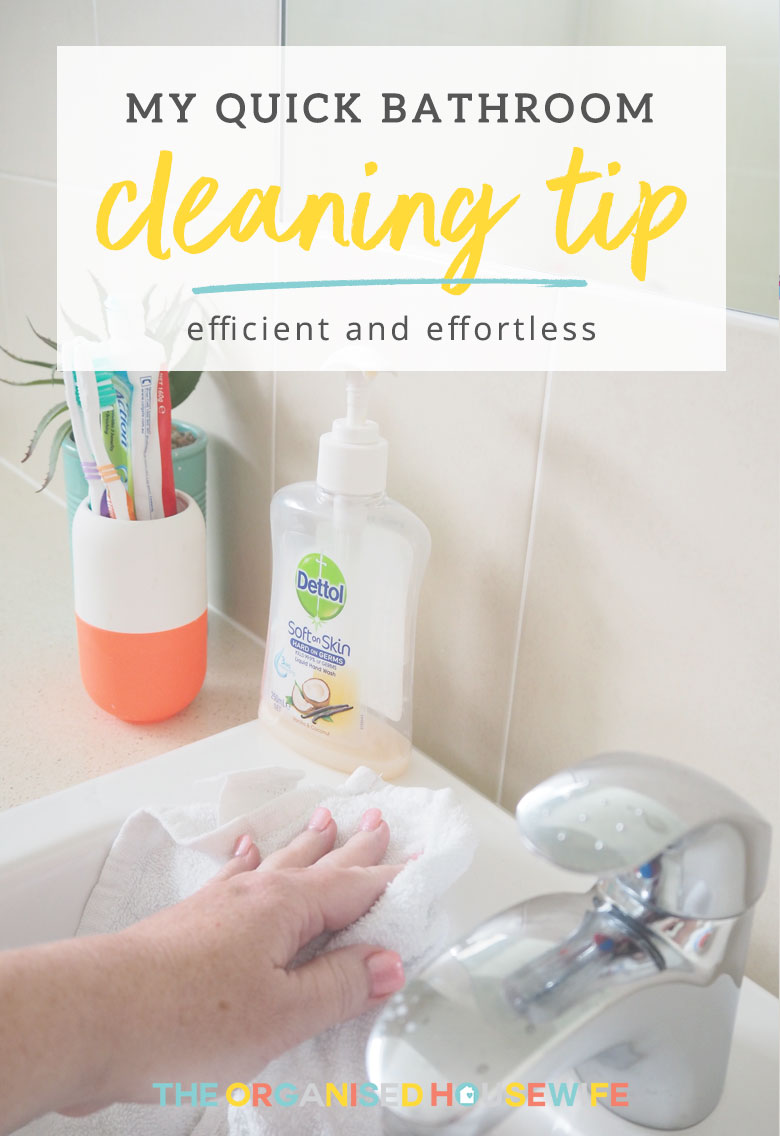 Over the years I have come up with a method to help keep my kids bathroom clean and tidy, which started when they were young. When I bathed them I gave each of them their own clean washer each night. After their bath, I then used the washer to wipe over and clean the bathroom. It's usually just to wipe up dirt and toothpaste spills, never mould. Please ensure your kids are safe in the tub and do not leave young ones unattended.
Here was my system to quickly clean the bathroom:
Kids would put their dirty clothes in the laundry before their bath, using this system, which as toddlers they could easily use, as it's based on colour.
While the kids were in the bathtub and happily playing, I gave the toilet a quick clean and restocked the spare toilet paper rolls.
Once they had finished their bath, I rinsed and wiped the tub down to wash away any dirt using the washer they just used.
After I said goodnight to the kidlets, I used another washer to wipe down the sink, taps and vanity top.
I rinsed the washers I used to clean the bathroom and put them in the laundry to dry and wash. More details on my washing schedule here.
So you're probably thinking… she goes through a lot of washers. Yes, that's ok, they aren't hard to clean, nor hang on the line. I also don't fold them, they go directly into a drawer in the bathroom, fuss free!!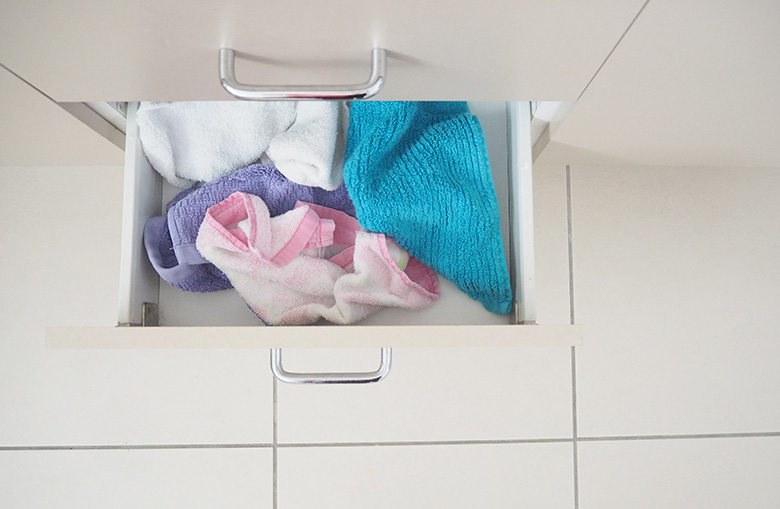 Now that my kids are older, tweens and teens, I have a different routine for cleaning the bathrooms. Now, every few days, I get one fo the kids to wipe, or I wipe over the sinks and vanity top with my homemade antibacterial wipes. Which in retrospect would have been ideal to use when the kids were younger, however, I didn't make my own homemade cleaning supplies back then.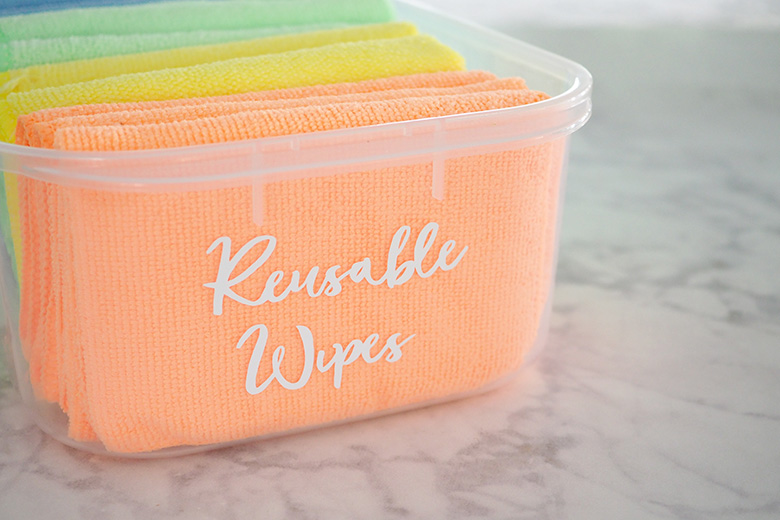 ---
Do you wake up in the morning feeling…
Stressed, overwhelmed, exhausted and not knowing where to start? Maybe… you've tried to follow a cleaning routine and even gotten yourself a bunch of boxes and bins, only to lose steam after the first couple of days. I want to show you how you can give your home the makeover that you've been dreaming of, without having to take out a second mortgage on prohibitively expensive cleaning products, or spend every waking minute wiping, mopping, sweeping, scrubbing, only to do it all over again the next day!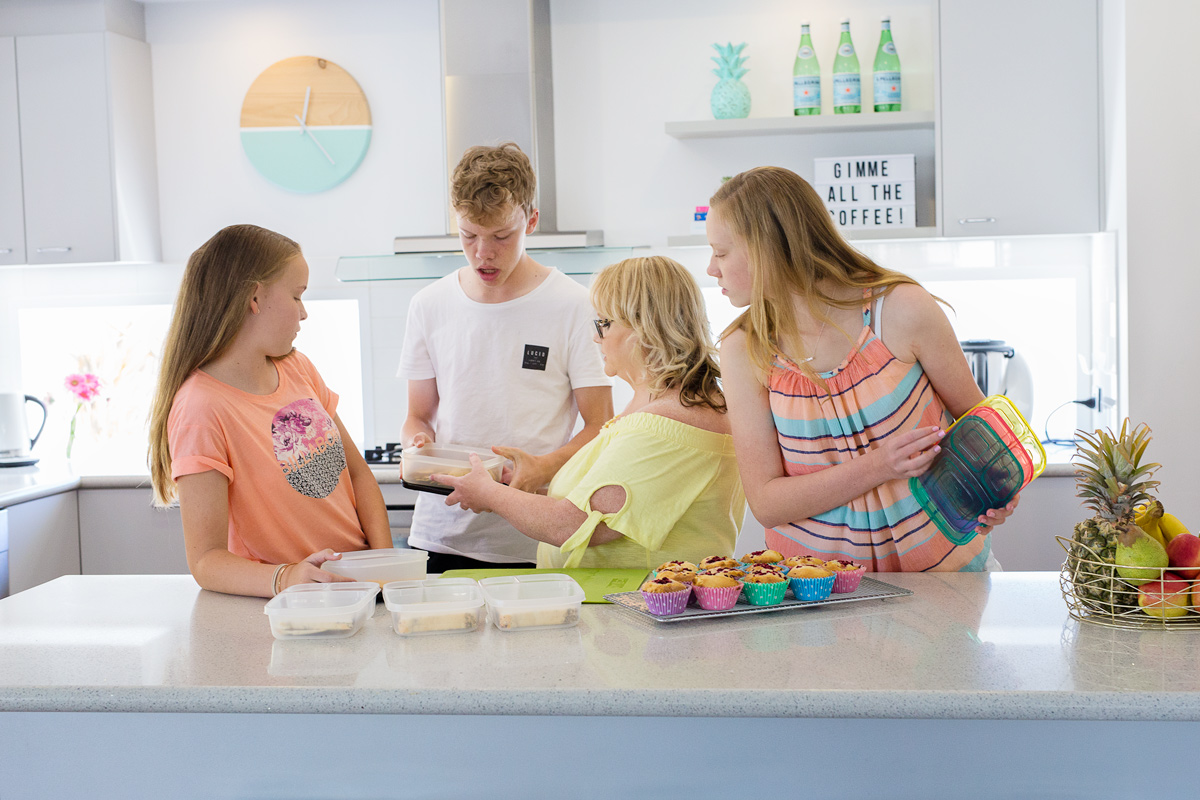 All you need… is a rinse-and-repeat method, an easy-to-implement system that works for YOUR life and YOUR home.
Introducing 20 Days to Organise and Clean Your Home: The Mum-Tested, Kid-Approved Cleaning System that Sticks Even When Life Pulls It Apart!

"It's like a gym membership, but rather than getting your body fit — it's getting your house clean!"
Join me with this easy-to-implement, daily tasks for 20 short days, so you can quickly tick them off and be done with them, easily and painlessly. Starts 25th of March, so sign up today!


---
More bathroom cleaning tips:
I used to keep a bottle of my homemade all-purpose cleaner in the bathroom cupboards to use to clean the sinks, however, I don't anymore as the shelf in our new home is too small to store a large bottle.
Use an old toothbrush to clean the stubborn mould around the plug hole and buildup around sink fixtures.
Remember when vacuuming in the bathroom, remove the dust from:

drains
lighting fixtures
top of the tiles in the shower
top of the shower screen
behind the toilet
behind the door
along the top of the mirror
around the window frames

Line the bin with a plastic bag (shopping bags are great for this)
Clean mirrors with this easy homemade recipe.
For stubborn rings around the bathtub, use a cream cleaner such as Gumption, then rinse.
Once a week, clean the shower to prevent mould buildup.
Remember to clean bath toys often as they quickly get a build up of mould inside.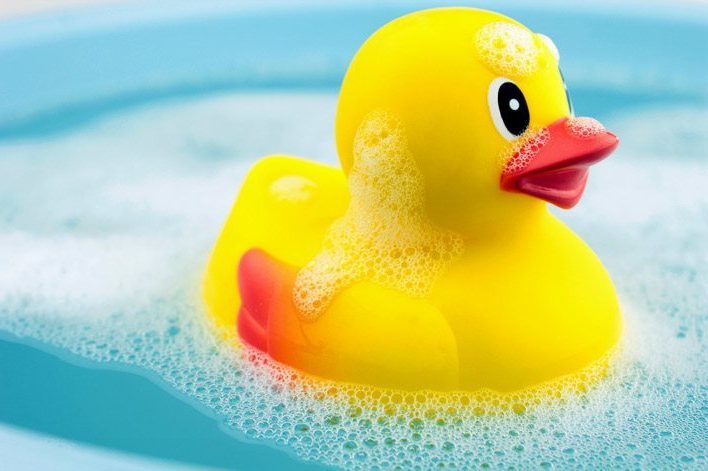 What is your best tip for a quick bathroom clean?
This post was originally published on 21st June 2011, it has recently been updated with new images.