Looking for a 'girls night in' movie that'll make you laugh, cry, fall in love and feel empowered? Then these 60 must-watch chick flicks will do all that and more!
You deserve to tune out from the hustle and bustle of the world for a while, and what better way than with a good movie. This HUGE list of must-watch chick flicks will have you covered for every mood and moment! There's empowering, feel good, romantic, laugh-out-loud, tear-jerker, sing and dance, and even eye-candy movies. Whilst it's nice to watch Disney movies with the kids, or action flicks with a loved one, sometimes a good value girlie film is just what the doctor ordered.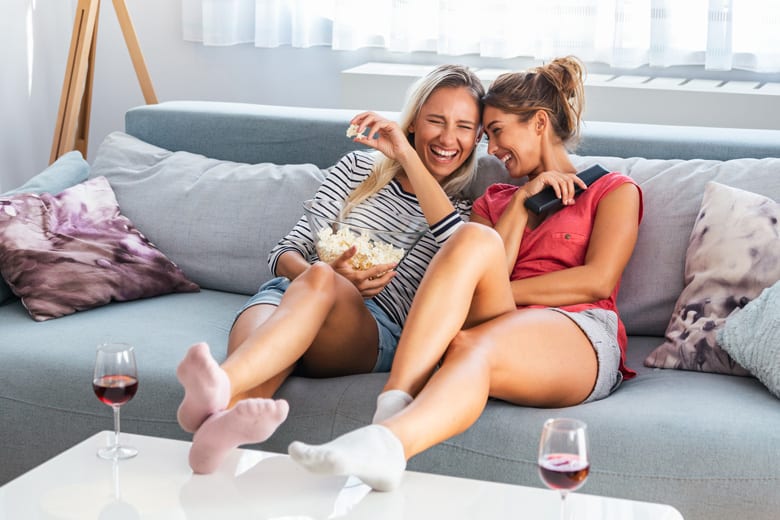 Whether you're having a movie night with the girls, settling in for a good flick on your own, or getting to choose the film to watch with your partner, these chick flicks will have you crying, laughing, screaming and sitting on the edge of your seat. Enjoy!
Empowering
Devil Wears Prada – A young woman who has graduated in journalism comes to New York and becomes an assistant to one of the city's biggest magazine editors, the ruthless and cynical Miranda Priestly. I love Meryl Streep in this movie!
Ride Like A Girl – Ride Like a Girl is a 2019 Australian film based on the true story of Michelle Payne, the first female jockey to win the Melbourne Cup in 2015.
Sex & The City – These girls are so fun, and this movie is a must-watch for any Sex and the City fans!
She's The Man – When Viola's football team is dissolved and she is not allowed to play on the boy's team either, she disguises herself as her twin brother and participates in the tournament.
Mona Lisa Smile – At an all-women's private school in the 1950s, a non-conformist teacher encourages students to pursue their dreams and question the roles women are expected to play in society.
Legally Blonde – Elle's boyfriend breaks up with her for a smarter girl as he plans to become a politician and joins Harvard law school. Elle gets enrolled in the same school in an effort to teach him a lesson.
Miss Congeniality – Gracie Hart, a tomboyish detective, is made to infiltrate the Miss United States beauty pageant as a contestant after her department learns that the event is under threat from an anonymous bomber.
The Hustle –Rebel Wilson and Anne Hathaway have winning chemistry as a pair of con artists. One is a glamorous, seductive British woman who has a penchant for defrauding gullible men out of their money. The other is a cunning and fun-loving Australian woman who lives to swindle unsuspecting marks. Despite their different methods, the two grifters soon join forces for the ultimate score.
Easy A – While Olive lies to her best friend about losing her virginity to one of the college boys, a girl overhears their conversation. Soon, her story spreads across the entire school like wildfire.
Ocean's 8 – Why should the boys have all the fun! Ocean's 8 is about Debbie Ocean, who is released from jail after serving a prison sentence. She assembles a special crew of seven women to steal a diamond necklace, worth 150 million dollars, from the Met Gala.
How To Be Single – After finishing college, Alice decides to leave her long term boyfriend and find out who she really is. Alice moves to New York and takes a job as a paralegal, where she meets wild and fun-loving co-worker Robin. It's a very funny watch!
Pretty Woman – I love this movie (and I am pretty sure I'm not the only one who does!). Richard Gere plays a rich entrepreneur who hires Julia Roberts, a prostitute, to accompany him to a few social events. As they begin to grow feelings for each other they try to bridge the gab between their two worlds.
Feel Good
Sisterhood Of The Travelling Pants – Four best friends spend their first summer apart. In a bid to stay connected with each other, they pass around a pair of denims that fits each one of them, despite their different body structures.
The Intern – Ben Whittaker, a seventy-year-old widower, realises that he is not cut out for retirement. He then applies to become a senior intern for a sceptical boss at an online fashion site.
Princess Diaries – A clumsy, shy teen discovers that she is the princess of Genovia, a small European state. Thereafter, she must prove to her grandmother that she is worthy of her title.
13 Going On 30 – Jenna Rink makes an unusual wish on her birthday. Miraculously, her wish comes true and the 13-year-old Jenna wakes up the next day as a 30-year-old woman.
Eat Pray Love – Elizabeth Gilbert's perfect world comes shattering down when she gets divorced. She then embarks on a journey across the world in an attempt to rediscover her true self.
Clueless – Cher is a rich high-school student who is learning to cope with adolescence and its problems. She also helps a new student gain popularity and in the process discovers her own feelings.
10 Things I Hate About You – High school boy, Cameron, cannot date Bianca until her anti-social older sister, Kat, has a boyfriend. So, Cameron pays a mysterious bad-boy, Patrick, to charm Kat.
Confessions Of A Shopaholic – Rebecca Bloomwood is addicted to shopping and accepts a job as a finance columnist to be able to pay a huge debt. Amidst the struggle, she finds herself falling in love with a wealthy entrepreneur.
Ever After – Danielle, a beautiful young woman, is treated as a servant by her stepmother and stepsisters. One day, she crosses paths with Prince Henry, heir to the kingdom, who falls in love with her.
Romance
Titanic – Leonardo DiCaprio and Oscar-nominated Kate Winslet light up the screen as Jack and Rose, the young lovers who find one another on the maiden voyage of the "unsinkable" R.M.S. Titanic.
Love Actually – A British Christmas-themed romantic comedy (that I watch every Christmas!) which follows eight London couples who try to deal with their complicated relationships in different ways.
A Cinderella Story – After her father dies, Sam's stepmother and stepsisters continually exploit her. She finds respite in an online pen pal, Nomad, and decides to meet him at a school dance.
When Harry Met Sally – This is an oldie but a goodie! A chance encounter between two graduates turns into a short-term friendship. When fate brings them back together five years later though, they are forced to deal with how they feel about each other.
Notebook – A romantic comedy (that ticks the eye-candy box with Ryan Gosling too!) is the story of a poor yet passionate man who falls in love with a rich young woman in the 1940s, only to be separated again because of their differences.
The Vow – Paige meets with a terrible accident which leaves her in a coma. When she wakes up, she doesn't recognise her husband Leo, who then tries to win her back by courting her again.
Breakfast At Tiffany's – Paul is a struggling writer who's just moved into his new apartment in New York. He comes across Holly, who is a party animal and a socialite. But what lies beneath her beauty is her dark past.
27 Dresses – After serving as a bridesmaid 27 times, Jane is shocked when her younger sister announces her engagement to the man she loves. Meanwhile, she also meets a cynical journalist who has a hidden agenda.
An Affair To Remember – A man and a woman have a romance while on a cruise from Europe to New York. Despite being engaged to other people, both agree to reunite at the top of the Empire State Building in six months. However, an unfortunate accident keeps her from the reunion, and he fears that she has married or does not love him anymore.
Notting Hill – William, a British bookseller, meets and falls in love with Anna, a high-profile American actress. However, their relationship goes through many problems due to their different social statuses. Hugh Grant and Julia Roberts… what's not to love?!
The Twilight Saga – A series of five romance fantasy films about love, family and vampire, featuring Kristen Stewart, Robert Pattinson, and Taylor Lautner.
Eye-Candy
50 Shades of Grey – When college senior Anastasia Steele steps in for her sick roommate to interview prominent businessman Christian Grey for their campus paper, little does she realise the path her life will take. Be warned that this is a quiet a raunchy one!
Magic Mike – By day, Mike (Channing Tatum) makes ends meet any way he can – handyman jobs, detailing cars or designing furniture. But nighttime is when Mike really gets to display his many talents: he's the hot headliner in an all-male revue. Channing Tatum stripping… enough said really.
Tear-Jerker
Me Before You – After losing her job, Louisa Clark is forced to accept one which requires her to take care of Will Traynor, a recently paralysed man. The two of them soon bond with each other. This is a beautiful and moving film that has been adapted form the book by the same name.
A Star Is Born – After falling in love with struggling artist Ally, Jackson, a musician, coaxes her to follow her dreams, while he battles with alcoholism and his personal demons.
A Walk To Remember – Landon is assigned community service after getting in trouble. His punishment also involves participating in the spring play, during which he falls in love with Jamie, the reverend's daughter. Be warned that this movie will make you ugly cry!
Marley and Me – A happily married couple's life changes after they adopt a free-spirited pup named Marley who, along with his antics, manages to teach them and their children important life lessons.
Dear John – John is a soldier who loves Savannah, a college student. He re-enlists post the 9/11 attack but the two continue to be in touch over letters. Fate tests their love many times over the next few years.
Laugh Out Loud
John Tucker Must Die – A womanising teenager's ex-girlfriends set him up to fall in love with a girl. They seek revenge and want to see him go through the pain of a break up. This is definitely a funny laugh-out-loud movie that also doubles as an empowering watch for women.
The Blind Side – Michael, a homeless African-American teenager, is adopted by a Caucasian family who help him overcome his learning difficulties and achieve excellence in American football.
Bridgette Jones Diary – Bridget, a single woman, writes a diary which focuses on the things she wishes to happen in her life. However, her life changes when two men vie for her affection.
The Truth About Cats and Dogs – Hilarious situations unfold after Abby, a radio jockey low on self-esteem, decides to send her attractive friend Noelle on a blind date with Brian, a caller on her show.
Bad Moms – Amy has a great husband, overachieving children, beautiful home and successful career. Unfortunately, she's also overworked, exhausted and ready to snap. Fed up, she joins forces with two other stressed-out mothers to get away from daily life and conventional responsibilities. As the gals go wild with their newfound freedom, they set themselves up for the ultimate showdown with PTA queen bee Gwendolyn and her clique of seemingly perfect mums.
Bridesmaids – Annie, a jobless chef, is asked by her best friend, Lillian, to be her maid of honour. Issues evolve when she ruins the wedding rituals in a rage of conflict with one of the bridesmaids.
Friends With Benefits – Jamie, a New York-based headhunter, gets Dylan to take a job at GQ. They soon become friends but things get complicated after the individually jaded lovers add sex to their relationship.
Mean Girls –Cady joins a new public school and befriends Janis and Damian. They warn her to avoid the 'Plastics', a group led by Regina, but things get worse when she falls in love with Aaron, Regina's ex-lover.
How To Lose A Guy In 10 Days – Benjamin is challenged by his co-workers to make a woman fall in love with him. On the other hand, Andie has to write an article on how to lose a guy in 10 days.
Bride Wars – Two childhood best friends, who have made many plans together for their respective weddings, turn into sworn enemies in a race to get married before the other.
Seventeen Again – Mike is unhappy with the way his life has turned out and wishes he could be seventeen again to change it. One day, he wakes up to find that his wish has been granted.
The Proposal – When New York editor Margaret faces deportation to Canada, she convinces her assistant Andrew to marry her in return for a promotion. A trip to his hometown, however, brings many surprises her way.
House Bunny – A Playboy Bunny teaches an awkward sorority about the opposite sex, only to learn what men really like is the inner beauty.
Song & Dance
Bring It On – The Toro cheerleading squad from Rancho Carne High School in San Diego has got spirit, spunk, sass and a killer routine that's sure to land them the national championship trophy for the sixth year in a row. But for newly-elected team captain Torrance, the Toros' road to total cheer glory takes a shady turn when she discovers that their perfectly-choreographed routines were in fact stolen.
Step Up – Tyler and Nora meet at Maryland School of the Arts, where Tyler works as a janitor. They fall in love and encourage each other to follow their passion for dance and fulfil their dreams.
Honey – Aspiring choreographer Honey Daniels is spotted by Michael Ellis, a music director, who offers her to choreograph a music video. Little does Honey know that the move will yield unexpected results.
Mama Mia – Longing to discover the identity of her true father before she exchanges her wedding vows, the daughter of a once-rebellious single mother secretly invites a trio of paternal candidates to her upcoming wedding, in this feature adaptation of the beloved stage musical.
Grease – While vacationing in Australia, Danny and Sandy indulge in a passionate love affair with each other. They part ways believing they will not see each other again but fate has other plans.
Dirty Dancing – While holidaying with her parents at a placid resort, Frances is smitten with the resort's rebellious dance instructor. Her father opposes their relationship which creates a rift between him and her.
Footloose – Teenager Ren and his family move from the city to a small town. He's in for a culture shock and can't quite believe that he's living in a place where rock music and dancing are illegal.
Pitch Perfect – Beca, a college fresher, reluctantly joins an all-girls a cappella group and later infuses freshness into their repertoire. They then take on a male a cappella group in a competition.
WHAT'S YOUR FAVOURITE CHICK FLICK?
---
Pin this image below to Pinterest!