Mother's Day falls on Sunday 14 May this year. Mother's day is all about expressing genuine gratitude to your mum or other motherly figures in your life (whether that be a mum, grandmother, aunt or friend). For those who don't have too much time to spend at the shops around this period, I have put together a 2017 Mother's Day Gift Guide to give you a helping hand. Make sure the special women in your life feel extra appreciated on this day.

PRINTS FOR MUM
Tell mum how much she means to you with these beautiful words. This print is available from my shop. Purchase, print and then add to frame within minutes. Various different prints available.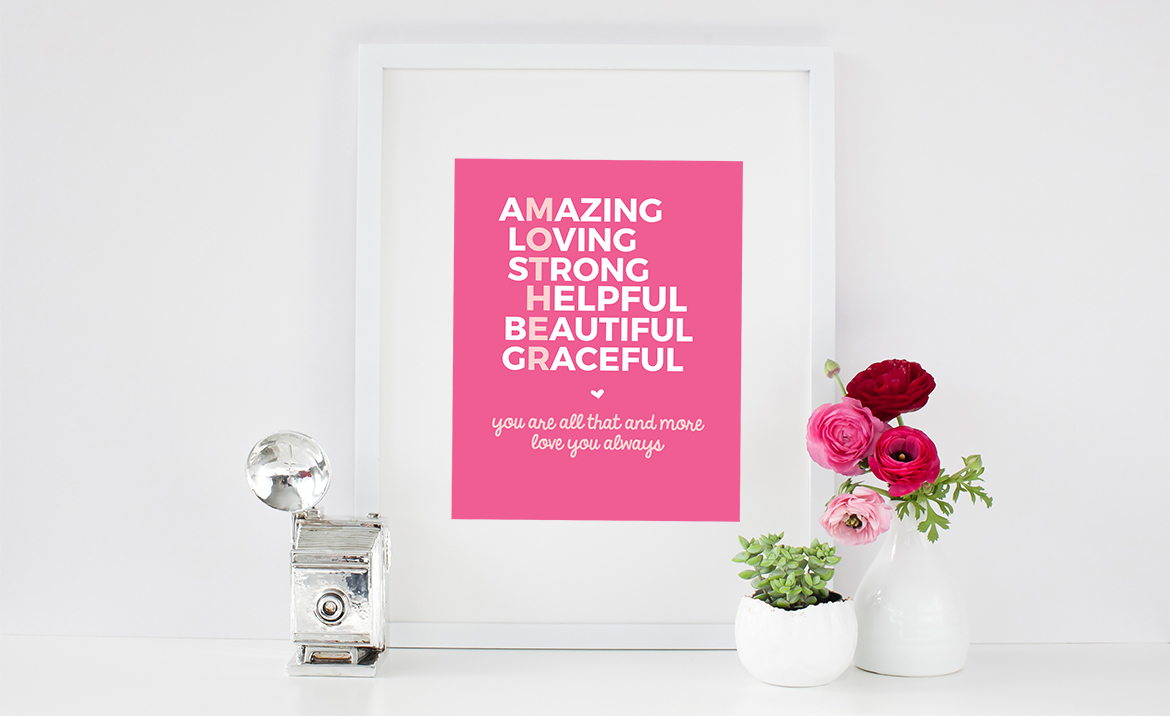 ---
PERSONALISED KEEPSAKE JEWELLERY
By Max & Me Designs. Spoil Mum, Nana or Grandma this Mother's Day with some beautiful personalised jewellery.  Their range of pendants, earrings, bracelets and compact mirrors can be engraved with text of your choice such as a monogram, your children's names, birth dates or inspirational words, the possibilities are endless. Visit the website to see our full range. Receive 20% OFF your order, coupon code: OHMUM20  Valid until June 30th 2017.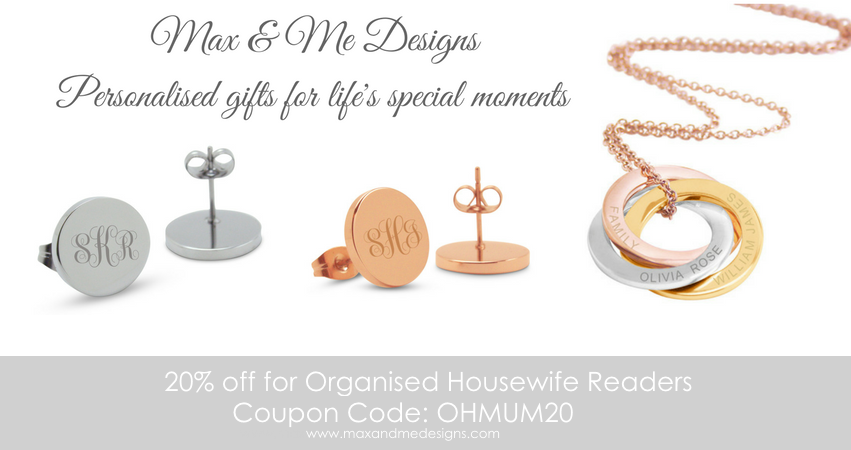 ---
MAGIC ENGRAVED BEANS
Magic beans are a beautiful unique gift sure to make your loved ones or colleagues smile. The beans quickly sprout to reveal a special personalised message engraved on the beautiful plant's central bean. They carry laser engraved encouraging messages and symbols on each side.  The complete kits including soil and the magic beans, ready to be gifted to that someone special. All you have to do is open the Magic Bean tin, add soil to the tin, plant your beans, add a little water, make your wish and watch your possibilities grow, beans will eventually produce a gorgeous flower as per right image.

---
GRANDMA'S FAVOURITE PEOPLE
This is a beautiful gift to give to any Grandmother on Mothers Day or as a Birthday or Christmas gift. This print can be personalised to add grandma's unique name ie. Nanny, Nonna, Granny etc. Something pretty for the wall and also a great reminder of birth dates for them. Many different colours and styles are available.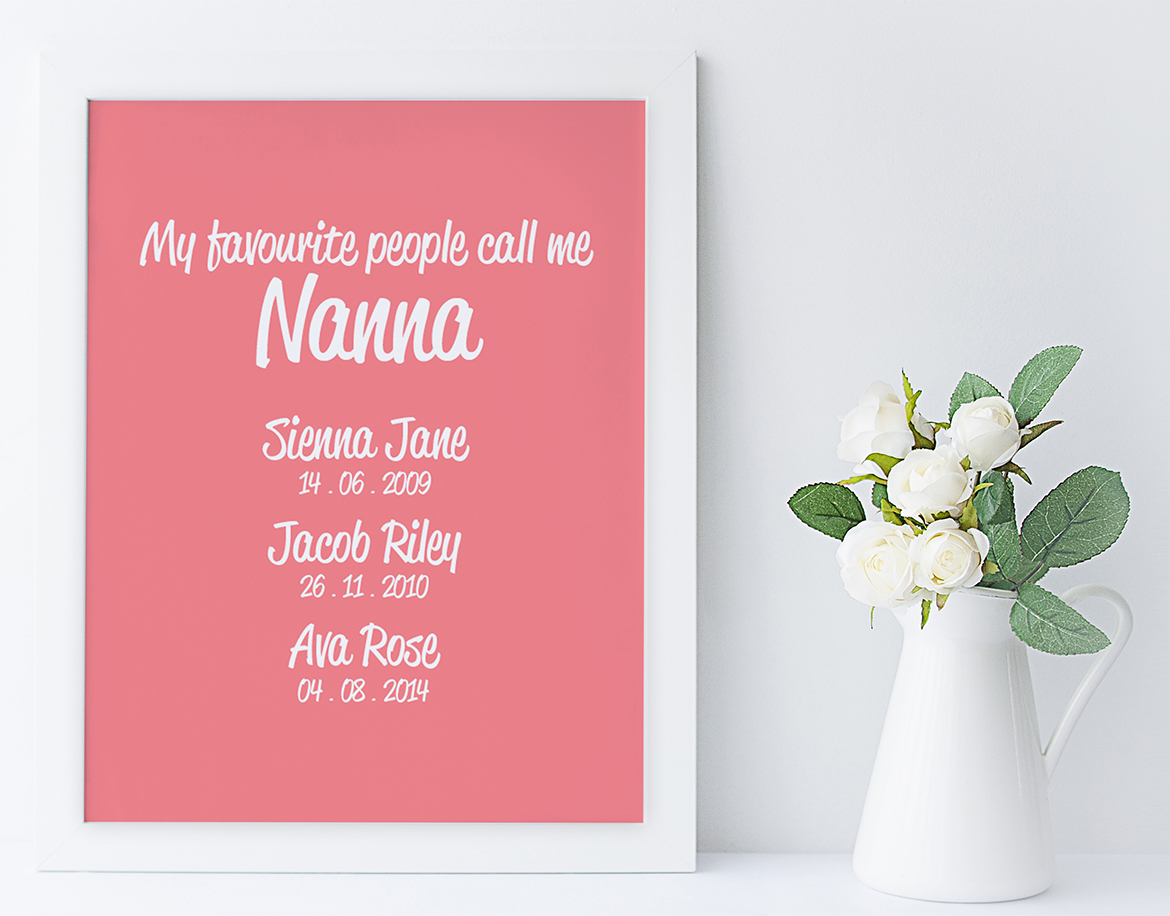 ---
DEHYDRATOR
I LOVE my dehydrator.  I make beef jerky, dried fruit pieces for kids lunchboxes as well as roll ups, worth it's money and more.  The Excalibur Food Dehydrator dries fruit, vegetables, snacks and other wholesome raw living foods quickly and easily, while preserving all their nutrients and enzymes. Conveniently equipped with a timer, it will deliver reliable performance and delicious results again and again!

---
LANKA ROUND PLATTER
Invigorate your table setting with vibrant colour and pattern in the ceramic Lanka Round Platter, 36.6cm from Maxwell & Williams. The pattern is inspired by the colours of the Mediterranean coast and brings new life to your dining table with its vibrant style and practicality.
---
CLOCHE GLASS DOME
Classic in style and practical by design, the Cloche Glass Dome from Palm Beach Collection will keep your candles burning at their best. The dome captures the fragrance of your candle for longer lasting scent and protects candle from dust ensuring the scent is unmarred and the quality is superb.
---
BAMBOO VAPORISER
Lime Tree Kids' gorgeously eco-friendly line of Ultrasonic Essential Oil Aromatherapy Vaporisers and Diffusers offer a unique 5-in-1 functionality that of a diffuser, ioniser, humidifier, air purifier and night lamp. Not only are they practical, but they look sleek and elegant in the home.
---
SOFTIES NECKLACE
Softies Necklaces are a fabulously fun and bright necklace made from non-toxic food grade silicone. This beauty is BPA and nasty free and features a quick release clasp for safety.  Washable in warm soapy water. Loads of fun colours to choose from.
---
MERMAID THROW
Always dreamt of being a mermaid? Here's your chance! Available in stunning turquoise or grey, the Aspire Mermaid Throw adds a little bit of fun into your home décor and the comfort and warmth cannot be beaten!
---
TURQUOISE DINNER SET
Made of quality stoneware for durability and a rustic visual appeal. Buy any Noritake dinner set and receive a set of four Italian-made 'Tasting Hour' red wine glasses!
---
FRESSKO FLASK
Lighten your morning with a delicious tea, coffee or juice on the go with the leak-proof Fressko Flask, Blush, 360ml from made by Fressko. Modern blush colour adds a light and stylish look to your beverage.
---
SUPER COMFY SHOES
FRANKiE4 is an on trend fashion footwear label with a difference! Designed by a Podiatrist & Physiotherapist these shoes have hidden support and are suitable for all different foot shapes.
My favourite from this range is the Izzy boot. I have never been able to wear boots with heels comfortably until now.  They have a side zip making them easy to put on and have foot to heel cushioning.
---
JAPANESE CHERRY BLOSSOM GIFT SET
This beautifully presented gift set has everything you need for the ultimate fragrance adventure. Makes the perfect treat for yourself – or an extra-generous gift.
---
THE ORGANISED HOUSEWIFE 2017 CALENDAR
My 2017 Calendar is the perfect way to stay organised, inspired and motivated. This calendar is inspiring and vibrant, because being organised shouldn't be boring! Filled with bright and colourful designs to inspire and motivate you. I want you to look at the calendar and feel encouraged to achieve new things! Each month has a unique feel and features fun and quirky graphics.
---
ELEMENTAL BRONZE CUTLERY SET
Set your table with luxe style by showing off the metallics of the Elemental 16-Piece Cutlery Set, Bronze from Maxwell & Williams. The bronze metallics add a luxurious edge to your dinner table and is the perfect gift.

---
INSULATED COOLER BAG
Fun and stylish Insulated Cooler Bag. The perfect cooler bag for keeping your weekly shop cool on the way home or for out and about with a yummy picnic. Various designs to choose from.
---
BLOCK TABLECLOTH
The scrolling vines, paisleys and flowers of these intricate patterns are printed by hand for a warm, artisanal feel at meal time. Mix and match with the coordinating napkins (sold separately) for a joyful table.
---
WONDERLAND HIBISCUS NECKLACE
Pink toned resin petals on an adjustable neckdrop make this adjustable necklace a wonderful showstopper!
---
ARUBA ROUND TOWEL
I put this round beach towel on my bed, super inexpensive way to add colour to my bedroom. While I like to decorate my room with the towel, Aruba comes with a matching tote bag for a stylish day at the beach.  Read more here. 
---
ENCHANTED FLOWER BOUQUET
Fill their day with amazement with our Enchanted arrangement! Charmingly presented, the Enchanted bouquet features red spray roses, orange mini gerberas, and copper chrysanthemums beautifully arranged in a rustic bark basket. Enchanted will see them smiling!
---
9 HANDMADE GIFTS FOR MUM
These quirky handmade gift ideas for mum are perfect to make with the kids or if you are on a budget this Mothers Day. A handmade gift usually stands out from the rest… and nothing says love more than a gift made with thought and care! I sure Mum or Grandma will love to receive one of these.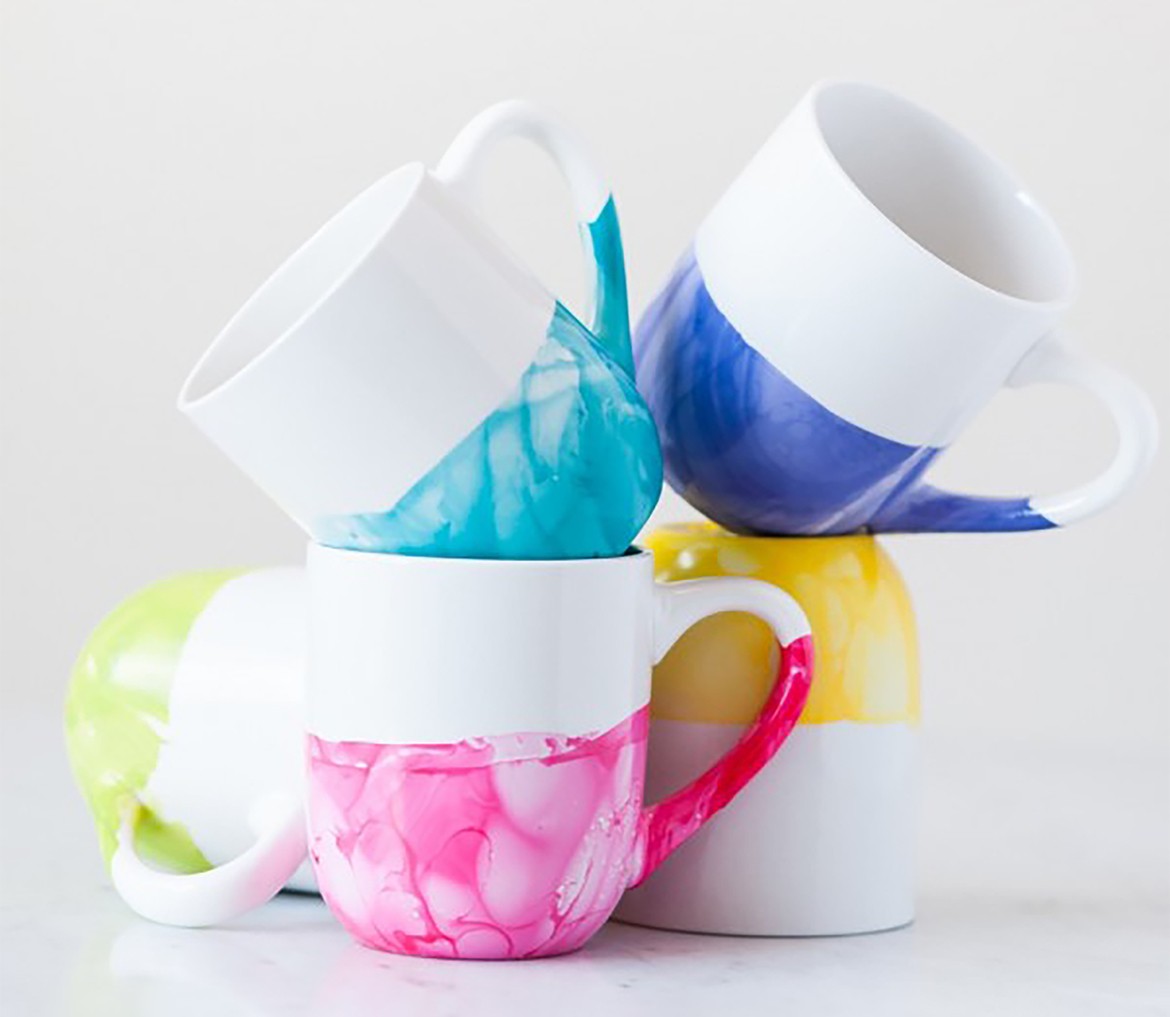 ---
OTHER HANDMADE GIFT IDEAS FOR MUM
DIY HANDPRINT KEYCHAIN
This is a perfect gift for Grandma. She will love carrying her grandchildren around with her wherever she goes!
---
"52 THINGS I LOVE ABOUT YOU" DECK OF CARDS
All you need is a deck of cards, the template, some glue and 52 reasons why you love your Mum/Grandma/whoever and you've got a super cheap, super thoughtful Mother's Day gift.
---
HOMEMADE LAVENDER MILK BATH
It turns out that a milk bath is super easy to mix together and it is supposed to be excellent for the skin. This uses lavender because it is so calming and such a lovely fragrance but you can use rosemary, floral scents, citrus scents, spearmint or you can use real almond oil or even honey.
---
FLORAL HERBAL TEA
Wise people know that it's tea o'clock somewhere in the world. So comforting and refined, it's the perfect way to unwind after a long day. And if you're looking for something beautiful and unique for a tea lover, try making this delicious Herbal Floral Tea recipe made from edible flowers!
---
COOKIES IN A JAR
It's helpful to have the mix ready to make a batch of cookies and is super thoughtful and clever.On my blog, I have a Christmas cookies in a jar recipe but you can customise it to suit Mother's Day.
WHAT DO YOU HAVE PLANNED FOR THIS MOTHER'S DAY?