Click here to view all other posts in our Back to School Series
Last week I shared with you my top lunch box finds, this week here are some great products that I really wanted to share with you.  Some are great learning aides for the kids, a bed sheet set for kindy (which I truly wish was around when my kids were toddlers).  Speaking of I found a reusable bag (great for the environment) for the stinky 'accident happened' clothes that come home typically wrapped in a plastic bag (not so good for the environment).  Shoe labels that will help the kids put their shoes on the right feet, a brilliant way to cover school book – goodbye contact, a pen that I truly believe is a must have for back to school labelling, and so much more.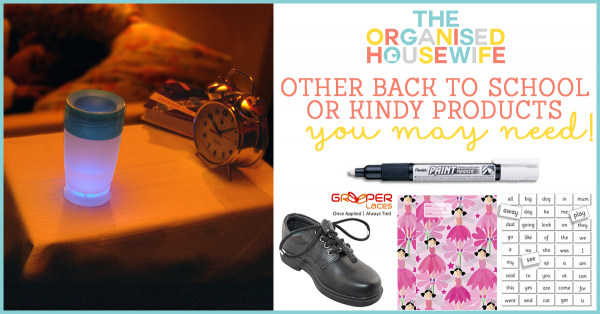 However, one I really want to highlight is the CHEWIGEM™ Emotichew.  One of my kids has struggled at school and was too embarrassed to put up their hand and ask for help in fear of looking dumb in front of their peers.  The Emotichew is particularly useful for children with autism or sensory processing disorders in the case of a meltdown, but I think in the case of my child this would have been fantastic for the teacher to have an indication of when they were too embarrassed to ask for help the teacher could glance over and see from the bracelet that extra assistance is needed.
Pentel MMP20 Paint Marker White
My kids have always had dark coloured hats, school bags and pencil cases, making them hard to label.  I used a white permanent paint marker to write their names on their belongings. The white marker is really easy to see on dark coloured items and won't rub off!  Available from most newsagencies and office supply shops.

Shoezooz Shoe Labels
Shoezooz educational shoe stickers are a fun way to help your kids put their shoes on the right feet, all by themselves! Comprised of a sticker pair with the image of a cute animal split in half – the left sticker has the head and body and the right sticker has the rear and tail.  These durable vinyl stickers are adhered inside the heel of the shoes and the animals only become whole when the kids line up the shoes correctly (left and right) and match the halves.  With space on the sticker to label with a name, not only can you label your kids shoes but they can learn at the same time! Each pack of shoe labels contains three sticker pairs, and they are available in Jungle, Sea and Farm designs. Save time in the morning rush getting ready for kindy and school, and let your kids have some independence too.  Available from Tiptoe and Co.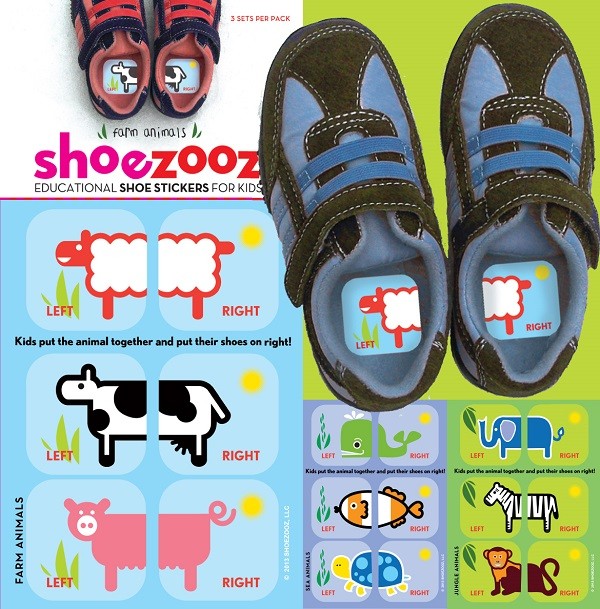 CHEWIGEM™ Emotichew
Flipping from green to red allows the wearer to have some control over a situation giving them a voice, without the need for a voice, and bystanders an indication of how they can help. Particularly useful for children with autism or sensory processing disorders in the case of a meltdown, to give an indication for when to help and when to leave them. Also for shy children as it enables them to discreetly ask for help when they are stuck.
Green side says "talk to me"
Red side says "leave me be"
Emotichew's are available in two sizes. Made from BPA free chewable silicone, just like all Chewigems.  Available from Chewigem.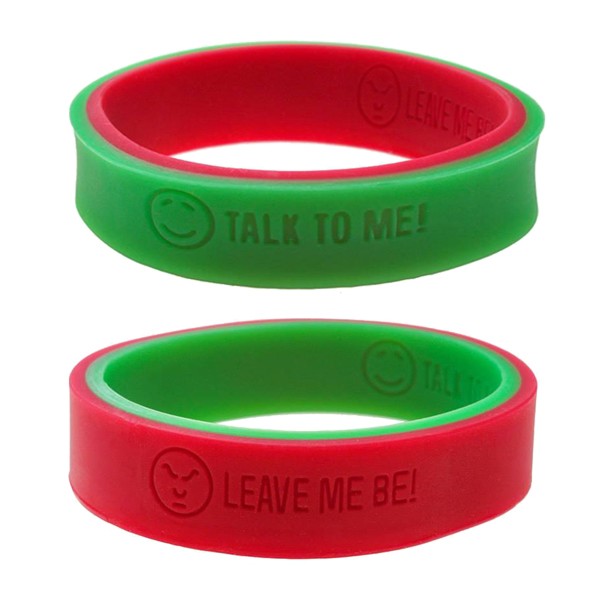 Jamberry Preschool Linen Packs – Stacking Bed Sheet Set
A gorgeous preschool sheet set,  specifically designed for child care, kindy and day care stretcher beds. This unique set for kids includes:
sheet set for stacking beds or floor mats [top and bottom sheet attached]
fleece blanket
pillow with zip off cover
drawstring bag fully lined
Sheet has a flat Bottom sheet with elastic across corners to hook over the corners of the stacking bed or floor mat. A flat top sheet is attached at the base.  Available online here.
GREEPER® Laces
Struggling with shoe laces? Try GREEPER® Laces – Once Applied : Always Tied.  GREEPER® Laces are award winning patented shoe laces that will never come undone and yet are very easy to loosen and tighten. Made with normal laces they ensure optimum fit and support, are very durable and can be used in all weather conditions. Very useful for individuals that struggle with tying laces. Only two simple movements are required to use Greeper laces, one to untie, one to tie.
GREEPER® Laces at a glance
Once Applied – Always Tied

Never Come Undone

Can Easily Tighten & Loosen Laces Without Undoing

Made From Traditional Shoelace Material

Keep Feet & Shoes Securely In Place

Useful for People With Special Needs That Affect Ability To Tie Shoe Laces

Great For Triathlon or Competiting Sports Which Need Quick Transition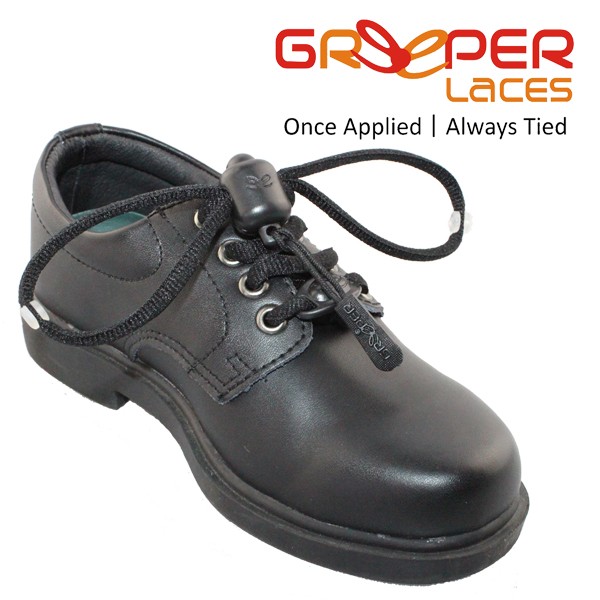 CHEWIGEM™ Button pendants
Chewing on shirt collars? buttons? pencils? finger nails? CHEWIGEM™ has you covered.  Their new design disc shaped 'Button' pendant is getting great reports from intense chewers, for durability.  Available in a range of colours to suit every style.  DISCREET, SAFE, WASHABLE, DURABLE.  Available from Chewigem.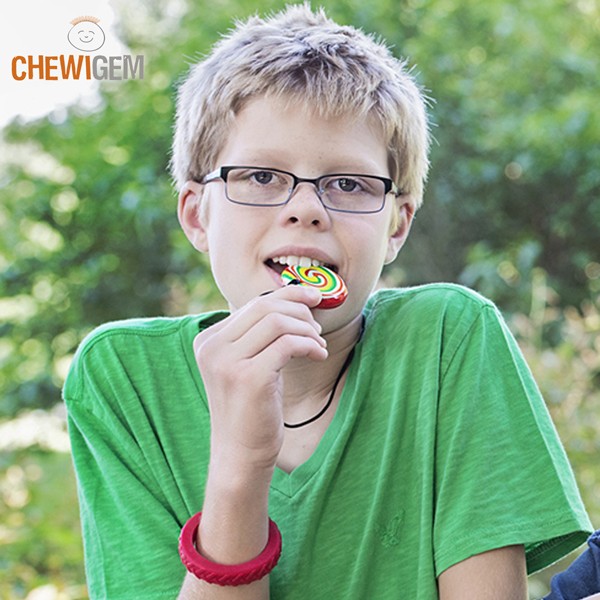 School book covers
Spencil is the leading Australian supplier of completely non-toxic PVC slip-on school book covers. Spencil covers come in three sizes (exercise, A4, scrapbook) and dozens of designs by international commissioned artists. The designs coordinate with Spencil's lunch boxes, lunch bags, homework satchels, pencil cases and more. These Spencil slip-on covers take the time and frustration out of covering school books using adhesive-style methods and users find they can get multiple years' use out of their hard-wearing Spencil covers. Prices start at just $2.25.  Available online at Spencil.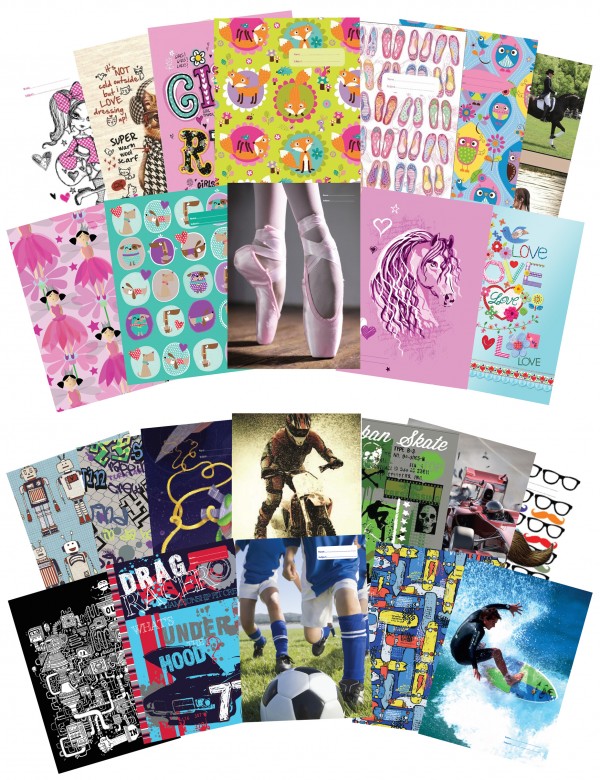 Smelly Bag
REUSABLE – WASHABLE – ECO-FRIENDLY – WATERPROOF BAG. Initially created by a Mum who was sick of bringing home plastic bags of wet/soiled clothes from daycare when her son was potty training, and thought there must be a more environmentally friendly way. Smelly Bags are an essential for in your nappy bag, to take home any dirty clothes or cloth nappies, handy when potty training and accidents occur, and ideal to use as a kids swimming bag. Not only for kids clothes but a great place to put your smelly clothes into after a workout, to keep your smelly clothes separated from your other items in your gym bag, plus you can throw it in the wash.  Available online here.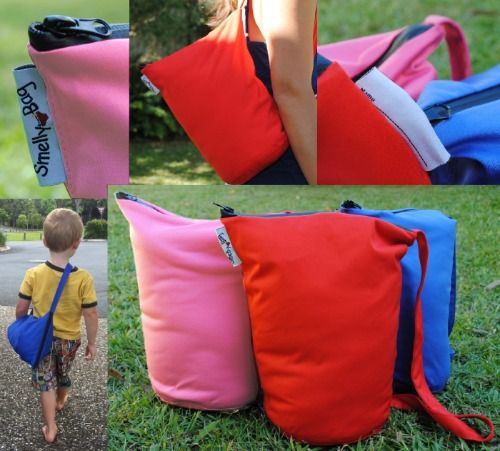 Magnetic Words
The Doowell magnetic words are great for teaching children in from grade 1 – 5 spelling and reading words. The set comes with a magnetic board and over a hundred of the most widely used words for each specifc age group, all with magnetic backing.  Available online here.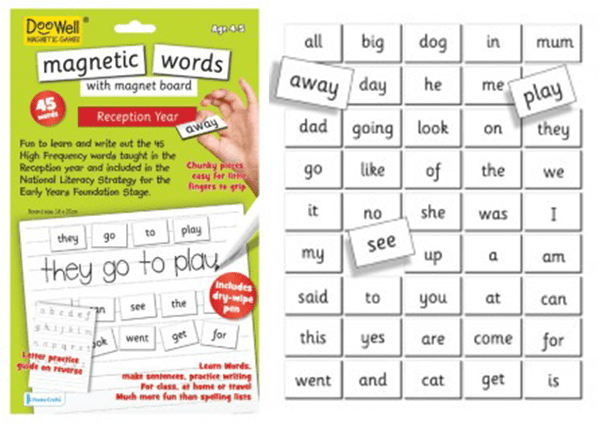 Cup + Night Light
Litecup is a unique non-spill sippy cup with integrated night light – it's a new kind of toddler beaker!  Perfect for independent mess free drinking the patented circular valve allows free flow drinking from a cup edge whilst preventing tips and spills. the cup edge supports the bottle to cup transition and means there are no fiddly straws or spouts to clean.  The cup includes a light sensitive LED light unit that sits in the base of the cup and makes the cup glow gently at night providing a comforting nightlight and ensuring your child will always find their drink. Hopefully giving them one less reason to wake you up!  The clean and fun design does not look 'babyish' and works for anyone from 12 months up.  Available from Litecup Ausralia.

SPLASHitToMe Raincoats
SPLASHitToMe is made from high quality waterproof nylon and will keep you dry in even the heaviest rain. Perfect for adults and kids alike – commuting, work, sport & leisure. Keep one in the kids' schoolbag for rainy days. SPLASHitToMe comes in bright colours – on trend, fun and highly visible on rainy days making it the safest choice in raincoats. Available from EnviroTrend.
Keeps you dry in the heaviest of rain

Easy to carry around in a school bag

High visibility

Covers jumpers and other coats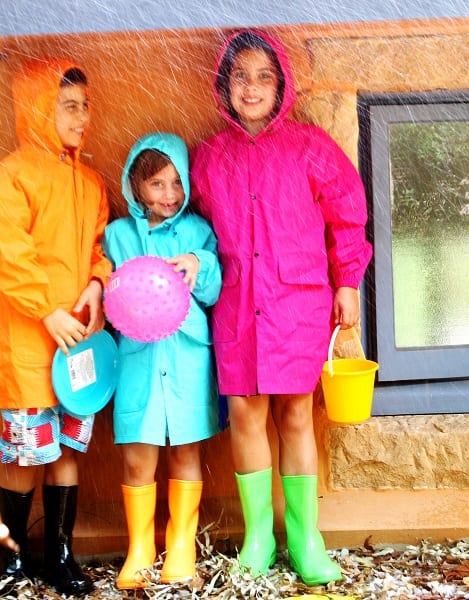 SPLASHitToMe ArtSmocks
SPLASHitToMe ArtSmocks are made from the same great fabric as our SPLASHitToMe Raincoats to keep your little artists' creativity on the canvas and off their clothes. SPLASHitToMe ArtSmocks fold up in their pocket for easy storage. For home, kindy, school and wherever a glorious masterpiece of a mess is to be made! Small size may even be used for little tackers at meal times. Available from EnviroTrend.
Kids Learning Charts, Verb Noun Adjective
Learning grammar rules can be difficult and confusing for some kids. Help your children at home by placing some posters on their walls to enable them to learn and get a better understanding of each of the following: Verb, Adverb, Noun, Adjective, Pronoun and Conjunction.  I put these on the back of the toilet door for the kids to look at and learn while they are… well you know.  Available as an instant download from my shop.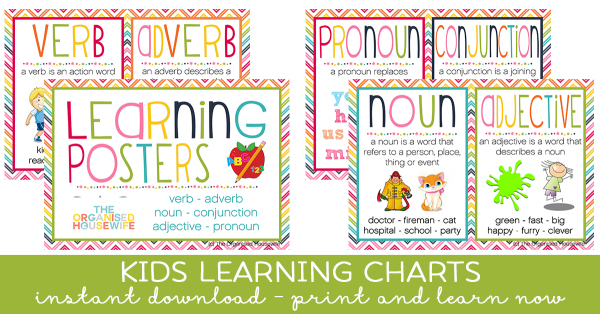 What must have product would you suggest?