I am a planner and like to think ahead and am already planning my Christmas blog posts!  However, over the next few months I would love to feature some guest posters (you don't have to be a blogger) sharing craft projects, room makeovers, Christmas recipes and more.  I thought it would be fun to seek some contributors to share posts about Christmas, summer, school holidays or back to school. If this sounds like something you are interested in, please keep reading!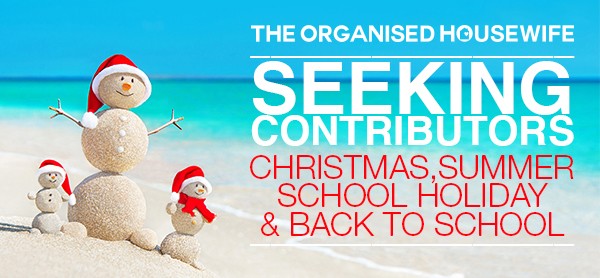 I am seeking contributors to share the following post topics and ideas, you don't have to be a blogger anyone is welcome to submit their ideas!
What I am looking for:
Posts related to: Christmas, summer, school holidays and back to school
Posts about: creative and original ideas –  craft tutorials, recipes, organising, decorating, gifts ideas, home, DIY projects, room makeovers and MORE!
Crisp, clear, pretty photos in high res.  All photos must be yours or correctly sourced.
The benefits:
You will receive awesome exposure to The Organised Housewife blog readers, Facebook community, email subscribers and Instagram.
Lots of new traffic and SEO benefits to your blog.
More details:
Having a blog is a bonus, but not a requirement.
A blog with big or small following are all welcome to submit their ideas.
Your details (author bio) + photo will be added to the end of your post with link back to your blog.
Not so fine print
You will need to share your post via your social media channels.
Please avoid being self-promotional or selling of products in the body of your post (save that for your author bio).
Posts that are clearly intended as a link building scheme will be rejected.
Your post must be original and as per google rules cannot be republished on your blog.
Post to reflect the writing style/tone of The Organised Housewife.
Post emailed in HTML or in a Word document with any image files (including attribution) attached separately.
I reserve the right to edit and adapt your post content as I see fit and update it in the future for accuracy and comprehensiveness.
To Apply:
If this sounds like something you are interested in
>> CLICK HERE TO SUBMIT YOUR POST IDEA <<
Application deadline is 20th October.
Thanks so much for taking the time to apply! I can't wait to share your posts with my community!