I was trying to find some healthy meals I can make and have on hand for a quick reheat for lunch, I found a recipe on Taste.com.au for a Zucchini Feta Cake, sounded delicious.  I replaced the pancetta with 2 pieces of shortcut bacon and cooked individual portions in a muffin tin.  I pulled them out of the oven when they were golden brown and skewer came out clean, sadly though I found when I went to eat them that they weren't cooked all the way through, they may have needed a little longer.  Despite this they were still enjoyable.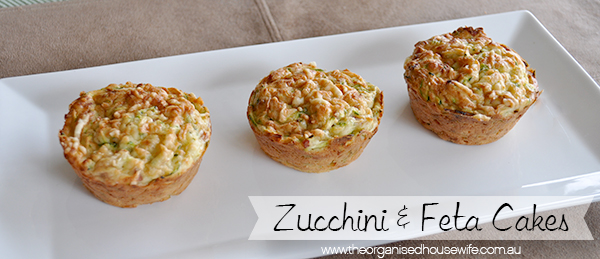 Ingredients:
Full recipe can be found at taste.com.au
I have also found some great variations to this recipe here:  Zucchini Chorizo & Feta Slice  |  Claire K Creations  & Zucchini & Feta Slice in the Thermomix | Retromummy
7 THINGS I DO EACH DAY TO KEEP THE HOME CLEAN AND ORGANISED
Subscribe to my weekly newsletter to receive blog updates in our inbox + this FREE eBook sharing some of my top tips that you can adapt in your own home.