Prawns are a time-honoured party starter and sweet potato is the root vegetable of the moment. Bring these two together in a piping-hot fritter and you have a fabulous time on a platter faster than you can say "mojito". (Which admittedly doesn't take long to say, but then again, these little flavour-packed packages don't take long at all when you whizz them in the Thermomix prior to frying.)
If you're not big on frying things while you're in the midst of host duties, recipe creator from TMix+, Lesley Russell's, shared her tips:
always test both the temperature of oil and the taste of the mixture before you start frying.
Ease one spoonful of mixture into the oil—it should bubble quickly and brightly, but not furiously. Not hot enough, and you will have soggy fritters; too hot and they will be over-browned and raw in the centre.
Taste the fritters for the seasoning level at the same time and adjust if need be.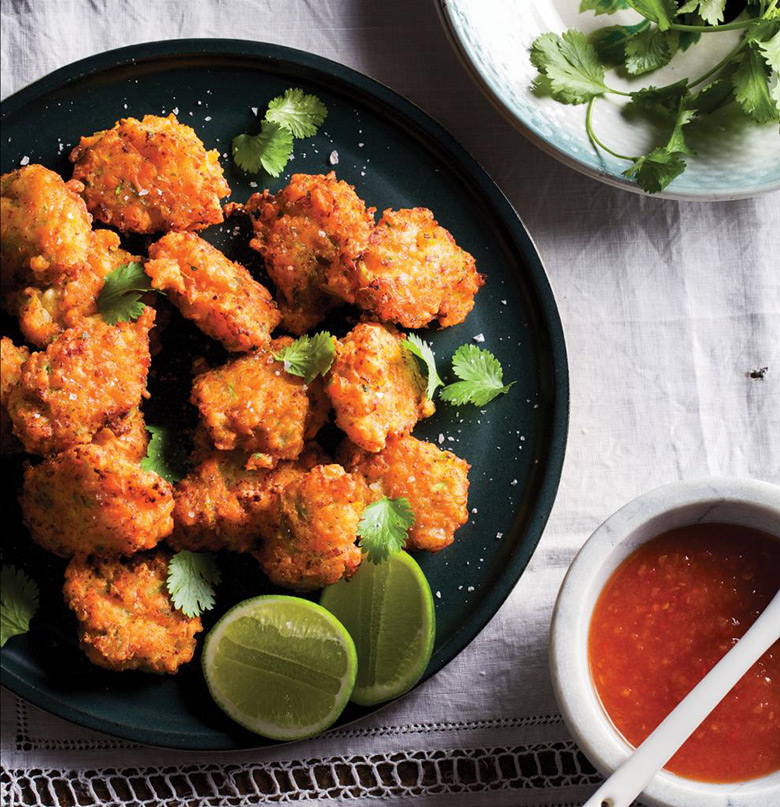 Print
Prawn & Sweet Potato Fritters
Author:
Prep Time:

15 mins

Cook Time:

15 mins

Total Time:

30 mins

Yield:

20

-

2

4

1

x
200g

sweet potato, peeled and roughly chopped

2

large spring onions, pale section, cut into short lengths

1

bunch coriander, washed and separated into leaves and stalks; tear stalks into lengths and set leaves aside

300g

green (raw) prawns, no shells or tails, digestive tract removed

100g

plain flour

1

pinch baking powder

150g

water

1

pinch flake salt, to taste

1

pinch ground white pepper, to taste

2 cups

vegetable oil for cooking

2

limes, sliced into

4

cheeks
sweet and sour sauce, to serve
Instructions
Place the sweet potato, spring onion and coriander stalks into the mixing bowl. Chop 5 seconds/speed 5.
Add the prawns and pulse 2 seconds/turbo. There should be clearly visible pieces of prawn throughout the mixture, neither large nor small. Check. If too chunky pulse for another 1 second/turbo.
Add the flour, baking powder, water, salt and pepper. Stir 20 seconds/reverse/speed 1. Allow the mixture to stand for 10 minutes before cooking.
Heat vegetable oil, approximately 2 centimetres deep in a wide, shallow pan. When the oil gives off a slight vapour, carefully ease dessertspoons of the mixture into the hot oil, leaving plenty of room between each one. (See tip below.)
Cook on one side then the other until crisp and nicely browned. Remove with a slotted spoon and rest on paper towel. You may have to fry the mixture in batches depending on the size of your pan, keeping the cooked ones warm in a low oven as you do so.
Serve the fritters scattered with the coriander leaves and a little extra flake salt, together with the lime cheeks and sweet chilli sauce.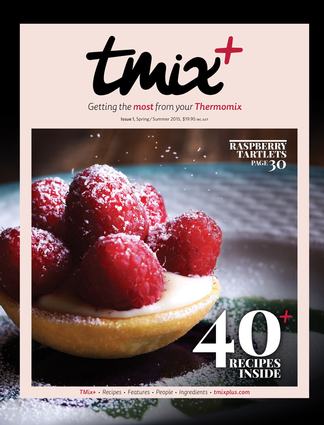 This recipe is an excerpt from Tmix+ Issue 1 Spring/Summer 2015 magazine.
TMIX+ ISSUE 1 SPRING/SUMMER 2015 MAGAZINE – the first magazine created for users of the Thermomix in Australia. It connects the Thermomix community, a passionate group of people who love to cook with, talk about and engage with their Thermomix on a daily basis, through warm, honest and inspiring content. AVAILABLE HERE.