A delicious and budget-friendly Thermomix Devilled Sausage recipe with creamy potato mash – the perfect hearty meal for a growing family!
Devilled sausages are a big hit in my house, and this Thermomix Devilled Sausages recipe is tangy, sweet, and tastes absolutely delicious when served with creamy mashed potato.
It's an inexpensive meal to make, and freezes well – so make sure you make extras to get you through those busy weeks when you don't feel like making dinner.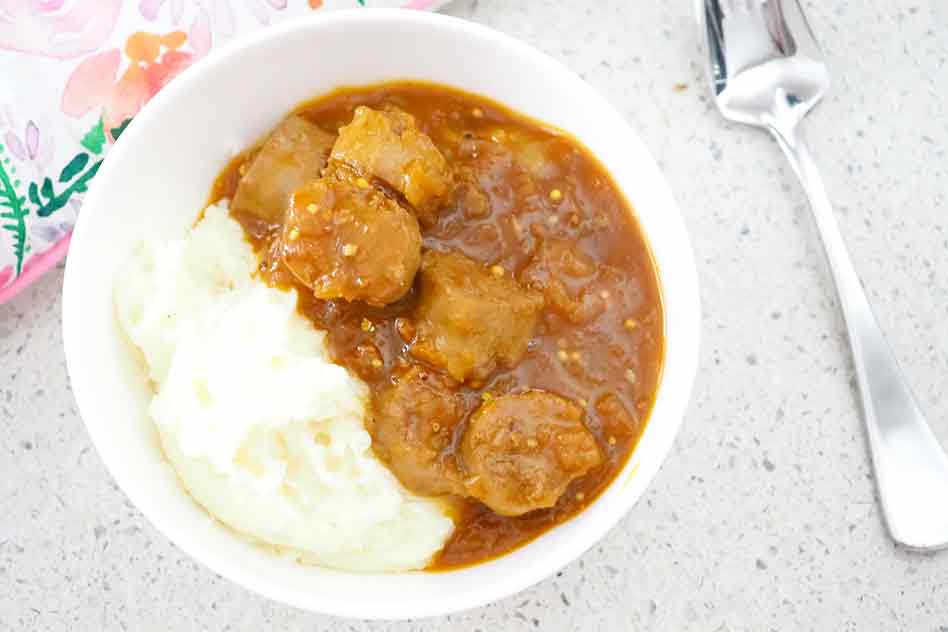 This is a Thermomix recipe from the Thermomix Recipe Community – you can view the original recipe here.
If you haven't got a Thermomix, or you're simply looking for a regular stovetop recipe, my Sausage Strogonoff recipe is equally as delicious!
Print
Thermomix Devilled Sausages
Author:
Prep Time:

5 mins

Cook Time:

40 mins

Total Time:

45 mins
8

thin beef sausages

1

onions, brown, peeled and quartered

1

green apple, peeled and quartered

250 grams

water

2 teaspoons

soy sauce

4 tablespoons

tomato paste

4 tablespoons

worcestershire sauce

2 teaspoons

mustard

2 tablespoons

brown sugar

1 tablespoon

cornflour

1

clove garlic

5

potatoes, peeled and quartered

20 g

butter

50 g

milk

10 g

olive oil
Instructions
Place 1 Litre of water into Thermomix bowl.
Place potatoes in simmering basket and place sausages into Varoma and set into place. Cook for 20 minutes on Varoma temp at speed 2.
When finished, set Varoma aside for sausages to cool slightly and place potatoes in Thermoserver to keep warm.
Meanwhile drain water from Thermomix bowl, then chop onion, garlic and apple for 5 seconds on speed 5.
Add oil and saute for 3 minutes at 100 degrees on speed 1. Place cornflour and 50g water in MC and mix.
Put cornflour mixture, remaining water, soy sauce, tomato paste, Worcestershire sauce, mustard and brown sugar into Thermomix bowl and combine for 10 seconds on speed soft.
Slice sausages and add to Thermomix bowl. Cook for 10 minutes at 100 degrees on reverse speed 1.
Remove potatoes from the Thermoserver and replace with sausage mixture.
Rinse bowl. Place milk in Thermomix bowl and heat for 4 minutes at 90 degrees on Speed 2.
Insert Butterfly and add potatoes and butter.
Mash for 20-30 seconds on speed 3-4.
Season with Salt and pepper to taste.