Served with some fresh salad leaves, this chilled Salmon Cheesecake is perfect for casual entertaining this summer.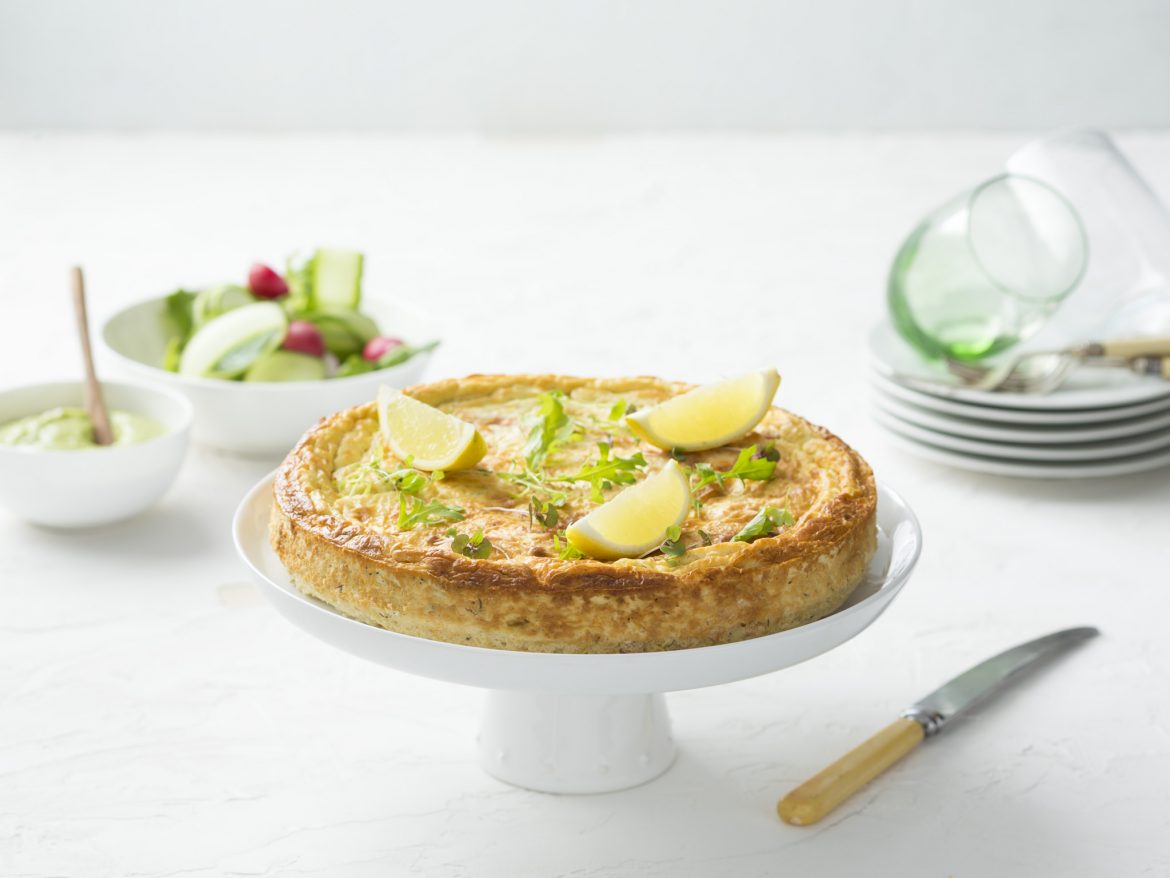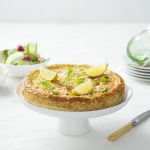 YOU WILL NEED
Salmon cheesecake

· 2 pieces lemon zest (1 x 4 cm), no white pith

· 4 spring onions/shallots, trimmed and cut into pieces

· 1 sprig fresh dill, leaves only (see Tips)

· 250 g cream cheese

· 200 g sour cream

· 300 g firm ricotta cheese (see Tips)

· 3 eggs

· 1 tsp salt

· ¼ tsp ground black pepper

· 370 g hot smoked salmon, skin removed, flaked

Avocado dressing

· 1 avocado (approx. 200 g), flesh only, cut into cubes

· 3 sprigs fresh flat-leaf parsley, leaves only

· 1 spring onion/shallot, trimmed and cut into pieces

· 20 g baby capers, rinsed and drained

· 20 g lemon juice (approx. ½ lemon)

· 150 g water

· salt, to taste, plus extra for seasoning

· 2 pinches freshly ground black pepper, plus extra for seasoning

· 60 g mixed baby leaf salad

· 1 cucumber, peeled into ribbons

· 4 baby radishes, cut into quarters

· 1 lemon, cut into wedges, to serve
Instructions
Salmon cheesecake
1  Preheat oven to 160°C. Line a springform cake tin (24 cm) with baking paper and set aside.

2  Place lemon zest into mixing bowl and chop 10 sec/speed 9. Scrape down sides of mixing bowl with spatula.

3  Add spring onions/shallots and dill and chop 10 sec/speed 9.

4  Add cream cheese, sour cream, ricotta, eggs, salt and pepper and blend 20 sec/speed 5. Scrape down sides of mixing bowl with spatula.

5  Add salmon and combine 10-15 sec//speed 4, until just combined. Transfer into prepared tin and bake for 45-50 minutes (160°C) until just set (the centre will have a gentle wobble). Turn off heat and allow cake to set in oven (approx. 1½ hours or until cooled). Cover cooled cake with plastic wrap and place into refrigerator overnight. Clean and dry mixing bowl.

Avocado dressing
6  Place all dressing ingredients, except mixed salad, cucumber, radishes and lemon, into mixing bowl and blend 40 sec/speed 6.

7  Scrape down sides of mixing bowl with spatula and blend 20 sec/speed 4. Transfer into a serving bowl and set aside.

8  Remove cheesecake from tin and place onto a serving plate.

9  Place a bowl onto mixing bowl lid and weigh mixed leaves into it. Add cucumber and radish to bowl with mixed leaves, season with extra salt and pepper. Serve cheesecake at room temperature with lemon wedges, avocado dressing and salad.
Notes
To make your own ricotta, visit the My-Thermomix Recipe Platform (www.my-thermomix.com.au) and register to receive your free Welcome Collection, which includes a recipe for homemade ricotta. · You can replace dill with parsley in this recipe.
This recipe was provided by and published with approval by Thermomix Australia. 
Cook-Key by Thermomix means less time in the kitchen and more time spent at the table this Christmas. The Cook-Key uses Wi-Fi to wirelessly connect you to a world of Thermomix recipes on Cookidoo.com.au.
It's as easy as Browse-Sync-Cook.
Browse through thousands of recipes on Cookidoo.com.au.
Sync your playlists and meal planner with one touch when you attach your Cook-Key to the side of your TM5.
Cook your favourites faster with step-by-step on screen instructions, pre-set temperatures and integrated measuring.
Do you have a favourite recipe to cook in your Thermomix?