Taco filling ideas for the next time your family has tacos for dinner, whether that is for Taco Tuesday or any night. Plus some great taco recipes to try!
My family loves having tacos for dinner. It's so easy and quick to prepare, and I know that everyone will enjoy it. We most often have the standard basic taco fillings of seasoned spicy beef mince, shredded lettuce, diced tomatoes with grated cheese and salsa. While the tacos most people eat in Australia and some of the great taco recipes out there are a far cry from actual traditional Mexican food,  there's no rules on what you can put in your taco. The only limit is your imagination and creativity. Having a range of different taco fillings that kids can add to their tacos themselves is a great way to get fussy kids to try new things, and even sneak in some vegetables they might not normally eat happily.
Loving my server below! Makes it easy for all the family to serve themselves… available in my shop here. 
The first question when we are talking tacos is the shell or wrapper. Are you a hard shell or soft tortilla wrap person. Or as the girl famously said in that television advert "why not have both"? You could even use large lettuce leaves as your taco wraps if you wanted a healthier option.
Main Protein Filling Ideas:
Traditional seasoned taco mince (beef/pork/chicken)
Pulled pork
Chicken strips
Grilled Tofu (great vegetarian option)
 Fish
Slow cooked beef
Prawns
Vegetable Fillings:
Shredded lettuce
Diced tomato
Avocado chunks
Capsicum pieces
Cucumber pieces
Corn niblets
Shredded cabbage
Finely chopped chilies
 Grated carrot
Fresh tomato salsa
Black beans
Jalepenos
Carmelised onions
Baby spinach
Coleslaw
Chopped spring onions
Grilled mushrooms
Bean Mix
Olives
Chargrilled vegetable mix
Refried beans
Toppings and Sauces:
Grated cheese
Guacamole
Salsa
Sour cream
Yoghurt dressing
 Chili sauce 
Lime juice dressing
Pico de gallo
Freshly chopped coriander
Chipotle sauce
Hot sauce
Baked Chicken Tacos – A baked chicken taco recipe that is easy to make with the great combo of crunchy taco shells and cheesy chicken yumminess. It's bound to be a hit with everyone.
  Find this Baked Spicy Chicken tacos recipe here.
Salsa Chicken Tacos – Fill some soft tortillas with lettuce, and top with slow cooked Mexican Salsa Chicken and add some guacamole and sour cream for a yummy and easy dinner. Perfect for those busy days.
  Find my Mexican Salsa Chicken recipe here.
Vegan Crispy Avocado Tacos – these crispy avocado fries look amazing! Pop them into some corn tortillas with salad and a squeeze of lime juice and you have a dinner that's not only dairy-free, but also vegan, gluten-free and oil-free too!
  Find this Crispy Baked Avocado Fries recipe here.
Tandoori Chicken Tacos – A soft chicken taco recipe with delicious twist, with tandoori and lemon yoghurt flavours. Everyone will be wanting more!
  Find this Tandoori Chicken tacos recipe here.
What are your favourite things to add to your tacos?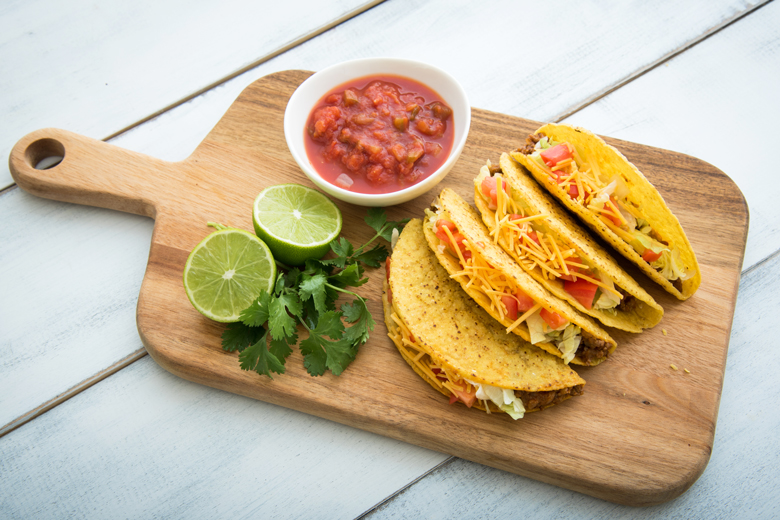 A delicious, quick, and easy Mexican Layer Dip recipe that includes sour cream, avocado and tasty cheese – a fun recipe to make with the kids. Continue Reading
Lazy Susan Spinning Server Set
A lazy susan with a modern twist!
Entertaining is a breeze with the Ladelle Essentials Spinning Server. With five ceramic dishes on a spinning base, your guests can easily reach their favourite dish. Made from high-quality stoneware on an acacia wood base, you use the items together or separately.