Ooh goodness me, where do I start with these amazing balls of deliciousness? LOL, I'm giggling to myself as I write this recipe up for you, but I just don't know how else to describe these incredible Strawberries & Cream White Chocolate Truffle Balls made out of VoVo biscuits, besides amazeballs!!!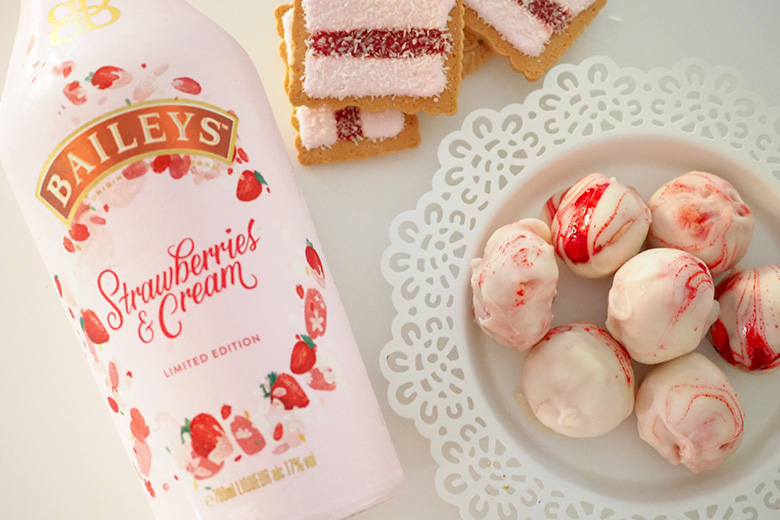 Before Christmas, I was searching lots of bottle shops for Bailey's Strawberries and Cream.  I was very sad because it was sold out everywhere. Little did I know that Scotty persisted and surprised me on Christmas Eve with a bottle, I was so excited when I got it!!  I'm not a huge drinker in any form, but I do like an occasional Bailey's with milk on ice.  It's hard to explain, but it tastes like a weak strawberry Nesquik with Bailey's.  Anyways, I have made a few recipes with Bailey's Strawberries and Cream in it and this one tasted sooooo good, I had to share it.  LOL, one would think this post is sponsored by Baileys, but it's not at all. I just thought with Australia Day approaching, you might love the recipe too!! You only need a few ingredients: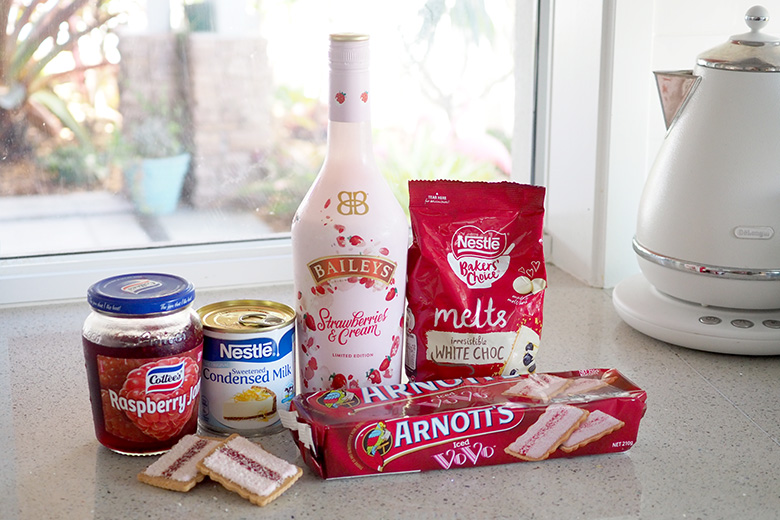 I've made lots of things out of VoVo's over the years (they are a weakness of mine), but this is my favourite recipe using them as the main ingredient.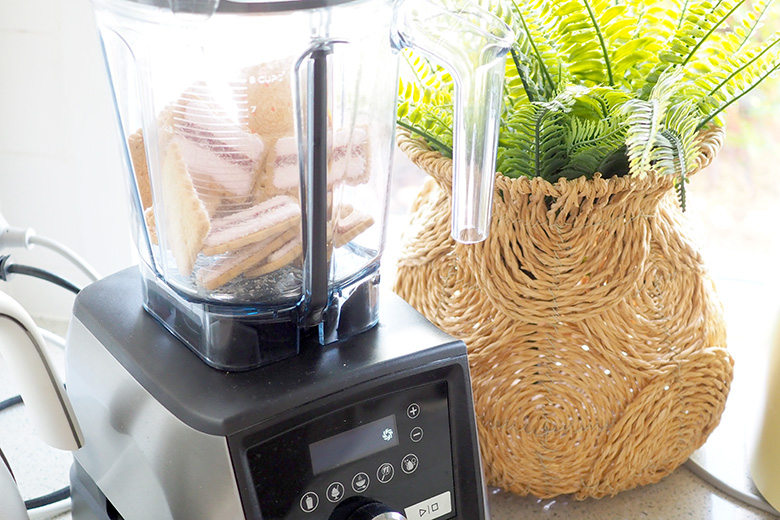 I blitzed everything in my Vitamix. You can use your food processor or Thermomix.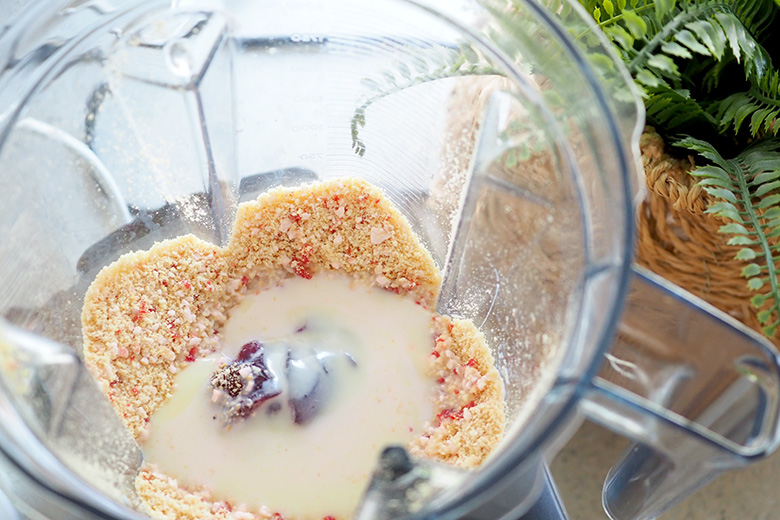 Then rolled the mixture into balls, placed them in the fridge for an hour or so to harden. Then I melted the chocolate and added a few drops of red food colouring to marble through the chocolate. This step is optional because you could just mix it through to make pink chocolate if that's easier.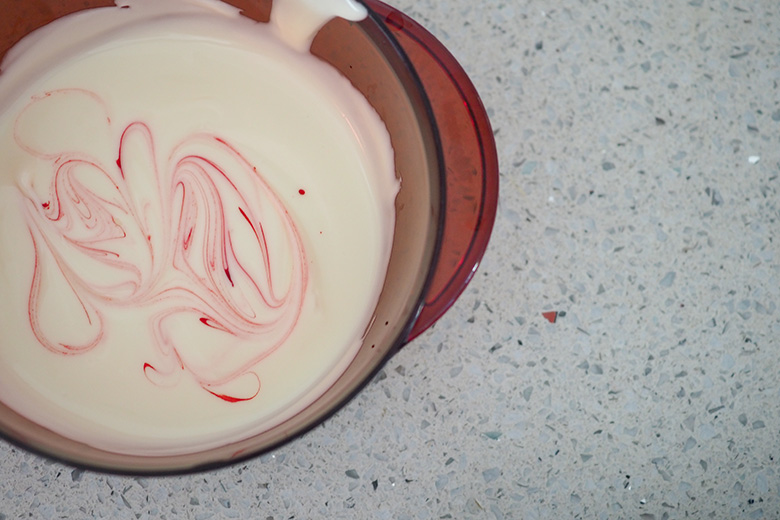 But the marbling has a fun effect to it!  Don't skip the chocolate coating step as it gives the balls a nice crisp coating.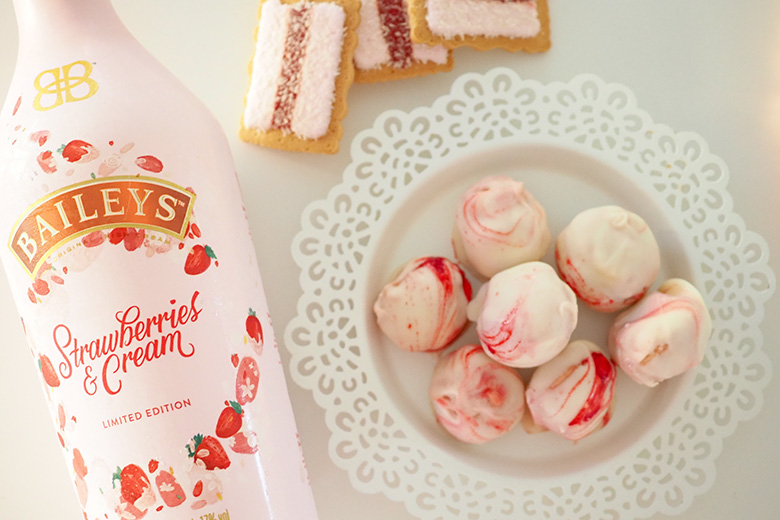 When you bite into these little delicate balls, you're hit with the subtleness of the Baileys, and together with the sweetness of the centre and the hard surface of the white chocolate on the outside, they are simply to die for. Is your mouth watering yet?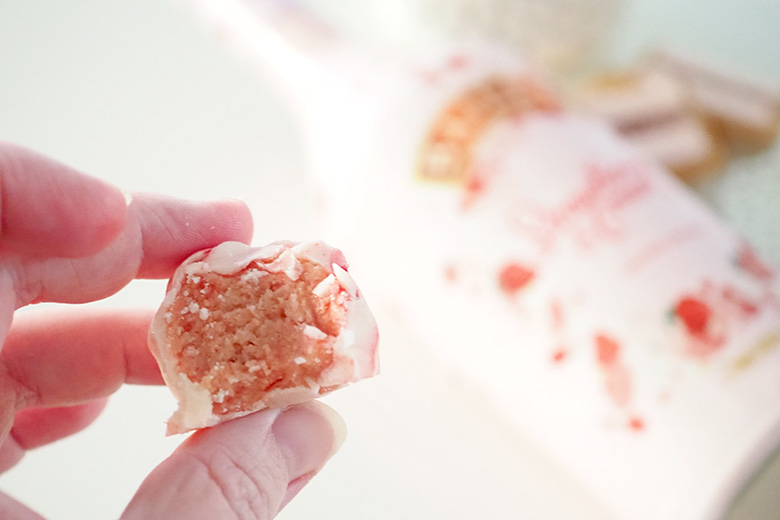 It's best to store these Strawberries & Cream White Chocolate Truffle Balls in the fridge until ready to serve.
WARNING: Do not turn your back on a platter of these, because before you return, they will all be gone. LOL
Print
Strawberries & Cream White Chocolate Truffle Balls
Author:
Prep Time:

90 mins

Cook Time:

5 mins

Total Time:

1 hour 35 mins

Yield:

1

8

1

x
Category:

Dessert
1

x 210g packet of Arnott's Iced Vovos

1 tablespoon

of strawberry jam

2 tablespoons

of sweetened condensed milk

2 tablespoons

of Strawberries and Cream Baileys

300g

white chocolate melts, melted
Pink or red liquid food colouring
Instructions
Use a food processor to break the Iced Vovo biscuits up until they are a fine crumb.
Add the strawberry jam, baileys and condensed milk, blitz until combined.
Roll the mixture into even balls, place on a lined tray and put in the fridge to set.
Melt white chocolate following packet directions.
Add 2-4 drops of food colouring. Swirl colouring through the chocolate with a toothpick to achieve the marble look.
Dip balls into the marbled mixture and let excess chocolate drip off before adding them to a tray lined with baking paper. Return the balls to the fridge for the setting.
Store for up to three weeks in an airtight container.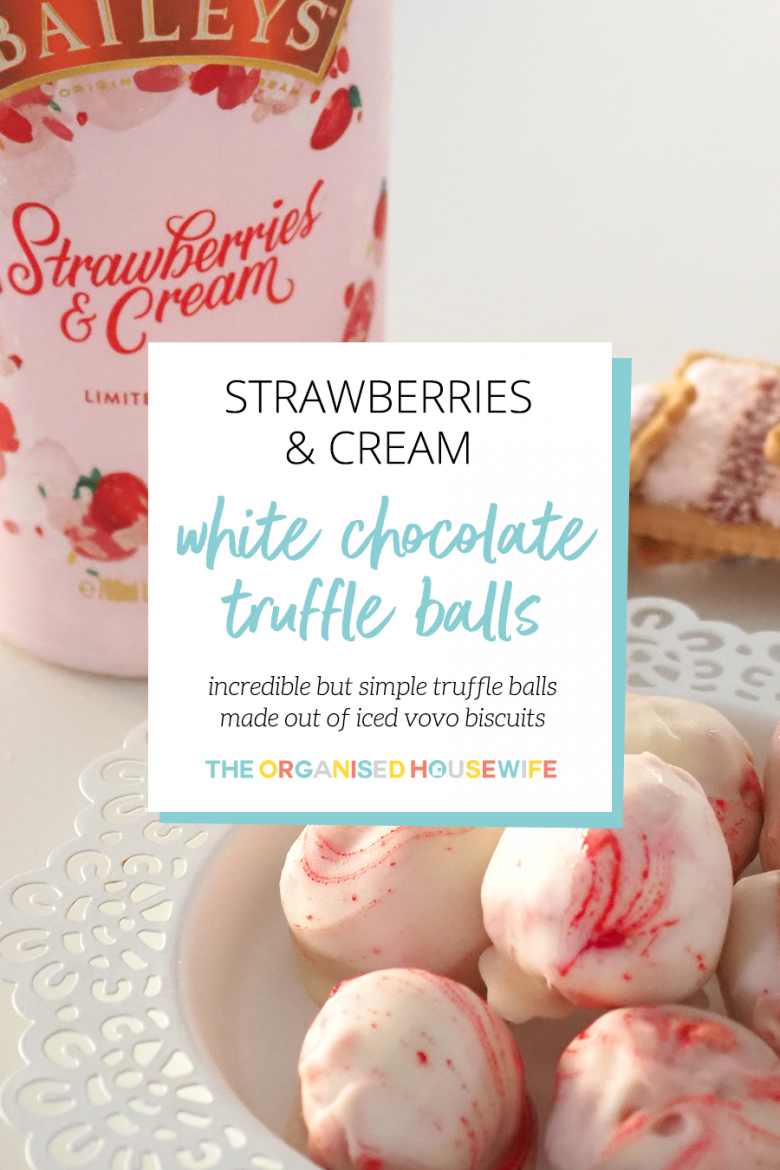 What's the best recipe you know using Vovos?