My brother called me recently saying he wasn't feeling well, he was struck with this flu that is going around Queensland lately. I heard on the news that it has hit more than 10,000 Queenslanders already this season and state health are expecting it to continue rising. My brother asked for advice on what he can have for dinner to help soup his throat. I always cook chicken soup for my tribe when someone's not well, I find soup not only soothes the throat but can help with the decongestion. However, a chicken laksa with a little kick takes it a step further helping clear that blocked nose! This is a great soup for just that!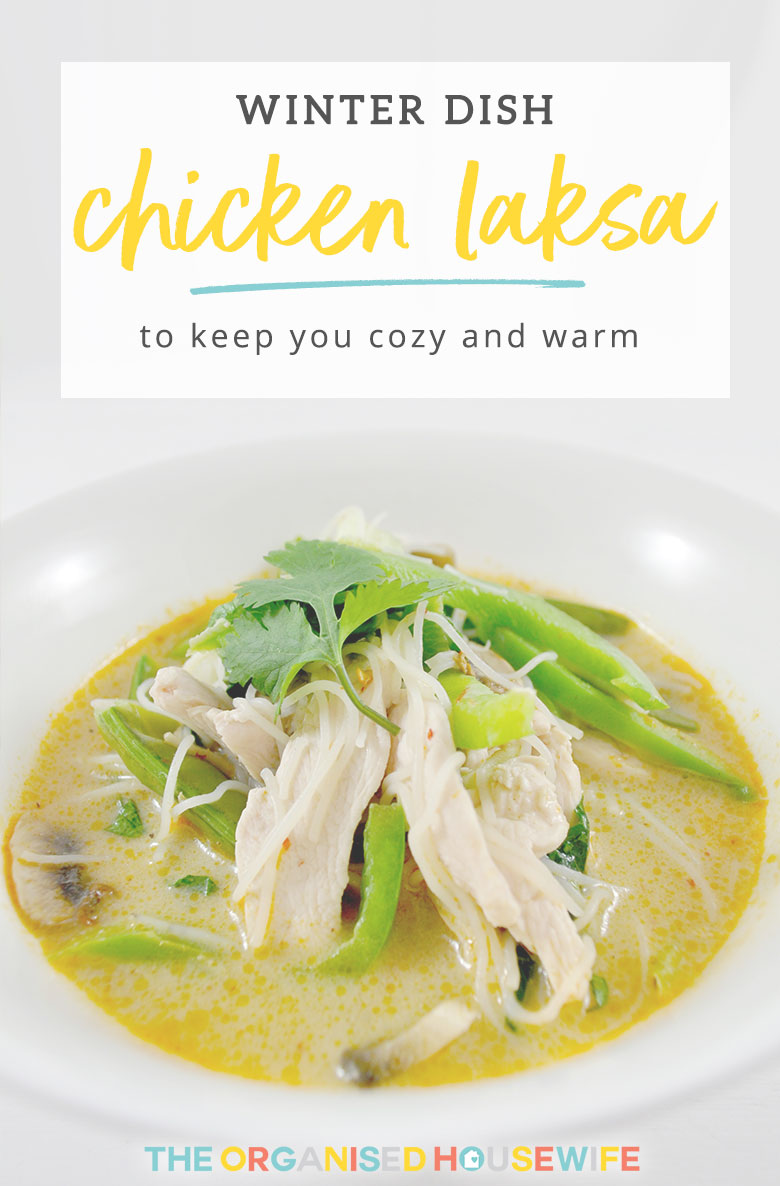 This recipe takes less than half an hour to make. It's a matter of slicing up the chicken while the sauce is heating up, then slicing the vegetables while the chicken is cooking through and adding the veg at the end to soften slightly and heat through.  I only heat my vegetables for 2-3 minutes as I like it with a little bit of crunch, however if you like your vegetables softer then continue to cook the laksa for a little longer.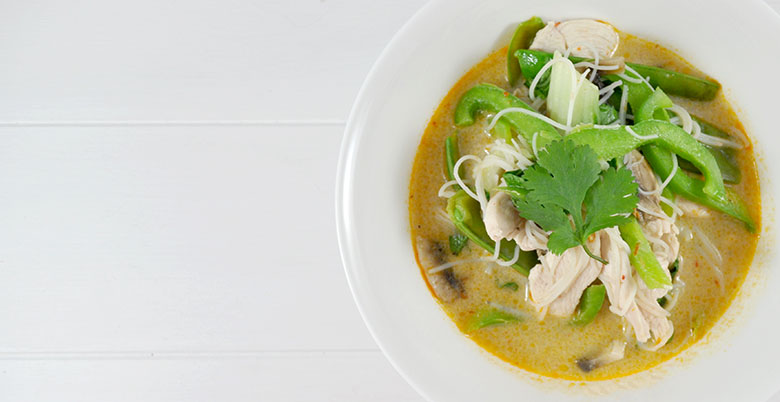 This recipe can also be found in my Winter Dinner Ideas eBook.
THE ORGANISED HOUSEWIFE WINTER DINNER IDEAS EBOOK
This eBook is full of winter recipe ideas that will keep you warm and nourished in the colder seasons. I have always loved sharing recipes and meals on my blog, so I thought I would try something different and put all of my favourite classic and seasonal recipes in the one place. Keep your temperature high and your tummy full with this awesome collection of winter dinner ideas.
INSTANT DOWNLOAD


Chicken Laksa

| | | |
| --- | --- | --- |
| Prep Time | Cook Time | Total Time |
| 10 mins | 15 mins | 25 mins |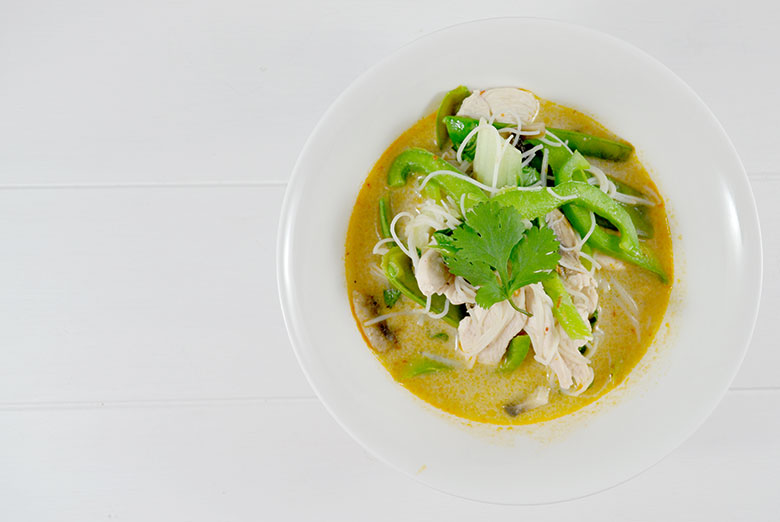 Ingredients
60g rice vermicelli noodles
1 teaspoon peanut oil
2 tablespoons laksa paste
2 1/2 cups chicken stock
1 tablespoon fish sauce
500g chicken breast, cut into thin strips
1 cup coconut milk
100g bok choy, chopped
1 green capsicum, sliced
100g mushrooms, sliced
2 kaffir lime leaves, finely shredded
fish sauce, to serve (extra)
2 cups bean sprouts, trimmed, to serve
Fried Shallots, to serve
Chilli, sliced, to serve
Instructions
Cook noodles following packet directions.
Heat oil in large saucepan over medium-high heat.
Add paste, stir and heat through for 2 minutes.
Pour stock and fish sauce into saucepan, mix and bring to the boil.
Reduce heat and simmer for 5 minutes.
Add chicken and coconut milk, stir, continue simmering for 5 minutes or until chicken has cooked through.
Place bok choy, capsicum, mushrooms, lime leaves and drained noodles into saucepan, stir and continue to cook for 2-3 minutes.
Ladle soup into individual bowls, add a splash of fish sauce to taste, and top with bean sprouts, a sprinkle of fried shallots and chilli. Serve.
By Kat – The Organised Housewife
What's your favourite soup when unwell?
---
RECIPES YOU MAY ALSO LIKE…
SUPER EASY ROAST PUMPKIN SOUP + SOUP FREEZING TIPS – This is the most easiest pumpkin soup I have ever made. Also helps that it is really delicious too! If you haven't made your own pumpkin soup before I really recommend you try this one! I have included regular and thermomix recipe below.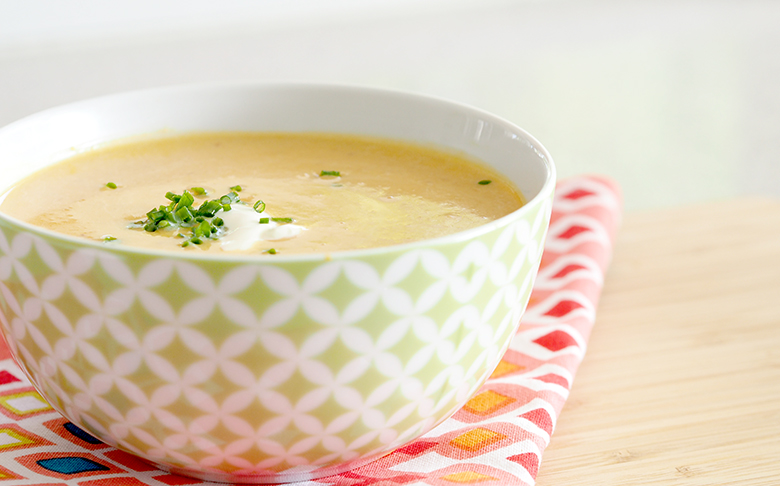 LAMB, BARLEY AND VEGETABLE SOUP – A hearty soup for winter!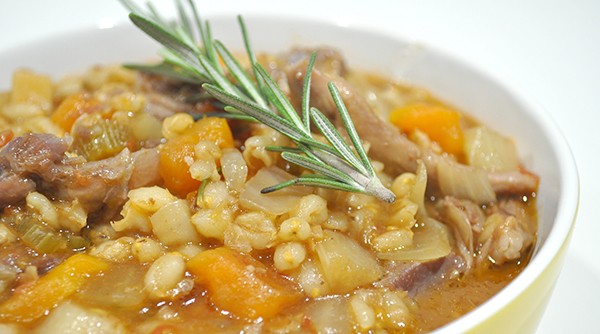 RED COCONUT CURRY LENTIL & SWEET POTATO SOUP – The flavours are so incredibly rich and the lentils give a meaty quality, so you really don't feel like you are missing out on meat.