When the months turn cooler and the days get shorter, getting the greens in can be harder with the easy temptation of takeaway. Green smoothies are put aside and salads aren't as appealing when it's cold outside. Although winter has a lot going for it, especially cosying up with a blanket and warm socks at the end of a long day, spending time in the kitchen looks bleak.
However, our immune system needs support in winter to help prevent us falling sick and eating enough fruit and vegetables is still just as, if not more, important when the temperature drops. As parents, we usually do all we can to prevent our kids from getting sick – but it's just as important to remember to look after ourselves as well, so we have the health and energy to power us through each day. I've got a wonderful winter warming soup for the family, that's super easy to make and packed full of tasty, immune boosting ingredients, perfect for lunch or dinner.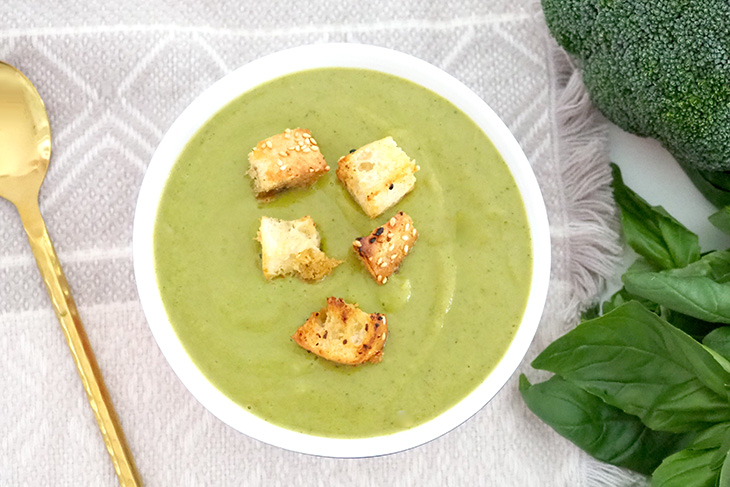 To help you better understand how your lifestyle choices are affecting your immune health, I've also partnered with Blackmores to help launch the Blackmores Immune Health Check, to help you find out how to better support your immunity. The Check will give you your very own immune health score and a tailored action plan to help keep the family well this winter. Pretty neat that you can see where you're doing well and where you might need a little help!
  Take the check here: www.immunehealthcheck.com.au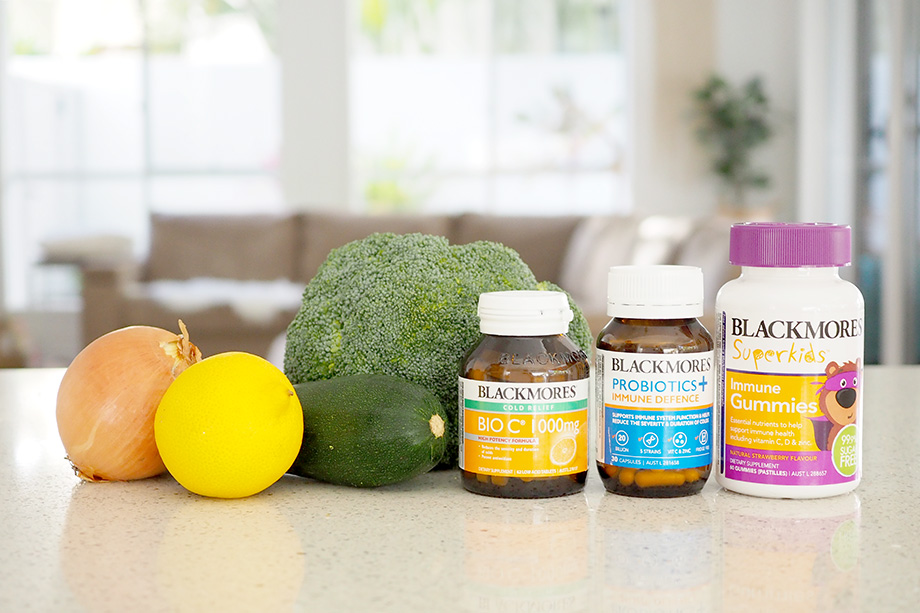 I love soup in winter, its'a great way to feel nice and warm and this Broccoli & Basil Soup makes it super easy to eat some fresh fruit and vegetables with plenty of nutrients and flavour. I usually like something 'meaty' with my meals but the crunch of the garlic croutons take that desire away.
The cannellini beans give this soup a luscious creamy quality and blitzing in the blender making it deliciously silky smooth. I've made a big batch of this up and will freeze it so I have single serves on hand for lunch!
Print
Broccoli & Basil Soup with Garlic Croutons
This super simple, very green soup is full of tasty, immune boosting ingredients that you can make the family for lunch or dinner… a great winter alternative to a green smoothie!!
1 tablespoon

coconut oil

1

brown onion, diced

3

garlic cloves, sliced

5

–

6

cups broccoli, cut into florets

1

zucchini, sliced into rounds

4 cups

vegetable stock

2 tablespoons

nutritional yeast

1/4 teaspoon

cayenne powder (optional)

1

can cannellini beans, drained and rinsed

1 cup

basil leaves, roughly torn
Salt and pepper, to season

1 tablespoon

lemon juice
GARLIC CROUTONS:-

2 cups

croutons, cut into 1cm cubes (cut from stale sourdough bread or gluten-free bread)

1 tablespoon

olive oil

1

clove garlic, crushed

1/4 teaspoon

salt

1/4 teaspoon

black pepper
Instructions
Pre-heat oven to 160°C, fan forced. Line a baking tray with baking paper.
Heat coconut oil in a large saucepan over a medium heat.
Add onion and cook for 5 minutes or until translucent and soft.
Add garlic, then stir and cook for a further 30 seconds.
Place broccoli and zucchini into the saucepan and stir everything together for 1 minute, until the vegetables begin to cook.
Add vegetable stock, nutritional yeast and cayenne powder to the saucepan and bring to the boil. Place the lid on and simmer for 15 minutes on a low heat.
While the soup cooks, toss the cubes of bread in olive oil, garlic, salt and pepper. Spread them on your prepared baking tray and place in the oven for 10 minutes or until crunchy and golden.
When the soup is done and the broccoli is tender, turn the stove off and leave to cool in the pot for 5 minutes.
Once cooled slightly, puree the soup in a blender. Due to the quantity, it is best done in two batches unless you have a very large blender jug. Place half the soup in the blender, add half a can of cannellini beans and basil leaves and blitz for 1-2 minutes or until smooth. Place the finished half of the soup back in the pot and repeat with the other batch.
Once both batches are blended and back in the pot, heat over a low heat on the stove and mix to combine. Taste your soup and season with salt and pepper, if desired.
Squeeze in lemon juice.
Top with baked croutons and roughly torn basil. Serve.
Notes
STORING TIPS – Leave to cool then transfer to an airtight container. Keep in the fridge for up to 5 days or freeze for up to 3 months.
This recipe has been shared with permission from Blackmores, I altered it ever so slightly reducing the amount of cayenne pepper as I found it too peppery for the kids taste buds. 
To take the Blackmores Immune Check and find out how yours is tracking, head to: www.immunehealthcheck.com.au
What's your favourite winter soup?
This post is run in accordance with my disclosure policy.