This Savoury Sausage Casserole is quick to make, tastes delicious, and is a super easy spin on curried sausages.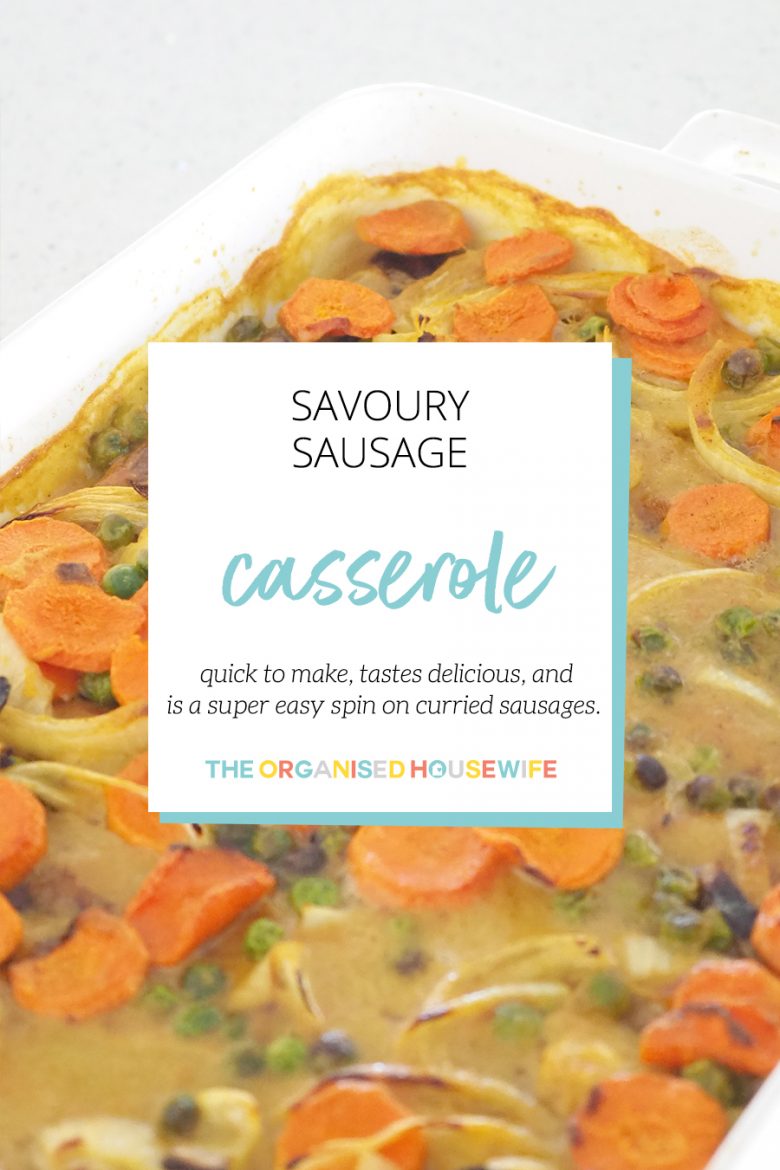 My kids have been very busy with after school commitments of late, so I have been trying to create recipes that I can quickly prepare, allowing me instead to spend time helping them with their homework.
This recipe was a natural progression on from my love of curried sausages (curried sausages would have to be one of my favourite meals!).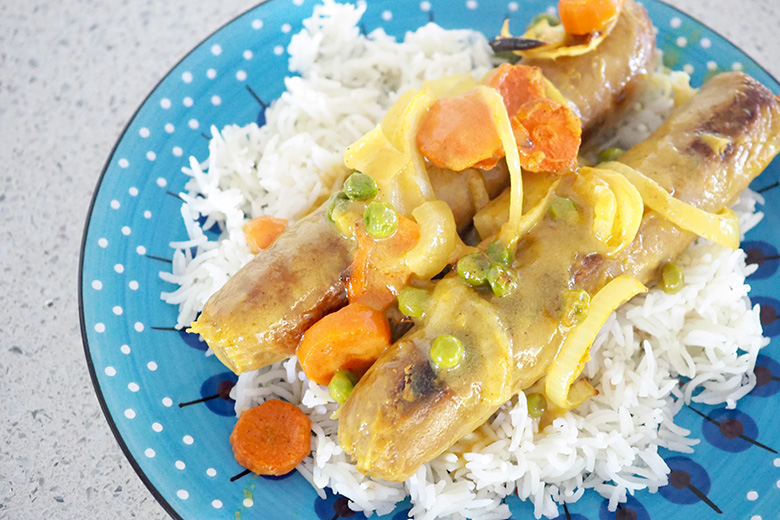 This recipe is so easy and my kids loved it! Simply brown the sausages in a frying pan, and while they are browning slice up the onions and carrot. Add the browned (but not cooked through) sausages into a large casserole dish, and sprinkle onions and carrots over the top.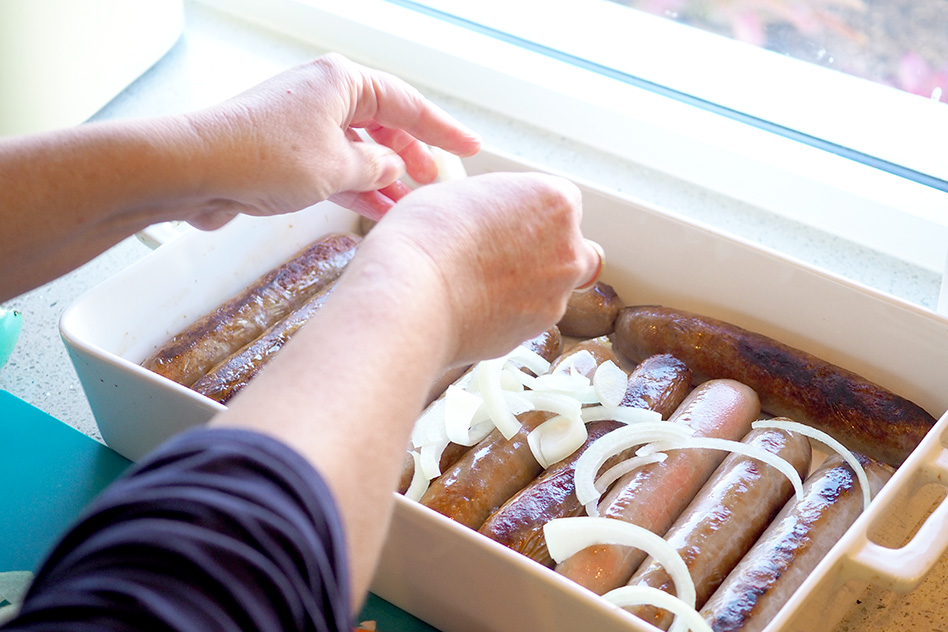 I then add peas – I keep my peas in a container to stop them dropping throughout the freezer.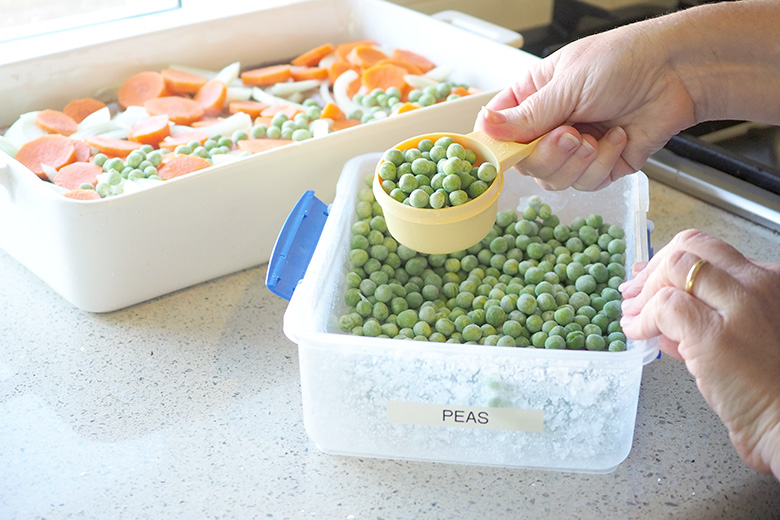 Don't limit yourself to just peas though! You could add corn, capsicum… whatever veggies you prefer.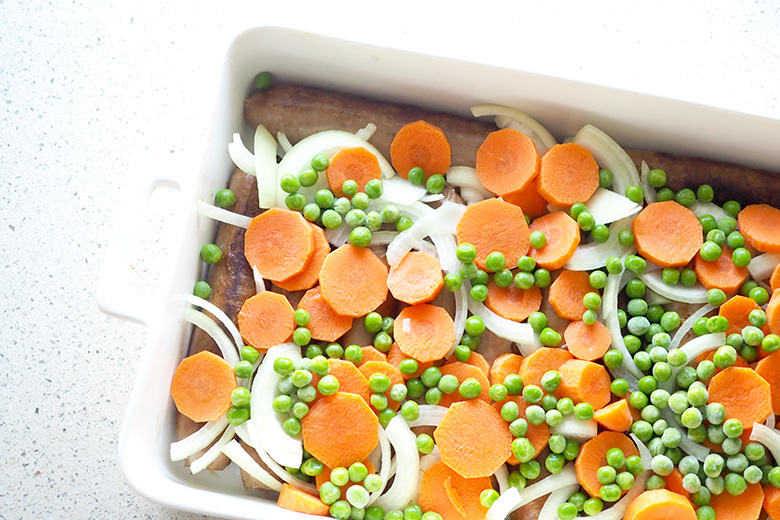 I then pour over the sauce mixture and place in the oven to continue cooking the sausages.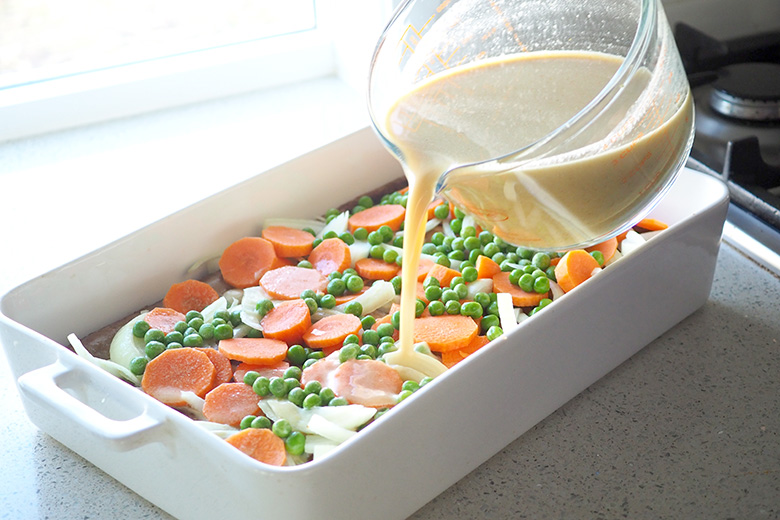 Halfway through I pop a pot of potatoes on the stove to serve mashed on the side, or alternatively I serve with rice.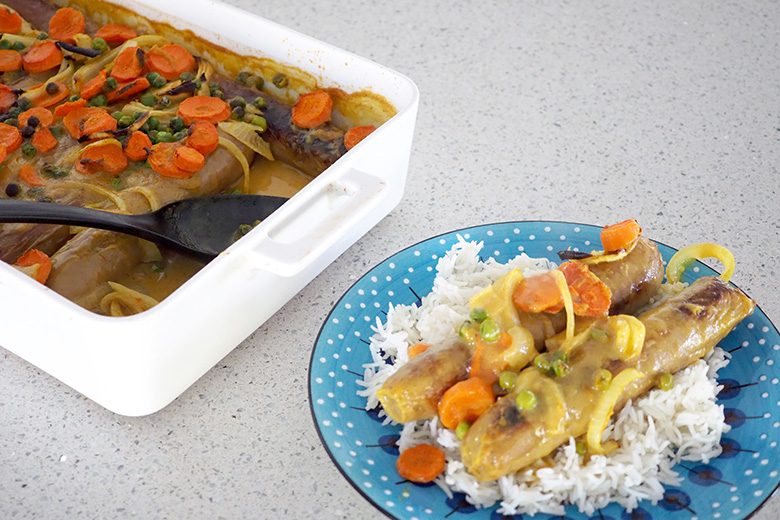 Baked Curried Sausages

| | | |
| --- | --- | --- |
| Prep Time | Cook Time | Total Time |
| 15 mins | 1 hour | 1 hour 15 mins |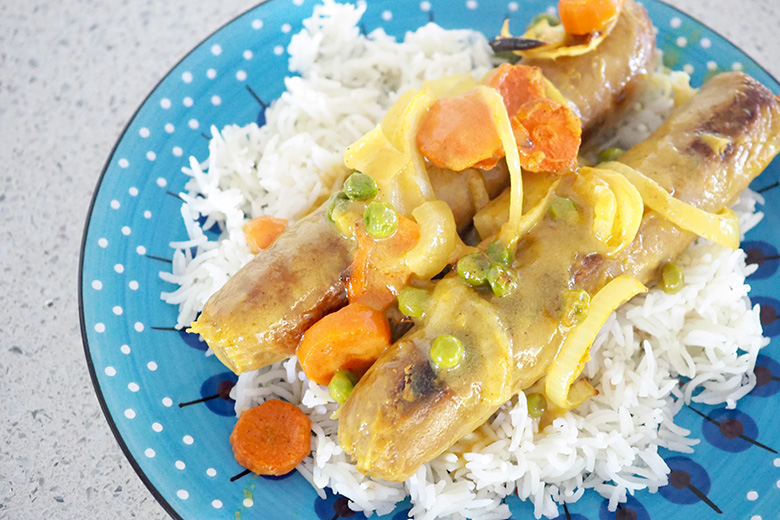 Ingredients
12 thick sausages
2 carrots, sliced
1 onion, sliced
2 cups hot water
pinch of salt
1 tablespoon worcestershire sauce
1 tablespoon tomato sauce
1 tablespoon white vinegar
1 cup milk
2 tablespoons flour
2 teaspoons curry powder
2 teaspoons brown sugar
Instructions
Preheat oven to 180°C.
Brown sausages in a large frying pan, no need to cook through as they will continue cooking in the oven.
Place sausages into a large casserole dish.
Sprinkle carrots, onion and peas over sausages.
In a bowl mix together the water, milk, salt, worcestershire sauce, tomato sauce, vinegar, flour, curry powder and brown sugar. Whisk well until combined.
Pour sauce mixture over sausages.
Bake in oven for 45-50 minutes.
Serve over rice or with mashed potato and additional vegetables.
By Kat – The Organised Housewife
May 16, 2016

February 19, 2016

July 22, 2015