This is a recipe partnership with Tassal
I love serving salmon for dinner. Not only is it one of my favourite fish to eat, but it's so healthy and full of all the good stuff like Omega-3 and protein. Salmon is easy to cook and perfect over a simple salad or coupled with seasonal vegetables, roasted, steamed or raw – yum!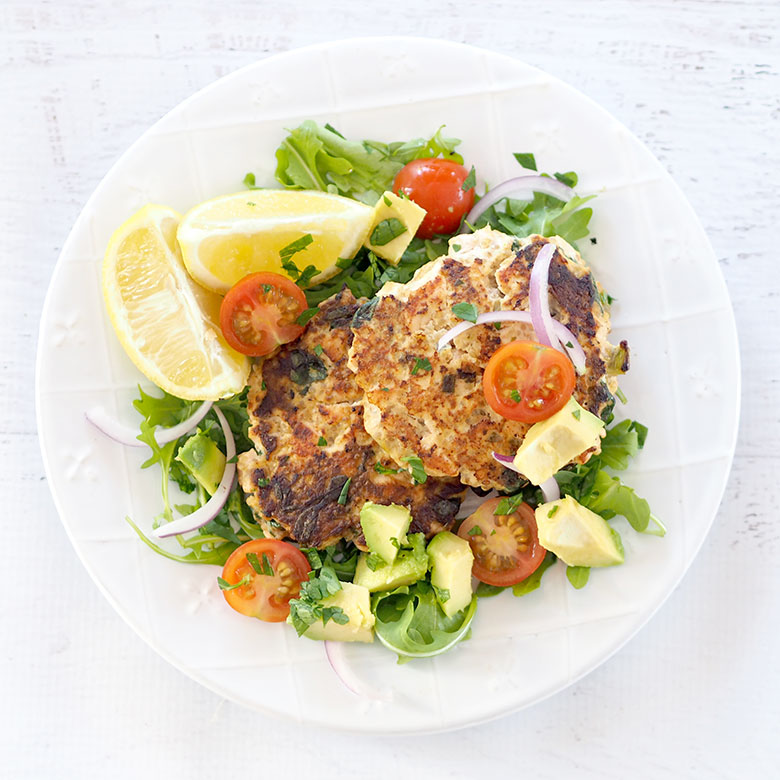 Salmon Quinoa Fritters is an easy recipe to put together, while the quinoa is cooking chop the salmon into small pieces, cook the spring onions and spinach and add the rest of the ingredients to a bowl.  Mix, then cook fritter patties on a frypan until golden.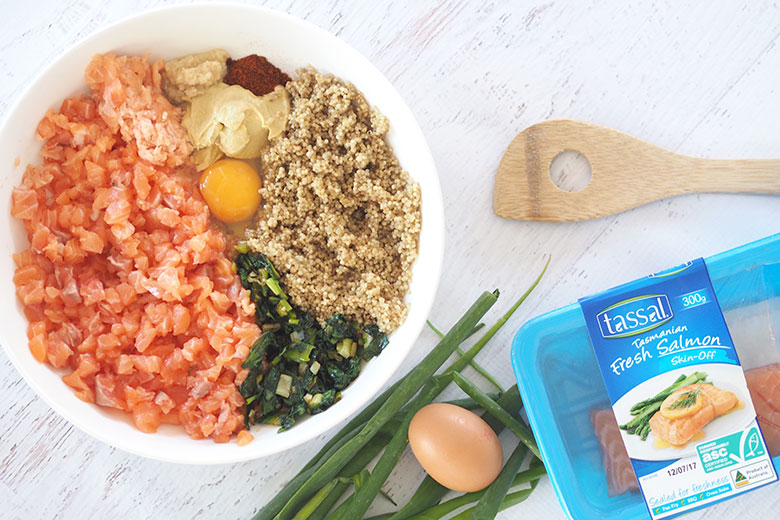 Salmon Quinoa Fritters

| | | |
| --- | --- | --- |
| Prep Time | Cook Time | Total Time |
| 20 mins | 15 mins | 35 mins |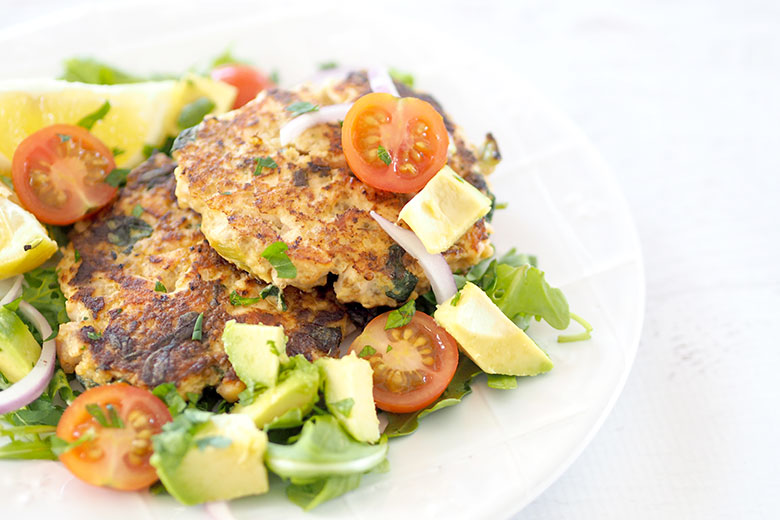 Ingredients
500g Tassal Tasmanian Fresh Salmon Skin-Off fillets
1 teaspoon olive oil
4 spring onions, finely sliced
1 1/2 cups baby spinach, chopped
3/4 cup cooked quinoa
2 tablespoon Dijon mustard
1 garlic clove, crushed
1/2 teaspoon smoked paprika
2 eggs, beaten
Salt and freshly ground black pepper, to taste
Instructions
Place 100g of salmon into a food processor, chop until minced, place into a large bowl.
Finely chop the remaining salmon fillets into very small pieces, add to bowl.
Heat a small nonstick frying pan over medium heat, add the oil and saute onions for 2-3 minutes, add spinach and cook until wilted for an additional 1-2 minutes, add onion mix to the bowl with salmon.
Place quinoa, mustard, garlic, paprika, salt, pepper and eggs into bowl, mix to combine.
Heat a nonstick frying pan over medium heat, add oil.
Fill a 1/3 cup with mixture, drop onto the hot frying pan, flatten patties slightly.
Cook patties for 3-5 minutes, turning gently cook for a further few minutes until golden.
Serve with salad and drizzle with lemon.
By Kat – The Organised Housewife
These Salmon Quinoa Fritters are perfect for either lunch or dinner, served with salad and if you have left overs the next day you could create a burger! Another great idea is to make a few smaller bite-size fritters and add them to the kids' lunchboxes!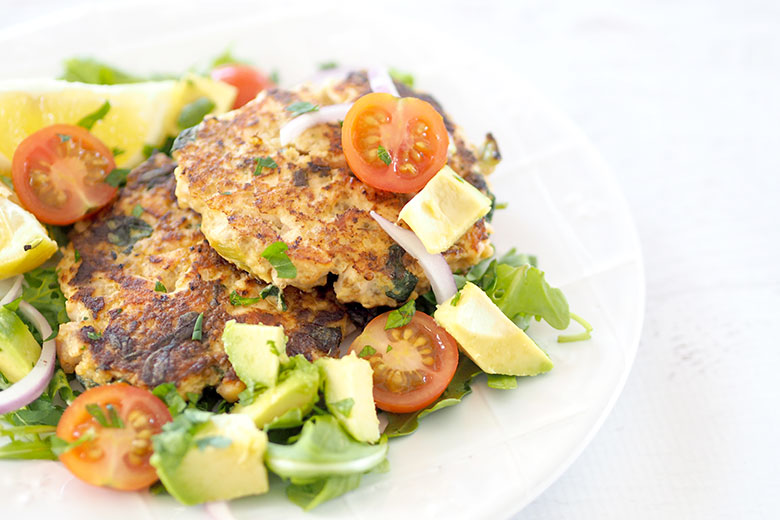 Tassal's new Fresh Salmon range is sealed for freshness and can be found in convenient 300g fixed-weight pack sizes at Woolworth's supermarkets. They are super handy if you are a busy family on-the-go and looking for a natural super food for lunch or dinner.
You can enjoy Tassal Salmon with the whole family knowing it contains natural omega-3 fats and a wide range of essential D and B vitamins and minerals.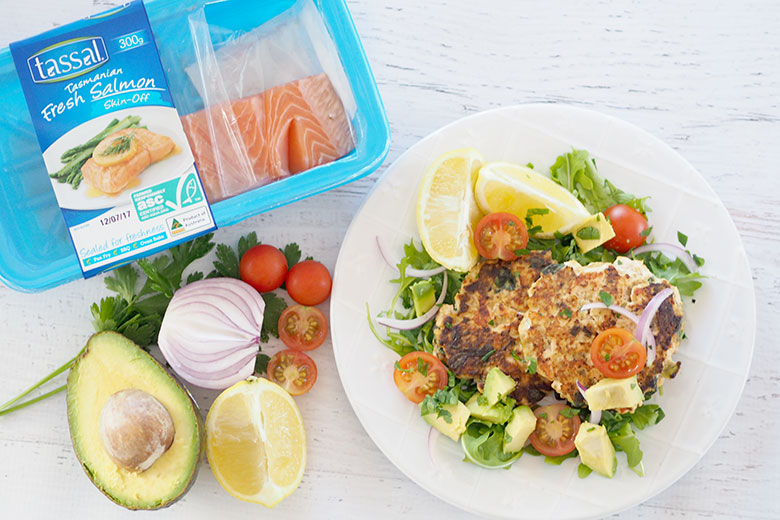 I've made these Salmon Quinoa fritters often for lunches on weekends for the family and we usually serve it with Salad, but I can imagine my garlic parmesan zucchini and tomato bake would be ideal with this dish to make it a warm dinner for the family.
What is your favourite fish?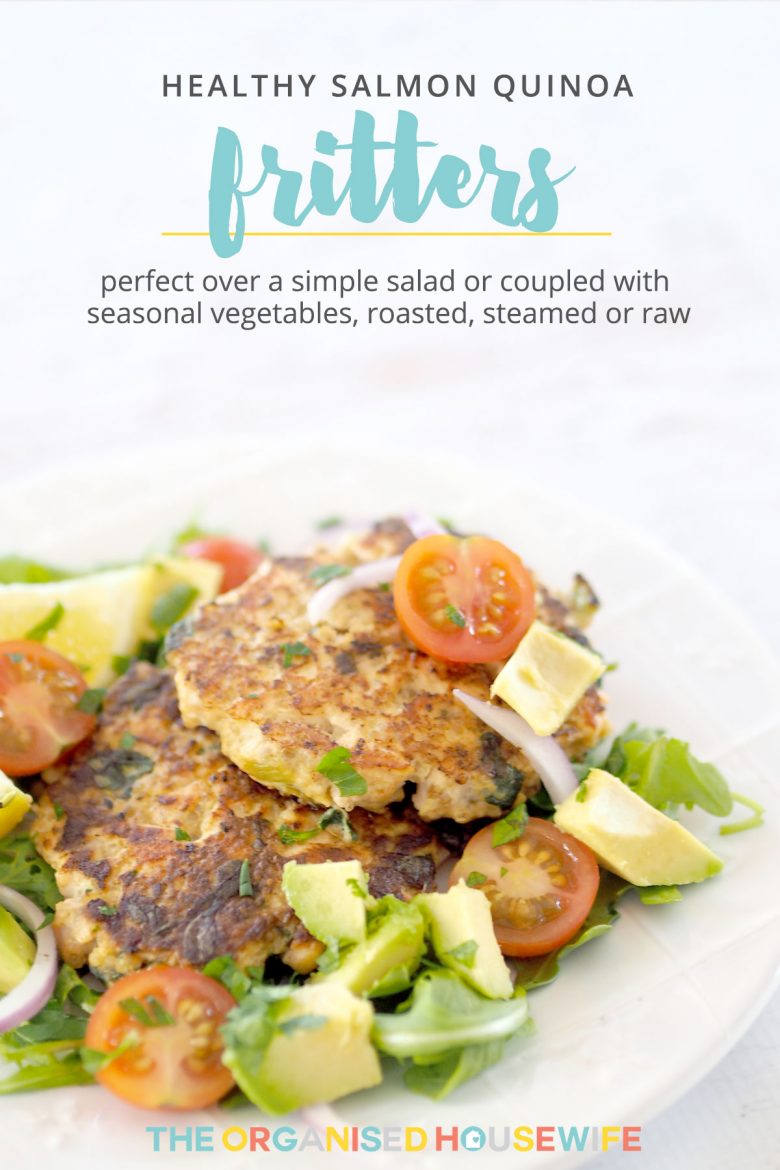 This post is run in accordance with my disclosure policy.