This Salmon Poke Bowl recipe is a delicious and healthy dinner option for families. Quick and easy to make, you can have this recipe ready and on the table in under 30 minutes.
This recipe is our newest family favourite dinner. And it takes less than 30 minutes to make! For anyone that likes sushi you will love this meal…I like to describe poke bowls as a deconstructed sushi roll.  Filled with sushi rice, fresh salmon and veggies, this dinner is so easy to make, plus it's healthy and super delicious too!
Assemble the poke bowl however you please, there is no right or wrong way. My family usually mixes it all up straight after it's served, ruining the visual masterpiece I just created LOL. Change up the ingredients to suit your family's likes and dislikes. It's a really versatile recipe, you could add different veggies or use a different rice. If you like things spicy then add in more sriracha sauce.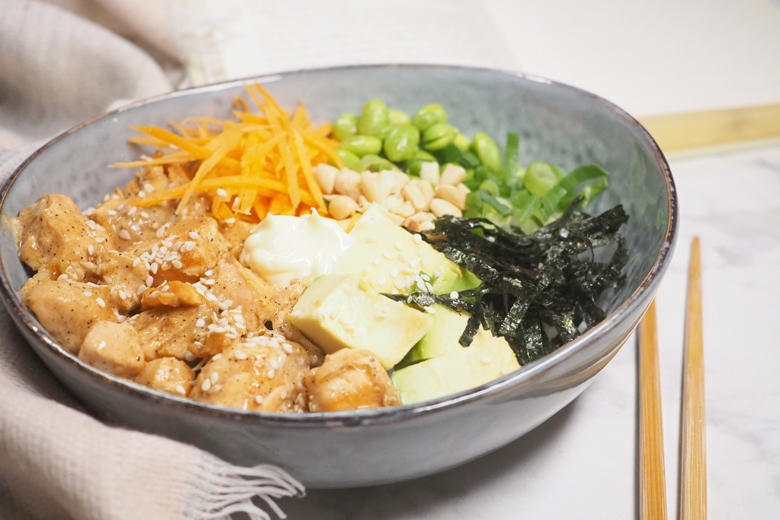 Start your rice cooking via your preferred method either via absorption or in a rice cooker. While you wait for the rice to cook, prepare the vinegar mix and the sauce mixture.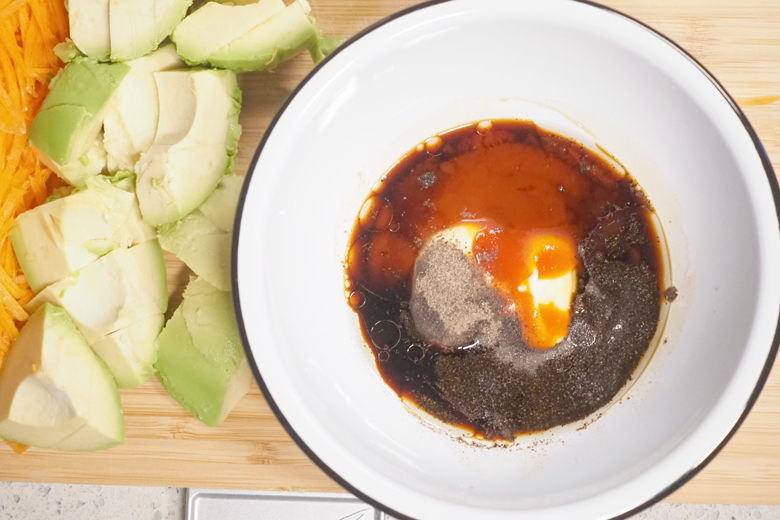 I like to use avocado, carrot, edamame beans, spring onions, nori, peanuts and sesame in my poke bowls. Alternative ingredient suggestions you could put into poke bowls are: cucumber, pickled red cabbage, coleslaw mix, spinach, kale, radish. You could switch out the white rice for brown.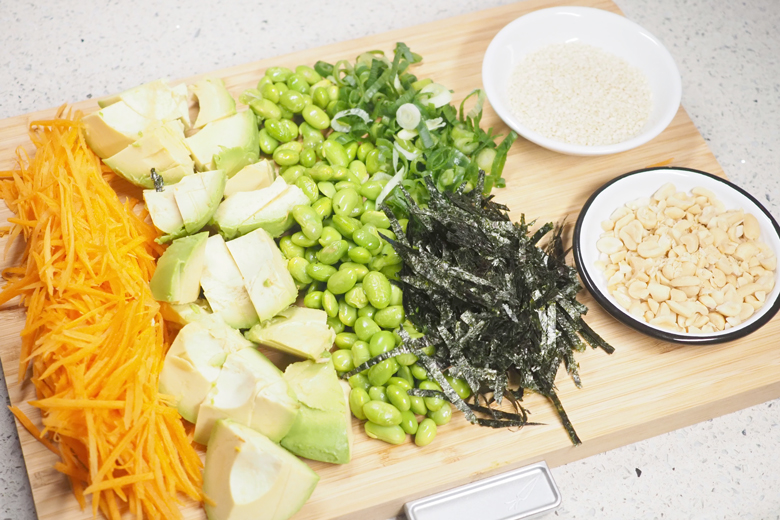 RECOMMENDED FOR THIS RECIPE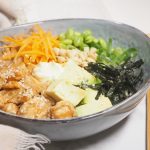 YOU WILL NEED
350g sushi rice
2 tablespoons rice wine vinegar
1 tablespoon caster sugar
1 teaspoon salt
30g mayonnaise
3 teaspoons soy sauce
1 teaspoon sesame oil
½ teaspoon oyster sauce
1 teaspoon sriracha sauce
1 lemon, juice only
1 teaspoon black pepper
2 salmon fillets, skinless, cut into cubes
1 tablespoon olive oil
1 avocado, diced
1 carrot, grated
200g edamame beans, shelled
2 spring onions, thinly sliced
5 nori sheets, cut into strips
1/4 cup salted peanuts, roughly chopped
1 tablespoon sesame seeds, to garnish
Instructions
Place the rice into a strainer (small enough so the rice doesn't pass through) and wash rice with cold tap water until when the water that runs off is mostly clear.
If you're using a rice cooker, add the rice to the bowl of the rice cooker and add water to just under the 2 cup line. If you don't have a rice cooker, add the rice to a medium sized saucepan, then add 1 1/2 cups of cold water.
Start your rice cooker. Or if you are cooking on the stove, turn the heat onto high and bring the rice to a boil. Then turn down the heat to low, cover with a lid and cook for 15 minutes. Once the rice is done, turn off the heat and let the rice steam for 10 minutes.

While you wait for the rice to cook, combine the vinegar, sugar and salt in a small jug.

Meanwhile, in a medium sized bowl make the sauce by adding mayonnaise, soy sauce, sesame oil, oyster sauce, sriracha sauce, lemon juice and black pepper.
In a large non-stick frying pan, heat the olive oil. Add the salmon and cook over medium high heat, turning once, until browned and cooked to your liking.
Add salmon to a bowl with the sauce, toss to coat.
Prepare all the carrot, avocado, edamame beans, spring onion, nori sheets, peanuts and sesame seeds ready to assemble your bowls.
Once the rice is cooked, pour the vinegar mixture over the hot rice, and stir through to combine. Set aside until you're ready to serve.
Assemble your poke bowl by placing rice in the bottom of the bowl. Salmon to the left, then add the avocado, carrot, beans, onions, nori sheets and peanuts. Top with a sprinkle of sesame seeds over the salmon.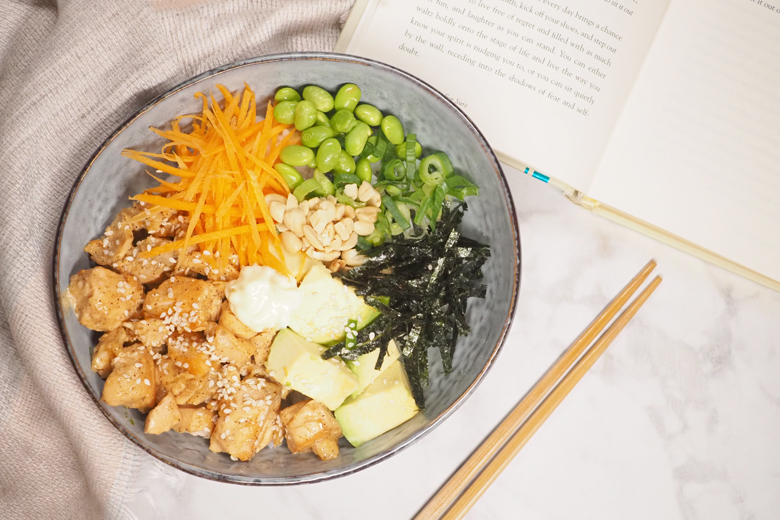 KAT'S HEARTY DINNERS recipe cookbook
A 128-page cookbook is bursting with hearty, home-cooked meals that the whole family will enjoy!
Find 50 simple, fuss-free and easy-to-follow dinner recipes range from pasta to oven bakes, and slow cookers to soups. They aren't fancy, but they are laced with love, and each one is intended to not just make a meal, but a memory too.