I recently tried a new salad combination that confuses the palate, yet pleases the taste buds. I made Vitamix's Sweet and Sour Cucumber & Watermelon Salad as my friend was hosting a Christmas dinner party, and I made the salad and dressing to take over. I must say that I was so pleased with this yummy salad. The salad dressing took me just 30 seconds to whip up with my Vitamix, and once I added it to the salad, the flavour combination was just lovely. The watermelon and cucumber created a sweet and sour tasting medley, with the vinegar complementing the dish as a whole. Next time, I will add some fetta cheese to it though, because I felt it would have really made the salad. Overall, I was very impressed and so was everyone else.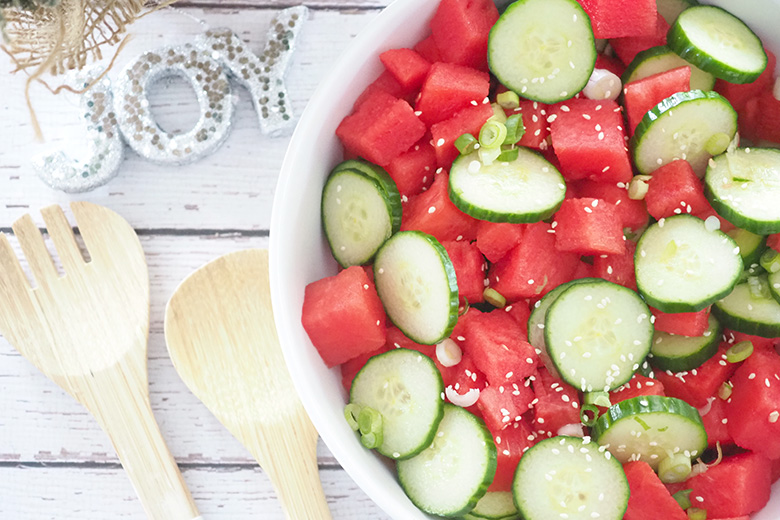 Gone are the days when the blender was just for whipping up a milkshake.  The Vitamix® Ascent® Series gives you the ability to make ice-cream, soups, green smoothies, fruit smoothies, frozen yoghurt, dressings and so much more. Vitamix has just released a new cups and bowls range which gives you the ability to make smaller quantities to either store or take to go. I actually used the new bowls to make the dressing for the Sweet and Sour Cucumber & Watermelon Salad.
Vitamix has a philosophy, which is that 'simple is brilliant', and it's why you don't need a variety of different attachments for every recipe. The power of the motor, the strength of the blades and the variety of speeds available, all help create endless recipe possibilities.  With the addition of the new cups and bowls, you have the ability to make smaller quantities in the most suitable containers too, so you're not wasting food.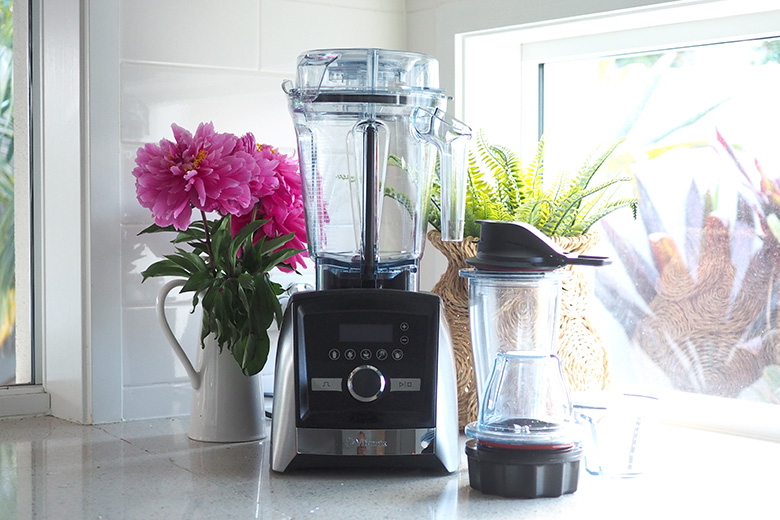 A few quick facts about the Vitamix® Ascent® Series:
SELF-DETECT® technology automatically adjusts blend setting according to container size
INTERLOCK TECHNOLOGY prevents the machine from operating if the lid or container is not secure – so no more messy spills.
METAL DRIVE SYSTEM for maximum durability
Performs more than 10 CULINARY TECHNIQUES:

Turns healthy whole fruits and vegetables into refreshing drinks
Minces garlic, chops carrots and grates hard cheeses without tedious knife work
Turns frozen ingredients into sorbet or ice cream in seconds
Grinds the toughest ingredients into silky-smooth purees and dips
Easily makes natural and smooth nut butters
Quickly and easily mixes batters for cakes, muffins, quick breads and pancakes
Makes hot soup right in the container
Simulates kneading and grinds nuts and whole grains into flour
Creates silky flavourful dressings that can double as marinades
Creates inexpensive, lactose-free milk from nut, rice, soy and coconut
What I liked about the Vitamix was its power and how quickly it worked to either grind, mince or mix what I placed in it.  I was blitzing up some nuts, and having a clear jug was very helpful, as it helped me to determine when to know to stop to achieve nuts that were crushed enough to still be chunky, but not completely turn into nut meal. Similarly, when making a cake in the jug, you can use the tamper (every Vitamix machine comes with one), which has been designed to efficiently process the thickest, most stubborn blends with no scraping required. Another bonus is that the blender cleans itself by simply adding water, a little dishwashing liquid, turning the dial, and voila! In 60 seconds the washing up is all done and no disassembly required, but if you prefer, the jug, bowl, cup and blades are all dishwasher safe and can be washed that way.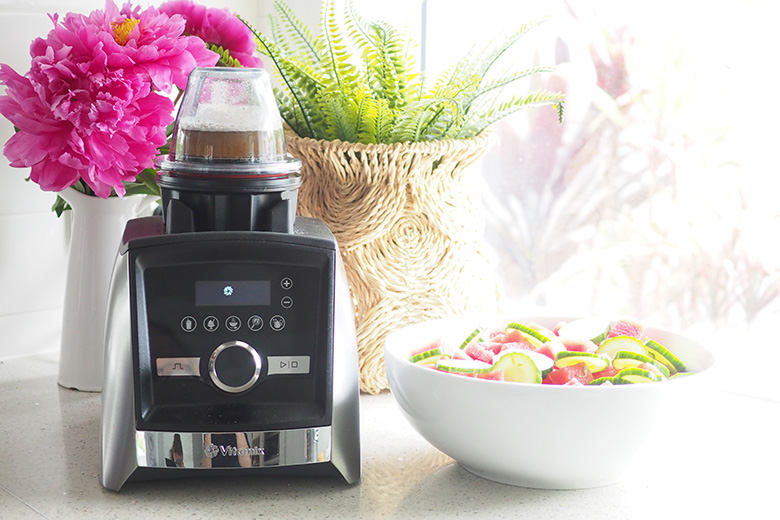 This Sweet and Sour Cucumber & Watermelon Salad was really easy to make, and you can put it together in 10 minutes.  Gather all your ingredients and place the dressing into the Vitamix Blending Bowl and blitz. If you're taking the salad to a Christmas feast, simply blend and then store the dressing in the Vitamix bowl and and pour it over the salad 15 minutes before serving.
In 30 seconds, I had the perfect salad dressing ready for transportation to the Christmas Dinner Party. The only thing I will change next time is to add some broken up fetta cheese to the salad.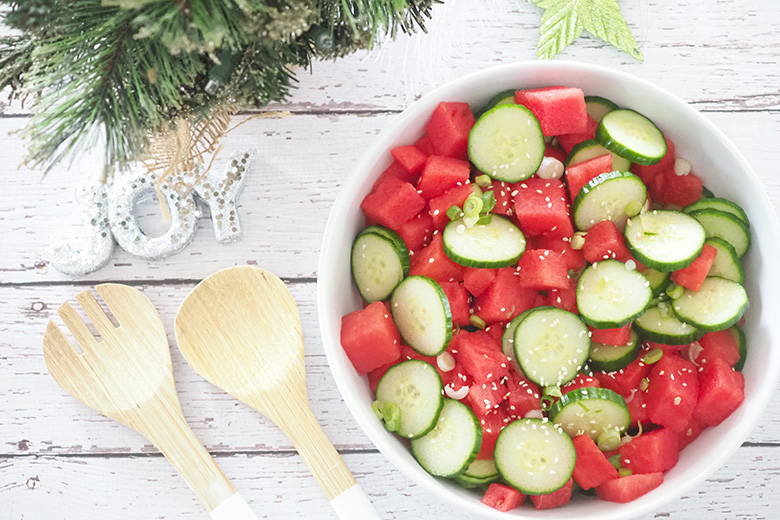 Print
Sweet and Sour Cucumber & Watermelon Salad
After a super quick and easy salad to serve at your Christmas feast? This one can be easily whipped up in under 10 minutes!!
Author:
Prep Time:

10 minutes

Total Time:

10 minutes

Category:

Salad
½ cup

(

120

ml) apple cider vinegar

½ cup

(

100 g

) granulated sugar

1 teaspoon

salt

¼ teaspoon

ground black pepper

1 Tablespoon

sesame seeds

1/3 cup

(

30 g

) green onion, sliced

3 cups

(

380 g

) cubed watermelon

2

cucumbers, sliced
Instructions
Place vinegar, sugar, salt, and pepper into the Vitamix container in the order listed and secure the blade base.
Select Variable 1, start the machine, and slowly increase to its highest speed.
Blend for 30 seconds, until ingredients are combined.
In a mixing bowl, toss sesame seeds, scallions, watermelon, and cucumbers with the blended dressing. Allow to marinate 10 to 15 minutes before serving.
Notes
If taking salad to a Christmas feast, simply blend and store right in the bowl or blending cup and pour over salad just before serving.
I also served some sweet and salty feta bites alongside my Sweet and Sour Cucumber & Watermelon Salad, and with just a few quick bursts of power, I had roughly chopped the pistachios that I needed for my bites. It saved me time and eliminated the need for me to do it with a knife.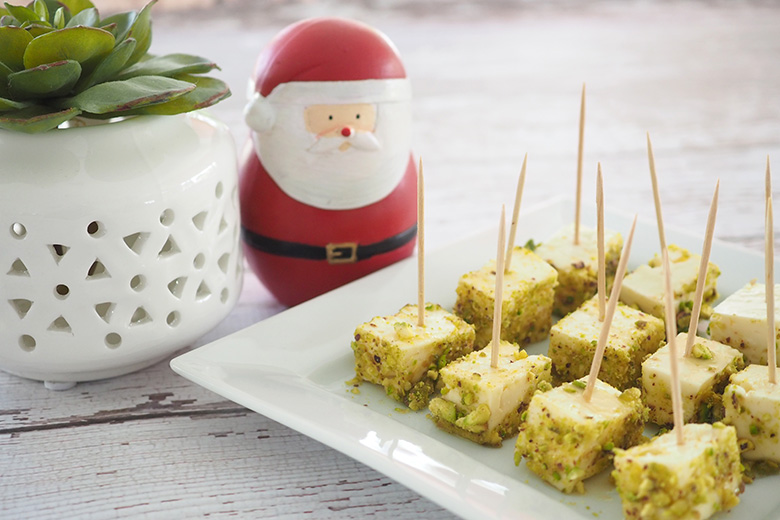 The blending cup is also great for smoothies on the go, as you can blend up your own signature fruit or vegetable smoothies. Try this Nuts and Grains Breakfast Smoothie, which has been my go-to recently. I also add protein powder to the mix for an additional boost.  Try filling your cup with any frozen fruits and vegetables and quickly pulverise the healthy, nutrient-dense ingredients into a silky smoothie concoction, with no added sugars or chemical additives that you can't even pronounce. Just high-quality ingredients full of energy, vitamins and nutrients. The Blending Cup can also be used as a travel cup with its spill-proof lid, so you can take blends with you and there's less washing up!
NUTS AND GRAINS BREAKFAST SMOOTHIE
Ingredients
1/3 cup (45 g) ice cubes
1 banana, peeled, halved
1 tablespoon peanut butter
1 tablespoon honey
1 tablespoon rolled oats
1 cup (240 ml) unsweetened almond milk
Directions
Place all ingredients into the Vitamix Blending Cup in the order listed and secure blade.
Turn the dial to 1 and slowly increase speed to 10.
Blend for 35 seconds or until desired consistency is reached.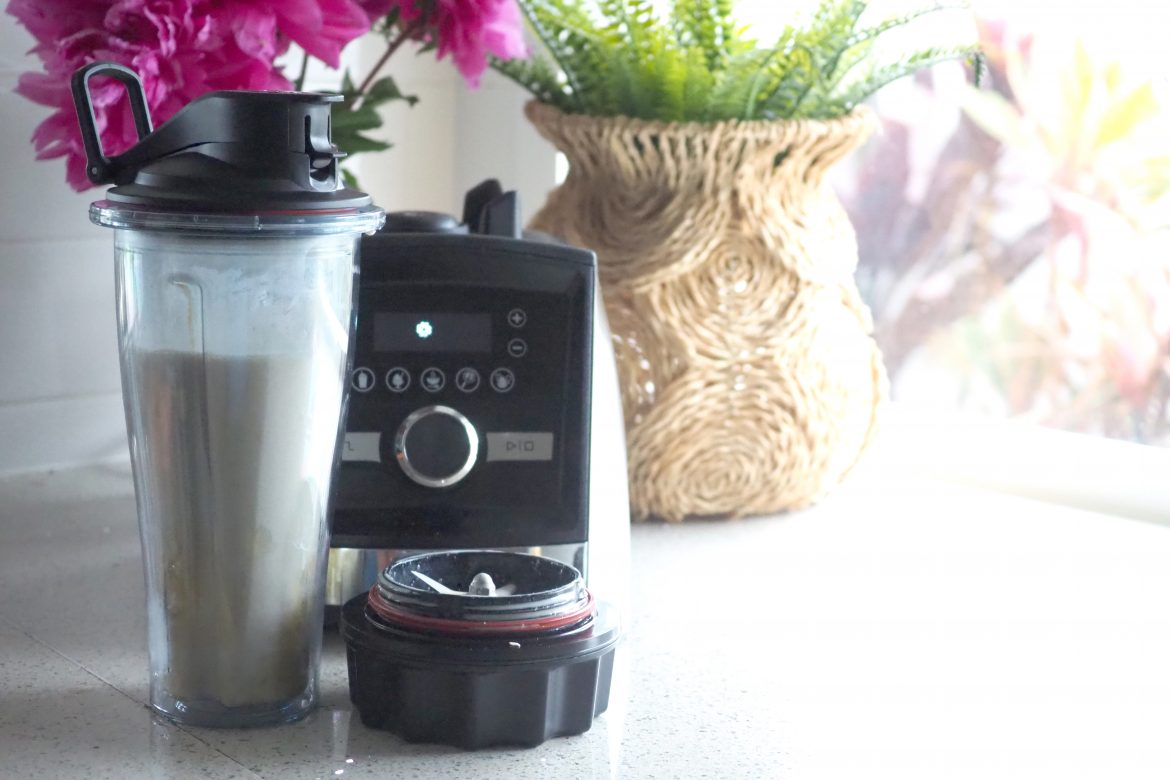 What's your favourite salad to serve at Christmas?
This post is run in accordance with my disclosure policy.