A delicious and super easy Gnocchi Bake recipe that's packed with veggies and is perfect for a quick and healthy weeknight dinner.
I shared a photo of my weekly meal plan with you all on my socials a few weeks ago, and had so many requests for the tasty Gnocchi Bake recipe! As promised, here is the Gnocchi Bake recipe so that you too can now make this tasty meal at home for your family.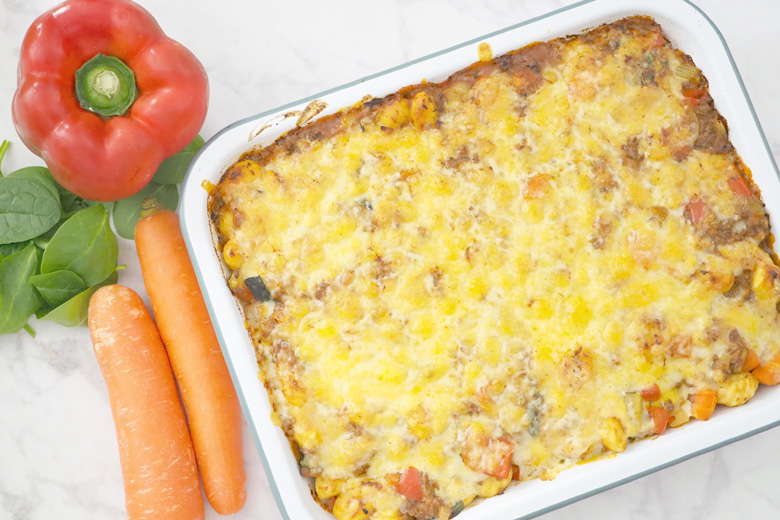 My daughter actually made this dinner (she's so clever!) and the whole family loved it! The best thing about a gnocchi bake is that it's such a simple dinner that can be prepared in many different ways. Add salami, chorizo, chicken, pumpkin, or whatever your heart desires. My daughter made this bake and packed it full of veggies!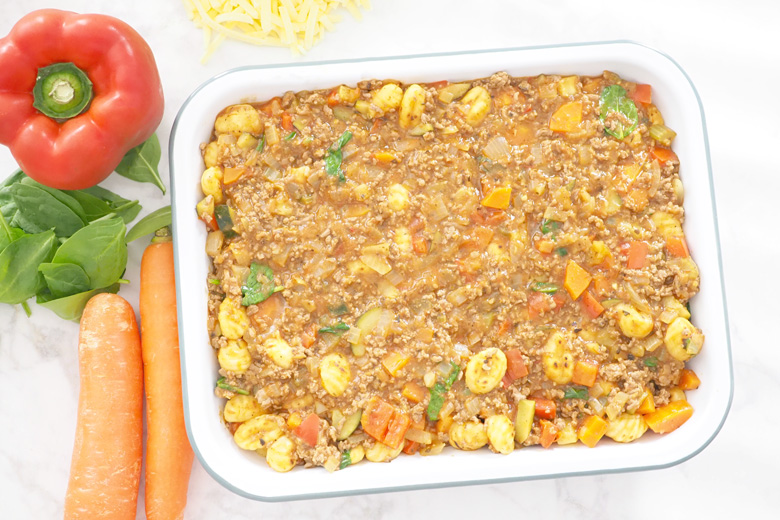 This is a great meal to make for young kids, but if you are making this meal for the little ones, I would recommend grating the veggies. You don't need to limit the vegetables used either! This is a fabulous recipe for using up your veggies before the next supermarket trip. I literally add any vegetables that I have in the fridge.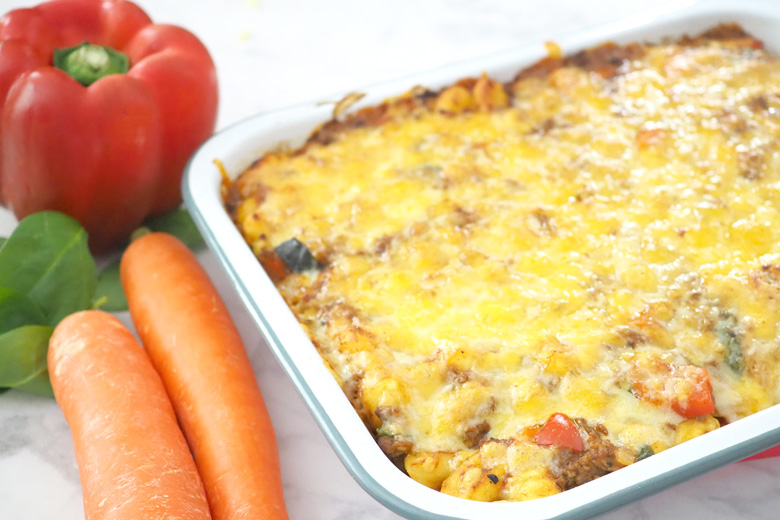 This gnocchi bake is a quick, simple, and very tasty dinner that is perfect for a busy weeknight – especially a cold, snuggly weeknight!
RECOMMENDED TOOLS TO MAKE GNOCCHI BAKE
Print
Gnocchi Bake
1 tablespoon

olive oil

1 tablespoon

butter

500g

beef mince

1

brown onion, finely chopped

1

celery stalk, chopped

1

capsicum, diced

1

carrot, diced

1

garlic clove, minced

1

zucchini, finely diced

500g

pasta sauce with basil

2 teaspoons

dried Italian herbs

1/2 cup

vegetable stock

1/2 cup

basil, chopped

500g

gnocchi

1/2 cup

tasty cheese, grated
Instructions
In a large frying pan, heat oil over medium-high heat.
Cook mince over medium heat for 3-5 minutes or until browned.
Add onion, celery, capsicum, carrot and garlic. Cook for 5 minutes.
Add zucchini and continue to cook for a further 5 minutes or until all vegetables have softened.
Pour in pasta sauce and vegetable stock. Sprinkle with dried and fresh herbs. Stir and bring to the boil, then simmer for 10 minutes.
Add gnocchi to saucepan of boiling water. Boil for 2-3 minutes until gnocchi floats. Drain.
Melt butter in a large shallow frying pan over medium heat.
Add gnocchi and sauté for 2-4 minutes until gnocchi begins browning on the edges.
Stir gnocchi through mince mixture, taste and add salt and pepper if needed.
Spoon mixture into a 12-cup (3L) oven-proof dish.
Sprinkle with cheese.
Preheat grill on medium.
Place baking dish under grill and leave until cheese is golden. Serve.