Nutella Macarons have a pure Nutella filling that will impress any chocolate connoisseur!
Treat yourself with this mouthwatering chocolate recipe. These nutella macarons have a pure nutella centre and together with the macaron biscuit, it's such an incredible chocolate explosion when you bite into one! You have to get the consistency of the recipe perfect or they won't bake right. The recipe makes up so many macarons, that you won't be able to help yourself and will be eating at least a couple of these a day. Great for afternoon tea with a cuppa.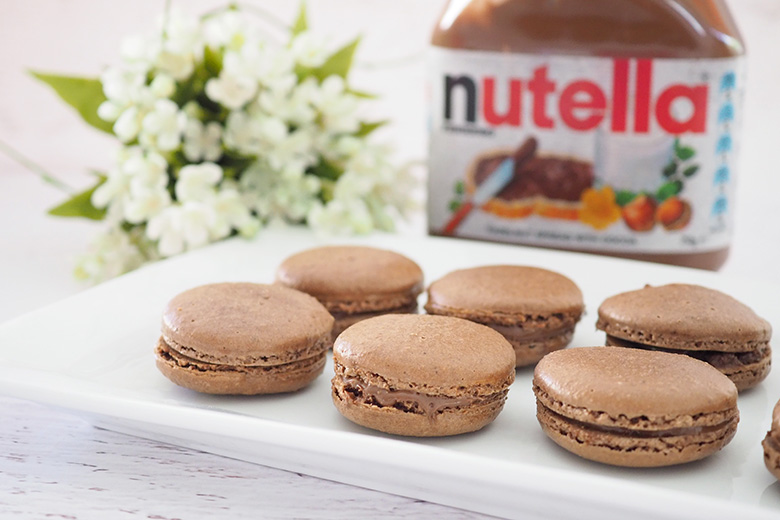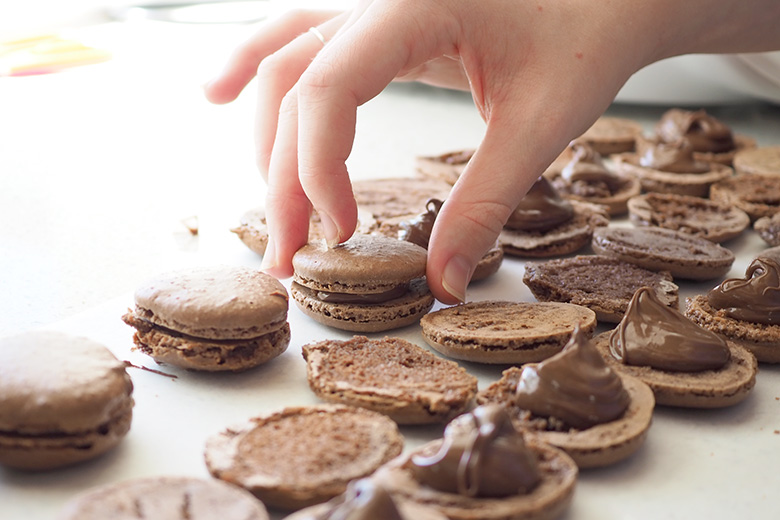 Print
Nutella Macarons
Nutella Macarons have a pure Nutella filling that will impress any chocolate connoisseur!
6

egg whites

260g

icing sugar, sifted

200g

almond meal

30g

cocoa, sifted

200g

caster sugar

250g

Nutella
Instructions
Preheat oven to 140°C.
Draw macaron sized circles evenly spaced onto 3 sheets of baking paper.
Place icing sugar, almond meal and cocoa powder in a bowl.
In an electric mixer, beat the egg whites until they are frothy.
Add half the sugar and continue to beat.
When stiff peaks start to form, add the rest of the sugar and continue to beat the mixture until a thick meringue forms.
Using a spatula gently fold through the dry ingredients. Continue to fold for 2 minutes working the mixture from the edge to the centre.
Spoon the mixture into a piping bag.
Pipe onto the baking paper the same diameter of the circles.
Set aside for 20 – 30 minutes in a dry place until a soft crust forms on the surface.
Place in oven and bake for 30 minutes.
Leave the macarons to cool on tray for 5 -10 minutes then place on a wire rack to cool completely and so you can reuse tray if needed.
When cooled pair up macaroons with a similar sizing half.
Place Nutella in a piping bag and pipe on half of the macarons then sandwich the other half together.
Refrigerate overnight.
Best served at room temperature.
KAT'S lunchbox recipe cookbook
50 freezer friendly recipes that make for perfect no-fridge, no-heat lunches ideal for school, work, or even picnics!
The easy to follow recipes with full colour photos, and my how-to guide at the beginning of the book, means both experienced bakers and those a little newer to the kitchen, will have all the help they need.