This delicious No-Bake Dairy Milk Marble Cheesecake recipe is super easy to make. These cheesecakes are very creamy, chocolatey and indulgent.
I wanted to make my No-bake Caramilk Cheesecake at Easter, but I couldn't find any caramilk cream cheese at the supermaket. However there was the new Dairy Milk Marble cream cheese, so I improvised and made a chocolate version of my recipe. This chocolate cream cheese is so good you could even use it to dip fruit into!
This Dairy Milk Marble cream cheese is a limited edition product, so I'm not sure how long it will be available at stores for. However you could easily use plain cream cheese or a different flavoured version for this recipe.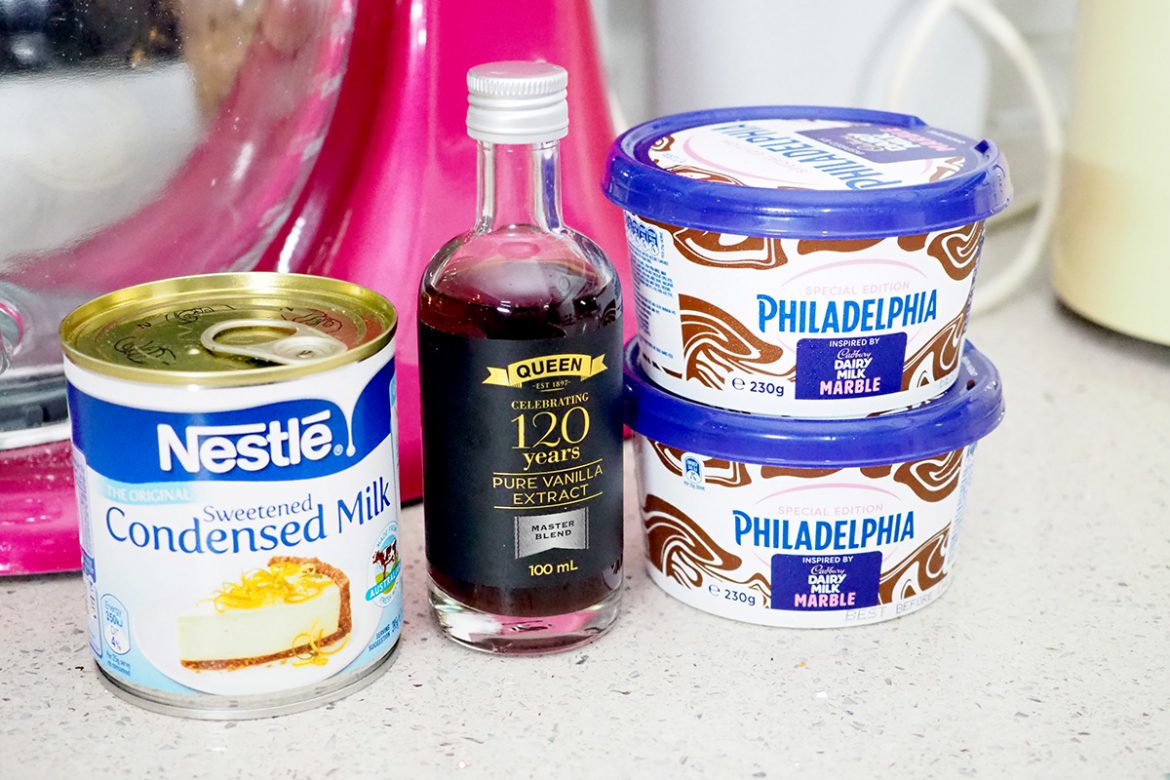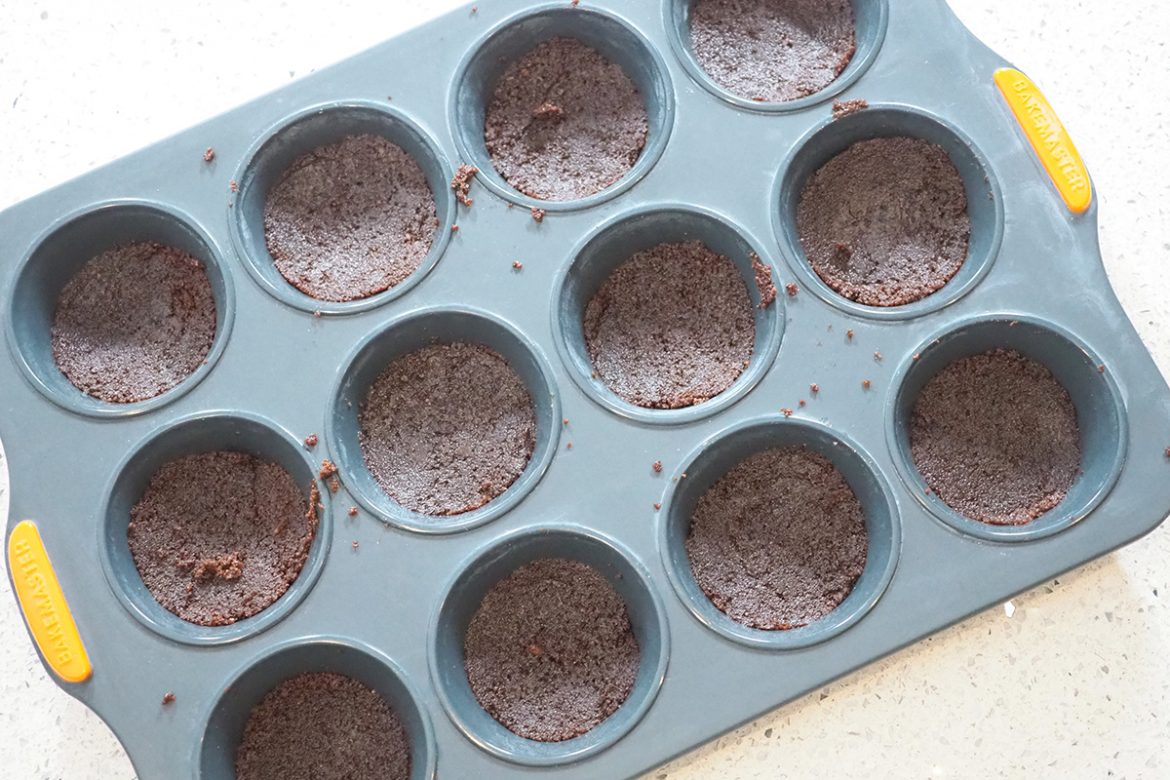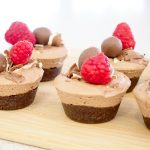 YOU WILL NEED
250g Choc Ripple cookies
125g butter, melted
3 teaspoons powdered gelatine
¼ cup boiling water
460g Philadelphia Cadbury Dairy Milk Marble Cream Cheese, softened
395g sweetened condensed milk
1 teaspoon vanilla essence
Chocolate shavings, to decorate, optional
Raspberries, to decorate, optional
Instructions
Set aside a silicone 12 cup muffin tray for individual cheesecakes, or grease a large springform pan to make one cheesecake.
Place the cookies and butter into food processor and process until finely crushed and well combined.
Divide cookie mixture into each muffin hole and press over the base.
Refrigerate for 10 minutes.
Meanwhile, sprinkle gelatine over boiling water in a heatproof jug. Quickly, whisk with a fork until the gelatine has dissolved. Set aside to cool.
Then, using an electric mixer, beat cream cheese, condensed milk, and vanilla until light and fluffy.
Gradually beat in gelatine mixture until combined.
Pour mixture into prepared pan, leveling the tops with a spatula.
Gently top with chocolate shavings and/or a raspberry.
Refrigerate for 3 hours or until set.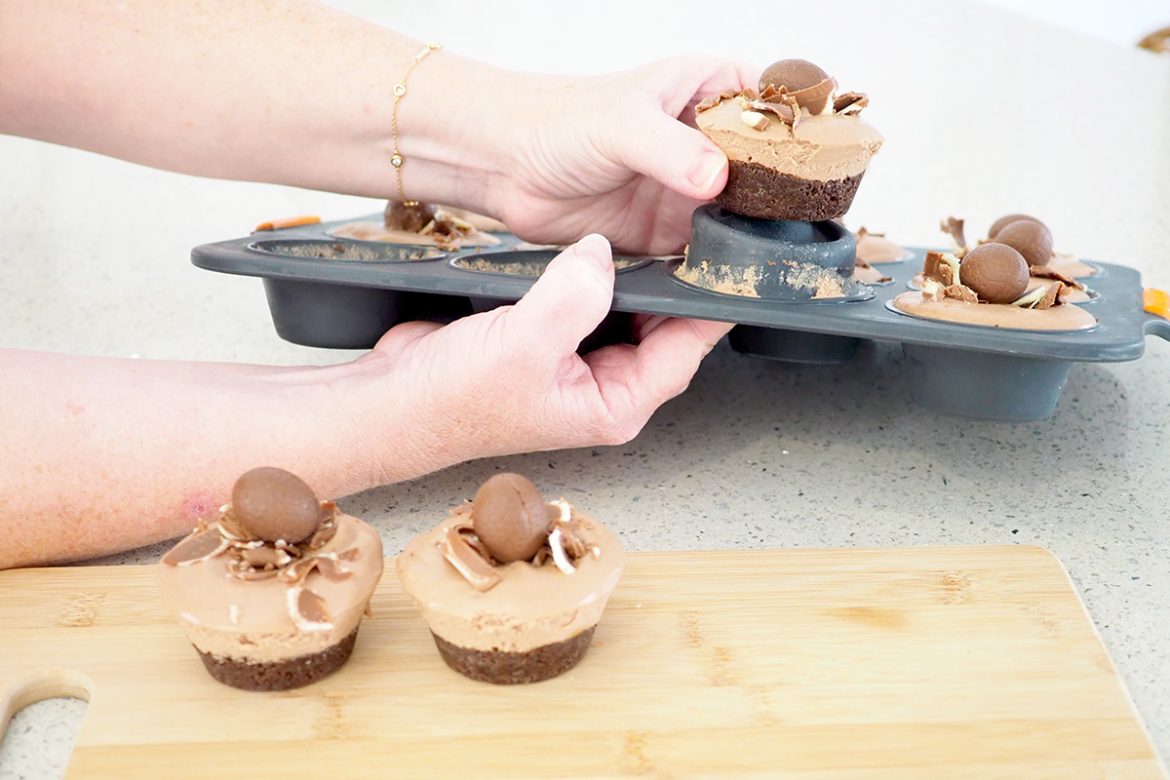 I use a potato peeler on a block of chocolate to make chocolate shavings to decorate with. I also added some raspberries on top for a bit of colour and I really like the hit of flavour of the raspberry while eating the cheesecake.
Oxo Good Grips Pop 2.0 20 Piece Set
Create a neat, tidy and organised pantry using our range of OXO Good Grips POP Containers.
This Oxo 20 Piece Set has a variety of sizes to help you get started with organising your pantry. All with signature pop-up button, effortless airtight seal, and modular stackability, you can easily get your pantry shelves organised while keeping your food fresh.