Looking for a delicious savoury muffin recipe that your kids will love to have in their school lunchboxes? My Ham, Cheese and Pineapple Muffins are so yummy and full of goodness. This is also a recipe that you'll find in my Lunch Box Recipe Cookbook!
If your kids are tired of the same old boring sandwiches for lunches, or they simply want a change from sweet snacks to something savoury, my ham, cheese and pineapple muffins are the way to go.  Not only are these muffins of mine utterly delish, the recipe for them is also part of my Lunch Box Recipes cookbook.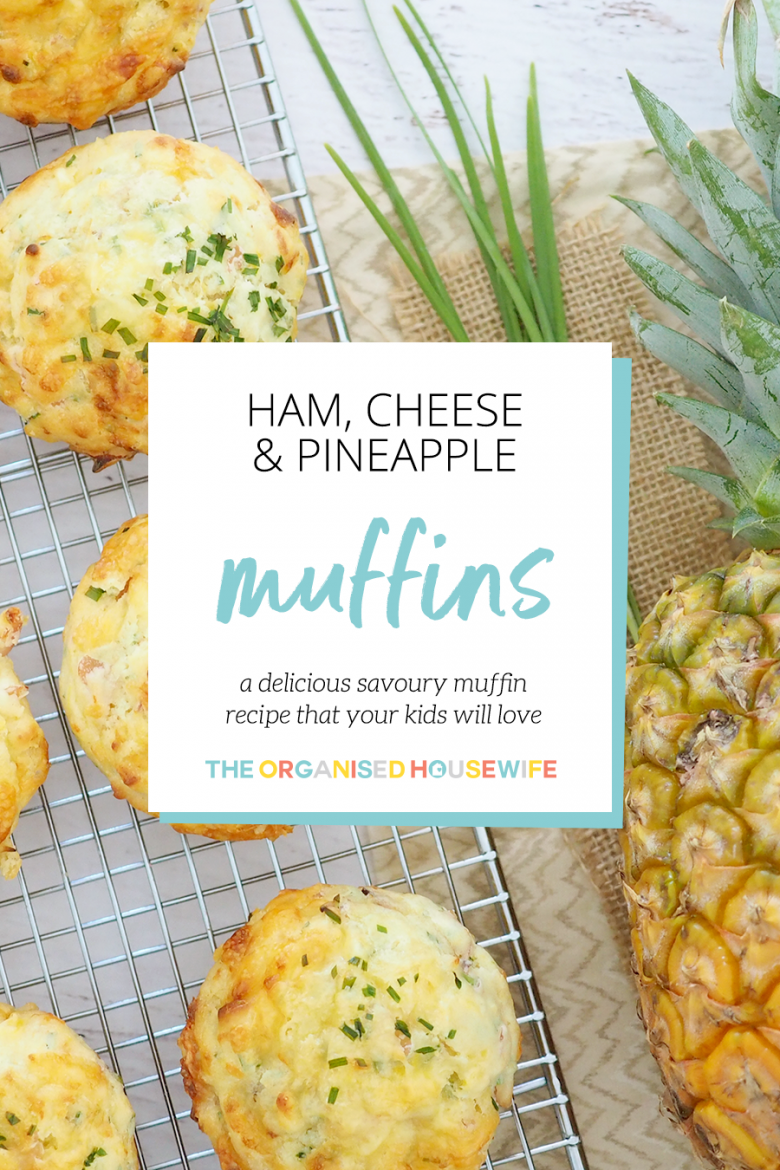 I don't like recipes that are complicated and time-consuming.  This is one is a recipe that is effortless (just the way I like it). You just put all the ingredients into the bowl, mix, spoon into muffin trays and then bake!  Super easy!  But I do have a hot tip for you!! With all my savoury muffins, I like to use a silicone muffin tray, as it's so much easier to wipe away melted cheese off the silicone tray than scrubbing it off of tin trays.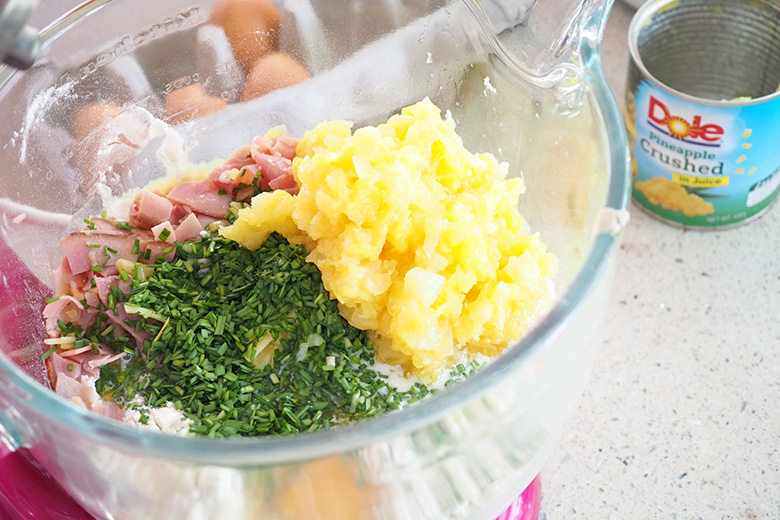 My kids absolutely love the yummy smell that comes from baking these muffins. I mentioned it in my cookbook post, but this is definitely one recipe that my kids just can't get enough of. They also love the Pizza Scrolls which they can make themselves these days, but they love me making these yummy lunch box treats and come and steal one as soon as they come out of the oven. Although, I prefer to save them to stock up the freezer for lunchboxes!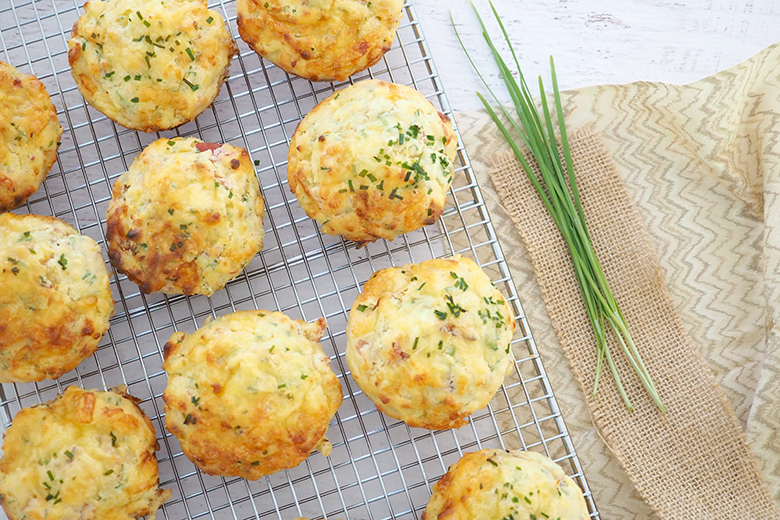 Find this recipe and more in my Lunch Box Recipe Cookbook. 

Ham, Cheese & Pineapple Muffins

| | | |
| --- | --- | --- |
| Prep Time | Cook Time | Total Time |
| 10 mins | 18 mins | 28 mins |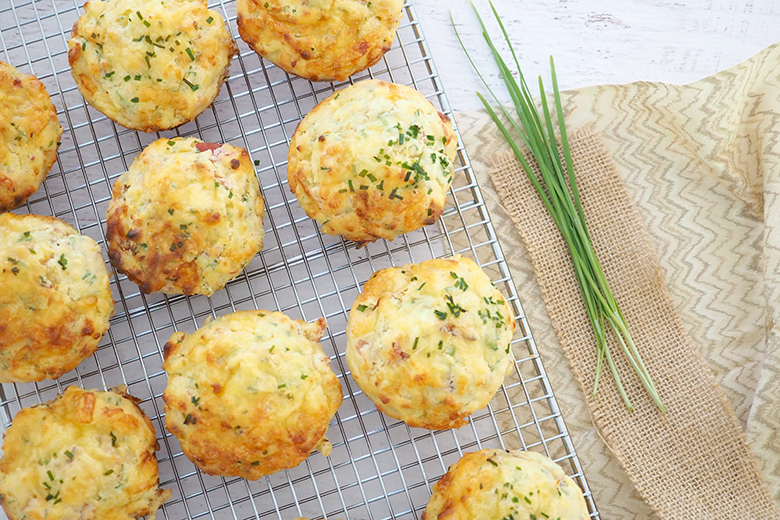 Ingredients
2 1/2 cups self raising flour
1 tablespoon sugar, optional
200g ham, finely chopped
1 cup tasty cheese, grated
1/3 cup chives, chopped
1 1/4 cups milk
1 egg
60g butter, melted
410g can crushed pineapple, drained
1/3 tasty cheese, grated (extra)
1 tablespoon chives, chopped (extra)
Instructions
Preheat oven to 180°C, fan forced.
Grease a 12-hole muffin tray or use a silicone tray and set aside.
Add flour, sugar, ham, cheese, chives, milk, egg, butter and pineapple into a large bowl, mix to combine.
Spoon mixture evenly into muffin tray.
Bake muffins in oven for 10 minutes or until golden and cooked through.
Sprinkle tops of muffins with remaining cheese and chives, continue cooking for a further 5-8 minutes or until cheese melts.
Rest in tray for 5 minutes, before transferring to a wire rack to cool completely or serve warm.
By Kat – The Organised Housewife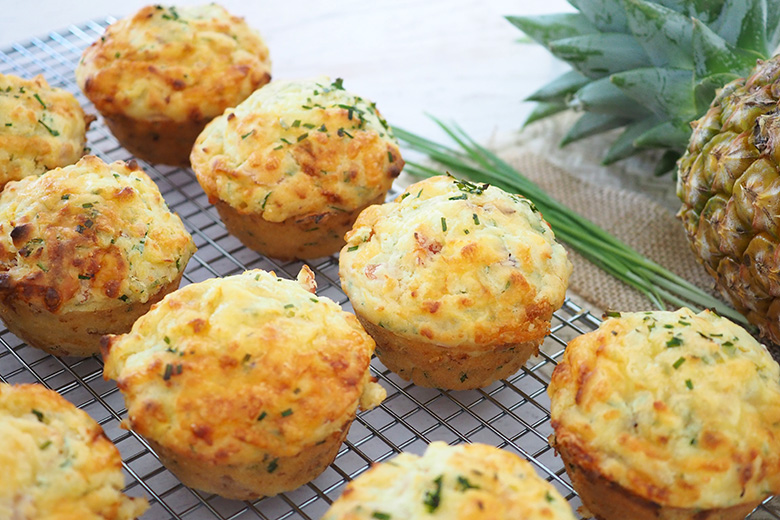 DO YOUR KIDS LIKE SAVOURY MUFFINS?