I'm a bit tired of sandwiches for lunch and am currently on the quest to fill our freezer up with alternatives for school and work lunches that are tasty, satisfying and reasonably healthy.  When I think of a muffin, I usually think of the sweet variety. However, these Pumpkin, Feta and Spinach savoury muffins are a great lunchtime hunger buster which are filled with vegetables and can be served with a side of salad.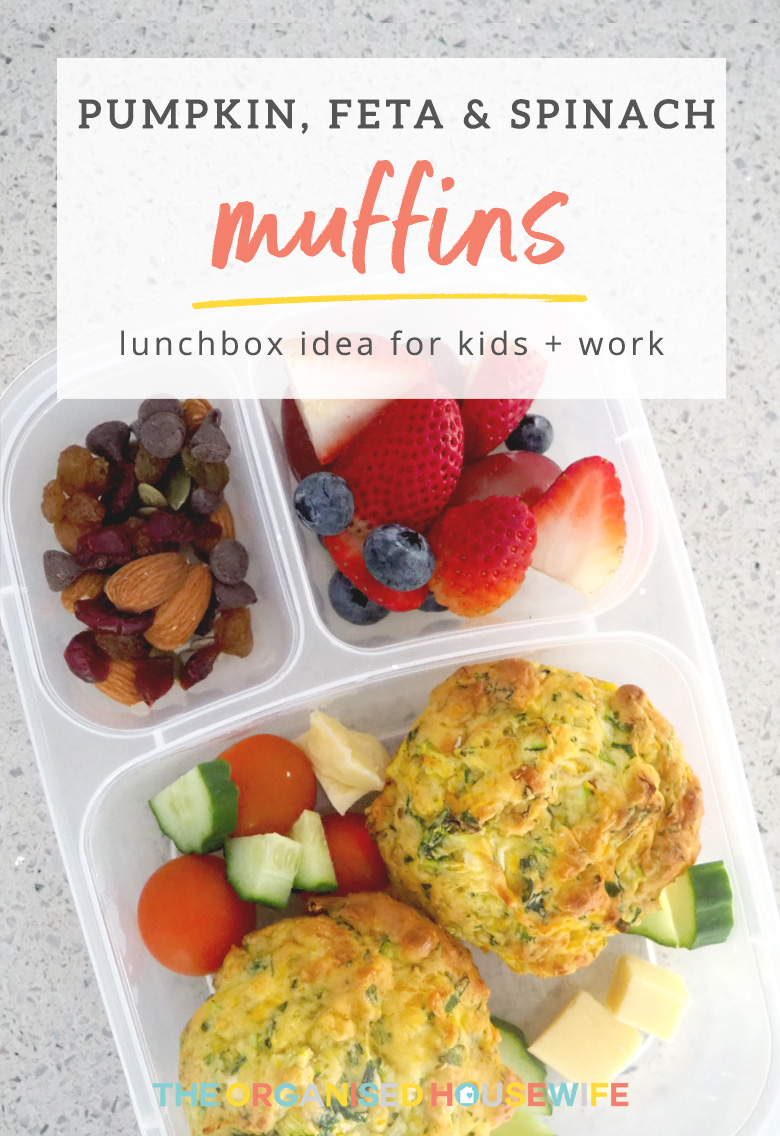 Put the spinach in a strainer and squeeze as much of the moisture from the spinach as you can.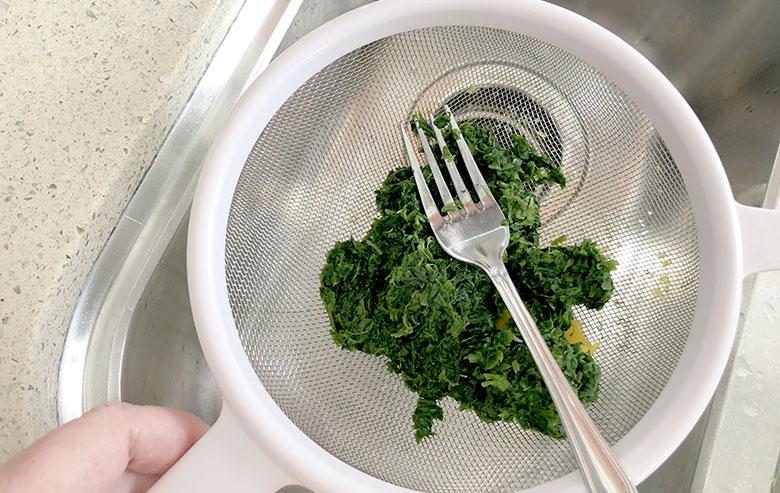 Resist the desire to over stir the mixture, this will prevent the muffin from being dense and also keep your diced pumpkin in shape.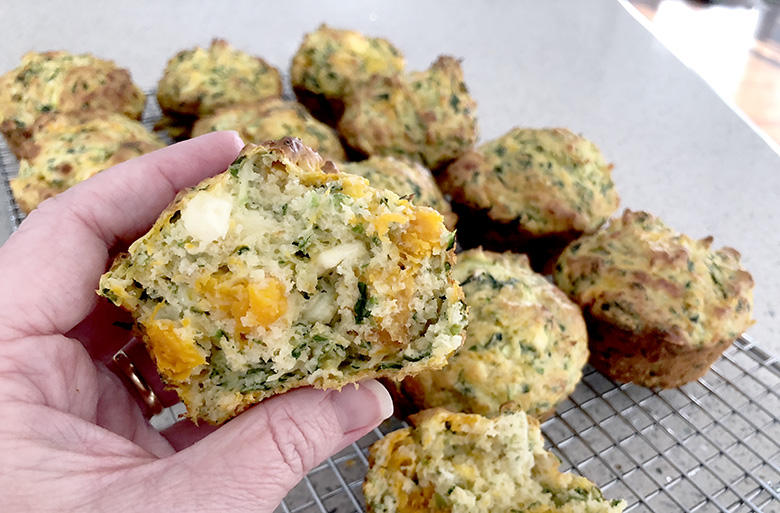 This recipe makes 12 regular sized muffins, but you can use a 24 hole mini tray to make mini muffins for the kid's lunchboxes.  Freeze the muffins you don't pack for lunch for another day.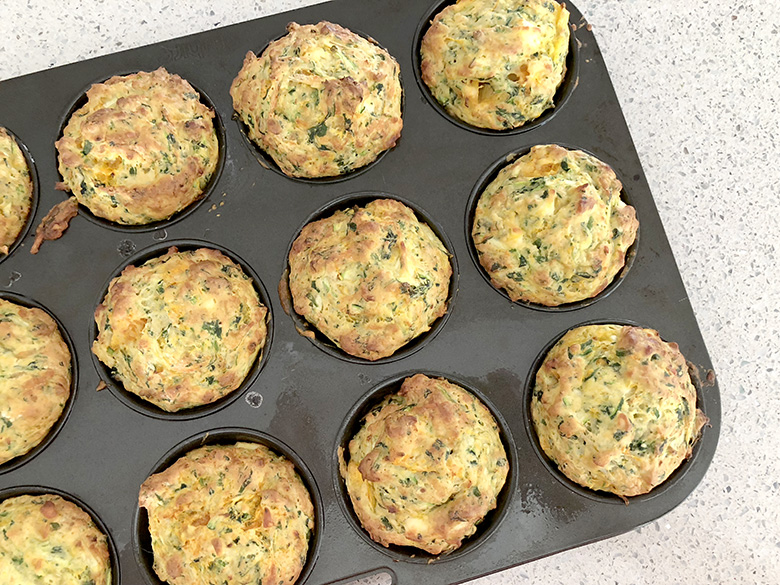 Pumpkin, Feta and Spinach Muffins

| | | |
| --- | --- | --- |
| Prep Time | Cook Time | Total Time |
| 45 mins | 25 mins | 1 hour 10 mins |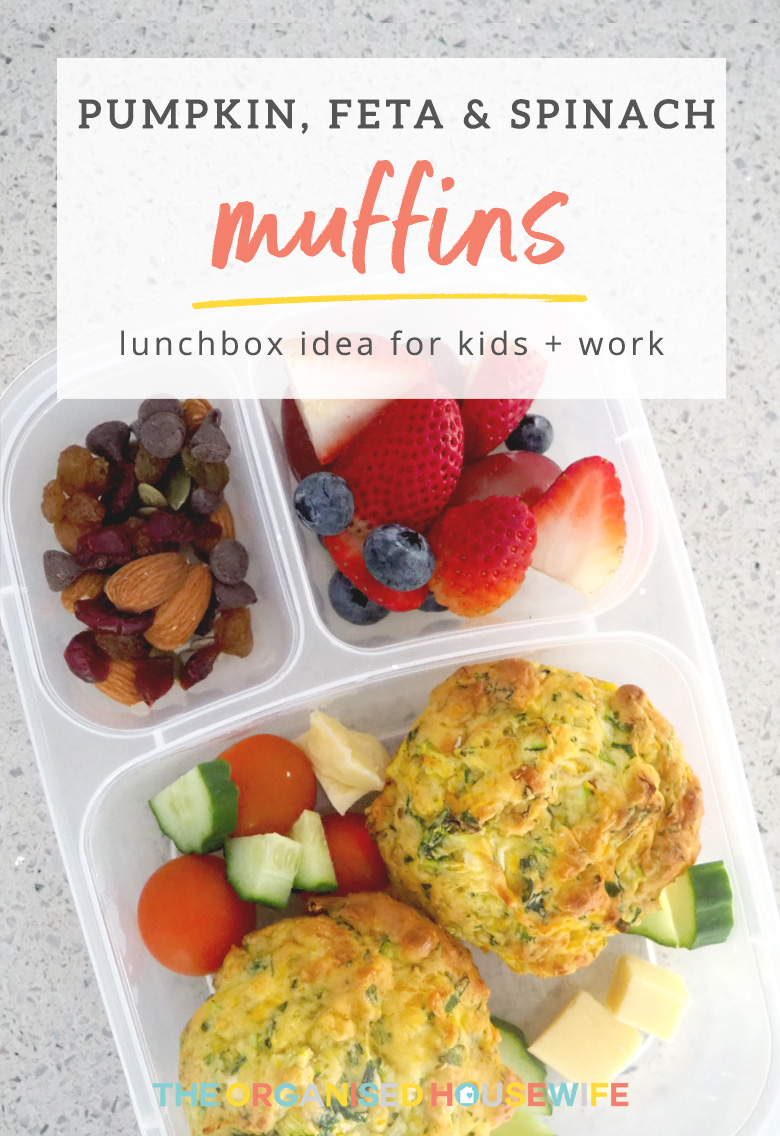 Ingredients
2 cups pumpkin, diced
1 tablespoon olive oil
125g frozen spinach, chopped
2 eggs
1 cup milk
100g feta cheese, crumbled
1/2 cup parmesan cheese, grated
1 zucchini, grated
2 cups self-raising flour
salt and pepper, to taste
Instructions
Preheat oven to 180°C, fan forced.
Place pumpkin into a bowl, drizzle with olive oil and toss to coat.
Line a baking tray with a silicone mat or baking paper. Place pumpkin in single layer on tray. Bake for 25-30 minutes or until lightly golden.
Grease or line a 12 hole muffin tray and set aside.
Cook spinach following packet direction, drain and squeeze as much excess moisture from spinach as you can then sit and cool for a few minutes.
In a bowl add eggs, milk, zucchini, feta, parmesan, zucchini, spinach, pumpkin and salt and pepper, if desired. Mix to combine.
Sprinkle flour over top of mixture, and gently fold until combined.
Spoon batter evenly into muffin tray.
Bake them for 20-25 minutes or until golden and skewer comes out clean.
Allow to sit for 5 minutes, then turn onto a wire rack to cool.
Serve at your desired temperature, warm or cold.
By Kat – The Organised Housewife

Make these Pumpkin, Feta and Spinach Muffins for an after school snack for the kids or a healthy lunchbox idea with a side of salad!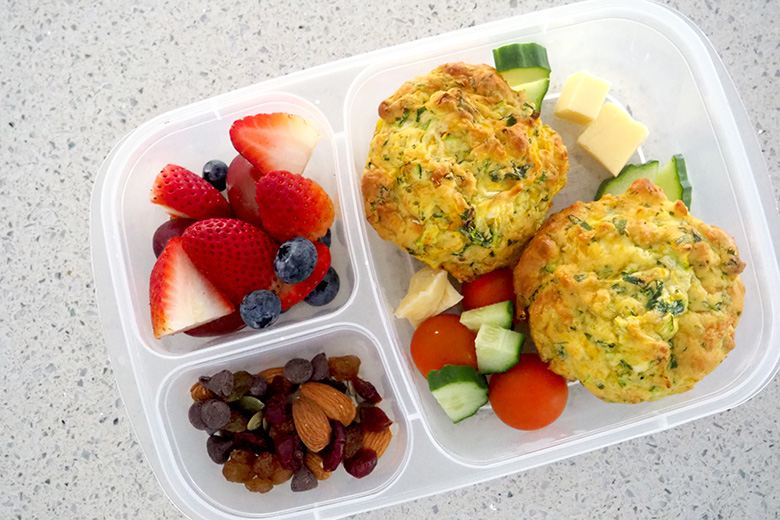 What's your favourite savoury muffin recipe?
July 29, 2020

June 4, 2020

April 14, 2020