Our family loves shepherds and cottage pie, especially great as winter dinners. Recently I wanted to make a cottage pie, but I had quite a few vegetables in the fridge that needed using up, so I made a version of the traditional shepherds/cottage pie calling it Mince and Vegetable Potato Pie, we all enjoyed it.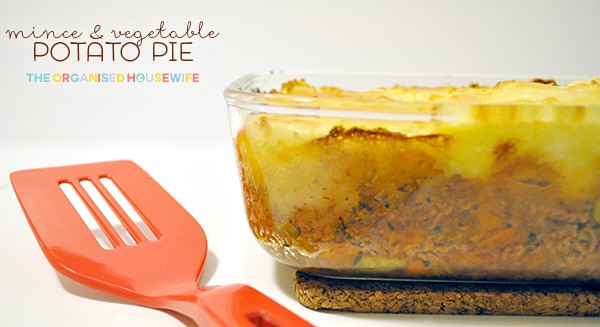 Minced beef with vegetables and a gravy type sauce, topped with potato and cheese.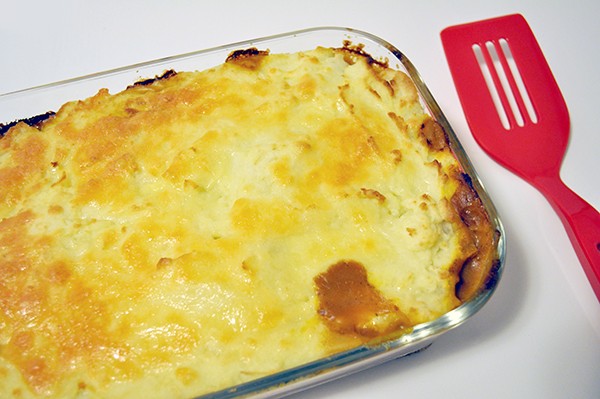 This is also a great recipe to double and freeze.
Freeze:  Make to end of step 11, freeze.  Take out of freezer the night before and defrost in the fridge.  Place in oven until heated through, if still slightly frozen you may need to bake for an extra 10-15 minutes.
Mince and Vegetable Potato Pie
Serves:

| | | |
| --- | --- | --- |
| Prep Time | Cook Time | Total Time |
| 20 mins | 40 mins | 1 hour |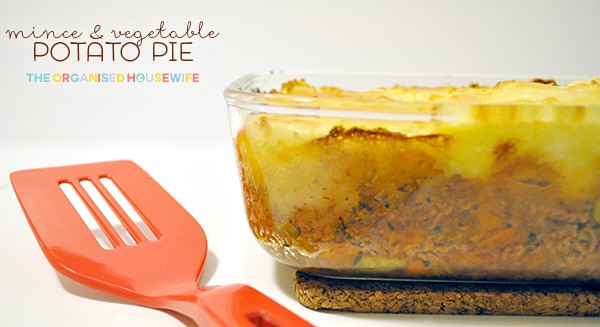 Ingredients
4 potatoes, peeled and cubed
25g butter
1/4 cup milk
1/2 teaspoon salt
1 teaspoon vegetable oil
1 brown onions, finely chopped
2 medium carrots, finely diced
2 celery stalks, finely diced
1 zucchini, finely diced
1kg lean beef mince
½ cup tomato paste
¼ cup plain flour
1 cup beef stock
1/2 cup frozen peas
1/2 cup frozen corn
Salt and Pepper, to season
1/2-3/4 cup tasty cheese, grated
Instructions
Preheat oven to 180°C
Boil potatoes in a large saucepan of water until tender.
Drain potatoes and mash with butter, milk and salt.
Meanwhile, heat oil in a large frypan over medium-high heat, add onion, zucchini, celery and carrot. Saute for 5 minutes or until onions are transparent.
Add the mince, breaking up any lumps, cooking for a further 8 minutes or until browned.
Add tomato paste, mix and stir through for a minute.
Sprinkle the flour over the meat mixture and stir to combine for one minute.
Pour stock into frypan, bring to the boil and simmer until sauce thickens.
Stir through corn and peas, cook for a further 2 minutes, season with salt and pepper.
Place meat mixture into a large casserole dish.
Spoon heaped piles of mash potato over the top of mince, spread to cover casserole dish, top with cheese.
Bake in oven for 30-40 minutes or until golden
By Kat – The Organised Housewife


click on image to view recipe