This delicious Milo and Coconut Cookie recipe is simple and easy to make and great for an afternoon snack.
Delicious, easy, and freezer-friendly, I whipped up these Milo and Coconut Cookies for the kids to have before afternoon activities. They were a hit! They are good for the lunchbox – make a double batch so you can freeze some for those busy days.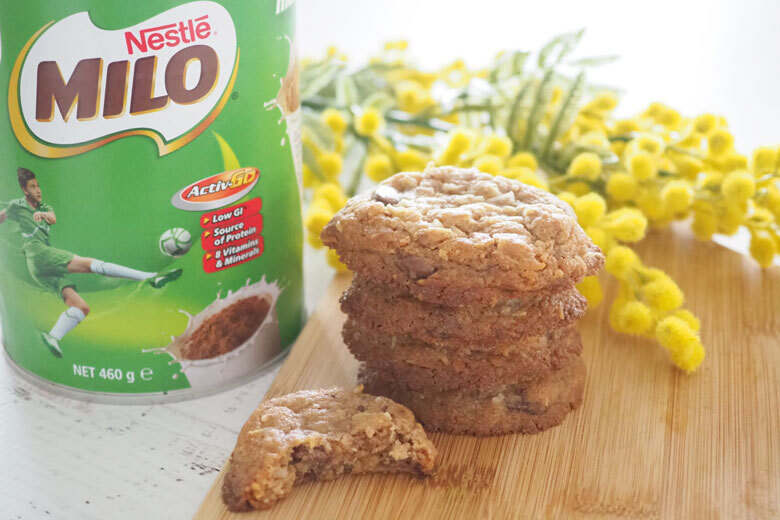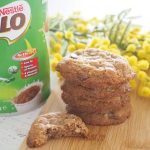 YOU WILL NEED
1 egg
125g Butter, melted
3/4 cup Caster Sugar
1/4 cup Chocolate Chips
1 cup Self Raising Flour
1 teaspoon Vanilla Essence
1 cup Coconut
2 tablespoons Milo
Instructions
Preheat oven to 180°C, fan forced.
Line two baking trays with baking paper or silicone mat.
Mix flour, caster sugar, coconut, milo and chocolate chips in a bowl.
Pour butter, egg and vanilla into bowl, mix well.
Roll a tablespoon of mixture into a ball, place on baking tray leaving room for biscuits to expand.
Bake in oven for 10-15 minutes or until golden.
Rest on pan for 5 minutes, turn onto a wire rack to cool completely.
KAT'S lunchbox recipe cookbook
50 freezer friendly recipes that make for perfect no-fridge, no-heat lunches ideal for school, work, or even picnics!
The easy to follow recipes with full colour photos, and my how-to guide at the beginning of the book, means both experienced bakers and those a little newer to the kitchen, will have all the help they need.