This Mediterranean Tuna and Rice Pie is a flavour explosion that will satisfy everyone who eats it.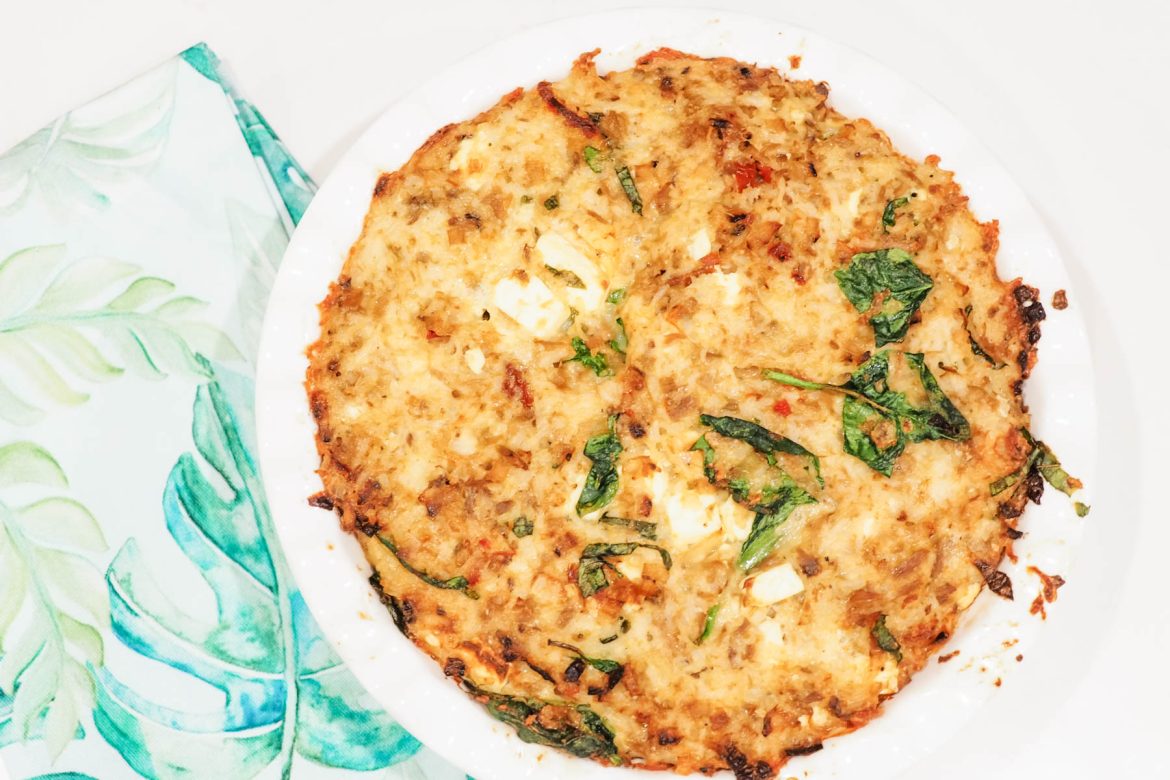 This Mediterranean Tuna and Rice Pie includes rice, onion, garlic, canned tuna, eggs, milk, sun-dried tomatoes, onions and fetta cheese.  You could add mushrooms and olives if you wish. It will take 30 minutes to put together and 45 minutes to an hour of baking, but in my humble opinion, the time is worth it. I make it as a big pie to serve the family, but I also make in a mini loaf pan for work lunches.
Print
Mediterranean Tuna and Rice Pie
1 tablespoon olive oil

1 brown onion, chopped

2 teaspoons minced garlic

1 cup basmati rice, rinsed

1 3/4 cups chicken stock

425g can tuna, drained, flaked

1/2 cup sundried tomatoes, drained, chopped

180g fetta, small cubes

50g parmesan cheese, finely grated

100g spinach leaves, roughly chopped

1/4 cup

basil, chopped

5 eggs, lightly beaten
Instructions
Preheat oven to 180°C, fan forced.
In a saucepan, heat oil over medium heat.
Add onion and garlic, cook, stirring often to prevent browning until onion has softened.
Add rice, increase heat to high and stir to coat for 1 minute.
Pour in the stock. Stirring until it boils. Reduce heat to low, cover and cook for 10 minutes.
Remove rice from the heat. Stand and keep covered for a further 10 minutes.
Meanwhile, add tuna, tomato, fetta, parmesan cheese, spinach, basil, egg and rice to a bowl. Season with salt and pepper. Toss to stir through.
Spoon mixture into a pie dish or mini loaf pan.
Bake pasta bake in oven for 45-60 minutes or until golden.
Serve.
The Mediterranean Tuna and Rice Pie is a real crowd-pleaser, bringing the flavours of the Mediterranean to your kitchen! This pie will impress you and your family if you love savoury dishes with unique ingredients. From the flaky tuna to the tangy fetta cheese, this dish is the perfect way to add bold flavour to your dinner, lunch or next picnic.