A fancy insulated lunch box GIVEAWAY + Delicious warm portable lunch ideas for winter that are perfect for working parents, busy mums, or any adult who wants a yummy hot home-cooked meal on the go!
As mums and parents we spend a lot of time focusing on what to feed our kids for lunch, however we sometimes forget to nourish ourselves. We make sure the kid's lunch boxes offer a good variety of food, that they're jam packed with nutrients, and that they're not too time consuming to prepare. Well it's about time we turn a little of that love onto our selves, and with the cold months now upon us I think delicious warm winter meals that nourish our bodies, put a skip in our step, and leave a smile our face is exactly what we deserve!
GIVEAWAY: Scroll to the bottom of the blog for a chance to win an insulated 1300ml Vaya Tyffyn lunchbox of your own (similar to the one in the pic below!).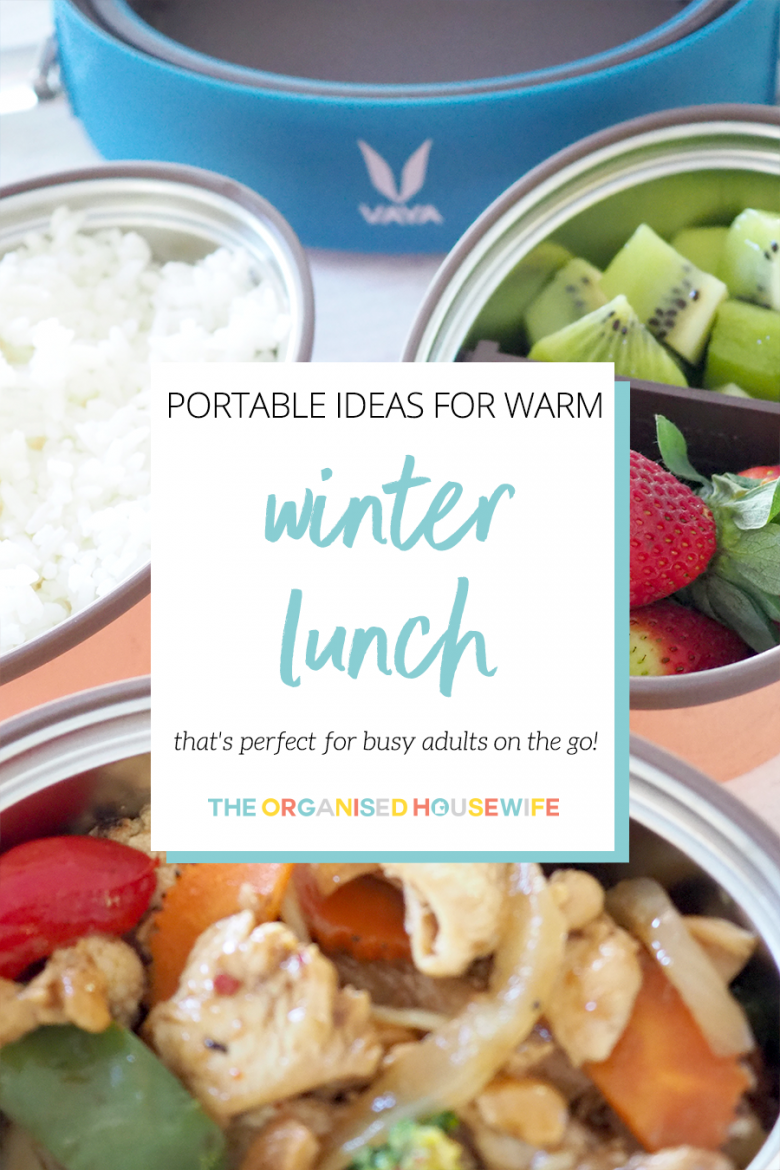 This post is sponsored by Vaya
First things first! If we're to enjoy warm winter meals on the run – and let's be honest, very few of us have the luxury of eating our meals undisturbed from our own dinner tables each day – we need a good quality, insulated lunch box.
What Lunch Box To Use?
You want a good insulated lunch box that doesn't leak, keeps food warm for at least 5 hours (see you through from leaving home in the morning to lunch time) and isn't too bulky.
The Vaya Tyffyn has an insulated stainless steel outer shell (that comes in heaps of pretty designs!) which keeps your food nice and warm. What I like most about the Vaya Tyffyn though, is the individual stainless steel copper-coated containers inside which make compartmentalising my lunch super easy! I can keep soup and croutons separate right up until I'm ready to eat (the lids are leak-proof too, so soup for lunch is a synch!). I can also take pasta and pasta sauce separately, or I can even have a very fancy feed like potato bake, roast meat, and gravy!
The Vaya Tyffyn comes in three different sizes:
600ml with 2 inner containers
1000ml 3 inner containers
1300ml 4 inner containers
I find the 1000ml is the perfect size for lunch just for me.
The Vaya also comes with a smart mat which has many uses. Firstly you can use it as a bag to carry your lunchbox, then unzip it into a table-mat. It's specially coated to repel liquid and resist staining, and it can also hold your cutlery. The Vaya mat also doubles as a convenient picnic bag.
VIEW: The full range of colours and sizes here.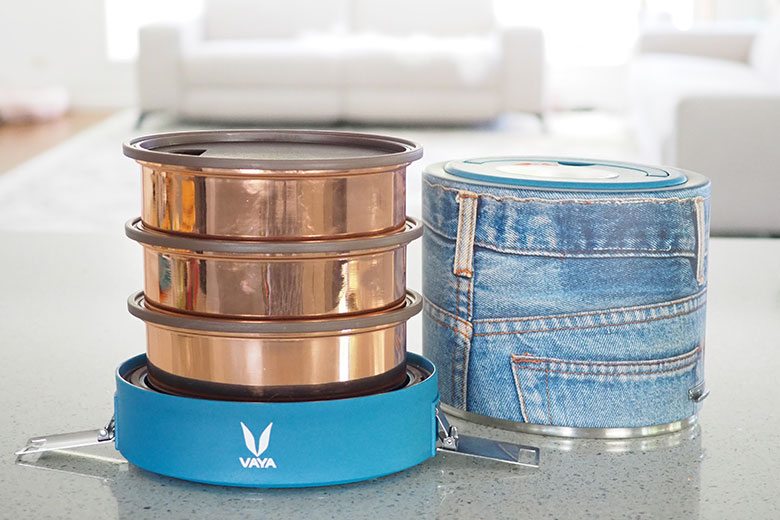 Hot Lunch Ideas For You (When You're On The Run!)
PASTA – Spaghetti Bolognese, Lasagna, Ravioli serve with steamed vegetables, salad or bread.
CURRIES OR STIRFRIES – Stir-fry or curry with rice, chow mein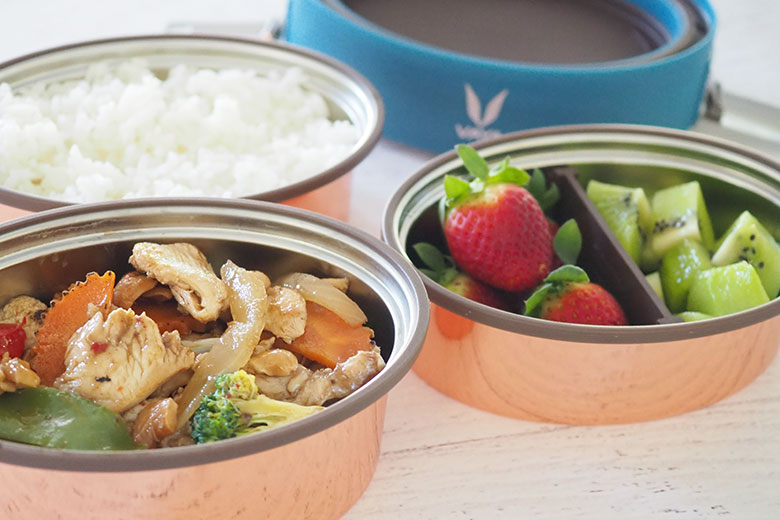 ROAST LUNCH – Roast Meat, Potato, Pumpkin, Steamed Corn, Carrots and Broccoli.
SOUP – Pumpkin Soup, Chicken Noodle Soup or Lamb Barley and Vegetable Soup.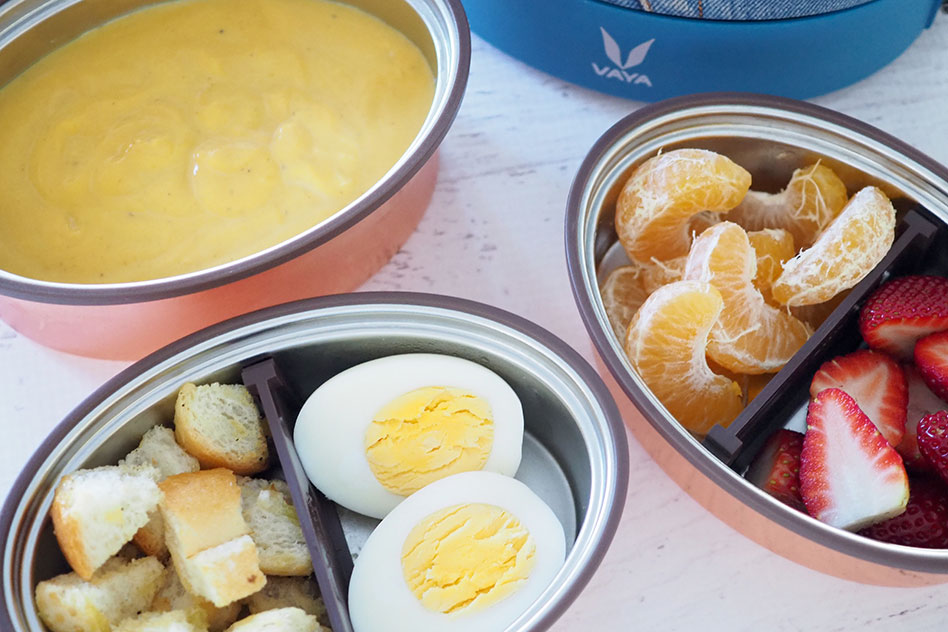 SAUSAGE ROLLS OR PIES – these are great winter warmers!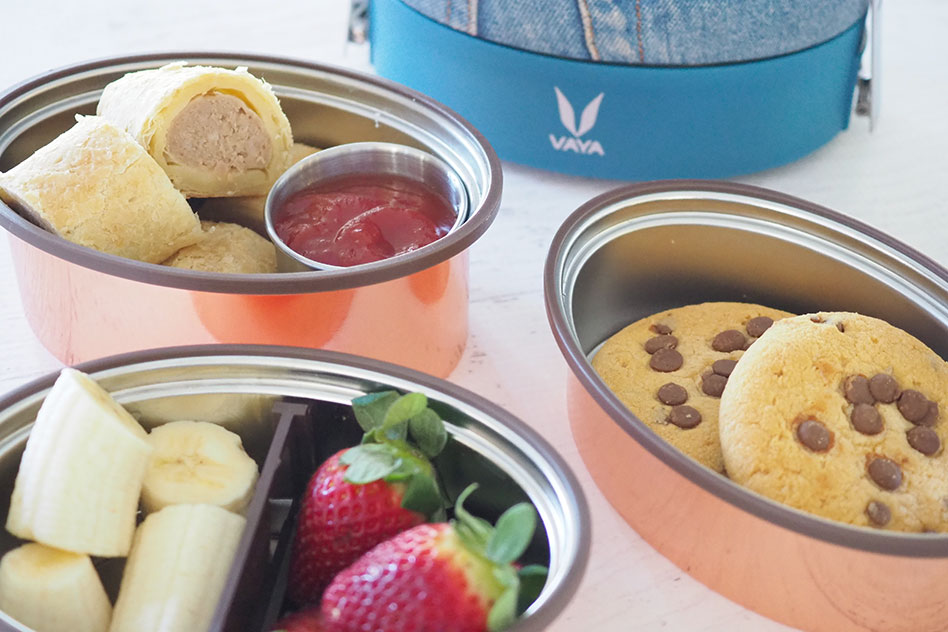 LEFT OVERS – simply pack whatever is left over from dinner the night before.
I'm using the Vaya Preserve below, it is a stackable stainless steel food jar that keeps food hot or cold for up to 6 hours. My tips:
To keep food cold longer store the preserve in the fridge until needed.
To keep food warm longer, pour boiling water into the preserve and stand for 3 minutes (without lid), pour out water and immediately add your hot food and screw on the lid.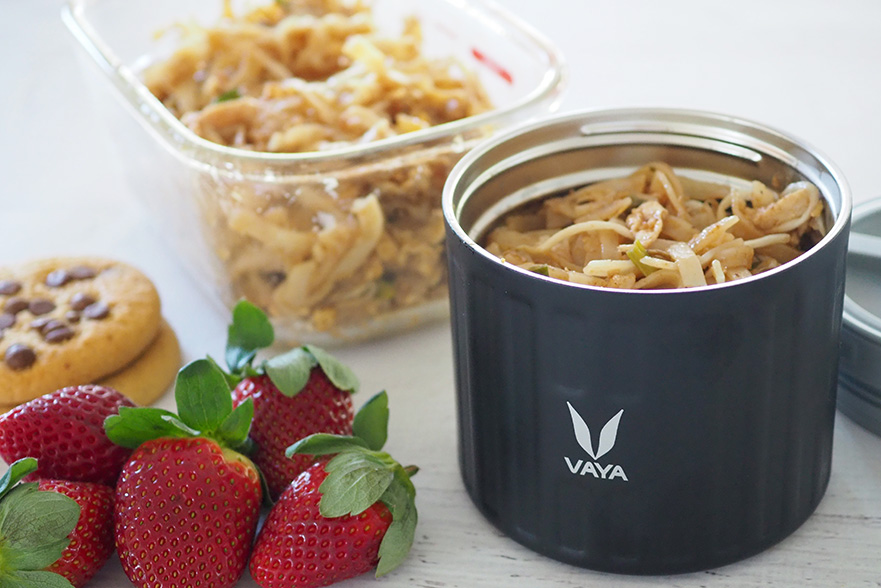 A Gift To You
Our friends over at Vaya would love to see us all celebrating and nourishing ourselves more this winter (not just the kiddies!), which is why they've kindly offered The Organised Housewife community 5% off any of their products! Simply visit Vaya website and use the coupon codes below at checkout:
coupon codes expires 31st July 2018.
---

1 LUCKY READER WILL WIN A 1300ml TYFFYN (valued at $80) THANKS TO VAYA
THIS COMPETITION IS NOW CLOSED – Congratulations Michelle Z!
Environmentally friendly lunchboxes from home to the office.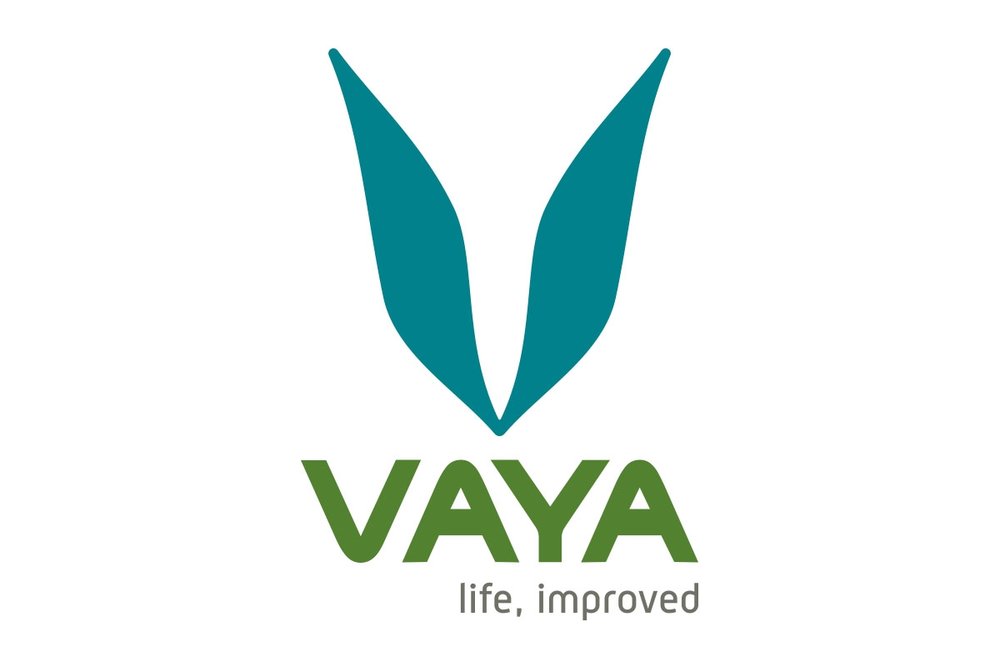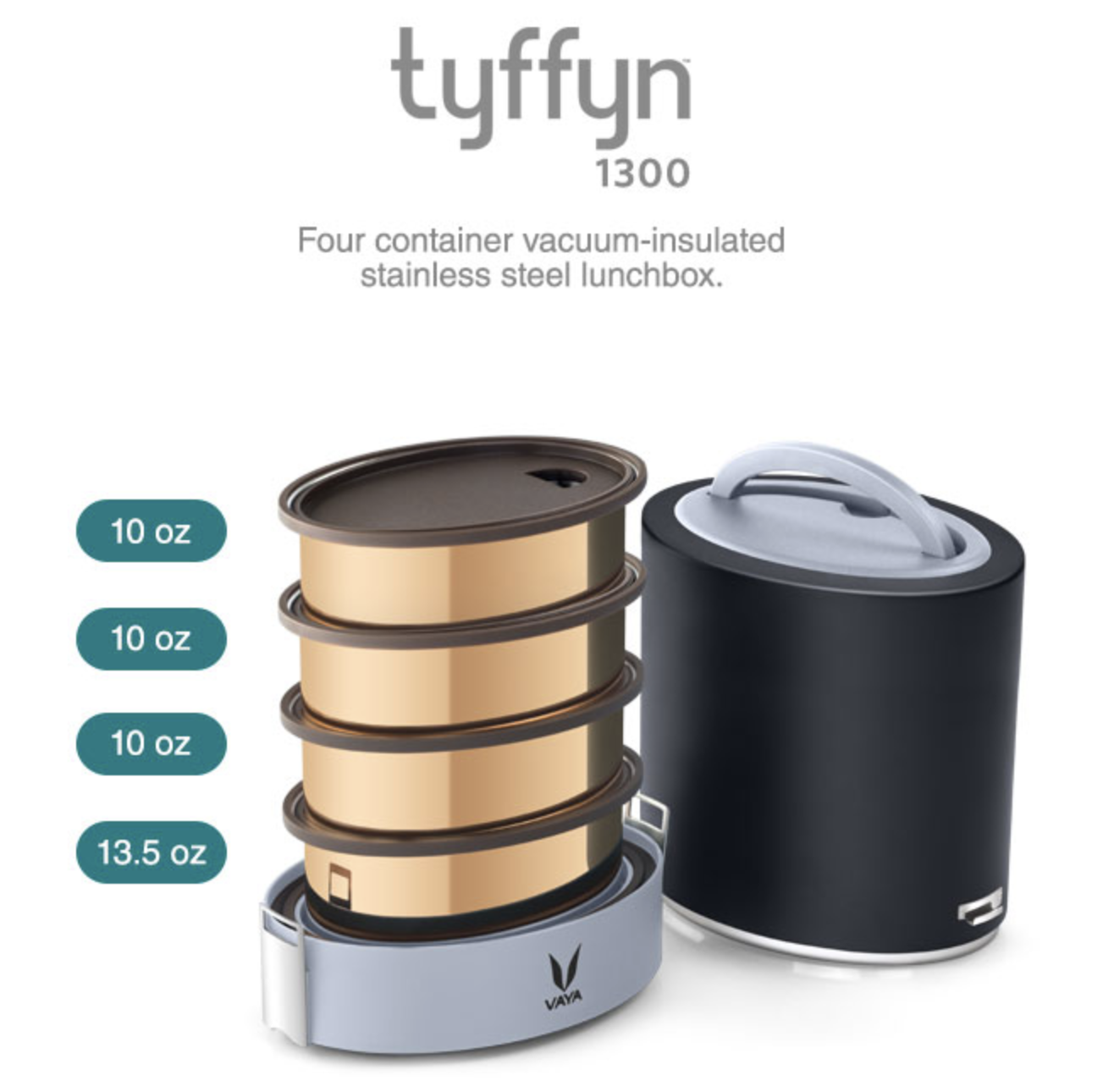 HOW TO ENTER:
Share in the comments below, "What's your favourite portable warm winter lunch?"
---
GIVEAWAY TERMS AND CONDITIONS – This giveaway runs in accordance with my disclosure policy, please read the terms and conditions below:

1. Entries must be made on The Organised Housewife blog, comments on social media are invalid. 2. Entries close 11.59pm AEST Monday 1st July 2019. 3. One entry per household and open to Australian residents only. 4. This giveaway is a game of skill. The judge's decision is final and no correspondence will be entered. 5. The prize is valued at $80. There will be one winner. The prize is not redeemable for cash. 6. The winner will be contacted by email, please ensure you leave your email address. 7. If I have not received a reply from the winner within 7 days the prize will be forfeited and awarded to the entry judged to be the next best. 8. The Organised Housewife will take no responsibility for any delay, loss or damage to prizes sent to winners.