These Jam and Cream Muffins are a quick, easy and tasty muffin, great for lunch boxes.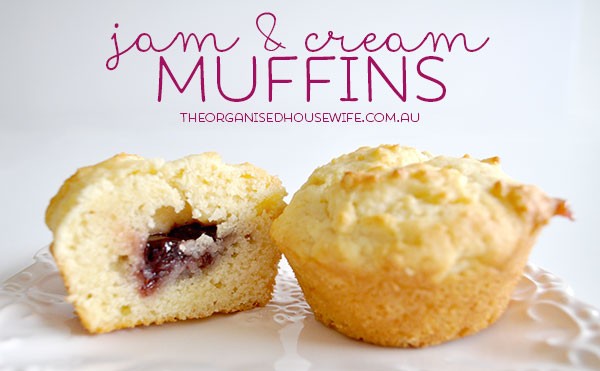 Miss 12 made a batch of these delicious Jam and Cream muffins for the kid's school lunchboxes.  She followed this nut and jam muffin recipe, however she didn't want to include the nuts.  When we packed school lunches this morning Mr 12 put a muffin in a little lunch box and put it next to my computer so I can have it with my morning coffee.  I just took a bite and it was so good that I grabbed one out of the freezer to photograph and share the recipe again with you.  It tasted just like a jam and cream scone, she did so well, this is a yummy recipe!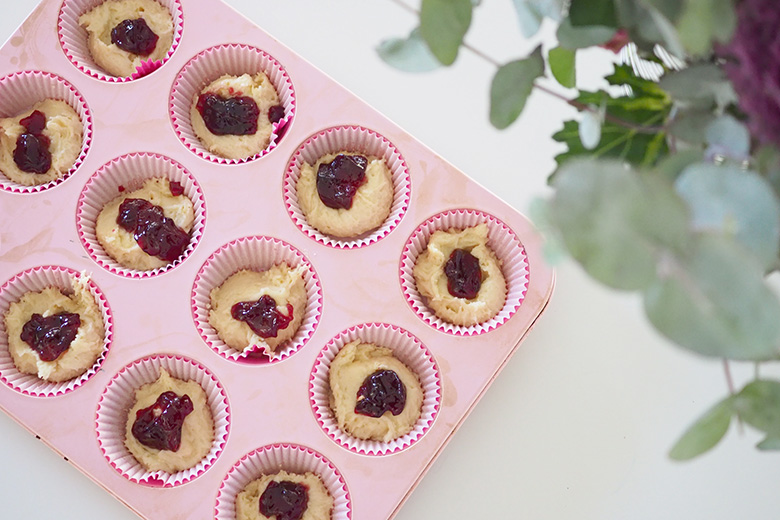 Jam and Nut Muffins

| | | |
| --- | --- | --- |
| Prep Time | Cook Time | Total Time |
| 10 mins | 20 mins | 30 mins |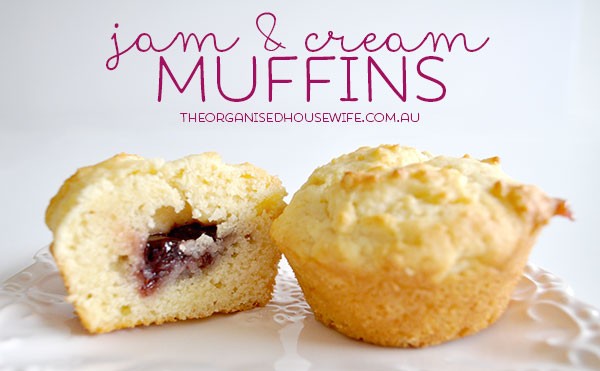 Ingredients
2 1/2 cups SR Flour, sifted
1/2 cup caster sugar
90g butter, melted
1 egg
1 cup cream
1/4 cup milk
1/2 cup your favourite jam
Instructions
Preheat oven to 180C
Grease 12 hole muffin tin
Add flour and caster sugar to bowl, create well
Stir in butter, egg, cream and milk
Half fill each hole with mixture
Create small wells in each
Spoon teaspoon of jam into center of mixture
Top to remaining mixture
Cook for approximately 18-20 minutes
Remove from oven when golden, allow to sit in pan for 5 minutes.
Remove from muffin pan gently, be careful as the jam will be very hot.
By Kat – The Organised Housewife