My youngest recently celebrated her birthday. We didn't have a party, just spent the morning in the park with friends and had family over for dinner later that evening.  But, Miss now 9 had one request, she wanted a rainbow layer birthday cake.  Initially I panicked, thought that exceeded my cake making ability, however researched and have to tell you, it looks harder than it actually is.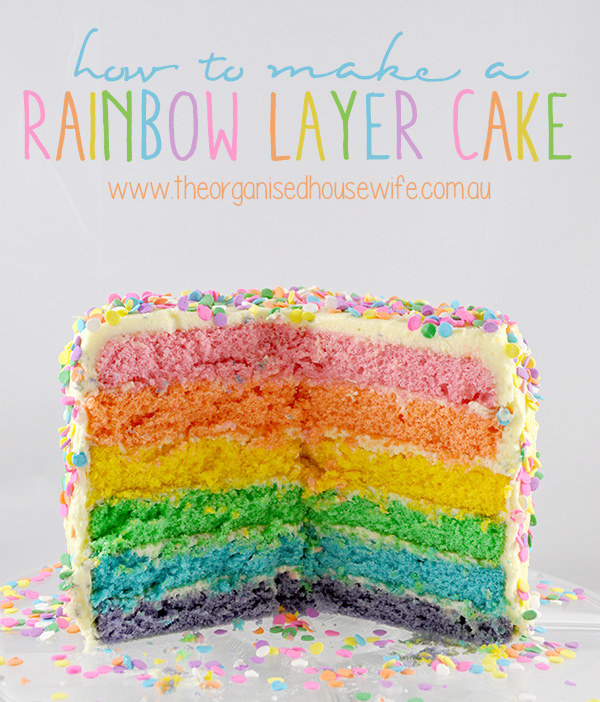 Firstly I wanted to say thank you to so many of you for sharing your tips with me on facebook, you can read them all here.  From each of your tips, this is how I ended up putting the Rainbow Layer Cake together.

How to make a Rainbow Layer Cake
I used homebrand Vanilla Cake Mix, only 89c each, bargain! (I could of made the batter from scratch, but I had so much to do the packets made the process easier).  You want a mix that isn't going to create a yellow batter as you want the colours to be as vibrant and bright as they can be, choose a vanilla cake over butter cake recipe or pack.  1 pack will make 2 layers.

Make cake mix one at a time, then divide evenly into 2 dishes, using scales and measuring accurately.  Once you have made all the batter and divided evenly into 6 bowls, then colour each of them.  It was recommended to use Gel colourings as they make a brighter cake, compared to the colours purchased from the supermarket.  I used Wilton Icing Gel Colours (which can be found at spotlight, cake decorating shops or from online cake decorating stores).  I only used a small amount on the end of the teaspoon.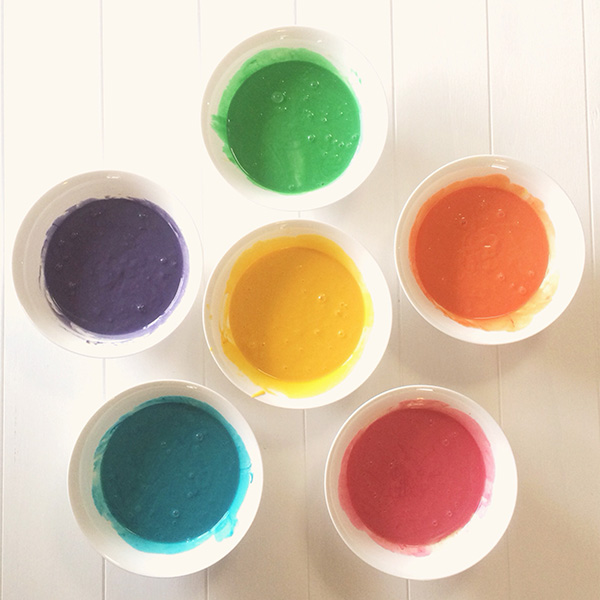 Now bake! I only have one round baking pan, two would of been great to make the process quicker but you would need to ensure they are both exactly the same size as you don't want one cake larger than the other.  The key to the rainbow cake is to have even layers.  I baked the cake for 10 min on 180C.
Once cakes were cooled I cut the tops off them using a cake leveller. I purchased this from a local cake making shop for less than $5.  Best investment, glides through the cake easily and will make all the layers exactly the same height.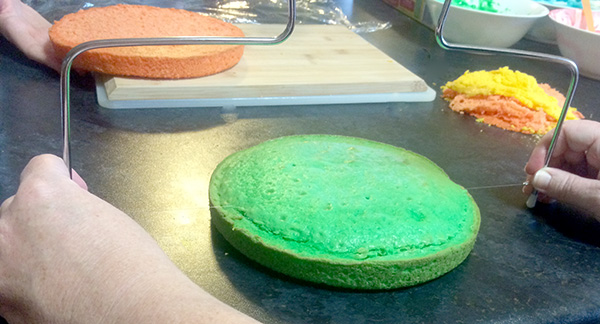 I then wrapped all the layers in glad wrap until I was ready to ice the following day.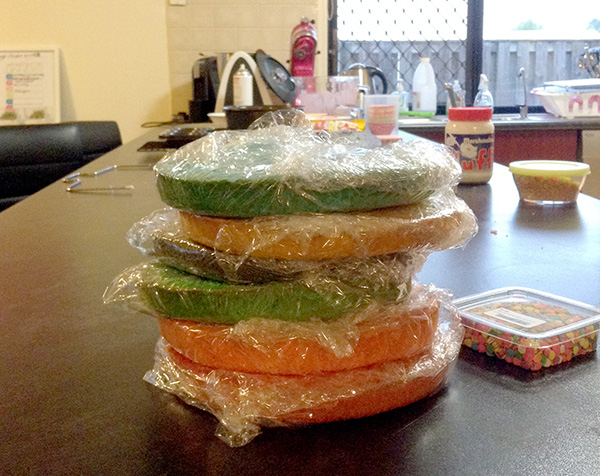 So bright and colourful!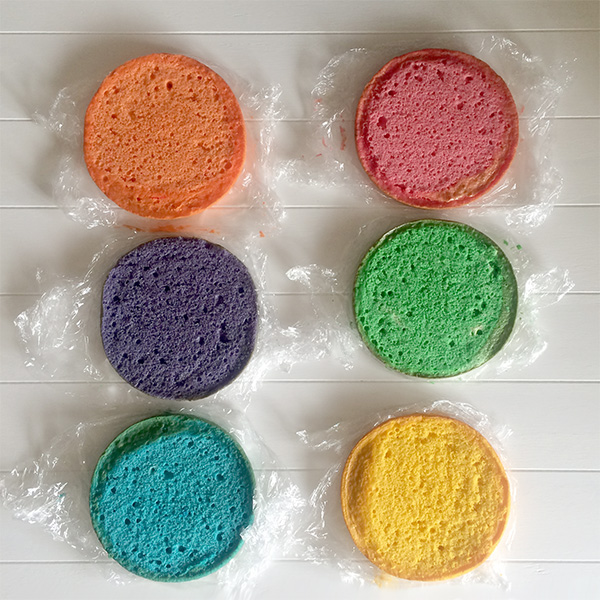 I used 2 x of this buttercream icing recipe, it made just enough, if I used anymore the cake would of been too sweet.  Have on hand the plate or cake stand you would like to display the cake on.  Add a spoonful of icing onto the base of your plate/stand.  This will help prevent the cake from moving on the plate.  Then place on your first cake layer, then spread a spoonful of icing over the layer.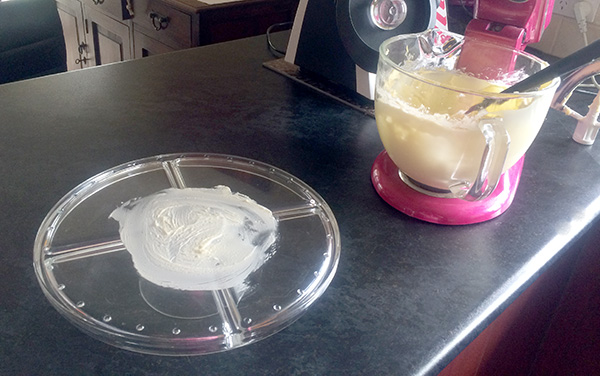 I didn't put too much icing inbetween the layers, just enough to cover the cake.  Don't worry about it being too neat and tidy as you will be adding icing around the edge of the cake and it will squeeze between the layers.  I used my eye to make sure the cake didn't appear lopsided.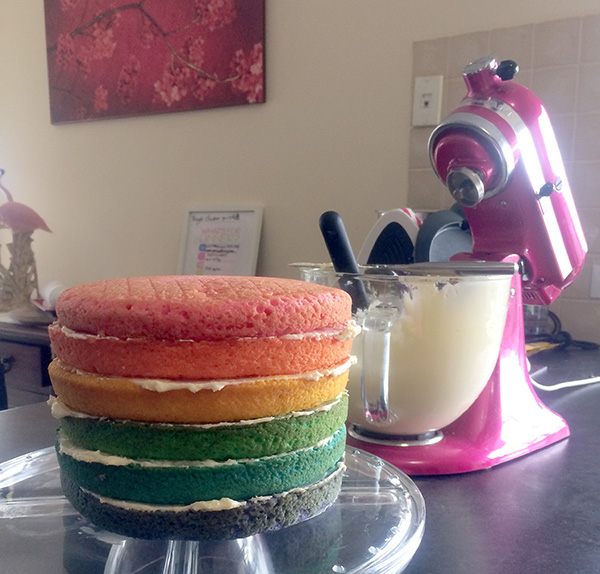 Using a knife I then added the rest of the icing over the cake and threw on some sugared confetti that I picked up from a local cake making shop.  Litterally threw them on so they would stick on the sides LOL.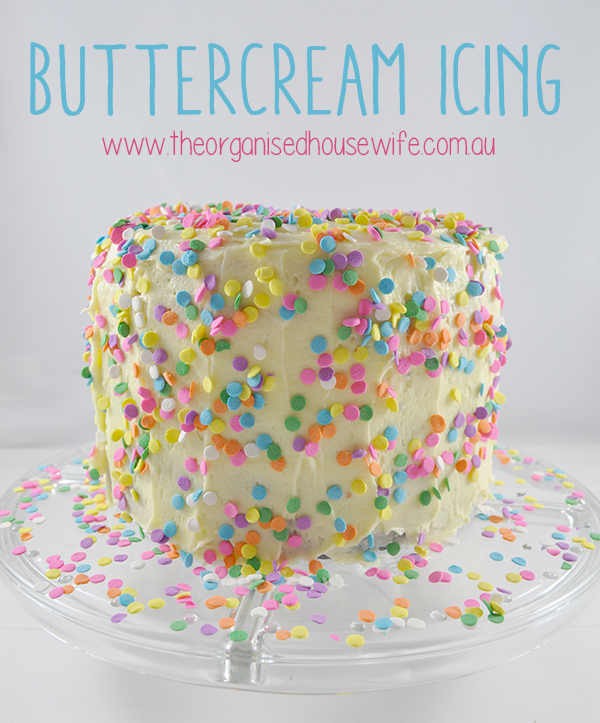 And to see the layers inside, all this effort was truly worth it, Miss 9 was so amazed and grateful for the effort.  It looked beautiful!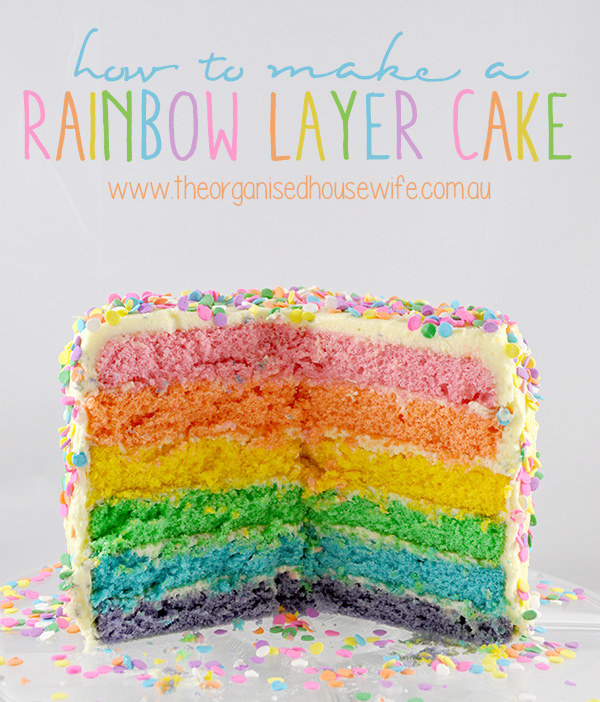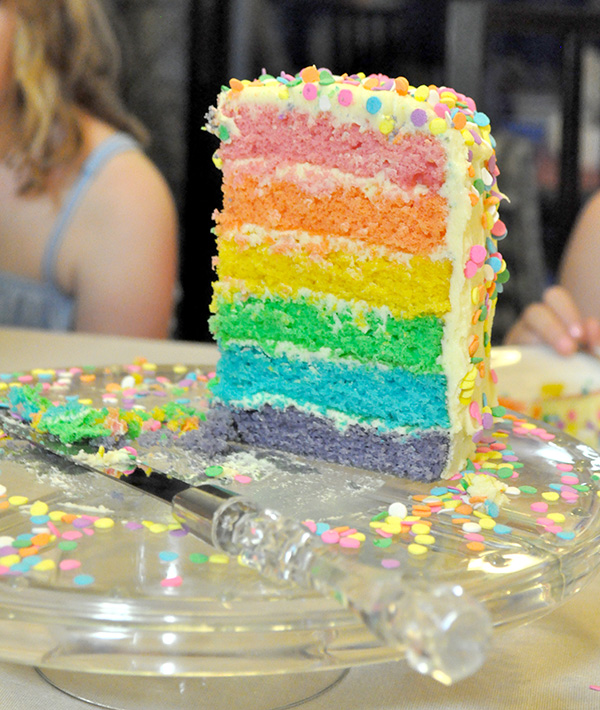 I hope this helps you to create a Rainbow Layer Cake for your next celebration!
Some candid pics of the birthday girl