I confess I have only in the past few months made my first coleslaw, however now that I have my Thermomix, and it chops everything up so easily, this recipe took me only just a few simple minutes to make, again I decided to use something different from the mayo so it didn't have a tang to it. The cream cheese and chilli was a delicious flavour.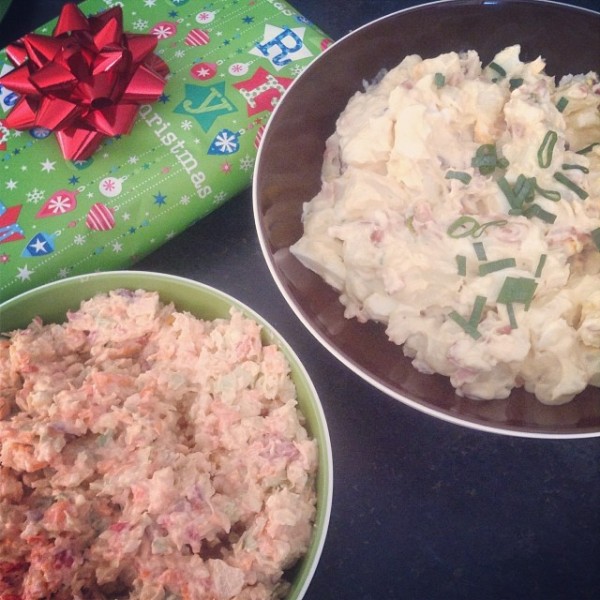 I have included a thermomix and regular recipe below (the best of both worlds!!)
Print
Thermomix Coleslaw
Author:
Prep Time:

5 mins

Total Time:

5 mins

Yield:

8
1/4

cabbage, roughly chopped

1/2

red onion, halved

1/2

capsicum, roughly chopped

1

apple, peeled, roughly chopped

1

carrot, roughly chopped

1

celery stalk, roughly chopped

300g

tasty cheese, roughly chopped

175g

cream cheese, room temperature

1 tablespoon

garlic aioli

2 tablespoons

sweet chilli sauce
Instructions
Place all ingredients into TM bowl and chop 3 sec / speed 4
scrape down sides of bowl, chop 3 sec / speed 4
Spoon coleslaw into bowl and mix to combine if needed.
Print
Homemade Coleslaw
Author:
Prep Time:

20 mins

Total Time:

20 mins

Yield:

8
175g

cream cheese, room temperature

1 tablespoon

garlic aioli

2 tablespoons

sweet chilli sauce

1/4

cabbage, finely chopped

1/2

red onion, finely diced

1/2

capsicum, finely diced

1

apple, peeled, grated

1

carrot, grated

1

celery stalk, finely diced

300g

tasty cheese, grated
Instructions
In a small bowl mix together cream cheese, garlic aioli and sweet chilli sauce until well combined
Place all ingredients with dressing into a mixing bowl, stir well to combine
Keep in refrigerator until ready to serve


click on image to view recipe