I shared this picture on Instagram recently and being that many hadn't considered doing this themselves I thought I would share it here as well.
I keep a container full of fresh breadcrumbs in the freezer.  I make them myself by blitzing them on high in the food processor/thermomix until crumb consistency, 10 seconds is usually enough.  Then place them in an airtight container.  When needed for a recipe I just scrape out the desired amount (return rest back to freezer), let it sit for a few minutes and then they are thawed.
Breadcrumbs are meant to have their crusts removed, however I keep mine on sometimes as it gives a crunchier texture on homemade schnitzels.  I use multigrain or wholemeal seeded bread for to make our breadcrumbs.  This is also a great way to use up bread that is going stale.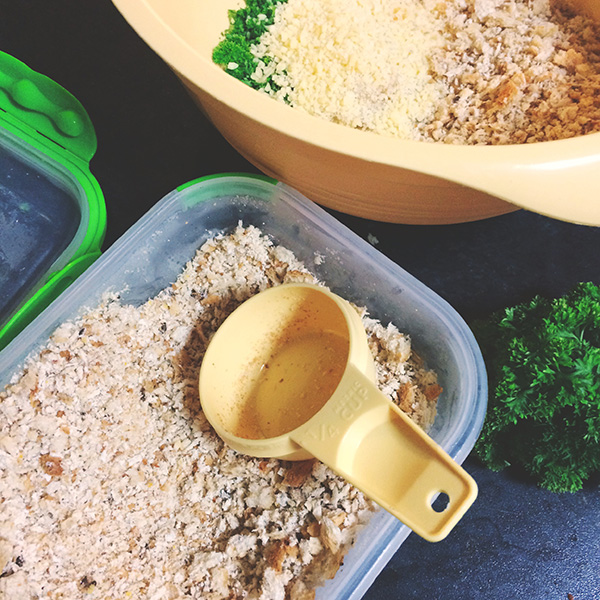 Here are other suggestions:
I freeze stale sourdough loaves and grate off the breadcrumbs as I need them ~bec_ando70
Me too but I put mine in freezer bags. Seem to fit more easily in my freeze ~ travelbugwithin
I freeze them in freezer bags as well. Along with all my nut meals. They keep a lot longer ~ missypinkcherry
I do that too with my breadcrumbs, Parmesan cheese and dukkah I made ~ amyt1985
I keep the crust ends off the bread, mix then in a blender until they are crumbs and freeze them in containers. I found though that they went a bit soggy when crumbing my meat so I put them in the oven for around 10 minutes and they go nice and crunchy like, then they're ready to use. I find they stick to the meat better if I do it this way too. I mix them with garlic salt or BBQ seasoning for example, and the meat I use tastes amazing. ~ fionajoy78
 Do you make homemade breadcrumbs?