My local butcher sells a really yummy spinach, cream cheese and bacon chicken roll wrapped in puff pastry, it is very yummy, but pricey and not so healthy.  I love buying things like these that I can purchase, pop in the oven for 30 minutes, make a few veges and dinner is done, a simple meal, but being that I am on my weight loss mission I'm trying to find healthier alternatives.  And… I have always looked at the butchers chicken rolls thinking I can make it myself.  So I gave it a go….
It didn't take very long at all to prepare, about 10 minutes. But the key to this meal is to prepare it around 3pm so that you can put it in the freezer to set for 2 hours then pop in the oven to cook for another 45 minutes.  It tasted delicious and was ubber healthy.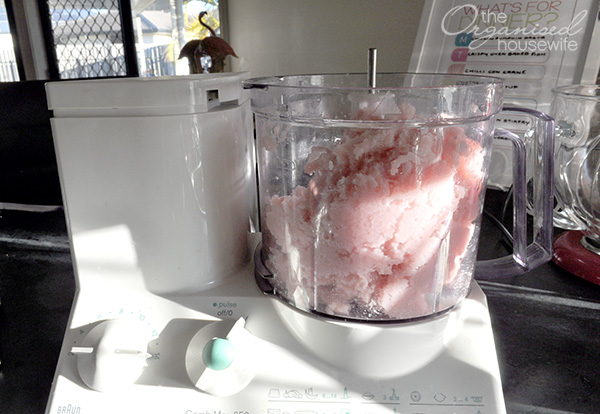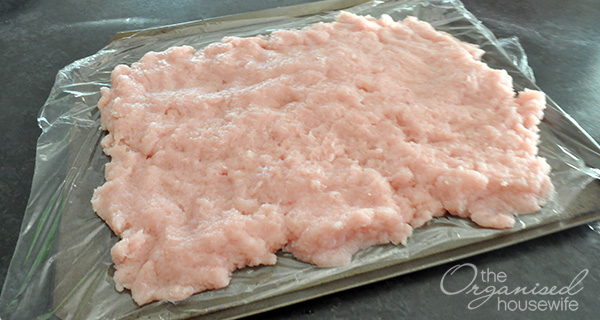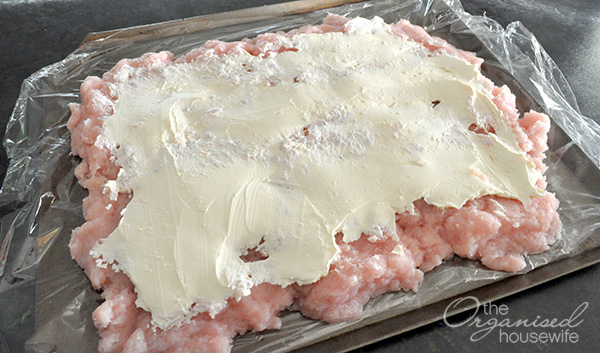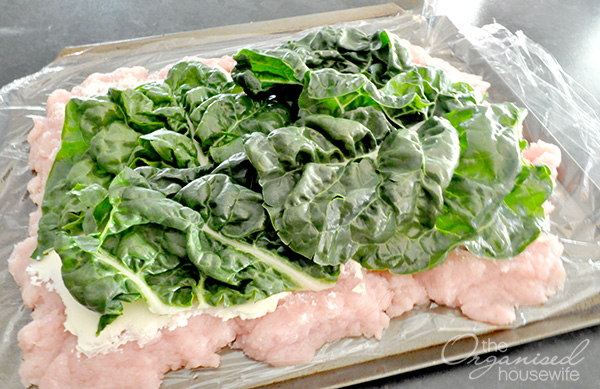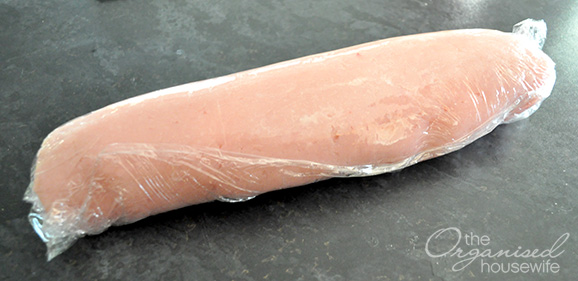 The chicken roll wasn't really browned on the outside, next time I might brown it in a frypan before adding into the oven.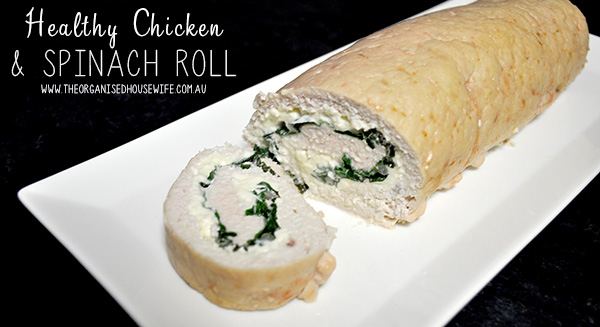 Print
Spinach Chicken Roll
Author:
Prep Time:

15 mins

Cook Time:

55 mins

Total Time:

1 hour 10 mins

Yield:

5

Category:

[url href="https://theorganisedhousewife.com.au/category/recipes/chicken/"]Chicken[/url]
800g

chicken breast
pepper

200g

low fat cream cheese

150g

fresh spinach
Instructions
Mince the chicken breast with some sprinkles of pepper in a food processor
Lay out a large piece of cling wrap on a baking sheet
Spread chicken evenly onto cling wrap in a rectangle, till 5-7mm thick.
Spread cream cheese over chicken then lay spinach on top
Start rolling the chicken from the longest side using the cling wrap to hold it all together. Roll tightly. Remove the cling wrap as you are rolling as you don't want this wrapped up with the chicken
When the roll is complete tightly wrap it in cling wrap and place in the freezer for 1.5-2 hours to help it hold its shape while cooking
Remove cling wrap, place on baking tray and cook in a preheated 180C oven for approx 45-55 minutes
Check that centre is cooked, depending how thick you made the roll it may need longer cooking time.