I have always wanted to try this recipe, a friend of mine raves about it, makes it all the time on busy nights to feed her family of 4 children.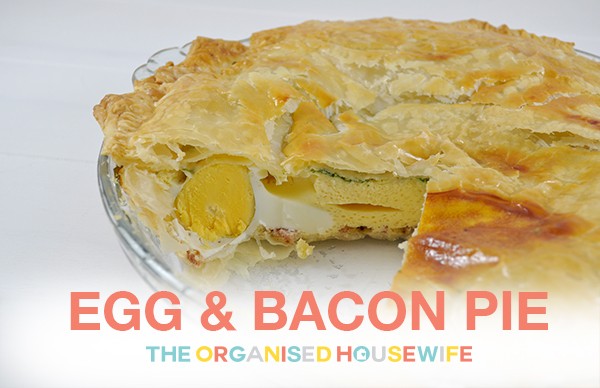 It was an easy dinner, but I would have to say, I'd probably prefer my crustless quiche.
Print
Egg and Bacon Pie
Author:
Prep Time:

15 mins

Cook Time:

50 mins

Total Time:

1 hour 5 mins

Yield:

serves 6
4

shortcut bacon, chopped

3

sheets frozen puff pastry, thawed

10

eggs

100

ml milk

1/4 cup

flat-leaf parsley leaves, chopped

1/4 teaspoon

grated nutmeg
salt and pepper, to season
Instructions
Preheat the oven to 190C.
Grease a 22cm pie dish,, I use spray oil.
In a frying pan on medium heat, cook bacon for 2-3 minutes until just golden, drain on paper towel, allow to cool slightly.
Line the pie dish with a sheet of pastry, use a 2nd sheet to fill any unfilled areas of the dish.
In a large bowl whisk 6 eggs with milk, parsley, nutmeg and some salt and pepper.
Spread half the bacon on the base of the pie, then pour in the egg mixture.
Crack one of the remaining eggs into a cup, then gently slip egg into the mixture without breaking, repeat with remaining 3 eggs.
Sprinkle with the remaining bacon.
Brush pastry rim with beaten egg, then top with remaining pastry, trimming edges.
Brush the top with the extra beaten egg and bake pie for 15 minutes, then reduce oven to 170C and cook for a further 25-30 minutes until golden brown.
Remove from the oven and allow to cool in the dish for 30 minutes before removing.
Cool to room temperature.