Spend more quality time with your kids – not your kitchen! – with these quick and easy dinner meals that can all be prepared in under 30 minutes!
Life is busier than it's ever been for families, and striking that work life balance that we all crave is becoming more and more important, especially as we start approaching the silly season. One easy and very simple way to gift yourself back this balance – which includes more valuable time with your family – is to organise and streamline your busy weeknights with quick easy dinner ideas. In a bid to help you do this, I have created a yummy selection of dinner ideas that can all be thrown together in under half an hour!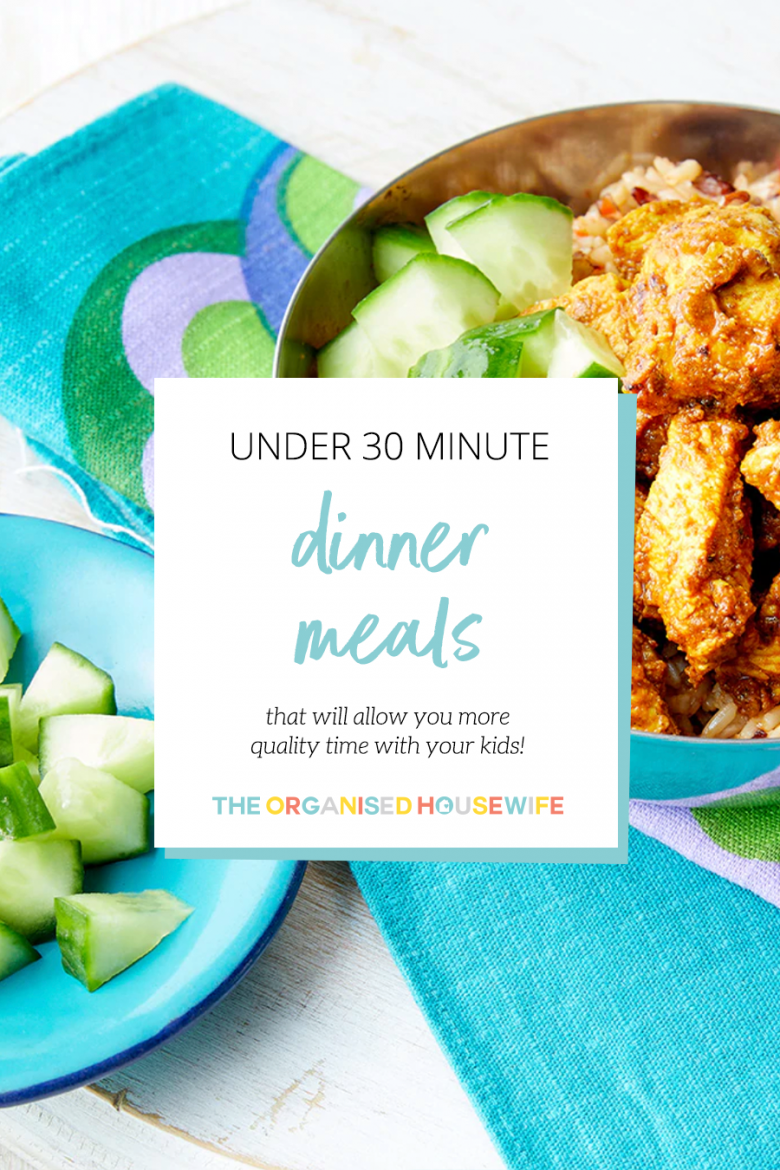 In partnership with Woolworths
---
---
TUNA MELTS – 5 mins prep – 5 mins cook
A meal that's not only quick and easy to make, but one that also packs a punch in the heart department (in a good way!). The omega-3 fatty acids and vitamins in tuna helps boost circulation and improve heart function which lessens the likelihood of you feeling tired and fatigued. I feel like that's a big win for all us busy mums!
View my Tuna Melts recipe here.
COTTAGE PIE – 0 mins prep – 30 mins cook
This pre-made cottage pie from Woolworths is delicious and requires zero prep! If you want to serve yours with steamed veggies like them you'll need an extra 10 minutes, but this can be done whilst the cottage pie cooks.
View this Woolworths Family Classics Cottage Pie here.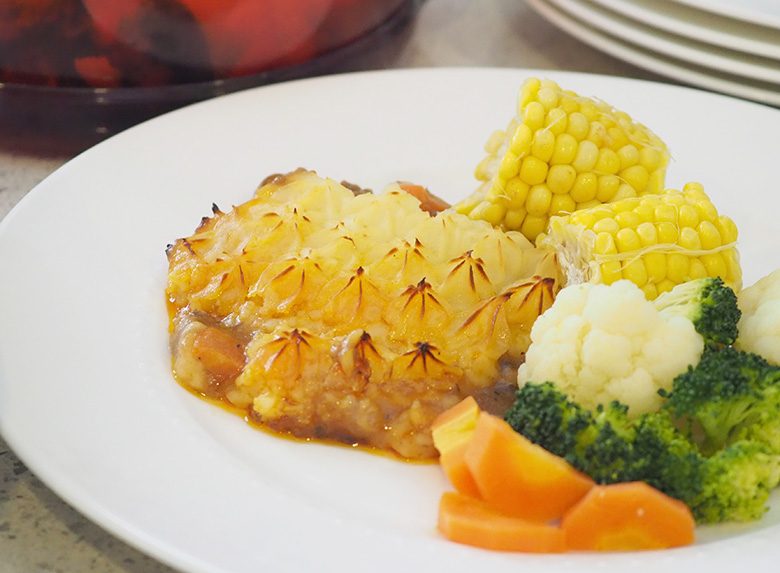 BOURBON BEEF STEAK AND STEAMED VEGETABLES – 10 mins prep – 10 mins cook
This is the perfect meal for when you're trying to fool the family (or guests) with how long you actually spent preparing dinner. The Bourbon in this dish is a really interesting twist, and the steak with marinade is incredible! The oven baked potato with the beans are the perfect accompaniment to balance this dish out.
View this Bourbon Beef Steak recipe here.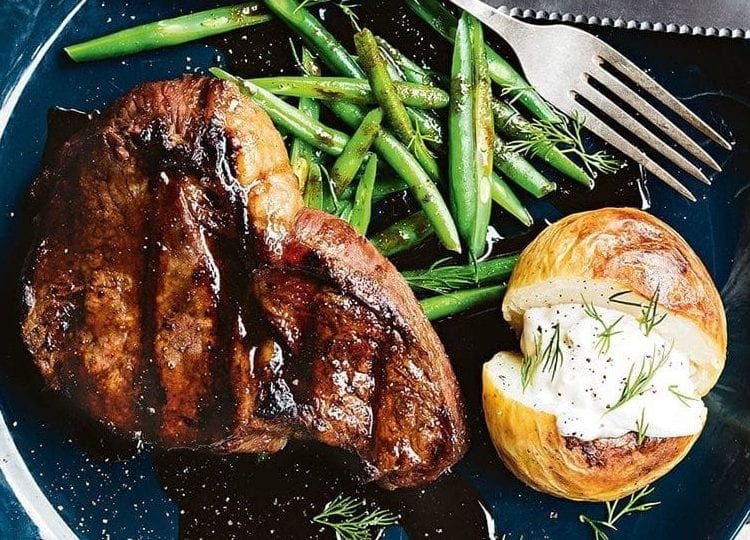 FRIED RICE – 5 mins prep – 15 mins cook
My simple fried rice recipe is a favourite in my home. It is so simple to make and can be eaten by the kids as an after-school snack too, as a side dish with other meals like lamb roast, you can take it along to a summer picnic, eat cold instead of a salad, or make it your main meal – the options are endless!
View my Fried Rice recipe here.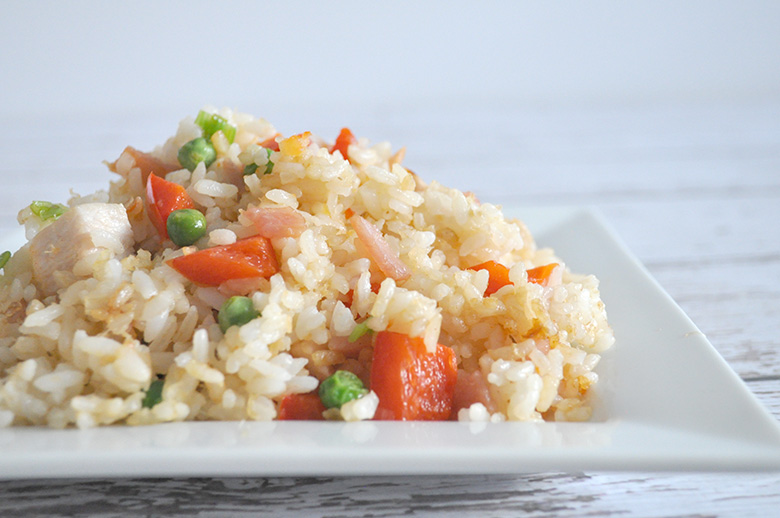 EASY CHICKEN KORMA – 20 mins prep – 5 mins cook
This mouth-watering dish is fresh and full of flavour! You could even add a touch of yoghurt or chilli to jazz this meal up even more.
View this Easy Chicken Korma recipe here.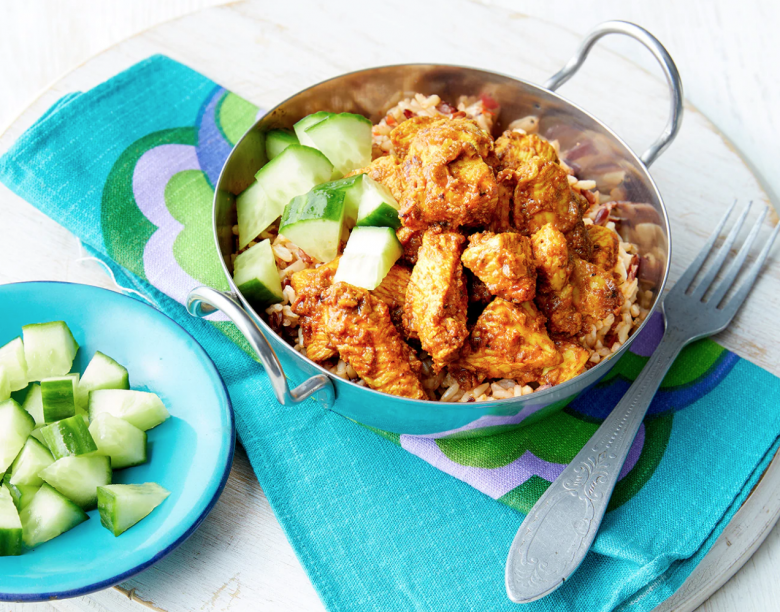 BEEF BURGER WITH SWEET POTATO CHIPS – 5 mins prep – 15 mins cook
I didn't understand the sweet potato sensation until recently – there is definitely something amazing about sweet potato fries! Not only are they satisfying, but they go with practically everything. What a great alternative to substitute for normal chips with your home cooked burgers.
View this Beef Burger here and try these oven-baked Sweet Potato Fries.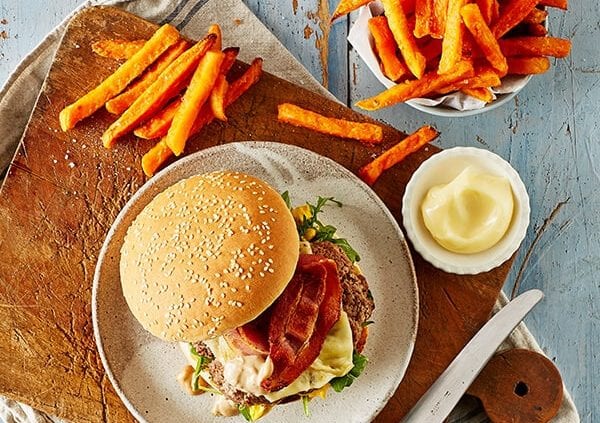 CHICKEN SCHNITZEL WITH MASHED POTATO AND STEAMED VEGETABLES – 10 mins prep – 10 mins cook
Chicken schnitzel is one of Germany's traditions, but in recent years it's also become an Aussies favourite too. Pan fry or cook on the BBQ and serve with a side of mashed potato and steamed vegetables. I love to add some spice to the eggs for extra taste when preparing them.
View this Chicken Schnitzel recipe here.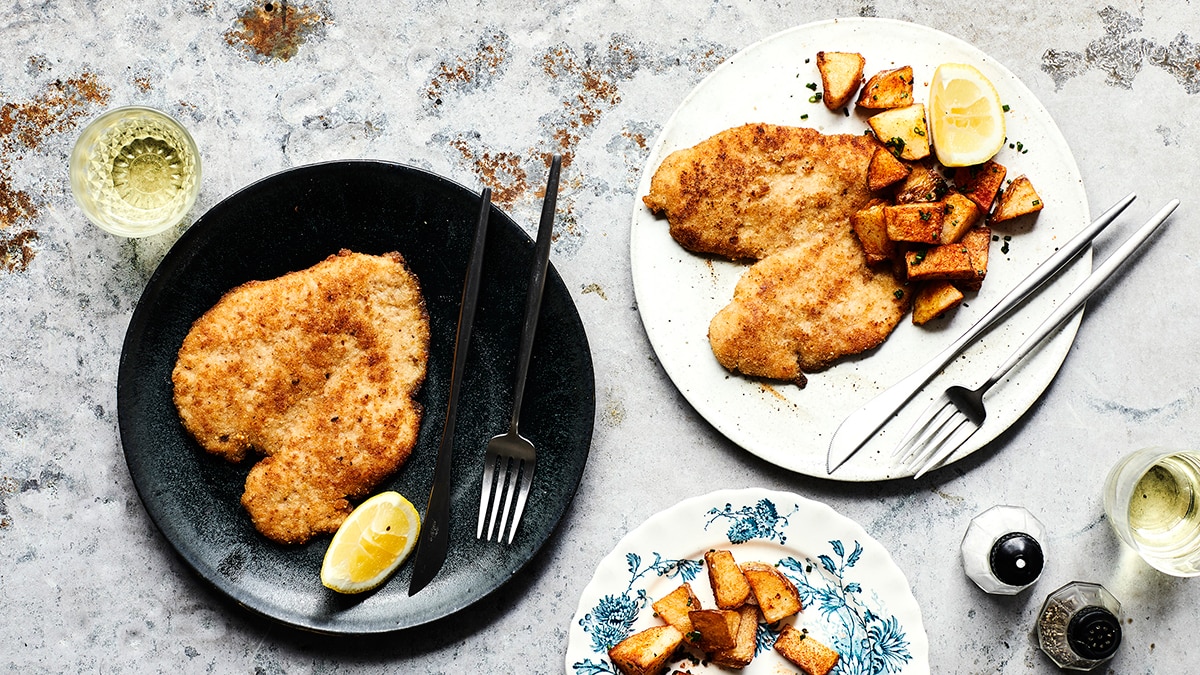 BEEF AND CORN PASTA BAKE – 10 mins prep – 20 mins cook
What I love about this recipe is that it can be made ahead of time, and simply heated up when the family gets hungry. You can also jazz it up with additional ingredients if you so desire.
View my Beef and Corn Pasta Bake recipe here.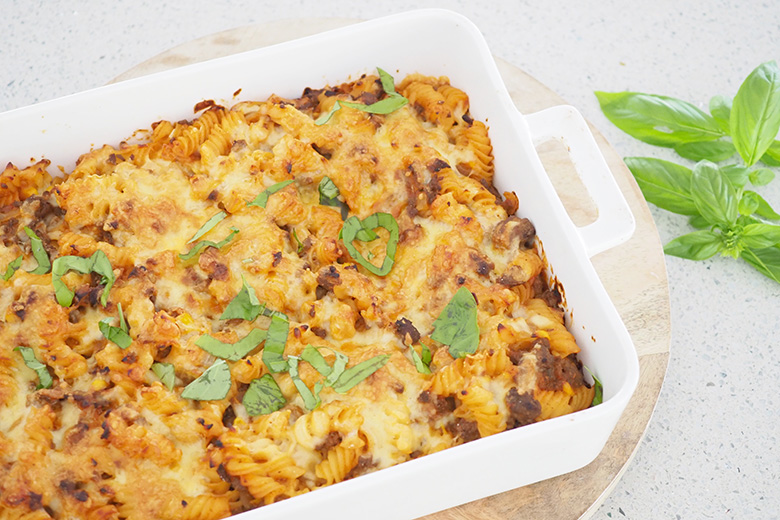 SMOKEY CHIPOTLE CHICKEN TACO'S – 15 mins prep – 10 mins cook
This is another great dish that your kids will love and enjoy every time. Although a taco dish, it's a little different from the standard tacos and brings some incredible flavours to the dinner table. Follow the recipe or add more of your favourite toppings.
View this Smokey Chipotle Chicken Taco's recipe here.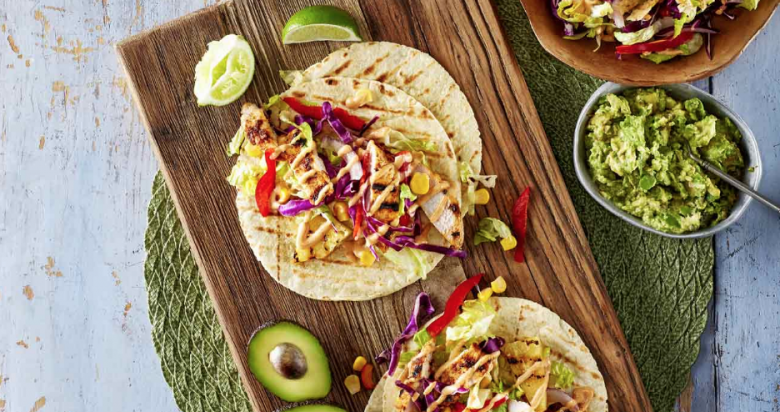 FISH AND CHIPS – 5 mins prep – 20 mins cook
Fish and chips are always a winner with family members big and small, and there is no need to pay for expensive takeaway when you can whip up a yummy fish and chips at home in under half an hour.
View this Fast Fish and Chips recipe here.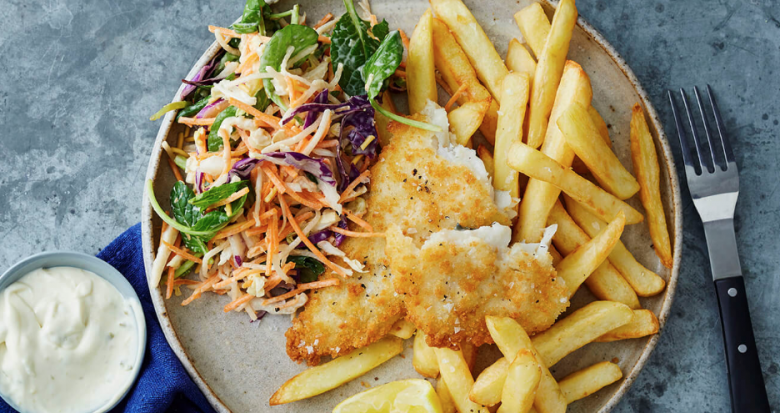 BAKED BEANS – 10 mins prep – 8 mins cook
I am a big advocate for the super easy baked beans on toast dinner idea, but who says it has to be boring?! This recipe is quick, easy, and flips plain old baked beans tins on their head with the addition of bacon, mustard, onion and lots of other goodies!
View this Baked Beans recipe here.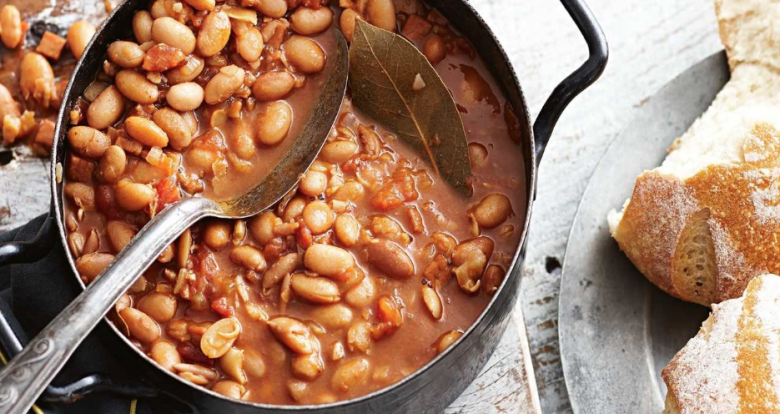 MEXICAN TACOS – 10 mins prep – 10 mins cook
Woolworths Dinner Bundles are a great way to quickly fill the family up on nights when you're lacking a little inspiration. These bundles are only available to online shoppers and are a super convenient way to save time and a little extra money too!
View this Mexican Mince Beef & Avocado Taco Bundle here.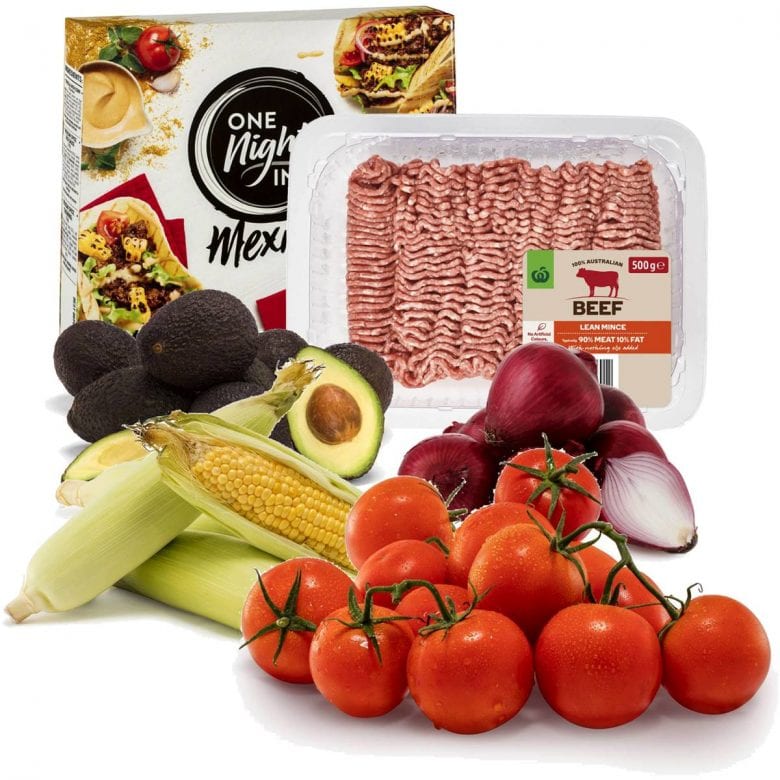 ---
Save Even More Time!
I have recently started doing my grocery shopping online and it's blown me away how much more time I now have in my week (you can check out my online grocery shopping tips here). It's also a great time right now to give home delivery a go because Woolworths are offering a FREE trial for 30 days when you sign up for Delivery Unlimited. If free delivery isn't enough of an incentive, Woolworths have also kindly allowed me to share my own personal shopping lists with you all on their website, saving you even more time and money! The convenience of online grocery shopping just keeps getting better and better…
CHECK OUT: The Organised Housewife Grocery Essentials List on Woolworths' website here.

---
WHAT IS YOUR FAVOURITE DINNER TO COOK IN UNDER 30 MINUTES?
This post is run in accordance with my disclosure policy.