Easter Trifle Cups are the perfect way to use up extra hot cross buns!
Do you have some extra hot cross buns? Here is a secret way to use them up – make Easter Trifle Cups! I made some chocolate custard, layered with strawberries and hot cross buns, used another layer of custard, topped with whipped cream and decorated with Smarties Easter Eggs. I made my own chocolate custard, although you could use store purchased chocolate custard instead. This will make a delicious dessert for the whole family!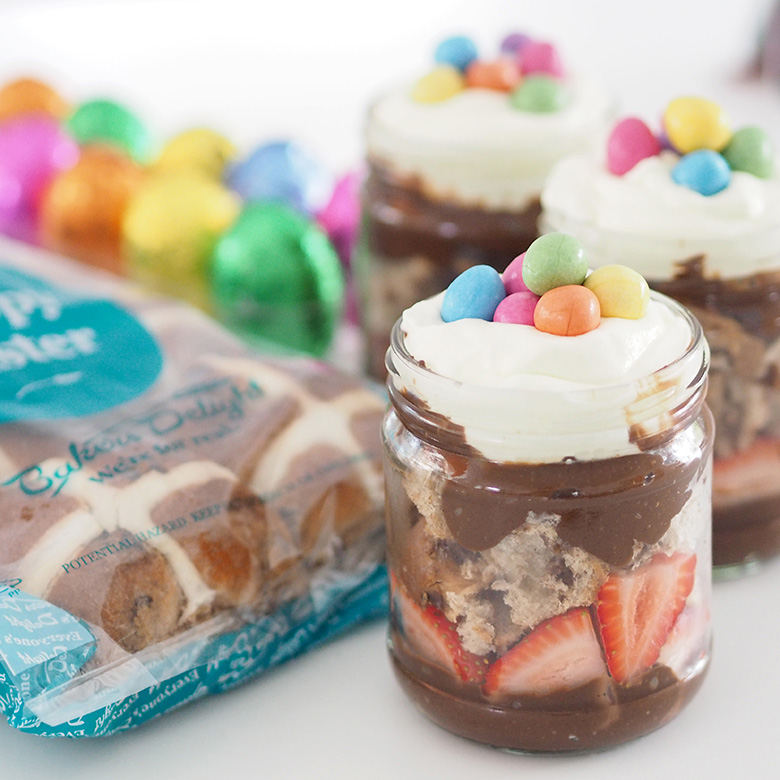 Print
easter trifle cups
2

 Chocolate Chip Hot Cross Buns
Strawberries, washed, sliced in half
Smarties Easter Eggs

1/2 cup

 white sugar

3 tablespoons

 cocoa powder

2 tablespoons

 cornflour
pinch salt

1/2 cup

 thickened cream

1 3/4 cups

 milk

1/2 cup

 thickened cream

2

 large egg yolks

285g

 dark chocolate, finely chopped

2 tablespoons

 unsalted butter

1 teaspoon

 vanilla extract

1 cups

 thickened cream

1 tablespoon

 icing sugar
Instructions
CHOCOLATE CUSTARD
In a large jug, mix together sugar, cocoa, cornflour and salt. Whisk in 3/4 cup milk.
In a large saucepan, bring cream and remaining 1 cup milk to a boil over medium heat.
Remove from heat, slowly whisk cocoa mixture into hot milk mixture.
Return saucepan to heat, whisk gently over medium heat, until slightly thickened, about 2 minutes. Do not allow to boil.
Whisk egg yolks in large jug, slowly pour half cocoa-milk mixture into yolks, continuing to whisk until combined.
Pour yolk mixture into saucepan with remaining cocoa-milk mixture, whisking constantly.
Continue to whisk mixture over medium-low heat, until thickened. This can take 4-5 minutes. Do not allow to boil. Remove from heat, cool slightly.
Melt chocolate with butter. Stir until smooth, stir in vanilla. Remove from heat, cool for 2 minutes.
Fold chocolate into cocoa-milk mixture. Place plastic wrap directly against pudding (to prevent a skin from forming) and place in fridge until ready to use.
WHIPPED CREAM
Just before assembly, beat cream and icing sugar in an electric mixer until soft peaks form.
Scrape down sides and fold in any excess sugar.
ASSEMBLY
Cut Hot Cross buns into bite-size pieces.
Spoon a layer of custard into a glass/jar.
Add strawberries.
Place Hot Cross Buns over strawberries.
Spoon another layer of custard.
Allow to sit for a few hours, or overnight.
Just before serving, top with whipped cream and decorate with easter eggs.