This post is sponsored by Coles
We celebrate Easter with extended family, each bringing along some food, morning tea, salad and/or dessert and my Dad usually cooks a huge salmon on the BBQ.  I'm usually asked to bring something sweet.  Last year Miss 12 made a Triple Chocolate Cheesecake from My Kitchen Rules, it was absolutely delicious and healthy too!!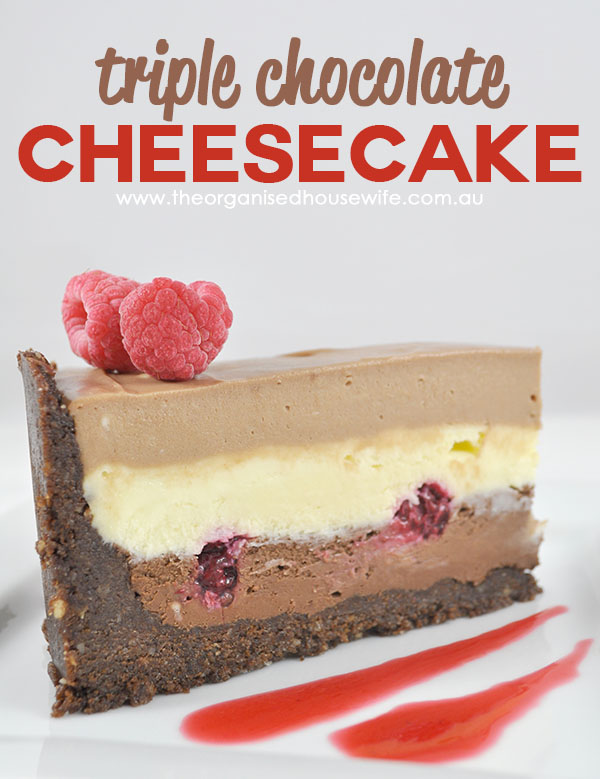 A great Easter morning tea idea would be an Easter Kit Kat Cake.  It's so simple and can be assembled within 15 minutes, give or take your perfectionism.
Easter Kit Kat Cake
You can have all these ingredients in your pantry/fridge a week or two ahead and then assemble the morning you need it.
Ingredients, all these can be found at Coles:
1 x Mud Cake
1 x Tub Easter M&M's
3 x Nestle Kit Kat Chocolate Blocks
1 x Lindt Gold Bunny
plus a ribbon for decoration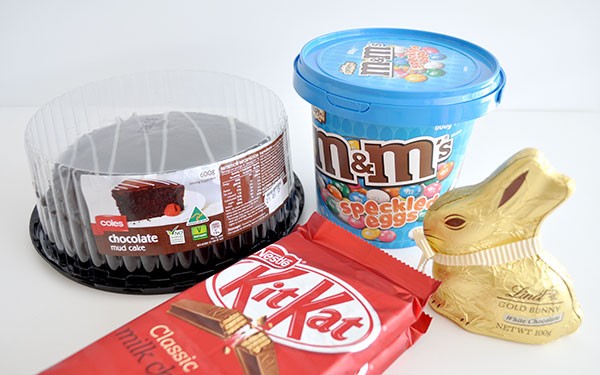 You can make your own cake if you wish, but we love the Coles Mud cake (so moist and muddy) and using a premade one makes preparing this cake effortless.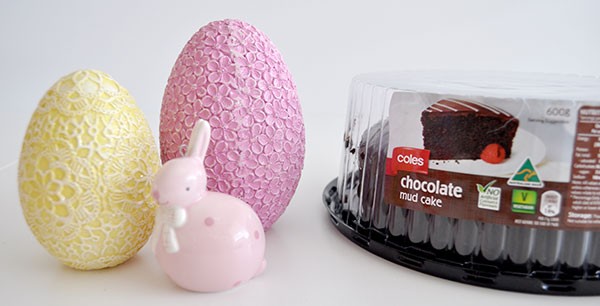 I left the mud cake out of the fridge for a few hours, which melted the icing enough for me to smooth down the sides after removing the paper wrapping.  This will allow the Kit Kat's to stick easily around the side of the cake.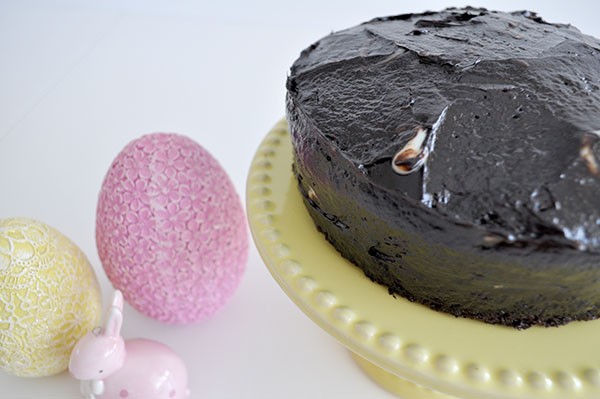 If you keep the Kit Kat's in the fridge allow them to come to room temperature slightly before slicing, this will prevent them from breaking/snapping.  Slice so you have two fingers together, I cut down the Kit Kat's at the end of the 't' on Kat, as I found the whole finger is too long.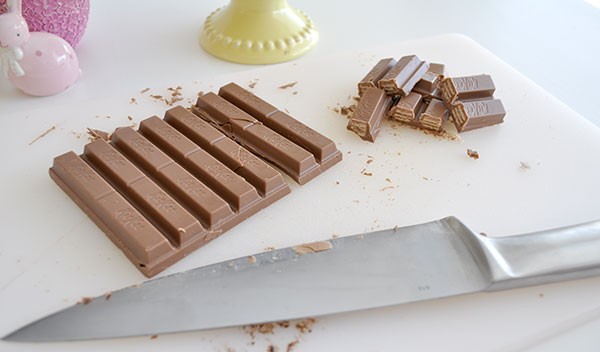 3 packets of Kit Kat's perfectly fit around the cake so no sneaking a finger as you need them all!  Tie with a decorative ribbon then place chocolate easter bunny on top with some speckled M&M Eggs.  I thought I picked up a Milk Chocolate Bunny, but I got the white bunny, it still looks good on top of the cake!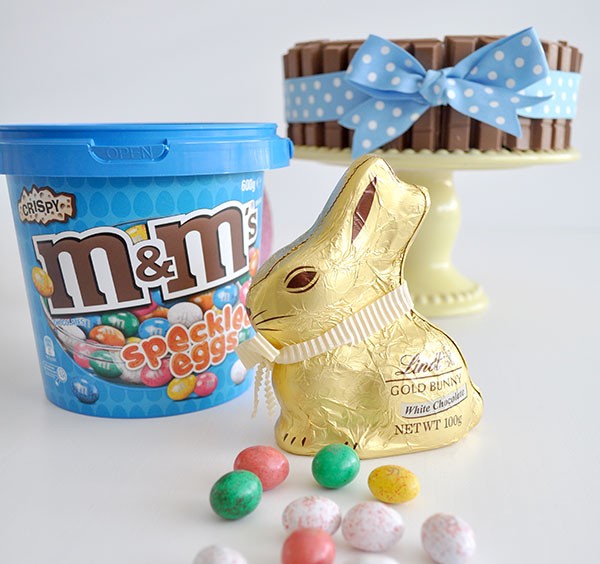 I just love how this cake came together; it would make a beautiful centerpiece to your Easter Table (don't leave it there too long as it might melt!!).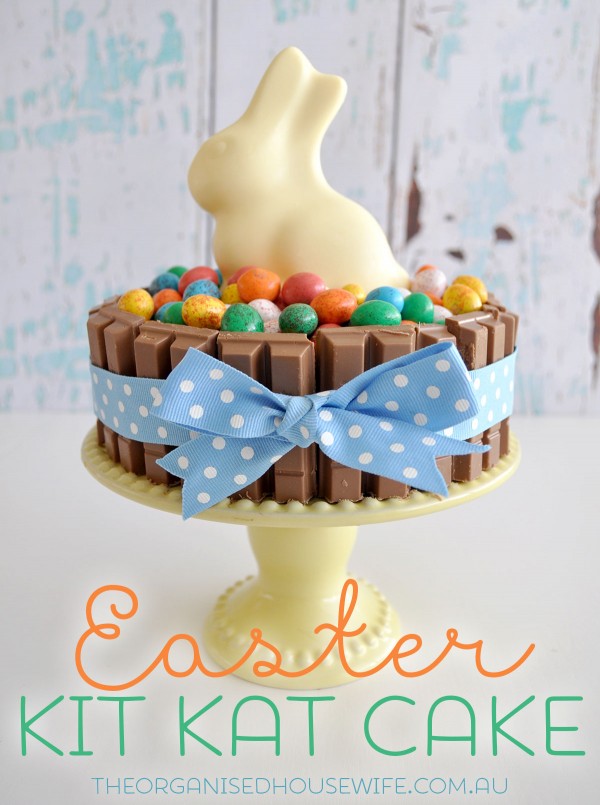 Need a meal plan idea for Good Friday?
Here are some great recipes you may enjoy for Good Friday, the recipes can be found in the latest Coles Magazine found in store and online or find recipes on the taste.com.au website where you can easily add all ingredients to your Coles Shopping Cart with the simple click of one button, then get them delivered to your door.  View Coles Magazine online here.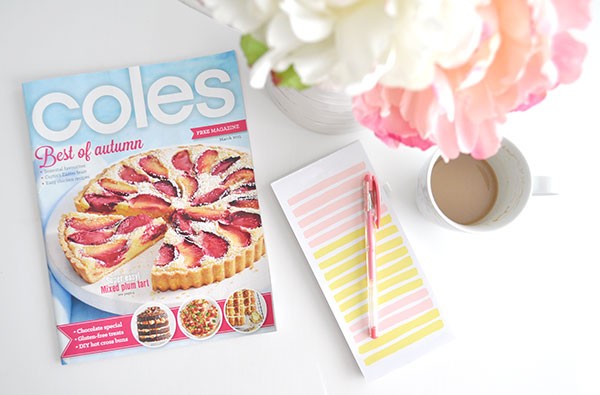 Salmon & Dill Burgers, served with coleslaw and potato chips view recipe here.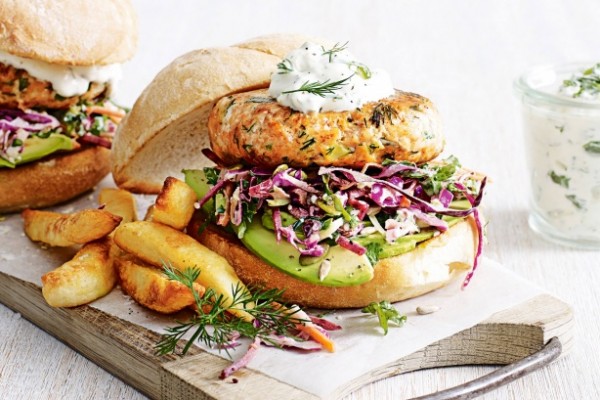 Now this is chocolate heaven.  Chocolate Snickers Cake, layers of caramel cream, with chocolate ganache, chunks of snickers bar and drizzles of caramel sauce. View recipe here.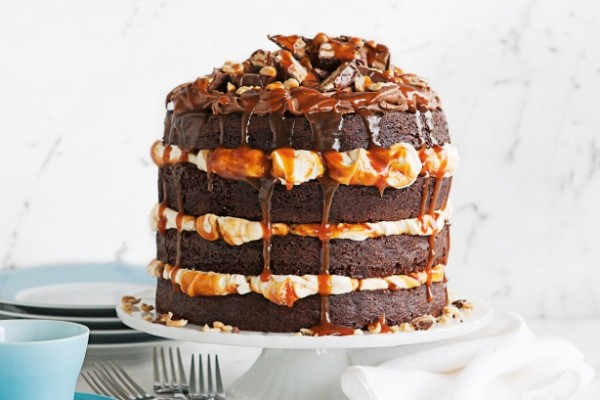 A refreshing Sparkling apple punch with fresh mint and melon pieces, see recipe here.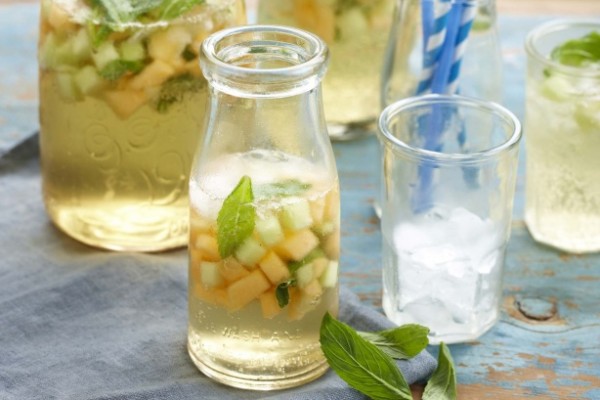 image credit for 3 images above to coles.com.au
What is your favourite Good Friday recipe?
This post was coordinated by The Remarkables Group and run in accordance with my disclosure policy.