Pavlova is a light meringue dessert topped with whipped cream and fresh fruits. It's always a crowd pleaser, tastes amazing and a great finisher for any BBQ. It's crunchy on the outside but has a soft as marshmallow inside.  You'll more than likely have most ingredients in your pantry already to make this pavlova recipe.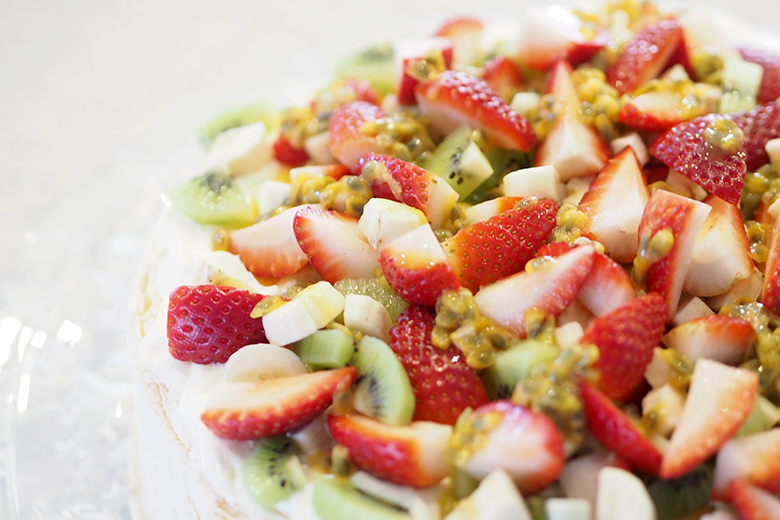 When we had our Japanese student stay with us recently we wanted for her to experience some of our favourite 'Aussie' food. Funnily though the Pavlova is named after a Russian ballerina, Anna Pavlova and did you know the Pavlova isn't even Australian.  The modern pavlova began life as a German torte, eventually travelling to the US where it evolved into its final form.
The idea that it was invented in New Zealand or even Australia is a total fiction, as is the notion that the first pavlova desserts are of Antipodean origin  Read more here.
I'm not arguing the battle of where it comes from.  I've grown up with it being a traditional Aussie dessert and always happy to eat it, doesn't matter where it originated!
Print
Pavlova
Author:
Prep Time:

30 mins

Cook Time:

1 hour 30 mins

Total Time:

2 hours

Yield:

6
Meringue
6

eggs, separated

1 1/4 cups

caster sugar

2 teaspoons

cornflour

1 teaspoon

white vinegar

1/2 teaspoon

vanilla extract
Pavlova Topping
300

ml thickened cream

2 tablespoons

icing sugar, sifted

3

kiwifruit, peeled, thinly sliced

1

punnet strawberries, washed and halved
Pulp of

2

–

3

passionfruit
Instructions
Preheat oven to 120°C.
Line an oven tray with foil. To help prevent meringue from sticking, brush with melted butter and dust with cornflour, shaking off excess.
Gently mark a 24cm-diameter circle into foil to use as a template when spooning on the meringue.
Use an electric mixer to whisk egg whites in a clean dry bowl until soft peaks form.
Very slowly, gradually add sugar, 1 tablespoon at a time, beating well after each addition, until meringue is thick and glossy and sugar dissolved. Don't rush this process.
Rub a pinch of meringue between fingers, if still "gritty" with sugar, continue to whisk until sugar dissolves.
Add cornflour, vinegar and vanilla and whisk until the new ingredients are just combined.
Spoon the meringue into the circle you marked on the foil lined pan. Using a small spatula, smooth the side and top of the Pavlova base and make little peaks around the top edge of pavlova, you want a rustic look.
Place into the oven and bake for 1 1/2 hours or until pavlova is dry to the touch.
Turn off oven, do not remove the pavlova, leave it in the oven with the door ajar to cool completely. When completely cold, transfer to serving plate or store in an airtight container until required.
Pavlova Topping
Use an electric mixer to whisk the cream and icing sugar in a medium bowl until firm peaks form, do not overwhip otherwise it will curdle.
Spoon cream onto the top of pavlova.
Top with banana, strawberries, kiwifruit and finally drizzle over passionfruit.
Serve and enjoy.
Notes
Leftover Pavlova can be stored in the refrigerator overnight, however, it can absorb moisture from the air causing it to lose its crunchy crispness.
This recipe above was adapted from taste.com.au.
You can add whatever fruits you like.  I like banana on mine, but if I know there is going to be some left over I don't put it on as it doesn't look too good the next day. My mum used to put custard, whipped cream and tinned fruit on hers when I was younger, the possibilities for toppings is endless really.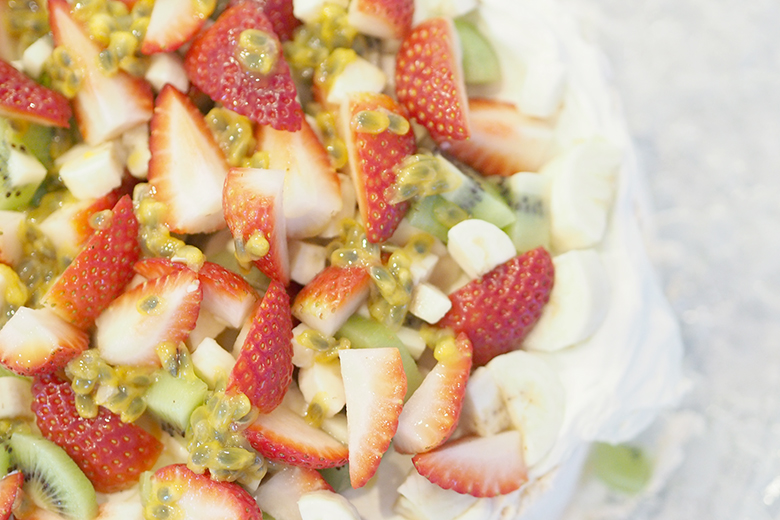 We did cheat when we had our Japanese student over, as we were out at Netball all day and I didn't have time or quite honestly the desire to make a merignue, I purchased one from the local supermarket. Coles and Woolworths both sell them, you can find them in the fresh baked section.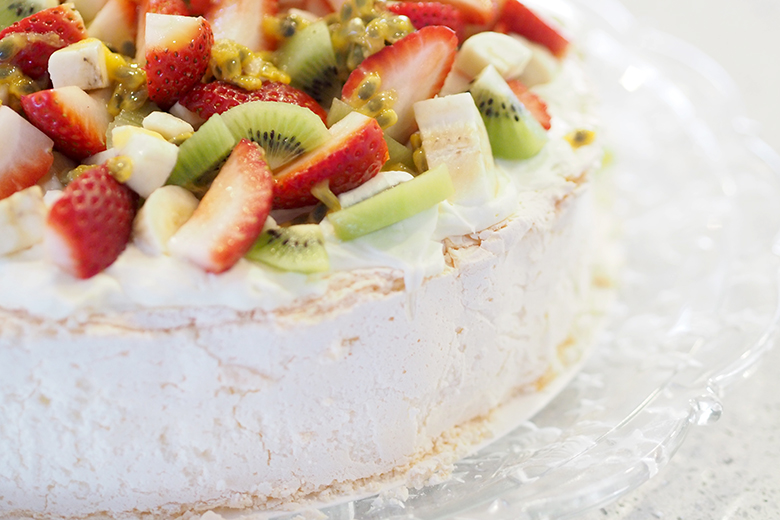 Tips for cooking a pavlova
If you like more fruit than meringue, make the centre of the base slightly bowl shaped instead of flat before you bake it so it holds more topping later.
Egg whites will whip up better at room temperature, so allow the egg white time to warm up.
It's very important to wash and thoroughly dry the bowl you will beat the egg white in to remove any grease. Otherwise you may have problems beating the egg whites.
In fact, make sure all your equipment is dry before you start.
Have everything ready on the bench. When you start mixing the pavlova, you should not stop, unless your kitchen is on fire.
Don't use a plastic bowl as it retains moisture.
An easy way to mark out the circle is to use a plate that's approximately the size circle you want. Turn a plate upside-down on the foil covered pan and using a spoon draw around it.
Don't allow any egg yolk to spill into the egg white – the tiniest bit of egg yolk in the white can stop the white from aerating.
Don't try and multitask when making a pavlova. Don't make other dishes or boil the kettle, these activities create steam, which adds moisture to the air.
Don't overbeat the eggs – Overbeating egg white breaks down the structure and the meringue may collapse during baking.
If the egg white starts to separate or looks curdled, it's overbeaten and you'll need to start again with fresh egg whites.
Always preheat your oven and always bake your pavlova immediately.
The meringue layer can be made several days ahead and kept tightly wrapped in clingwrap or in an airtight container until you are ready to assemble the pavlova. However, meringue does not keep well in humid weather.
What do you like to put ontop of your Pavlova?