Creamed rice is one of my favourite winter desserts, but really we love it so much we cook it all year round.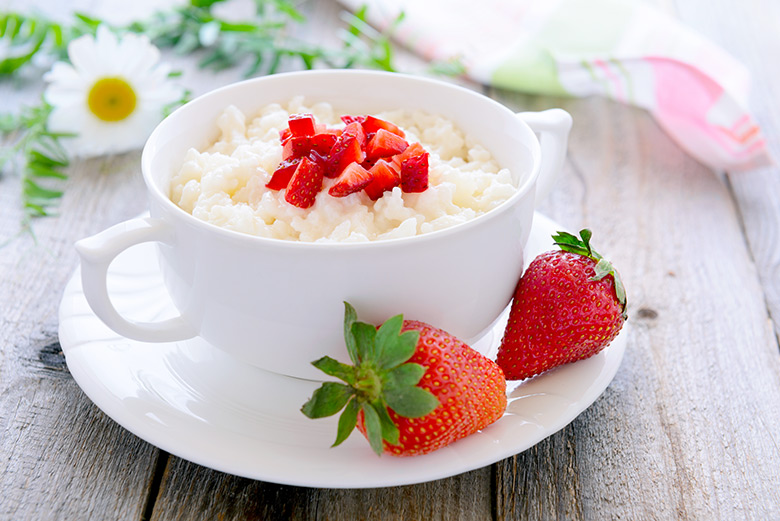 Print
Creamed Rice
1

L full cream milk

2/3 cup

castor sugar

1/2 cup

arborio rice

1 teaspoon

vanilla
Instructions
Bring milk and sugar to boil, stirring gently
Add rice, stir
Reduce heat to very low, put lid on saucepan
Simmer for 1 1/2 to 2 hours
Do not stir for the first 30 min
From 30 minutes stir regularly to avoid clumping
When milk is absorbed remove from heat, add vanilla
Serve
Notes
I used Vanilla Paste to give it a rich vanilla flavour.
Of our course, I also had to convert this to a thermomix recipe, as it's so much easier to cook in the thermomix
Print
Thermomix Creamed Rice
1

L full cream milk

2/3 cup

castor sugar

1/2 cup

arborio rice

1 teaspoon

vanilla
Instructions
Place all ingredients into a thermomix bowl, place on the lid and MC.
Cook for 50min / 90C / reverse / speed 1.
Allow to sit for 10 minutes to thicken.
Serve warm or cold.
Readers' Creamed Rice Tips
300Mls milk, 300 mls coconut milk 1/3 cup of arborio rice, sugar and vanilla to taste. Pop it all in a sauce pan and cook stirring occasionally.
1/3 rice 1/3 milk 1/3 sugar in a slow Cooker for 4 hours =yum!
 I don't use a recipe, but I always add a can or 2 of Coconut Milk – it adds a subtle coconut flavour.
Steam or cook rice. Mix condensed milk through to taste. Serve with ice cream and tinned fruit. Very rich and very nice!!!
1cup of rice to 4 cups of milk. Bring to boil and let simmer until rice is soft. Add sugar cinnamon and a teaspoon of butter to taste! Yum!!!
1/2 cups short grain rice, 21/2 cups milk, 1/4 cup sugar, 1 teaspoon vanilla, 2 teaspoons butter. Combine all but butter in a greased shallow dish, dot with the butter and bake in a slow over for about 2 hrs till milk is absorbed and rice is soft. My 4 LOVE it! I always double the mix.
Sweet cous cous tastes almost the same and is so much quicker! 1 tablespoon couscous, 1cup of milk , 1 tspn sugar and a pinch of cinnamon. Takes about 10 mins on the stove top. C/o Women's Weekly.
SLOW COOKER CREAMED RICE: 1 litre of milk to 1/2 of ARBORIO RICE. Vanilla ess, to taste, cook till rice is soft, thicken with cornflour or custard powder, add sugar to taste. Make sure you use the right type of Rice.
When you use thd UHT milk, it gives you that rich creamy flavour like it's been made with condensed milk! My family love it, I make 2 litres every couple days here at the moment!
1/2 cup medium calrose rice, 1/2 cup sugar, vanilla and 1200 ml milk in casserole dish. Sprinkle with nutmeg and cook in the oven for 2 hrs on 150.
Creamed Rice
3/4 cup Arborio Rice
1-1 1/2 cups milk powder
1 litre water
1/2 – 1 teaspoon vanilla essence
2-4 tablespoons sugar to tastePut all in pan and bring to boil.
Stir thoroughly put the lid on and turn off the element. Leave on hotplate covered and no peeking for 30 mins.
Check that grains are soft and plump. If not then reheat to boiling stir replace lid and leave for another 30 mins.
I use a electric cooktop so the heat remains in the element but on a gas cooktop you may have to repeat the process.The trick is NOT to lift the lid til the 30 mins is up.Leave with lid on to cool for approx 1.5 hours ( the longer you leave undisturbed the better it is. Store in fridge once cooled and heat to enjoy.
I use a modified version of the masterchef recipe. 1 cup arborio rice, 3 cups milk, vanilla to taste. Cook until the milk is absorbed and the rice is cooked. Add 1/2 tbspn caster sugar right at the end – otherwise the rice won't cook properly (a masterchef tip). I serve it with naturally sweetened (no added sugar) raspberry jam stirred in. Yumm and pretty good for diabetics too 😉 My husband is diabetic and he always wears diabetic socks for men and this raspberry jam with no added sugar should make him real happy.
I use to have this one when I was a little girl and now I make this one my girls : boil rice drain water add a full tin of condensed milk and a few drops of vanilla essence (or to taste) stir till all mix (on the stove) and to temperature you like ( I love warm to hot)
CHEAT: Cook rice in a rice cooker and add condensed milk. Sprinkle with Cinnamon. EASY EASY EASY… YUM.
 Do you have a favourite Creamed Rice recipe you would like to share?  Please add it to the comments